Daily CUB Report | Record Trading Volumes on bHIVE & bHBD
---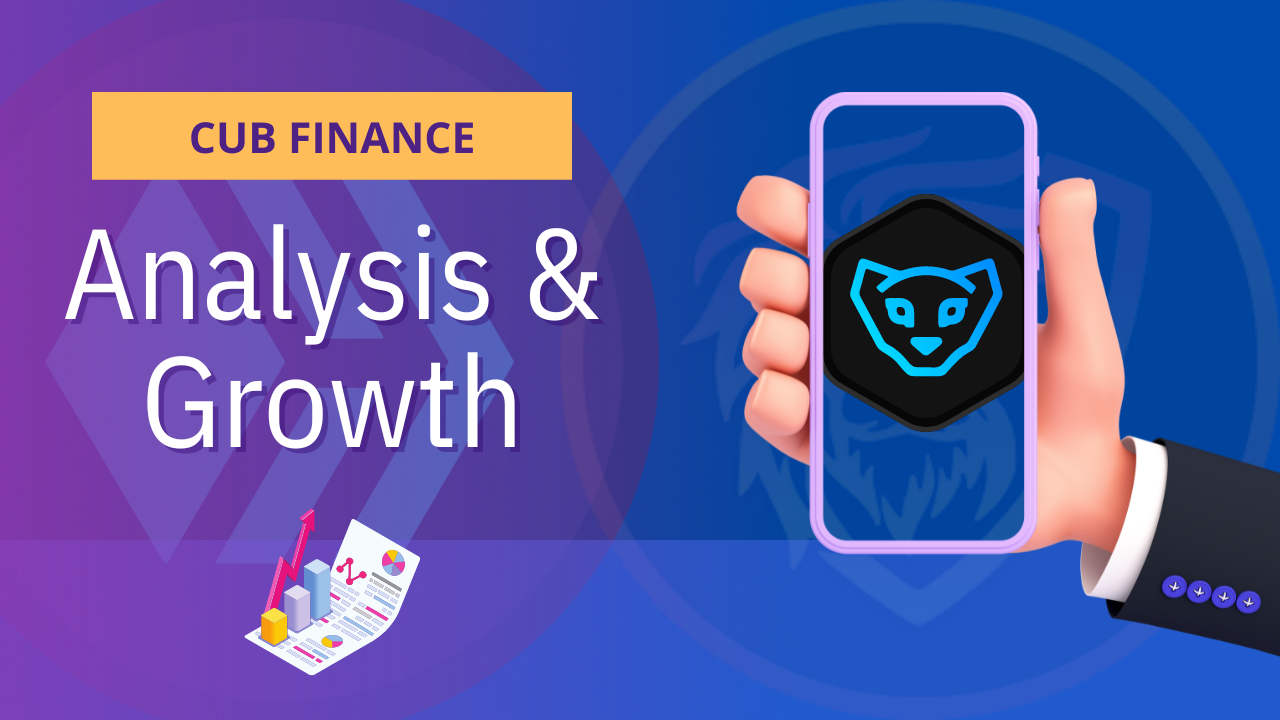 A lot of exciting news is floating around in the CUB-iverse. We've seen record-levels of trading volume in the month of November for bHIVE & bHBD. This is due to the wild crypto volatility in the markets right now AND continued adoption of bHBD and bHIVE as proper derivatives for their HIVE and HBD equivalents.
It's amazing to see what can happen when a slow and steady growth approach is taken. CUB has never felt more alive and vibrant. We are seeing dozens of new addresses join the liquidity pools for bHBD and bHIVE and this is exactly what we need to see in order to take CUB back to its glorious days in terms of price action.
I think we're going to bounce in the sub $0.05 range for a while. Right now we're at $0.022.
The key thing to remember is that the DAO is just quietly buying up hundreds of thousands of CUB each month. The longer the price can stay at these levels, the more the DAO can soak that extra supply and burn it.
This is super positive for CUB in the long-run.
We had 12+ months of rampant inflation on CUB with very little buyback and burns to show for it. That's why CUB dropped from $3 to $0.022.
If we see the DAO earn enough revenue per month to soak up that rampant inflation and continue to grow revenue month-to-month, then we'll see the CUB price return to those $3 prices once again.
It might be hard to believe, but it's right around the corner.
Follow along as I report daily on @cubdaily 🙏🏽
Focus of the Day
Adding more liquidity. I am always trying to add more liquidity. I believe whole-heartedly that sustainable DeFi is right around the corner for CUB.
We're already seeing $8,000 in revenue (see the latest @leofinance CUB Monthly Burn Report) from just $650k in Multi-Token Bridge (bHIVE & bHBD) Liquidity.
What happens when this liquidity is $6.5M? We heard Khal and Mitch talk about it in yesterday's AMA.
The bridge revenue would be in excess of $80,000 per month. Likely even higher than that because arb and wrapping revenue tend to grow exponentially against pool depth.
But let's just say it hits $80k per month... only $18k per month of CUB is created. the price must go up if the DAO is needing to buy back ~$2,700 per day worth of CUB... There is simply not enough CUB out there at these prices to fulfill that.
The simple math tells us that CUB would do at least a 5-10x under these circumstances. The most important part being that it would do it sustainably. No pump and dump. This is because the DAO buying pressure only grows. It won't tighten under the conditions of a growing bHIVE & bHBD liquidity depth.
So
Grow liquidity
Grow revenue from $8,000 per month (current) to $80,000 per month (a 10x from current)
CUB price 5-10x's from DAO buyback and burn pressure outpacing inflation by 4x+
🐾💎
I can't be any more bullish on CUB right now. Just take a look at the P/E ratio below. We're only 3 months in and CUB's revenue to market cap is rivaling blue-chip dividend stocks.
P/E Analysis of CUB
Here's a new section I'm trying out. I decided to run a P/E analysis of CUB using data from each Monthly Burn Report posted by @leofinance. Check out the second analysis I ran and leave a comment below with your thoughts.
Keep in mind that a low P/E ratio is good. It means that the revenue that CUB is generating each month is increasing faster than the CUB price is increasing (more revenues earned per share of CUB).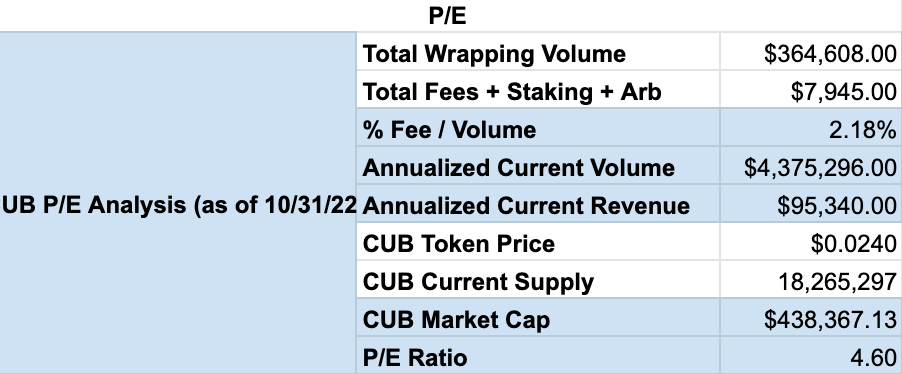 CUB Token

Price: $0.022
Total CUB Supply: 18,789,734
Total CUB Burned: 1,538,174
Total Market Cap: $411,775
Total Value Locked: $1,351,424.04
Multi-Token Bridge Stats

bHBD-bHIVE: $146k
bHBD-BUSD: $257k
bHBD-CUB: $131k
bHIVE-CUB: $128k
Total: $662k
TVL is once again climbing. This is after a steep drop coinciding directly with the drop in value of certain crypto assets (namely, HIVE & CUB).
The TVL continues to steadily rise, despite a full-swing bear market. One can only imagine how much TVL we would have if this was a bear market... potentially 10x this much. Instead, we are beholden to the bear market. We will build and we will build brick-by-brick, slow and steady.
When the next bull season comes, I suspect we will explode upwards.
CUB Burns

The DAO has seen record levels of bHIVE and bHBD trading volume. I believe this will lead to a record-setting burn this month.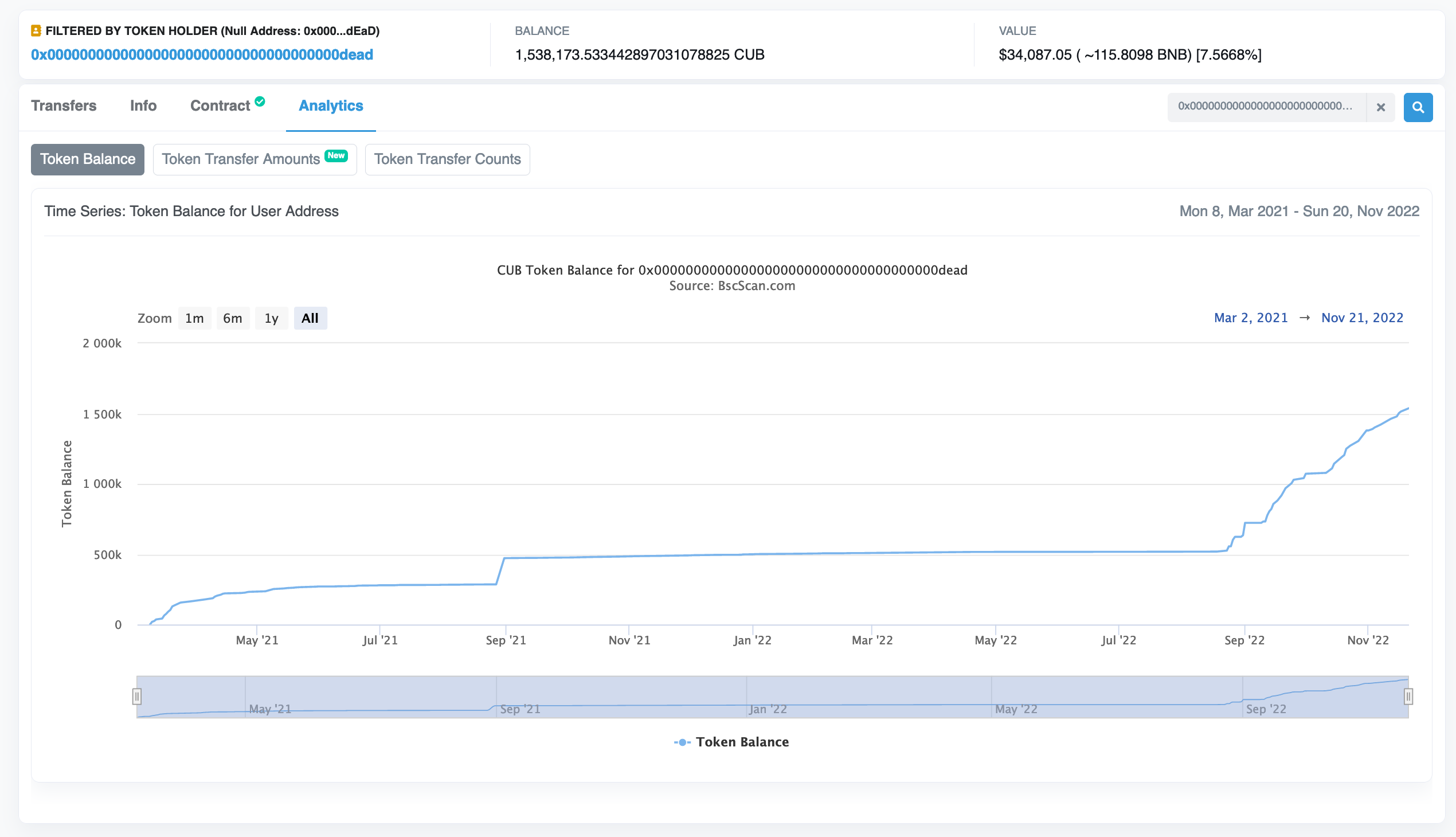 Further Reading:
About CubDaily
I'll be using this account to report on the CUB stats each and every morning. Together we'll track the growth of CUB under the completely revamped ecosystem that LeoTeam has built called the Multi-Token Bridge.
Posted Using LeoFinance Beta
---