$0.619 CUB - Buy When There's Blood On The Streets!!! Too Many Idiots Are Selling CUB (AGAIN!)
---
I love opportunity. CUB is full of those opportunities. I was being very sick for few days and decided to get a small break. I was fully prepared for the possibility of having missed some boats. I hadn't even posted about some of my old trades. I'll add some of that here. The big treat was definitely the CUB price!
Look How My Baby Has Grown!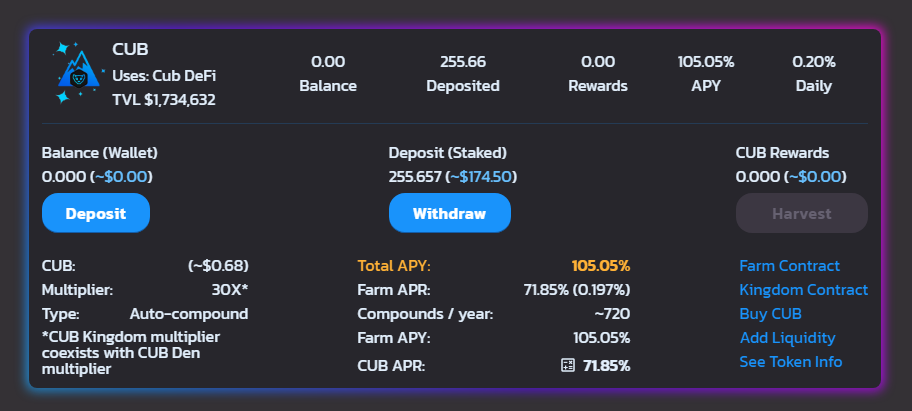 CUB Kingdom is the only thing I'm invested in. Nothing else has so much potential for growth. Having to participate IDO with CUB is going to go really well (IMHO). I've seen what happened with Starpro price when Festival World Tour started for Rising Star.
Save Fees!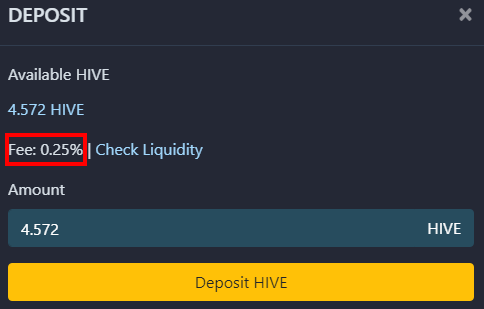 Always try to use https://leodex.io Sometimes there won't be enough liquidity available. When you do have liquidity, you're paying 1/4th the fee. That's 75% off of fees. Why say no to such a cool saving :)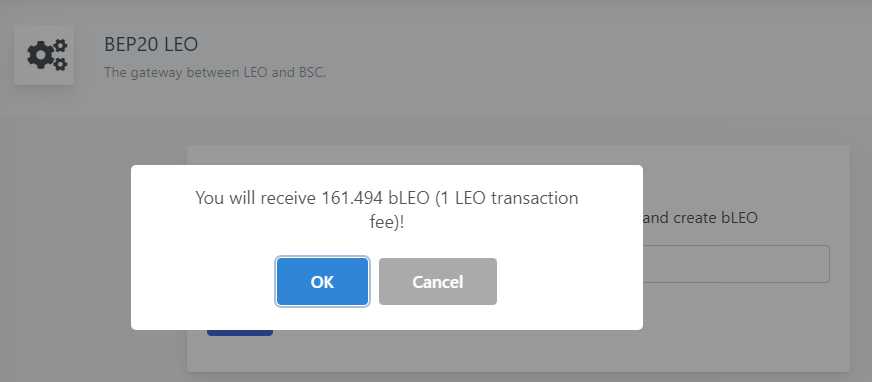 Get Them Swapped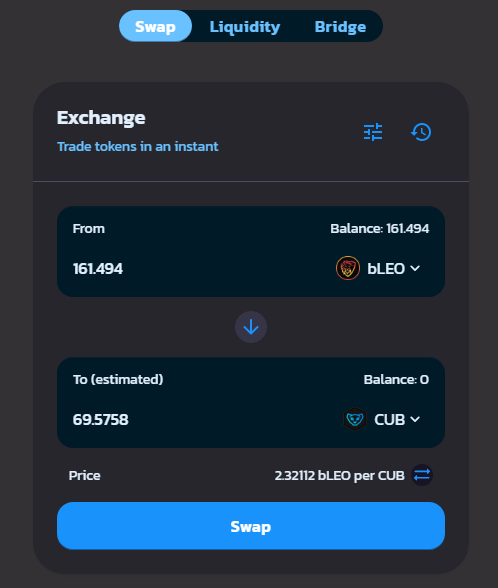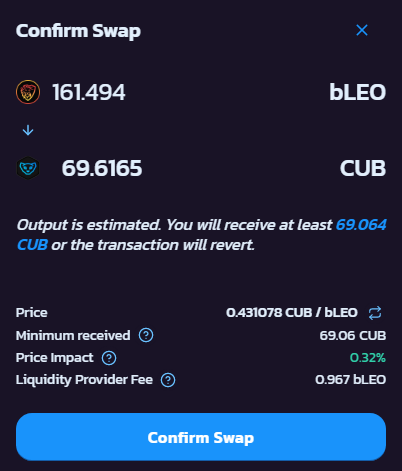 These were the old days. APY was only 72.82% and most of us were expecting it to keep falling. Little did we know about what @khaleelkazi was planning to announce. This was 2 weeks ago. Things have gotten so much better in 2 weeks. Let's see some;
Then vs Now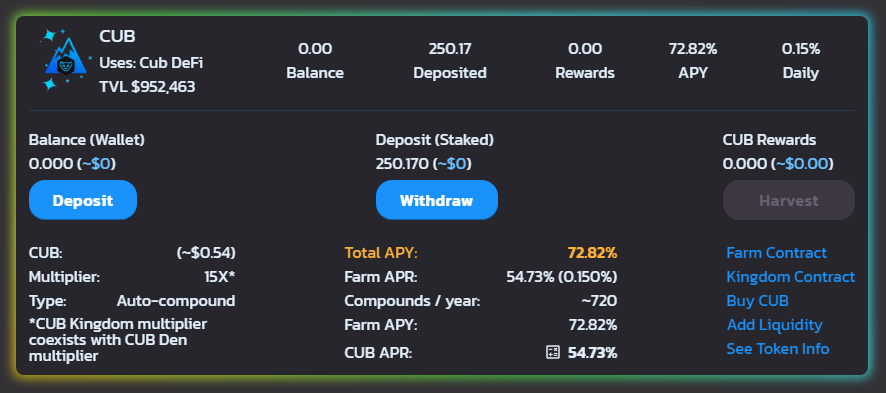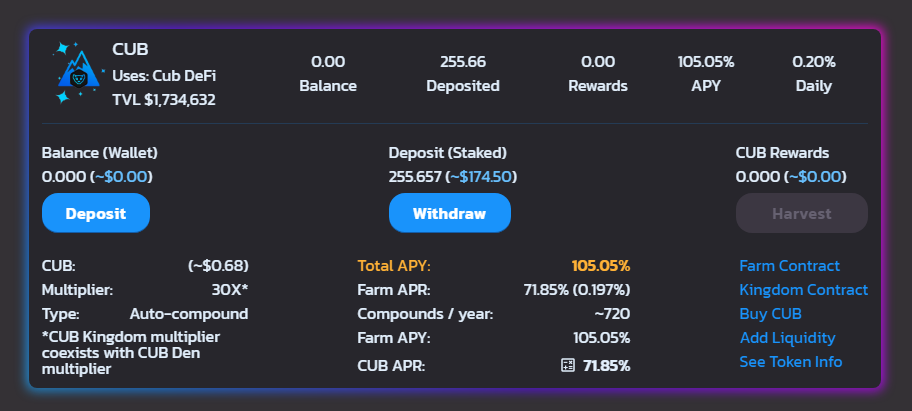 Around 5.5 CUB In 2 Weeks
Best part is it wall all auto-pilot. I couldn't optimize it more even if I wanted to. Smart contract can do things way better than humans can. I could focus on my recovery and other stuff in life while my investments were making investments on their own :)
$0.619 CUB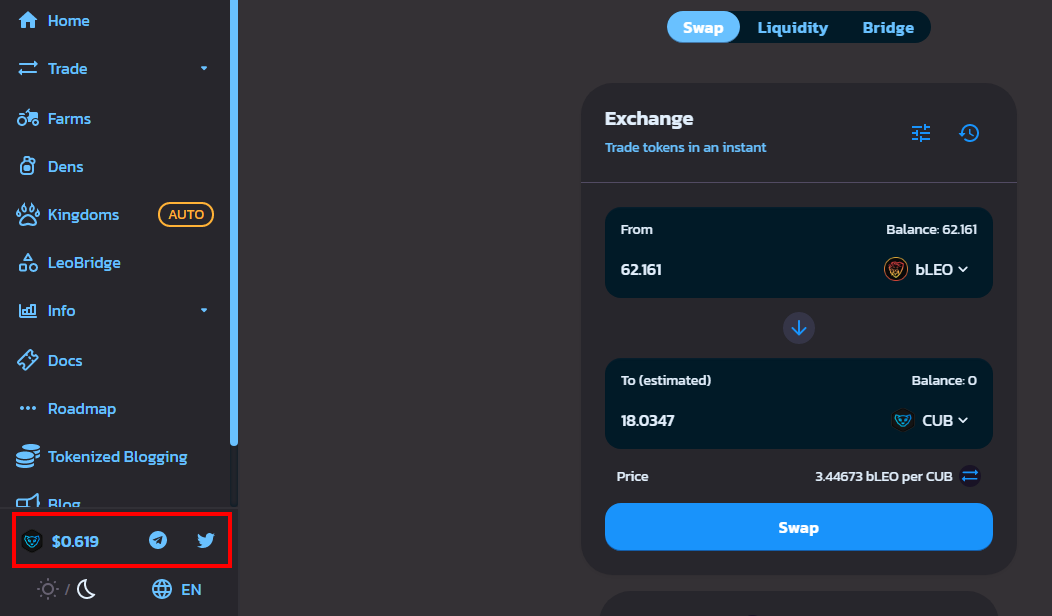 If this isn't "Blood On The Streets" you've got to be kidding me with your definitions. I actually saw CUB at $0.68 By the time I got ready for the trade.......I got to witness this even better oppotunity! I honestly feel blessed guys.
Thank You For Selling :)
I'm not trolling. This is me honestly speaking. If you guys didn't sell I won't be getting this cheap prices. You may not intend to help me. But you've really helped me. I'm being honest! You sellers are awesome - You are making a huge sacrifice for people like me who are waiting to buy at better prices!
Final Results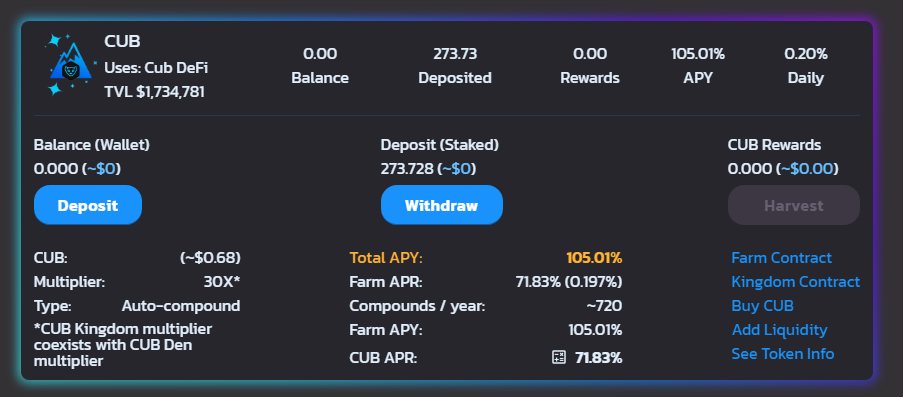 I have to thank all my voters on Hive & LEO. You guys are the ones who funded these investments. It's your votes that ended up in this Kingdom. Thank you all my regular voters. You guys and girls made this possible. I really have to mention @onealfa.leo too because he had made few giant votes on me. All of it went to the Kingdom too.
CUB Could Reach $100
I won't buy till $100. But I know enough finance stuff see that CUB could reach $100. That knowledge pumps my hands into diamonds hands capable of HODLing through huuuuggge drops in price.
On top of that I get even more excited with price drops because I know I'm in for the many years to come and dip today is like universe giving a signal to buy.
Posted Using LeoFinance Beta
---