Time for a Crypto update...
---
Its time for an update of my 'journey' into crypto...
But firstly (and most importantly), I heard this morning some news that I know a lot of us were waiting for... Hivestats is now back and (almost) working properly again! I know @niallon11 will be especially happy as he has missed checking out the graphs haha!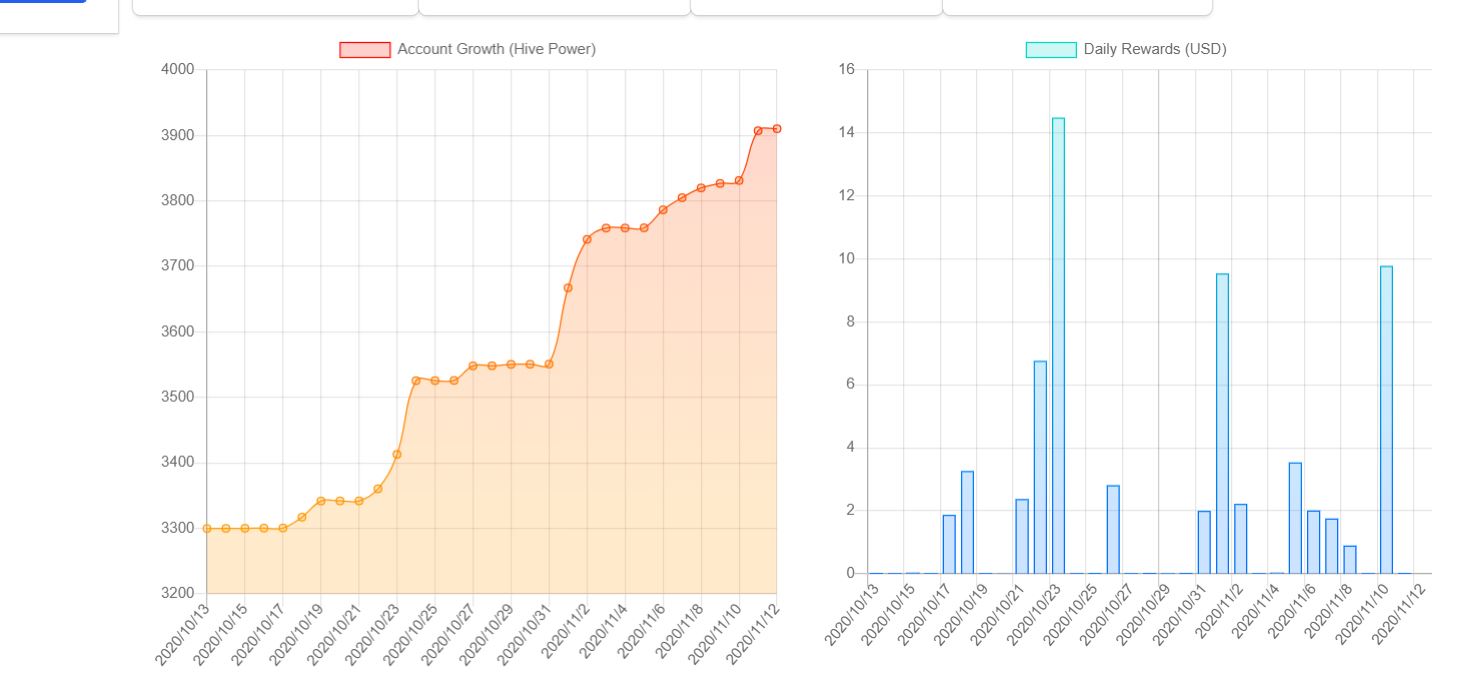 https://hivestats.io/
It is an excellent resource for keep track of my progress (author rewards and curator rewards) and I have thoroughly missed it these last few weeks! Thanks to @vincentnijman for bringing it to my attention and thanks to @khaleelkazi and the rest of the Leo team for getting it sorted

Now onto the main article...
I posted my first Steps into Cryptocurrency a couple of weeks ago. In that post I rambled on about how I took my first steps from clueless 'non-believer' to actually setting up my portfolio.
These graphs below show where I stood on the 25th October. The numbers aren't very big, but we all have to start somewhere right?


25th October 2020


25th October 2020
After I shared this I had a comment by @revisesociology who mentioned that he used the Blockfolio app to keep track of his portfolio. I downloaded it and the initial impression was that it was indeed very easy to use, although slightly addictive as I found myself checking it every hour to see how it changed.
Slightly depressing, every time I checked it the value (how much it was worth) kept dropping mostly due to the price my main 'asset' Hive dropping like a stone. So much so that the total value had dropped down to $550 (the value in the first post on 25th Oct was $670
In the last couple of days has seen the prices jump back up again, partly due to Bitcoin passing $16,000 but mostly as the price of Hive has finally started to rise again. I very quickly learned my first cryptocurrency lesson, don't pay too much attention to the day to day changes as the price is fluctuating constantly.


12th November 2020


12th November 2020
The value now stands at $743, which is good to see.
There are some key differences between the 2 sets of data:
1 - I have purchased some more bitcoin (I have spent roughly $100) and its already worth $118, and I have put all of it straight into the Blockfi interest account. I had been talking to another user @nickyhavey about interest rates of our crappy bank accounts. With the $100 dollars worth of bitcoin I have earned $0.27 in interest in just 3 weeks. That might sound small, but if I had $1000 in my Bank 'saving account' for 1 year then I would earn just $0.10 interest for the whole year.
My bank interest rate is 0.01%, Blockfi interest rate for bitcoin is 6%... the difference is quite frankly mind boggling! I might change some of my pension scheme payments and starting it into bitcoin instead!
2 - I actually own some Leo now! I got my first payments for the couple of posts I have written in this community so I now sit at approx 27LP. I now have enough to get curation rewards (and I love the 'flat curation' you guys have here) and I now delegate 150HP to @leo.voter.
3 - The increase in bitcoin has made my portfolio a bit better balanced (the first graph shows that 94% was in Hive alone). Bitcoin now makes up 15% and Hive stands at 82%. It is prudent to not have all my eggs in one basket, so I will look to change that as I increase bitcoin and leo in comparison to hive.
If anyone has suggestions on what I should do with the BAT then please let me know!
In the meantime, I will carry on saving and blogging and curating, and I'll be back with a progress report in a few weeks time
Hopefully this shouldn't need saying as I am obviously VERY new to this 'investing in crypto' stuff. This is not financial advice, and I strongly encourage you to do your own research to decide what is best for you etc etc.

Thank you for reading, I hope you found it interesting.



If you have any thoughts or opinions on this article then I'd love to see your comments.
And if you really like the content then maybe you would like to upvote or re-hive it.

All Photos taken by @dannewton unless otherwise stated.
Check out my website for more of my work.

Posted Using LeoFinance Beta
---