Progress Update - 10th Month of Hive Power Up Day Participation
---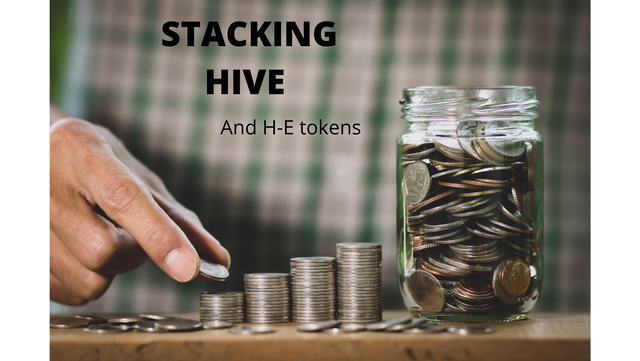 10 straight months of participating in the Hive Power Up Day. Just two more Hive Power Up Days to go in this year. Man o man, this year sure has flown by.
Have you been getting everything completed that you stated you wanted to do at the beginning of the year or have you just forgotten about what you wanted to get completed?
Creating goals is one way to stay on track with knowing what it is you are trying to achieve. This is the first step - having some goals. The second step is to actually take actions toward what you have set out in those goals.

Hive Target
Credit to https://hivestats.io/ for the majority of my screenshots used below to track my stats. I love their website and it helps me make adjustments along the way.
I am targeting 2,500 Hive Power by the end of the year. My balance is 2073 HP and increase of 40 from last week. I need 427 more HP to reach my goal by year end. There are 13 more weeks left in the year to add to my stack. This would be adding around 32.8 HP per week for the rest of the year.

Author and Curation Rewards
Hive earnings can be increased through author and curation rewards. My author rewards dropped to about half over the past week to 24.37 HP from 41.12 HP. This is below the level of Author rewards I will need to make my goal of 2500 by end of year.
This week I convert HBD to Hive to participate in Hive Power Up Day. Since my rewards are paid in 50% Hive and 50% HBD, I must convert some each week to be able ensure I am growing my account to reach my target. I have found that I do this on a more frequent time period that just monthly it is easier to maintain and I do not use the funds for other reasons.
My 30 day Author rewards dropped to about 1/3 of what I normally reflect to 69.21 from 182.42 last week. I am hoping this is just a glitch in the report and everything will be back to normal next week.
My 7 day curation rewards actually jumped to 2.26 from 1.99 last week. I have noticed in the past when the value of Hive decreases, my curation rewards tend to head in the same direction.



Hive Account Growth
Due to the lower earnings, my trend line was only slightly increasing until I participated in Hive Power Up Day.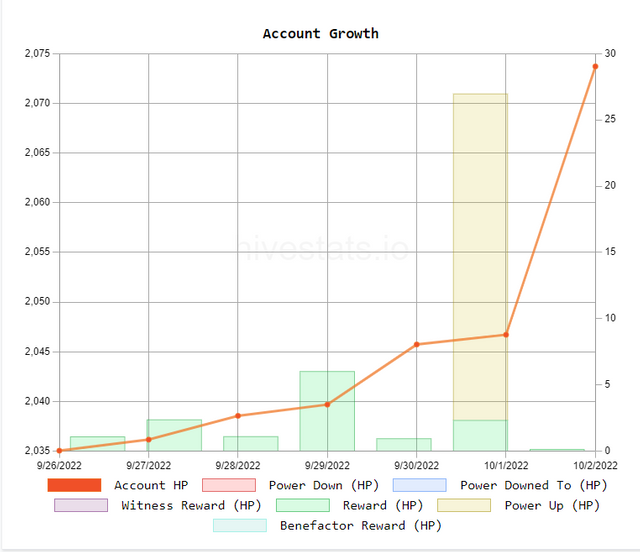 Hive Curation
My curation APR increased slightly this week moving to 6.82% from 6.17%. I need to keep working on it because I am hoping that it is above 8% in the weeks ahead. I believe the main driver is the lower Hive price but can not for certain know this to be true.
Hive Engine Tokens
These tokens that I have chosen have several use cases that are important to me. Here are my targets and progress for each of the specific tokens I have created a 2022 goal.
CTP - 25,000 - current holding 19,195 (removed 4000 delegation-in)
76.7% of Goal
Alive - 20,000 - current holding 16,158 (removed 2000 delegation-in)
80.7% of Goal
OneUp - 20,000 - current holding 7,976
39.8% of Goal
LEO - 1,000 - current holding 401
40.1% of Goal

EVER FORWARD!!!
---
To help support the community, I have become a Hive Engine Witness. My HE witness name is @darmst . If you would like to support me support the community, I would appreciate your Workerbee vote. You can vote at https://primersion.com/he-witnesses I am currently around 30th on the list.
Posted Using LeoFinance Beta
---