Splinterlands 101: How to Buy Your Summoner's Spellbook
---
I started "tumbling down the [Hive] rabbit hole" in September.
I haven't stopped yet, and I don't think I'll stop any time soon. We have so many projects to be excited about: LeoFinance, dCity, 1up (the new kid on the block), and of course Splinterlands.
Splinterlands is all the rage right now, and I want to get into it as much as possible.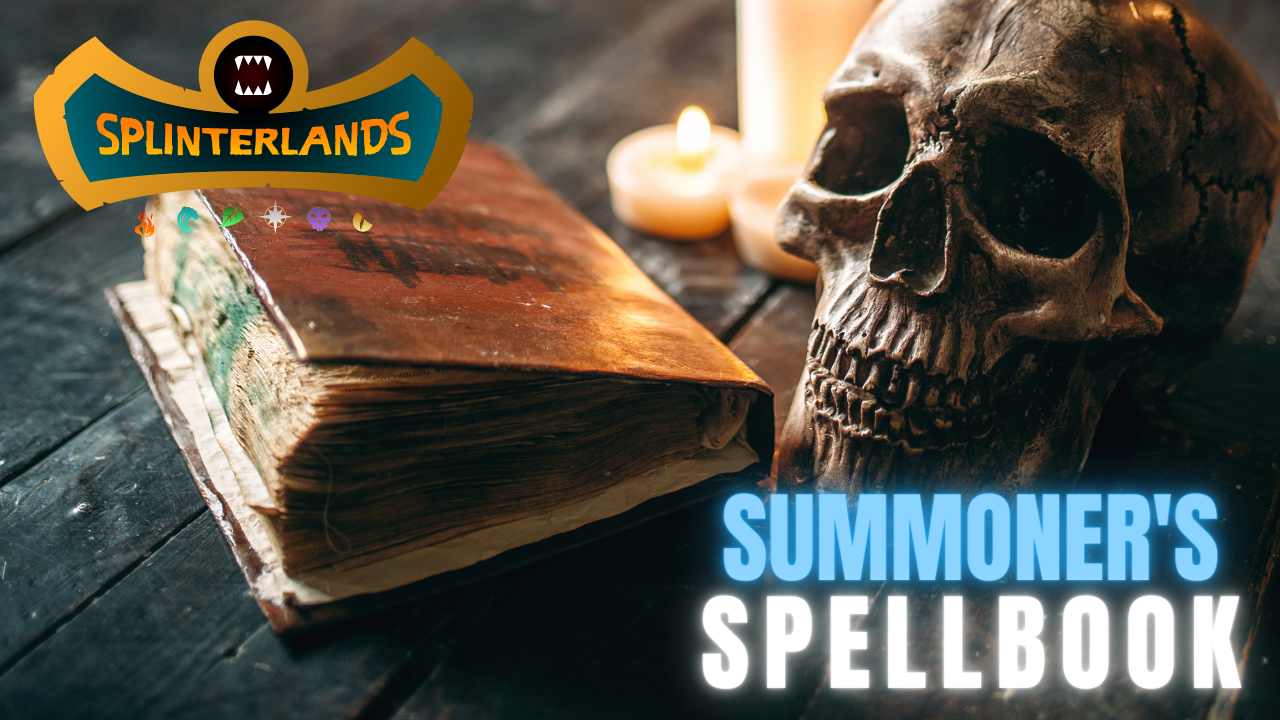 I'm a total noob, but I decided I want to start playing as soon as possible.
My main concern is knowing the game well, so that I can buy good cards, start playing and eventually rent a few cards for some extra passive income.
To play Splinterlands, the first thing you need to do is buy the Spellbook. It all starts from there. In this mini guide, I'm gonna show you how to do that.
What is the Summoner's Spellbook?
Splinterlands is a free-to-play blockchain-based game, but to start playing and earn rewards you need to first get your Summoner's Spellbook, which doesn't cost you much (see more further down).
As you can see from the next image, when you buy the Spellbook, you can:
Get access to daily quest rewards to win new items and cards
Play and earn DEC (Dark Energy Crystals) which will also give you daily SPS airdrops (just for holding DEC)
Compete for leaderboard prizes
Get access to tournaments that have big prize pools
Buy cards in the shop and open packs
If you're completely new to the Hive blockchain, the spellbook will also give you a unique account name, private blockchain wallet keys, and more.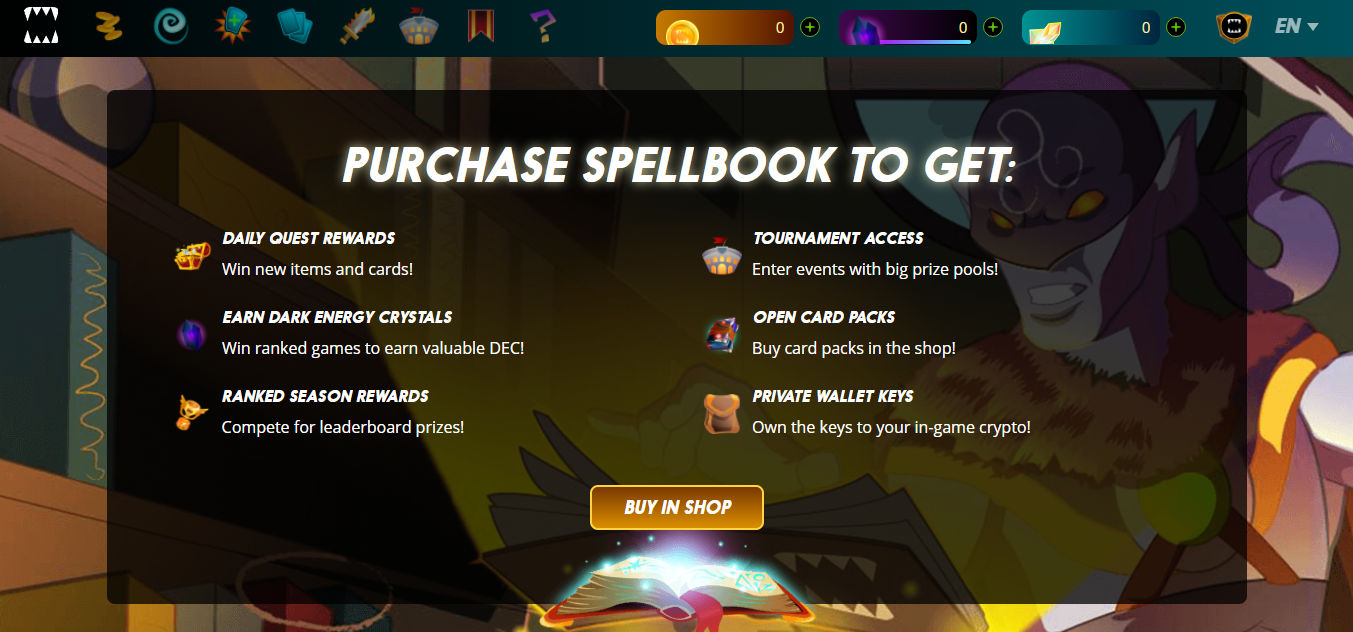 How to Buy Splinterlands' Summoner's Spellbook
Buying the Summoner's spellbook is relatively easy.
Go to splinterlands.com, and head over to Shop (see image below).
You can choose to purchase the spellbook with different methods. The spellbook costs you $10, and you can purchase it through Gift Card or Promo Code, PayPal, or Crypto.
I'll go ahead and purchase mine with Crypto; as highlighted there 👇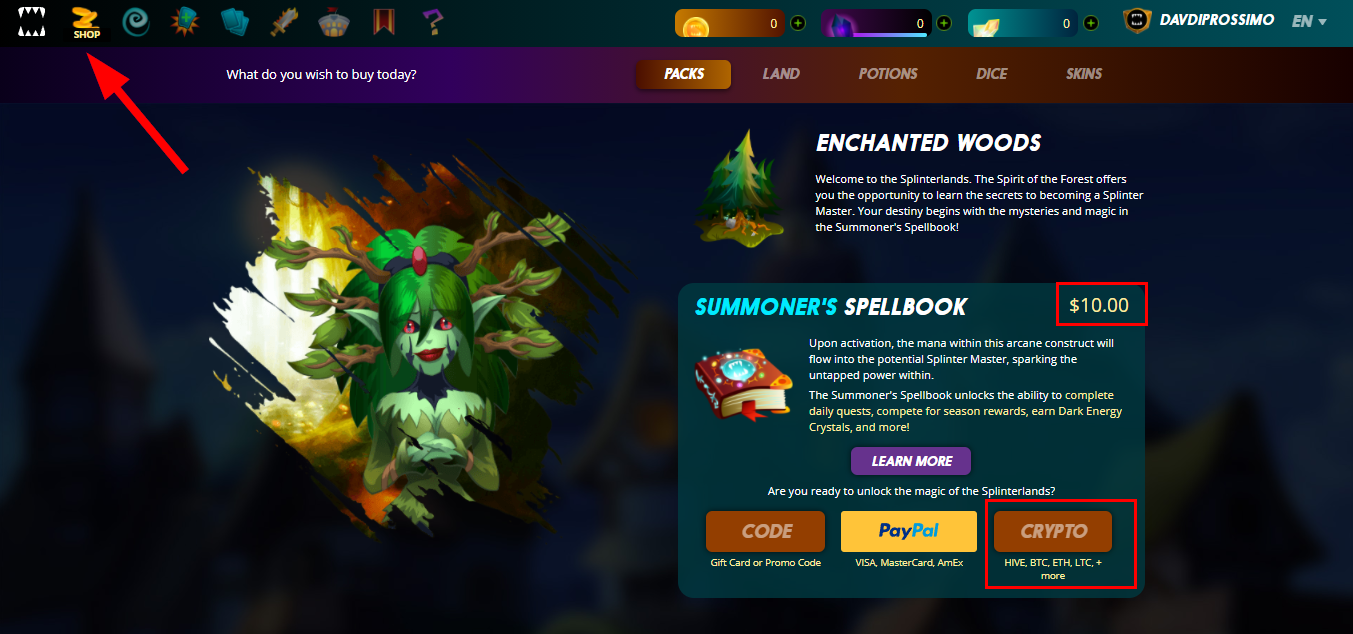 As soon as you click on the Crypto button you'll see that you can choose among many different crypto currencies.
Given I have a few Hive in my wallet, I'll use those to complete the purchase.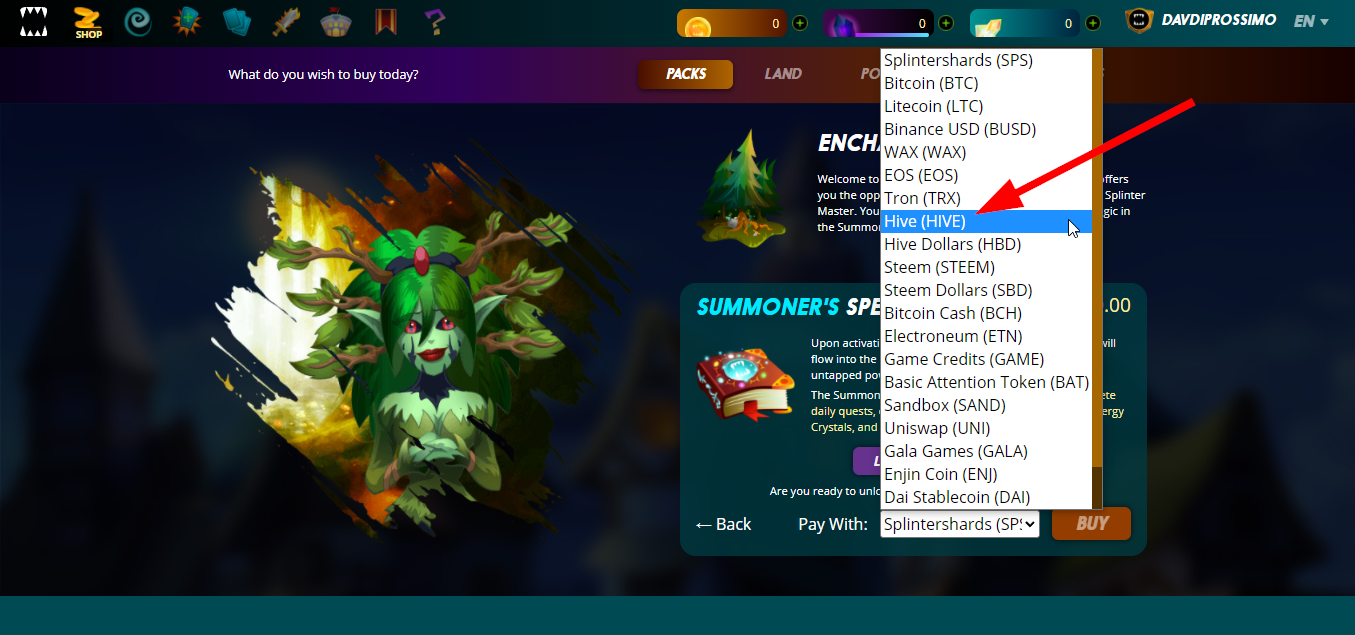 You'll be presented with the popup below. It shows you that the transaction will cost you $10; which is worth 12.629 Hive at the current exchange rate.
I'll go ahead and pay through Keychain.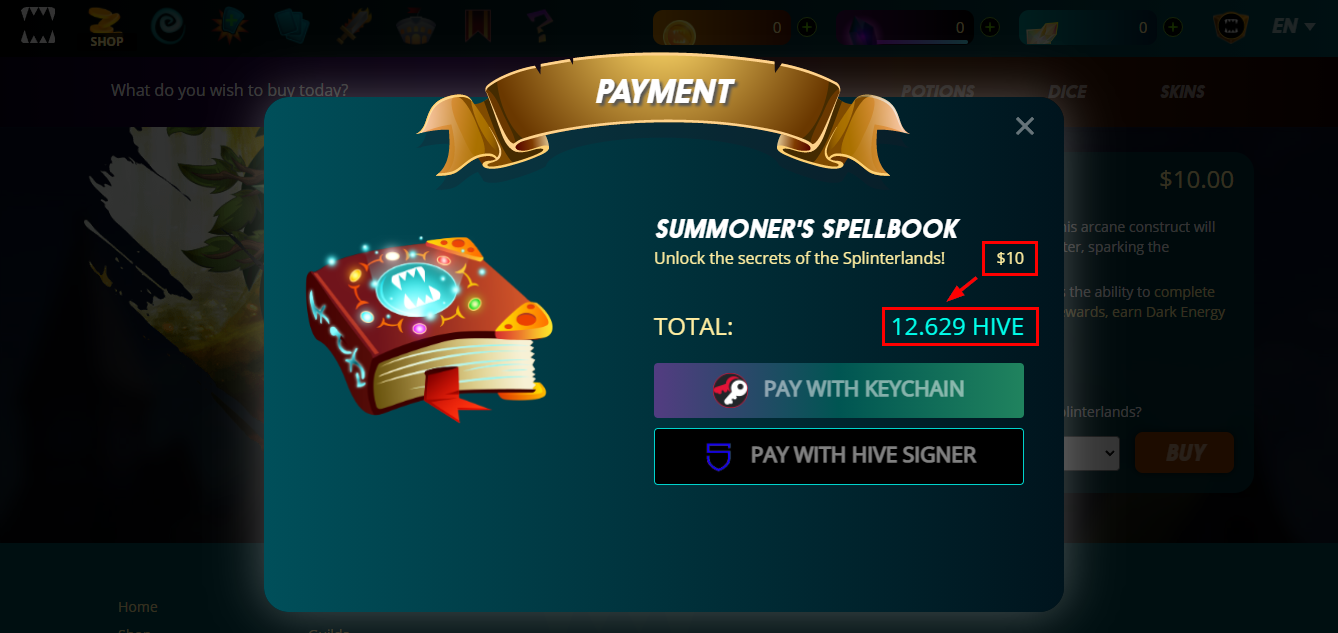 You'll see the following screenshot as soon as you pay. The process took me 10 secs at most, and not the 20 minutes mentioned. It was super fast!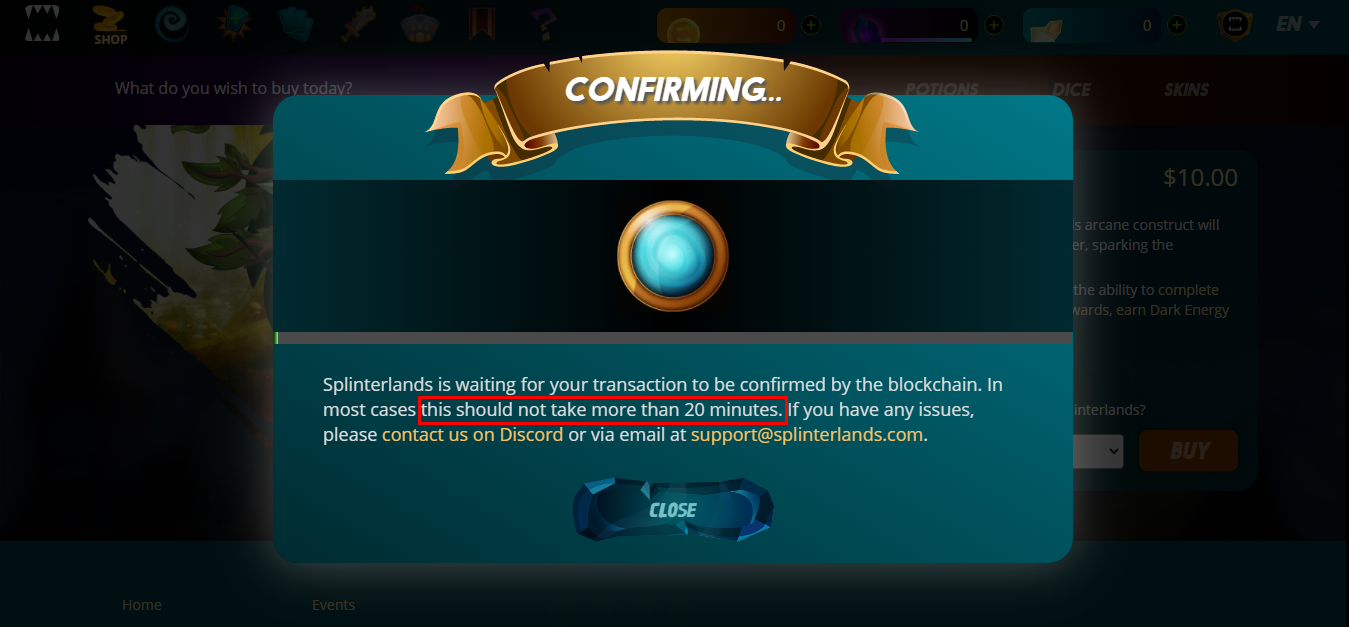 And that's it! I've got my Summoner's spellbook now.
Splinterlands showed me yet another popup, indicating that my account was upgraded. Yeah! 🚀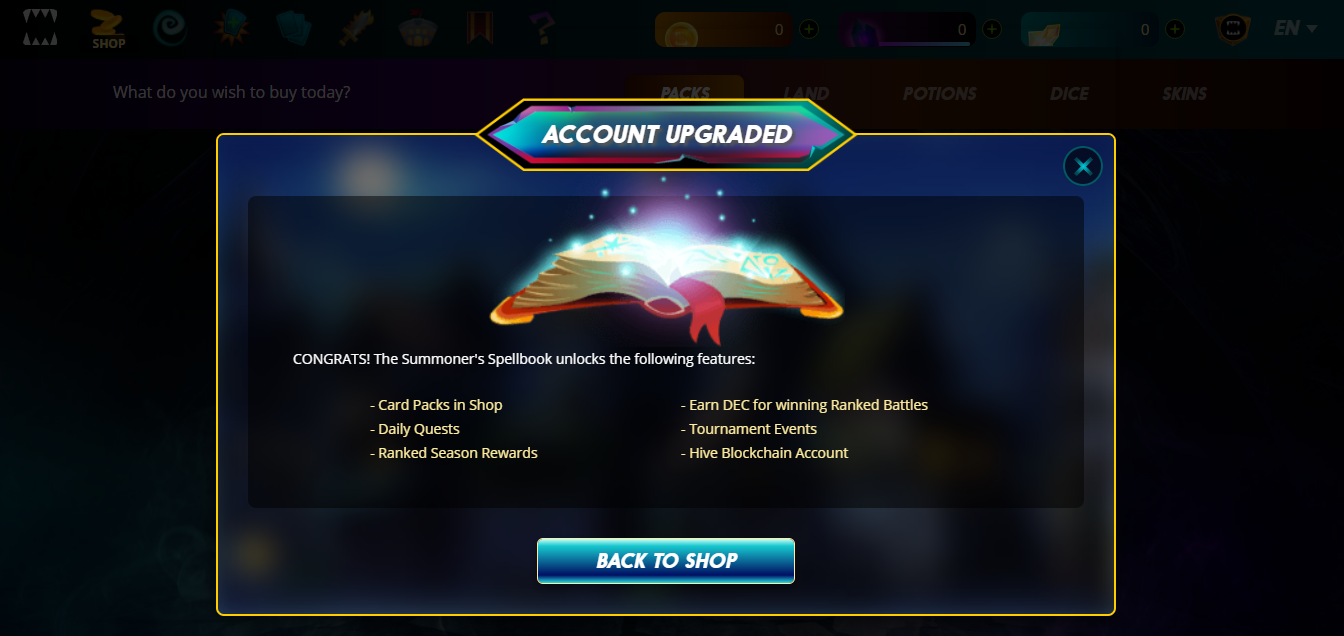 Now, if I go back to Shop, I can see the Chaos Legion pre-sale event countdown.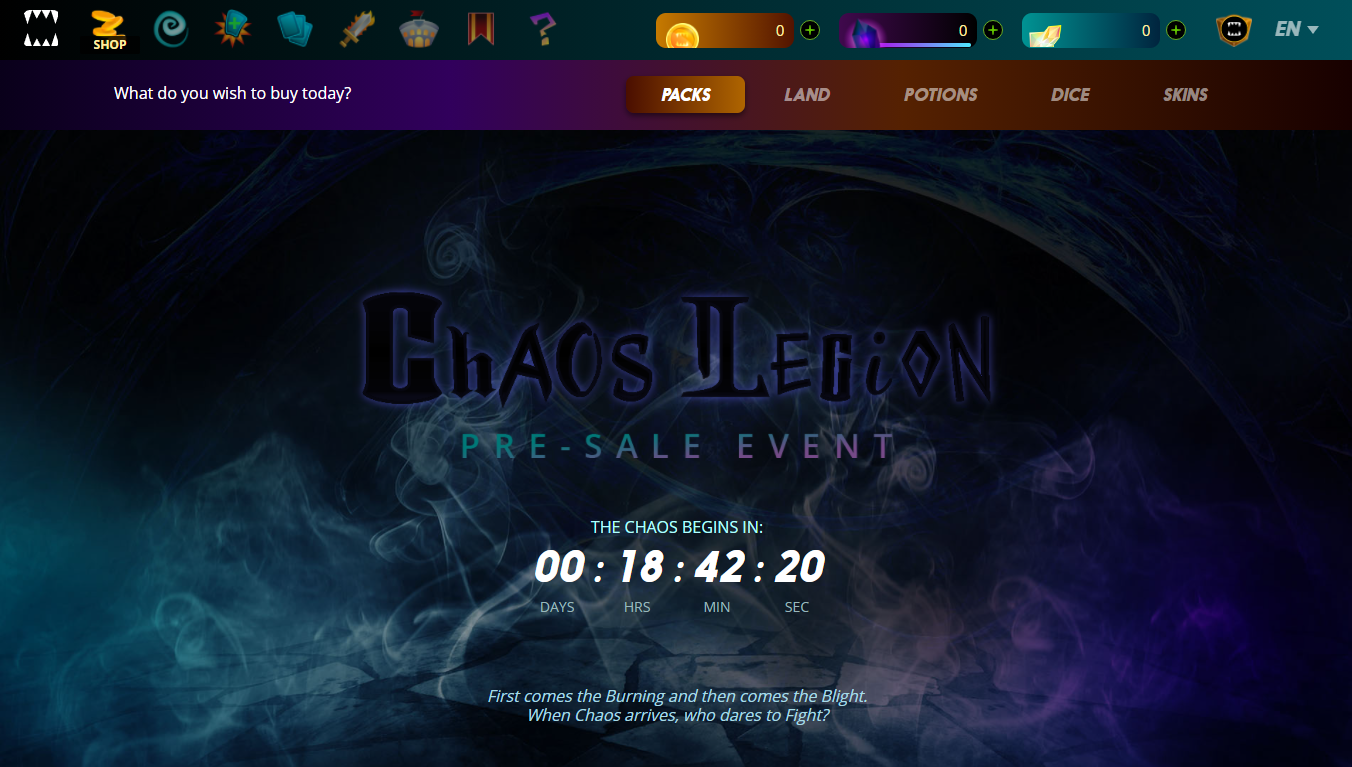 Splinterlands Next Steps and Future Plans
The Chaos Legion event begins in a few hours.
Again, I'm a total noob here, and I want to see what happens when the event begins before I do anything else.
However, regardless of the Chaos Legion event, my plan for the future is threefold:
Learn as much as possible about the game and start playing.
Purchase cards, not only to play, but as an investment also (buy and hold and/or rent).
Keep accumulating SPT and DEC to enjoy SPS token airdrops for the next few months.
Regarding point 3 on the list: Remember that we still have roughly 9 months ahead of us of daily SPS airdrops.
Do you want to know more about Splinterlands? Take a look at these 2 recent guides of mine:
Ciao 👋😊
Posted Using LeoFinance Beta
---