Some really cool stuff has been happening around development. Let's do a quick check of our proposal.
This can now be done from any discord server with Banjo by typing $proposal 148 or $proposal dex (shout out to @inertia).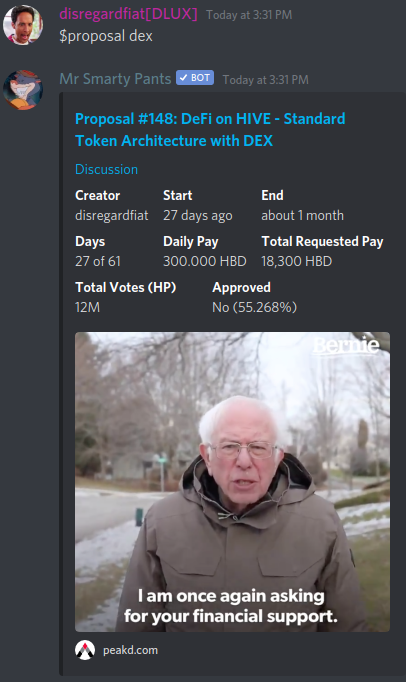 Our proposal still lacks the support of many larger accounts who publicly state support for layer 2 smart contracts, which one could theorize reasons behind. Without STINC (Steem INC) as a scapegoat, we must honestly consider why the Hive community is disregarded as a serious place to develop.
Our solution has been undergoing extensive testing, and during the course of this public testing we have lost 0 Hive, with near-constant uptime, even through updates and bug fixes.
How Our Fees Measure Up
It's almost impossible to talk about DLUX without drawing comparison to another ground-breaking Hive project, Hive Engine (HE).
This is the current fee structure breakdown:
HE: 1% to deposit and 1% to withdraw your Hive (2% In/Out)
Visa/Mastercard: 2.7% and up depending on volume
Uniswap: 0.3% + Gas(~$50 at time of writing)
DLUX DEX: 0.25% + 0.003 DLUX (0.5% In/Out)
As you can see, DLUX fees are far cheaper than other solutions, centralized or decentralized.
How Our Fees Are Set & Used
Fees are set by the community running DLUX Governance Tokens.
1/3 of the fee goes to the Escrow Agent for putting up their collateral.
1/3 of the fee goes to the Custodial Agent for putting up their collateral.
1/3 of the fee goes to the overall fund that pays the node operators for each necessary transaction.
All fees go toward the community operating the nodes. This helps ensure that accounts with significant Governance Tokens to collateralize trades are rewarded for keeping such balances, as well as ensuring that wash trading between sock puppet nodes isn't free and will benefit that network as well.
DLUX Governance Tokens
It takes no collateral at all to run a DLUX node and verify transactions. However, to handle trades and be a benefit to the network you need to have collateral in the form of Governance Tokens. Since these balances are used for collateral they can be lost and therefore delegation of governance tokens is not possible.
Governance Tokens earn liquid DLUX on a linear curve for necessary transactions from fees and about 20% of the inflation(1% total). These transactions include escrow, transfer, and consensus reports.
What this looks like over a day(in testing):
DLUX Runners
There is a group of DLUX nodes called "runners." This is the group that has votes on which new blocks are consensus. They are also the only group that get credited for finding consensus every 5 minutes.
A DEX transaction takes 5 transactions to accomplish, and anybody in consensus is able to make them.
Escrow Approve (Escrow Agent)
Escrow Approve (Custodial Agent)
Escrow Dispute (Custodial Agent)
Escrow Release (Escrow Agent)
Transfer to Buyer/Seller (Custodial Agent)
This illustrates that finding a block in consensus is worth about 1/5th of a DEX transaction.
To be elected into this group, the runners must agree that you benefit the group and network as a whole. If you have more DLUX Governance Tokens than the average of the lower half of the runners group, you are automatically elected. This is because the safe limit to hold Hive (both liquid and power) is less than the cumulative total of the half with the lowest balances. Election of new runners is limited to one per 100 hive blocks (5 minutes) to stabilize this proof of stake governance model.
DLUX Proof of Brain
Something familiar to Hive is Proof of Brain. This allows a community to reward votes on Content and Comments with their tokens, another thing our side chain has been handling. We currently reward eligible posts and their voters for posts that include a dApp and 10% beneficiary to our main account. Of course, any community can bring their own algorithms to incentivize any interaction with the Hive chain.
HIVE Delegation
Hive accounts that delegate to @dlux-io have been earning rewards. Part of our Proof of Brain algorithm is to vote on newer content with our delegation account to drive further engagement and further reward our content creators. This also provides an additional valuation metric to the token ecosystem. The more edges a market has, the more defined it's fundamentals are.
Virtual Reality: The Decentralized Metaverse
Our dApp builder has gone through a much needed overhaul. Things are still a little beta, but in general a lot works:
asset upload
nav-mesh AI (so your avatar respects walls and stairs)
dApp packaging (like @ausbit's Block Explorer
automated p2p VR chat in dApps
You can check out a posting test that took @markegiles just a few minutes to build here.
Decentralized Autonomous Organization (DAO)
By now any community manager should have their eyes wide open. Hive is a place where you can build trustless ecosystems/organizations that run on fixed costs in the form of Resource Credits.
Ethereum is not a place where you can realistically budget without expecting millions of dollars in capital. Hive-Engine will likely remain a place where centralized keys are an attack vector. Recently we learned Heroku auto restarts all applications on their platform once a day.
DLUX has been running for nearly 2 years with the same paradigms, and you couldn't tell from replays or downtime. This is the cheapest way to build trust; we expect and encourage copy-cats. The Price of Hive will go up because it's a finite resource. At current prices we have nodes in consensus, building our DAO for less than $4 of resource credits, on virtual private servers (VPS) that costs $3-7 a month.
Oh the places you can go
Are you managing NFTs, building a network of labor or capital resources, want to pay for file storage or distributed computing... are you tired of driving for a company that takes 25% and shuttles it off to Silicon Valley?
Do it here on Hive. Do it while maintaining all capital and fees in your community. Do it now because it's possible. Don't wait for SMTs, don't wait for Hive Engine to get better, don't wait for ETH 2.0. Fork our code, make it work for your community. And if you like VR, AR, and dApps, then support DLUX and join us.
Community Offering and DEX
We have an active decentralized exchange with DLUX being traded. We have a community offering that has automated price feedback to help distribute our token away from it's founders and into the hands of many.
Forget the old paradigms of ICO to fund development while you wait and see what happens. You can trade your tokens as soon as you get them. The network is decentralized and active. Our utility is functioning, our systems are always improving. Our community offering will be active for at least three years. When it's over I hope to own less than 1% of the network.
Decentralized means distributed, and distributed requires distribution. There is strength in unity, and unity in truth. We're building tomorrow, and we're doing it today.
---
I'm joining @crimsonclad on Cyberbuzz this Saturday. Check mspwaves.com for times and listening options.