April 7th 2021 - It Was Fun While It Lasted... Again
---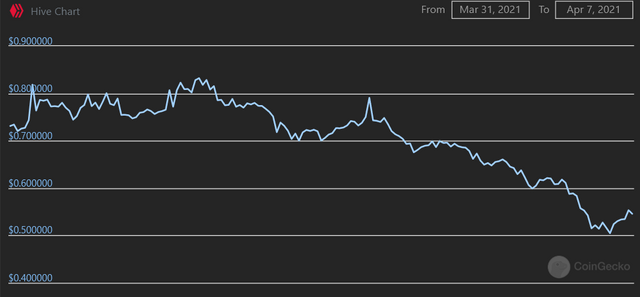 What goes up must go down. HIVE isn't exception to this rule, not even during what many still to believe to be crypto bull run.
However, it is easy to get concerned over the rapid decline of HIVE price, which has been occurring in past few days. The downward trajectory started shortly after impressive rise and even short moment in which price of HIVE managed to surpass price of STEEM, token which has been, regardless of (lack of) fundamentals, has always been pumping faster than HIVE. The dive comes in the broader context of major dive among all altcoins, which might be precursor of a somewhat longer downward trend.
Then again, this is nothing that hasn't happened before. Roughly one year ago, HIVE was also reaching this year's heights only to spectacularly drop in remain at 10 cents range for the rest of year, staying behind all other major tokens even during bull runs. Will the history repeat itself? Perhaps. But, at the end of day, price of HIVE isn't aim in itself.
For HIVE community more important concern is to assure stability of blockchain, solve pegging issues with HBD, work on platforms, create more new tokens and more new tribes and onboard new users. History has shown that it could be done with HIVE at 10 cents, so there isn't that much reasons to worry.
Blog in Croatian https://draxblog.com
Blog in English https://draxreview.wordpress.com/
Original Hive blog (Film & TV) https://hive.blog/@drax
Minds profile https://www.minds.com/drax_rp_nc
Uptrennd profile https://www.uptrennd.com/user/MTYzNA
Hiveonboard: https://hiveonboard.com?ref=drax
Rising Star game: https://www.risingstargame.com?referrer=drax
1Inch: https://1inch.exchange/#/r/0x83823d8CCB74F828148258BB4457642124b1328e
BTC donations: 1EWxiMiP6iiG9rger3NuUSd6HByaxQWafG
ETH donations: 0xB305F144323b99e6f8b1d66f5D7DE78B498C32A7
Posted Using LeoFinance Beta
---