ANOTHER DAY ANOTHER GIVEAWAY #272 - WIN 1500 STARBITS DAILY - Ends July 30th
---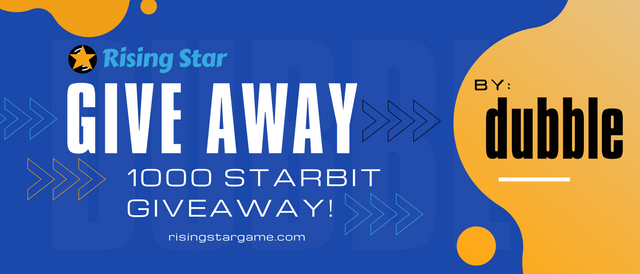 Welcome to another giveaway friends, hope you're all doing well!
Thank you as always for joining in on these giveaways, it helps our community grow and I hope inspires more to start their own giveaways to help out even more newer players!

🎮Gameplay Update🎮
Howdy friends, I had a great grind today it seemed almost hitting another 15k day! I'm also around 2000 Starbits away from withdrawing another 100k so I will most likely be opening more packs tonight and showcasing any pulls off tomorrow, hope everyone is well and you all enjoy your weekends!
I'm also going to watch the Arsenal match tomorrow (football/soccer) so I perhaps will be late in drawing the winner for this giveaway, none the less good luck everybody!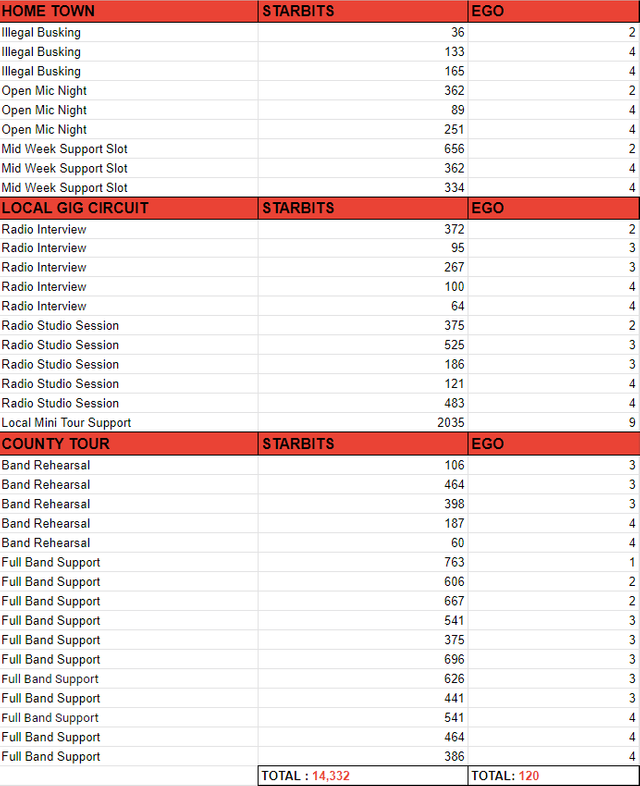 I will be using https://hivetools.herokuapp.com/picker/ to determine winners! 😀
Thank you for participating in my giveaway, goodluck everyone-
@jdike, @hoosie, @orenj1, @pousinha, @nietokilll, @luizeba, @mario02, @kryptofire, @ericburgoyne, @davideownzall, @longganisan, @mypathtofire, @supriya.gupta, @rynow, @imfarhad, @emeka4, @rtonline, @beeminer, @hatdogsensei, @criptosectadepit, @captainquack22, @guurry123, @vaynard86, @adysscheryl, @blitzzzz, @belhaven14, @engilhramn, @lumpiadobo, @nahueldare3627, @pochocles, @tengolotodo, @jfang003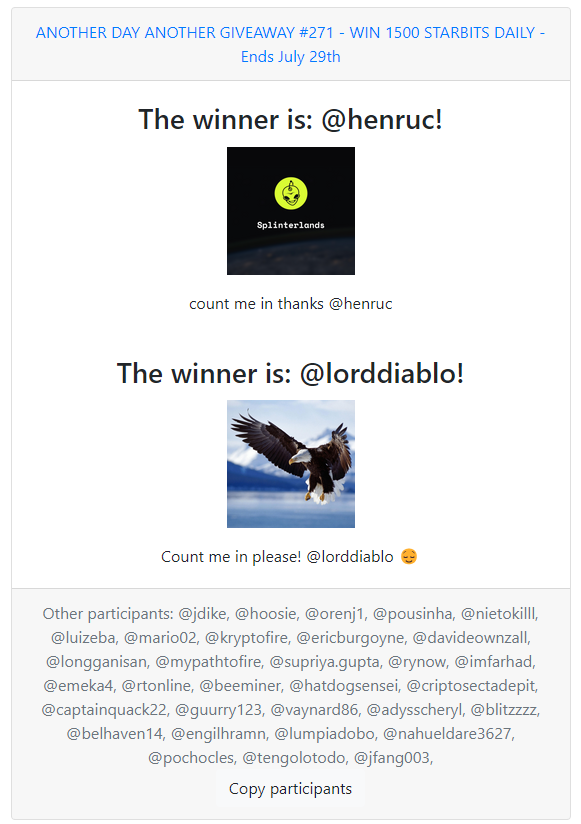 Winner 1 - 1000 Starbits - henruc
Winner 2 - 500 Starbits - lorddiablo
Congratulations @henruc & @lorddiablo 😄 I hope you enjoy your Starbits & Thank you for participating!
Transaction ID 1: /tx/98934d81cc0a0c4189b88a5f77d15f43615b0f5a
Transaction ID 2: /tx/5d9356fc2b1f79862b4237ad013551564916d776
TO JOIN MY GIVEAWAY:
1. Comment anything below (include your Rising Star name)
2. Upvote this post / Follow to not miss any giveaways (optional)
3. Winner will be drawn in the next post! Goodluck + Enjoy
TO TRY RISINGSTAR OUT FOR
FREE
SIGN UP
HERE!

Check out the #1UP #ONEUP Community for great Gaming related content!

I will be distributing !PIZZA 🍕, !LUV ❤️ & !LOLZ 😂 to consistent participants in my giveaways!
What is
!PIZZA
?
Read more about it
HERE!
JOIN THE PIZZA
DISCORD

---