ANOTHER DAY ANOTHER GIVEAWAY #275 - WIN 1500 STARBITS DAILY - Ends August 2nd
---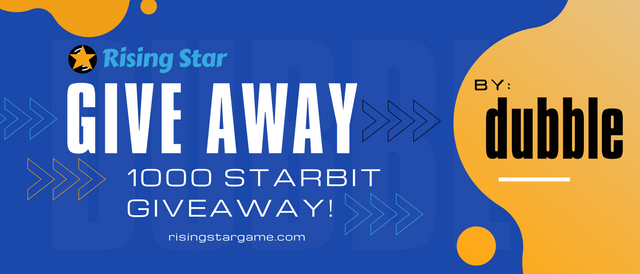 Welcome to another giveaway friends, hope you're all doing well!
Thank you as always for joining in on these giveaways, it helps our community grow and I hope inspires more to start their own giveaways to help out even more newer players!

🎮Gameplay Update🎮
First of the month which means new cards in Rising Star! With the huge price increase of Hive also overnight we've seen the price of Starbits drop as people dump them to cash in-
I purchased myself 1.3m Starbits, would've been nice to grab more but my orders didn't fill in time, so I have a tonne of cheap Starbits to play around with now if I choose to- I'm definitely going to open more packs tonight and try my luck once again with these newer cards but on my natural growth side I'm already about 50k into my daily earnings towards purchasing more-
So potentially opening a tonne of packs this week, we'll see how it goes 😅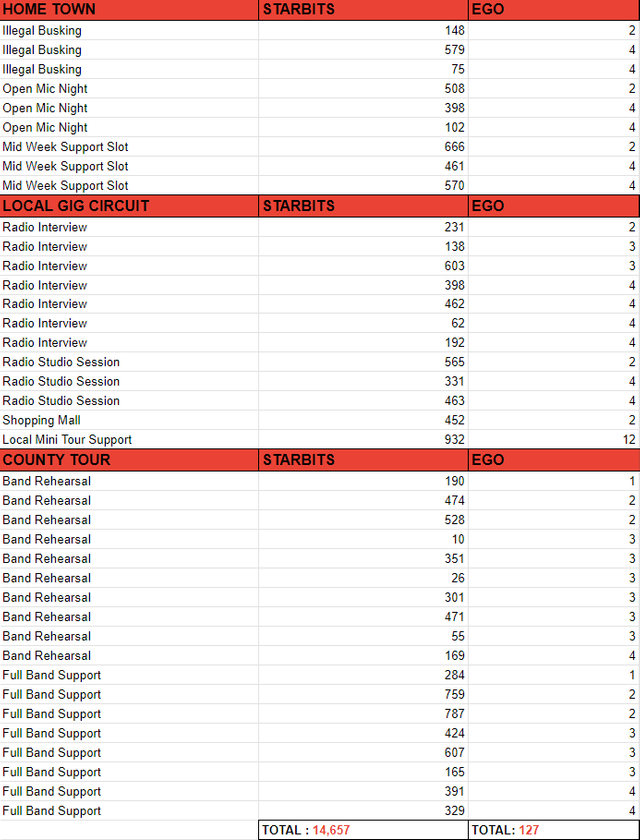 I will be using https://hivetools.herokuapp.com/picker/ to determine winners! 😀
Thank you for participating in my giveaway, goodluck everyone-
Other participants: @roscar9, @henruc, @mario02, @emeka4, @hoosie, @hatdogsensei, @belhaven14, @eijibr, @vaynard86, @jfang003, @adysscheryl, @davideownzall, @nahueldare3627, @ericburgoyne, @kryptofire, @tengolotodo, @amaillo, @rynow, @engilhramn, @orenj1, @captainquack22, @luizeba, @nietokilll, @pousinha, @daddydog, @rtonline, @beeminer, @supriya.gupta, @jdike,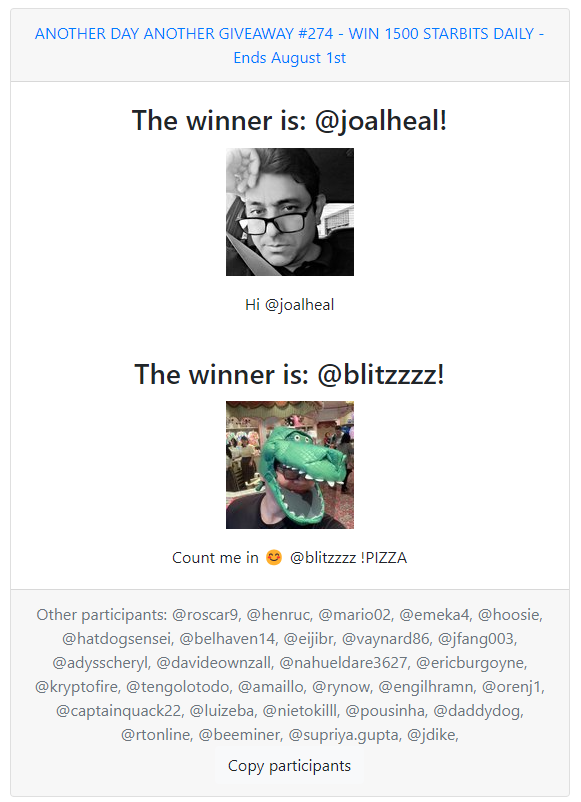 Winner 1 - 1000 Starbits - joalheal
Winner 2 - 500 Starbits - blitzzzz
Congratulations @joalheal & @blitzzzz 😄 I hope you enjoy your Starbits & Thank you for participating!
Transaction ID 1: /tx/9ad28160155430d8281b613a15d69fc0381a9415
Transaction ID 2: /tx/6fad483a765ae62b4e849a3b4263320078040975
TO JOIN MY GIVEAWAY:
1. Comment anything below (include your Rising Star name)
2. Upvote this post / Follow to not miss any giveaways (optional)
3. Winner will be drawn in the next post! Goodluck + Enjoy
TO TRY RISINGSTAR OUT FOR
FREE
SIGN UP
HERE!

Check out the #1UP #ONEUP Community for great Gaming related content!

I will be distributing !PIZZA 🍕, !LUV ❤️ & !LOLZ 😂 to consistent participants in my giveaways!
What is
!PIZZA
?
Read more about it
HERE!
JOIN THE PIZZA
DISCORD

---