Staked 1M+ Sports Tokens - Curating Good Content - 100% Powering Up Sports😊
---
Hello Everyone!
How are you all? Hope you all are fine and having a good time on the platform.
Today I am very happy because When I started on Sportstalksocial I was just a minnow with some dreams of having some good sports power so I can curate users on the platform. Today I have completed the goal because now I have a total of 1M + 100k plus staked tokens in my Sports Wallet.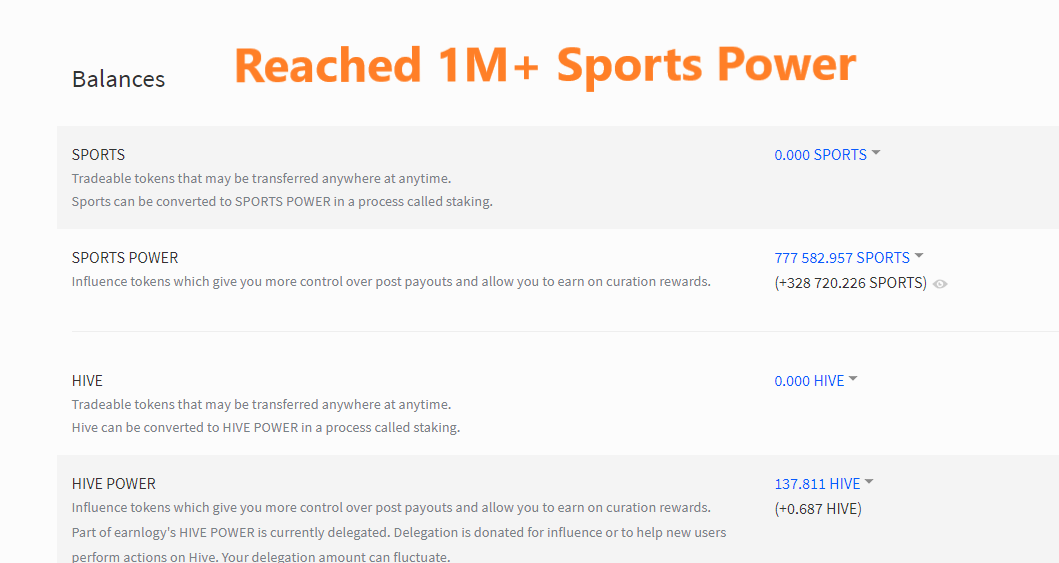 Today my 100 percent upvote vale has reached 300+ Sports 😎. Now I am on the way to curate good content on Sports talk Social. It is a good sign for me that I am growing slowly. Yeah, I am also getting curation reward, Even Author reward too which I am using for powering up.
Now my next target is to get 2M+ Sports. Daily I am earning 1500+ Sports tokens which I am using to power up my sports power instead of selling them because in my thought saving my sports for the future is the best investment because if we stop selling sports token the price of sports token will rise more fastly and I am so curation to see the price at a minimum of 0.001 soon.
I request everyone to save their sports and start powering up their sports power for a better tomorrow.
The Best Content Creators whom I always curate:
1- @airforce
2- @rezoanulvibes
3-@razackpulo.sport
4- @uyobong
5- @sports.guy55
6- @pele23
7- @cryptoandcoffee
8- @erikahfit
9- @dadapizza
10- @sportstalksocial
11- @yousaf-sports
12- @yousafharoonkhan
13- @patrickulrich
14- @fitcoin
15- @cocukgelisimi
16- @sportsburn
17- @bozz.sports
18- @dfacademy
19- @vesytz
20- @delegate4upvot
21- @ph1102.ctp
22- @elizabethbit
23- @silvertop
24- @arbi.sportstalk
25- @botefarm
26- @carrinm
27- @roger5120
28- @browery
Hope you guys don't mind that I mentioned you in my post😊
Keep Going and let's hope for a better future Tomorrow...!
Thank You Everyone for Reading my Post
@earnlogy
---