Market Watch: Choosing Violence!
---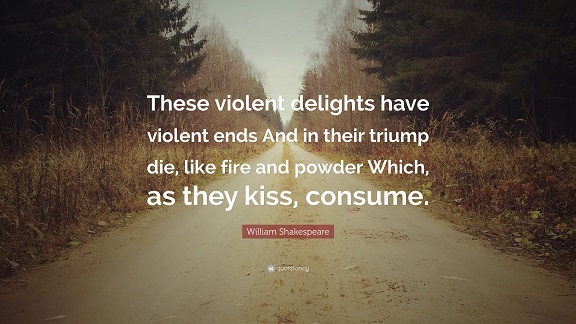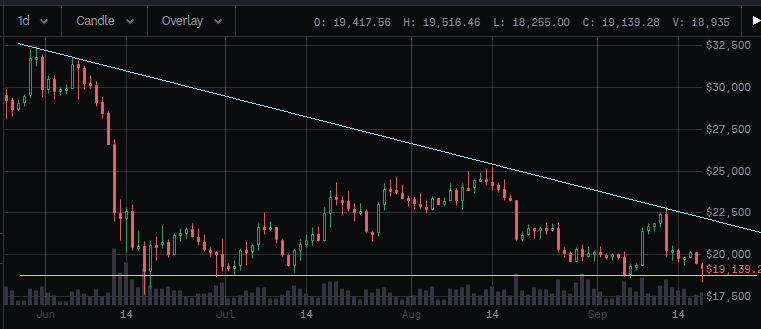 Notice how Bitcoin dropped just below the line. This used to mean that it would crash more, but day traders caught onto that game real fast. Instead what we see are aggressive longs being liquidated and paper hands being forced out of the market. And then hours later the price is back up above the line.
This type of psychological manipulation has been playing out 1000% more often now that institutions have been involved in the Bitcoin game. In fact I was just talking about it a week ago when we were tapping resistance at $22500.
Not gonna lie... looks very bad.
There's a very solid argument to be made that every time a support gets tested... it gets weaker. We have tested this support five time now, with the last time piercing it. On an analysis level that looks really bad. But like I said these day traders are brutal and ruthless and they know it looks bad. The bears are playing mindgames, and it's working.
The entire tech sector got a little wrecked, so it's no surprise that happenstance bled into crypto a bit. Not only is crypto super volatile, but it is also the most cutting-edge tech the world has to offer. Think about how complicated crypto is when looked at as a whole. At this point the space is so big it's impossible for one person to understand everything. Hell, people have been studying only Bitcoin for a decade and still admit they don't fully understand it. Not only that, but the space as a whole will continue to expand exponentially into the future. This game isn't for the faint of heart.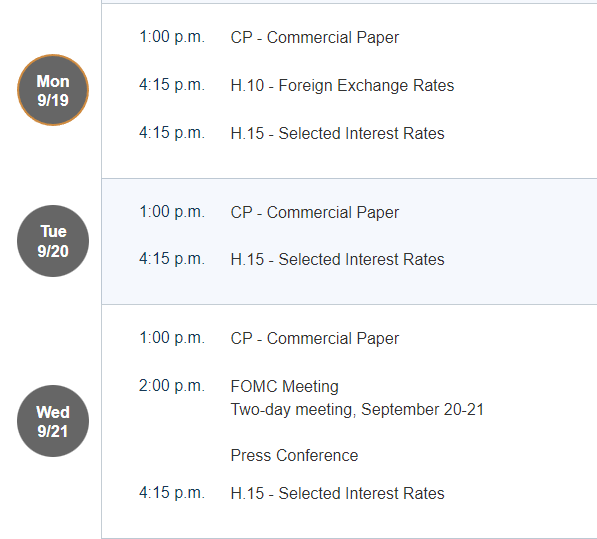 Let's not forget that this is happening the literal day before the FOMC meeting and the FED's dreaded interest rate hike. Again, the fear is on the bear's side. They know that dumping right before an event like this that is deemed critical is enough to send everyone else into a panic. Especially when the amount of the hike is unknown and many are wondering whether it will be 75 points or 100.
Even worse, it's possible that what we are seeing right now is a bit of insider trading. A small group of people could know in advance that the FED is going to do the stupid thing and hike rates by 100 points, which again, is so aggressively stupid that it would convince me for sure that they are trying to create a depression on purpose. I guess we'll see.
Personally I still think that a 75 point hike is already overpriced in and we get a pump tomorrow in that case, but again we'll just have to wait and see. It's not like I have a very good track record for guessing these things, but it's fun to try.
RUNE GAMBLE
My aggressive RUNE trade is in the red... but only by like 3%, which is pretty good considering the circumstances. Oh wait I just checked the market again and I've broken even again. Just goes to show you how insane this all is. Not for the faint of heart, indeed.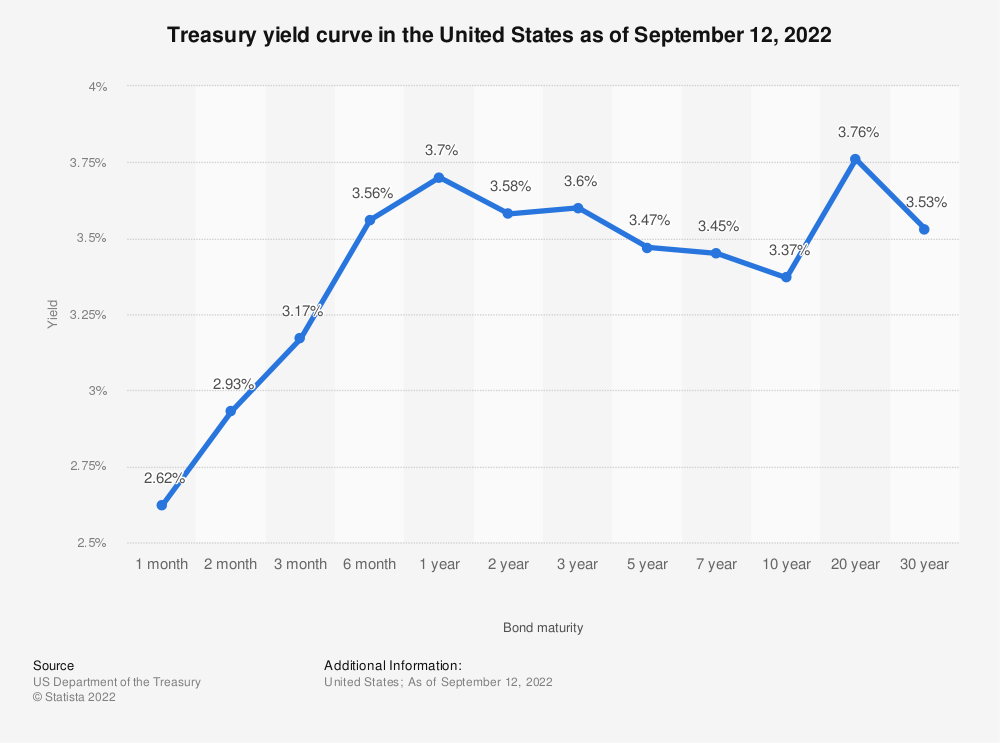 Yield Curve
Not looking very curvy if you ask me. Logic would dictate that holding a bond for a longer time period should result in a bigger payout. Normally that's true. When the graph turns into a shape that ceases to look like a logarithmic curve many will say this is predicting a recession. Looking at the rest of the economy... a recession is guaranteed. The chance of it being a really bad one is high. I feel like everyone knows this but it still needs to be said.
But that's the thing, isn't it? It's clear we are already in the middle of a recession, even if the government is like no no no this isn't a recession don't worry about it. What is the goal there? Do rich people still want exit liquidity as they flock to USD? Is the Biden Administration afraid of losing even more public support? I feel like they should know that they can't win a reelection, but maybe they don't. Perhaps it will be easier to claim we got that "soft landing" if admitting this is a recession gets pushed back as far as possible. Maybe a little of everything. These issues are complicated.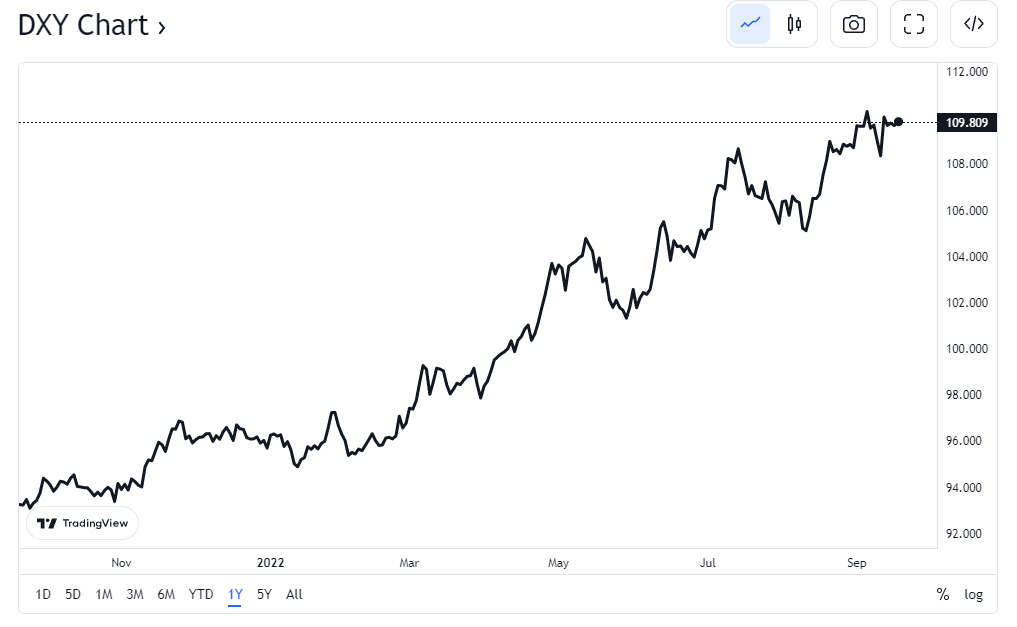 DXY chart
The U.S. Dollar Index tracks the strength of the dollar against a basket of major currencies. DXY was originally developed by the U.S. Federal Reserve in 1973 to provide an external bilateral trade-weighted average value of the U.S. dollar against global currencies. U.S. Dollar Index goes up when the U.S. dollar gains "strength" (value), compared to other currencies. The following six currencies are used to calculate the index:
| Currency | Weight |
| --- | --- |
| Euro (EUR) | 57.6% |
| Japanese yen (JPY) | 13.6% |
| Pound sterling (GBP) | 11.9% |
| Canadian dollar (CAD) | 9.1% |
| Swedish krona (SEK) | 4.2% |
| Swiss franc (CHF) | 3.6% |
Maybe that just means that Europe is fucked?
Certainly they are... but also look at the damn chart. People who are talking about "inflation" are very misinformed. The value of a dollar has done nothing but go up for a year straight. Because USD is the "world reserve currency"... changes to policy affect the entire world. Welcome to the empire.
Zooming out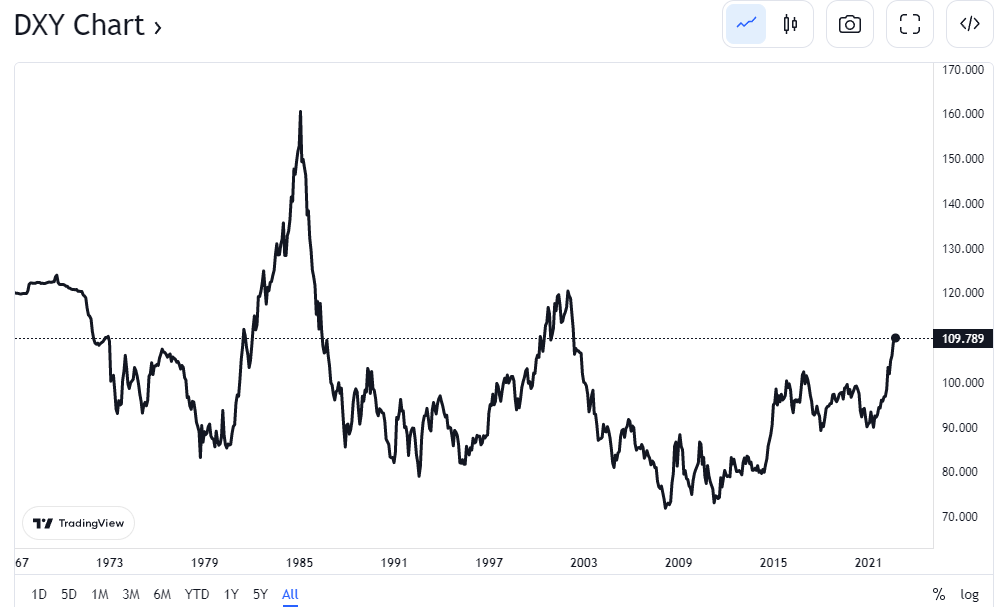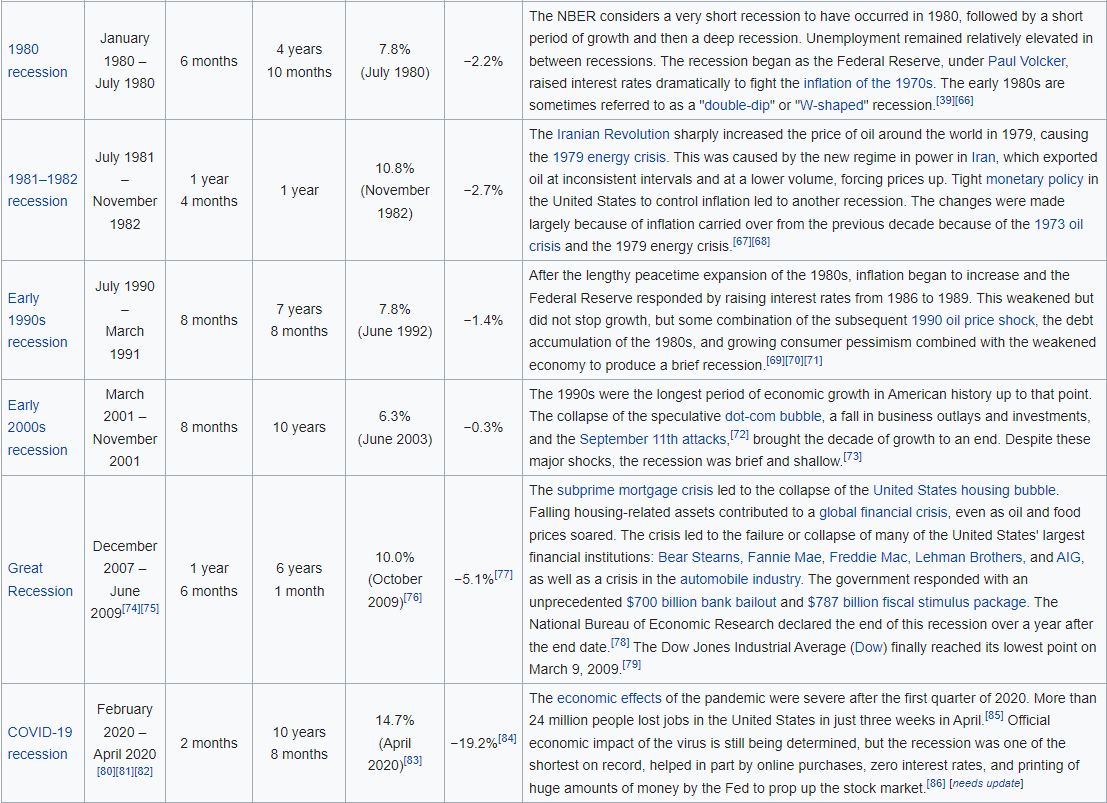 In addition to inverted yield curves looking very bad, we can also see the direct correlation between USD gaining value against other currencies and recessions. This should not be surprising. When the world economy is in trouble the obvious move is to choke the rest of the world to support your own fledgling economy. USD can do that. Other currencies can't. Will DXY get as high as it did in 2002? Higher? Quite unclear.
It sure is moving up fast though, and it's very difficult to see when it will let up. I guess that's up to the FED? But also if they melt the economy they'll be forced to reverse course, so there is that. I suppose if supply-line disruptions end that would also fix the problem... but I'm not going to hold out hope in that department. Seems like the government is intent on going from one crisis to another constantly messing with supply lines, whatever the current reason of the day may be.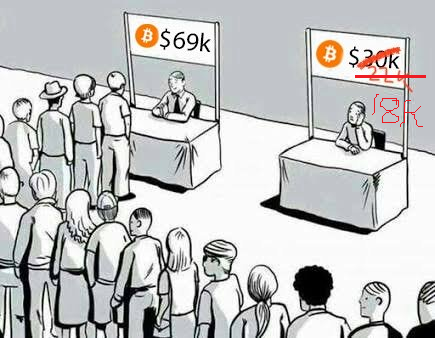 Regardless of all this, crypto continues to make exponential gain over time, regardless of the short-term volatility. Could we get completely wrecked all over again and ride Bitcoin down to $10k? Sure, anything is possible. But whether that is a good or bad thing is 100% on our own portfolio positioning. It's not the market's fault that everyone is running around choosing maximum greed all-in strategy. The players in the market are the ones who are making it volatile because of their own lack of discipline (myself included). Something to think about.
At the same time, how can one justify betting against assets that go up exponentially over time? It takes a very disciplined kind of mentality to be able to DCA buy and sell very slowly over the curves of the market. It sounds so easy, but it's the hardest thing in the world. We have a tendency to go all in on a decision once we've made it. Clearly this is not only a poor personal strategy, but also one that doesn't help the greater market itself. Crypto has a way of rewarding people who add value to the ecosystem rather than try to enrich themselves (over the long term anyway).
Conclusion
Today's dump scared a lot of people. Even I admit that the chart looks bad after support being punctured like that. Is this a legitimate breakdown of support, or bears playing mindgames? I have to opt for mindgames considering the timing of the move, but who knows. The only way to find out is to wait and see which way we break outside of this critical descending wedge.
USD continues to gain value against other currencies, and that is ironically a very bad sign. What people think is inflation is actually deflation. Up is down and down is up. We will know when real inflation hits because inflation pumps bags rather than deflating them. That is the entire value proposition of Bitcoin in the first place. People seem to have forgotten that for some reason.
Personally I'm very excited to see how crypto will perform during a recession. I believe it will thrive quite well, but riding it down to a new local low is going to be very painful (assuming we don't get a rally before everything tanks into the ground). Only the most diehard crypto zealots get rewarded in these situations. Most people end of capitulating right at the bottom. The market is a psychic energy vampire. Don't let it get you.
Posted Using LeoFinance Beta
---