It's Time for LEO Power Up! (LPUD November 15, 2022) EN/FR
---
LEO Power Up Day (LPUD) has become the most awaited event on the HIVE blockchain since its beginning in June 2022. A great number of HIVE users look forward to participating in this event and winning awesome rewards.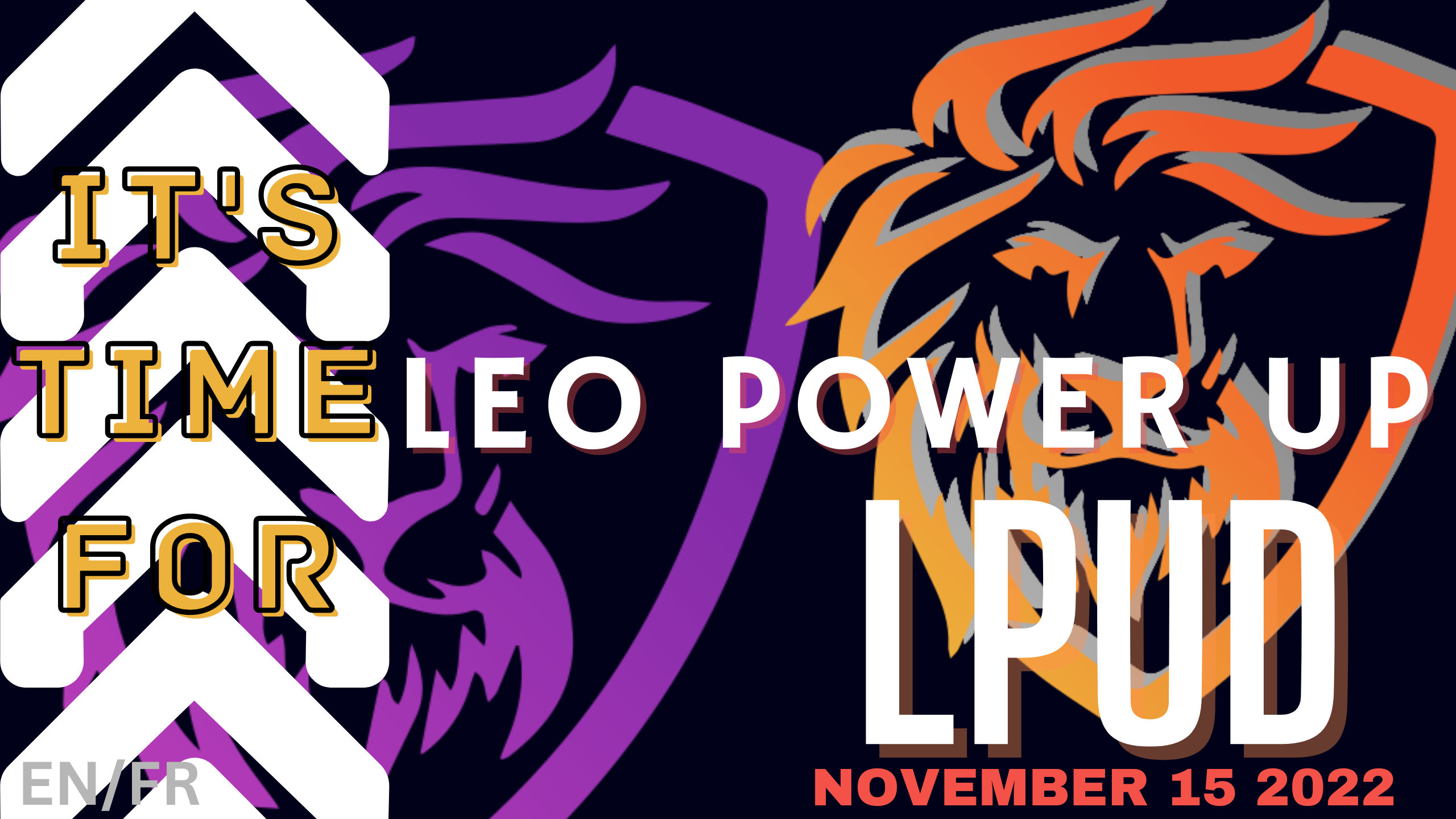 Today November 15th marks the 6th LPUD event in LeoFinance and across the Hive blockchain. This time is way bigger than ever, because of "Slay The Dragon" contest is beating the drums hard to attract epic warriors to save the "Lions Den" from the ongoing attacks of fearsome dragons.
Let me shed some light on the event's purpose and then I'll describe the prizes offered by @leogrowth.
WHAT IS LEO POWER UP DAY (LPUD)?
LPUD is a community empowering initiative presented by LeoFinance and it is managed by @leogrowth along with many other community-building projects.
LPUD event is celebrated on the 15th date of each month, those who like to participate may stack a certain amount of LEO tokens on the HIVE blockchain to participate in the event and write a short message on #threads or publish a blog through on LeoFinance.io to seal his/her participation in the event.
Each time a user adds LEO tokens into stacking, he gains additional voting power for curation which helps earn more LEO tokens himself but also for users he had upvoted.
The purpose of this event is to bring growth to the community in general and promote Web 3.0 community-building mindset.
LeoFinance.io is one of the most active communities on HIVE Blockchain that has developed different types of apps to help grow its user base on HIVE and other Web 3.0 platforms.
POWERING UP OR STACKING LEO TO GET LEO-POWER (LP)
Usually, I use https://LeoFinance.io to stack my LEO tokens to gain more vesting tokens as LP, but you may use various other HIVE-based services whichever you think is more convenient.
Open the website https://LeoFinance.io and log in to your account using HIVE Keychain or HIVE Signer, then click your HIVE username and click "Wallet" to visit your HIVE Wallet.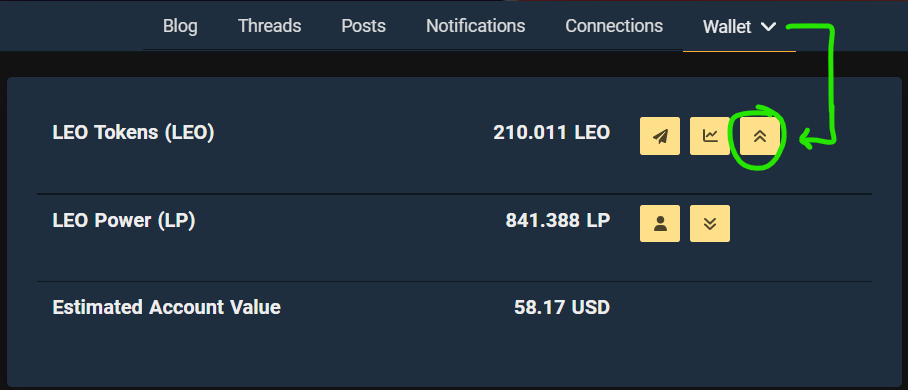 Here, you'll find the "POWER-UP" button with 2 upside arrows, simply click that button.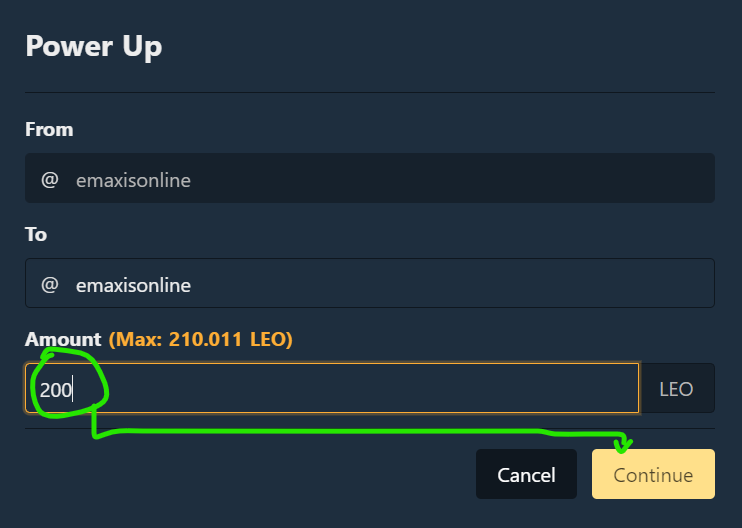 A small pop-up window will appear, enter the amount of LEO tokens as required by the event rules, you may add more than the required amount if you desire to do so. Now, click the continue button and you'll see HIVE Keychain pops up to approve the transaction.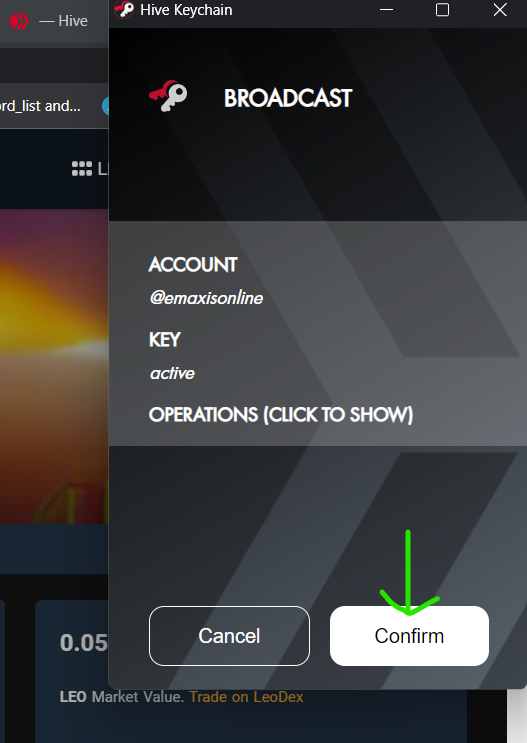 After confirming the transaction for stacking LEO tokens, your wallet will show additional LEO-POWER (LP) in your HIVE Blockchain Wallet as shown in the image below.

It is easy as that like I just did in 3 simple steps, I have powered up 200 LEO tokens and now my total LP has raised to 1,041.
LPUD EVENT REWARDS
As I told you earlier that this event was bigger than ever due to "Slay the Dragon" contest, you can earn way more than you expected.
Slay The Dragon Prizes
Lion's den is in danger of being attacked by gruesome dragons, you must slay a dragon to protect the Lion's Den. Power up 2,000-4,999 and you'll slay an elite dragon, but if you power up more than 5000 LEO tokens then you'll slay an elder dragon.
To defend the Lion's Den with 2,000-5,999 LP, you'll be given a delegation of 4000 LP for 25 days, but if you defend the Den with 5000 or more LP then you'll receive a prize of 10,000 LP as a delegation for 25 days.
Regular Extended Prizes
Yes, this time the number of bonus prizes has also been extended, some kind LeoFinance enthusiasts have added more LP delegation prizes, which means more users can win this time.
The prizes shown in the image below are according to the post published by @leogrowth, click here to read the original post.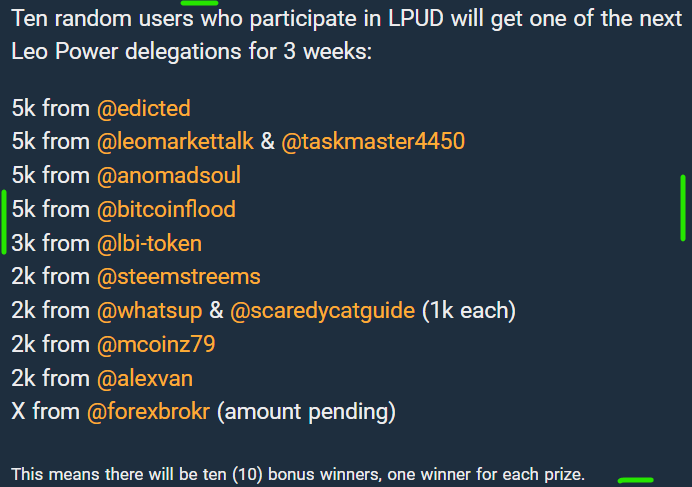 It seems there are big delegation rewards for 10 amazing persons who will win LPUD rewards randomly.
Bad Luck Prize
LPUD participants who consecutively participated in September, October, and November and could not win any prize during those events will be eligible for a "Bad Luck Prize" of a huge 60,000 LP sponsored by @onealfa.
GROUND RULES FOR PARTICIPATION IN LPUD
There are some simple rules to follow to participate in November's LPUD. The ground rules are clipped from the original post as shown in the image below.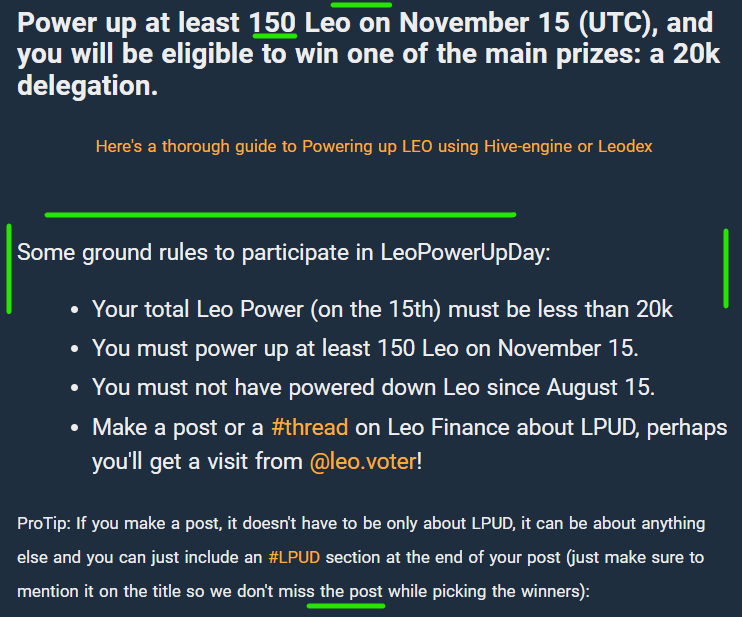 There is still plenty of time to stamp your participation in this LPUD and become a randomly selected winner for some lovely rewards.
Good luck and all the best. Happy LPUD!
Version Français
Il est temps pour LEO Power Up! (LPUD novembre 2022)
Le LEO Power Up Day (LPUD) est devenu l'événement le plus attendu sur la blockchain HIVE depuis ses débuts en juin 2022. Un grand nombre d'utilisateurs de HIVE ont hâte de participer à cet événement et de gagner des récompenses impressionnantes.
Aujourd'hui, le 15 novembre marque le 6ème événement LPUD dans LeoFinance et à travers la blockchain Hive. Ce temps est beaucoup plus grand que jamais, car le concours « Slay The Dragon » bat fort les tambours pour attirer des guerriers épiques afin de sauver la « fosse aux lions » des attaques continues de dragons redoutables.
Permettez-moi de faire la lumière sur le but de l'événement, puis je décrirai les prix offerts par @leogrowth.
QU'EST-CE QUE LE LEO POWER UP DAY (LPUD) ?
LPUD est une initiative d'autonomisation communautaire présentée par LeoFinance et elle est gérée par @leogrowth avec de nombreux autres projets de renforcement de la communauté.
L'événement LPUD est célébré le 15 de chaque mois, ceux qui aiment participer peuvent empiler une certaine quantité de jetons LEO sur la blockchain HIVE pour participer à l'événement et écrire un court message sur #threads ou publier un blog sur LeoFinance.io pour sceller sa participation à l'événement.
Chaque fois qu'un utilisateur ajoute des jetons LEO dans l'empilement, il gagne un pouvoir de vote supplémentaire pour la curation, ce qui permet de gagner plus de jetons LEO lui-même, mais aussi pour les utilisateurs qu'il avait votés.
Le but de cet événement est d'apporter de la croissance à la communauté en général et de promouvoir l'état d'esprit de développement communautaire Web 3.0.
LeoFinance.io est l'une des communautés les plus actives sur HIVE Blockchain qui a développé différents types d'applications pour aider à développer sa base d'utilisateurs sur HIVE et d'autres plates-formes Web 3.0.
ALLUMER OU EMPILER LEO POUR OBTENIR LEO-POWER (LP)
Habituellement, je l'utilise https://LeoFinance.io pour empiler mes jetons LEO afin d'obtenir plus de jetons d'acquisition en tant que LP, mais vous pouvez utiliser divers autres services basés sur HIVE selon ce que vous pensez être le plus pratique.
Ouvrez le site Web https://LeoFinance.io et connectez-vous à votre compte à l'aide de HIVE Keychain ou HIVE Signer, puis cliquez sur votre nom d'utilisateur HIVE et cliquez sur « Portefeuille » pour visiter votre portefeuille HIVE.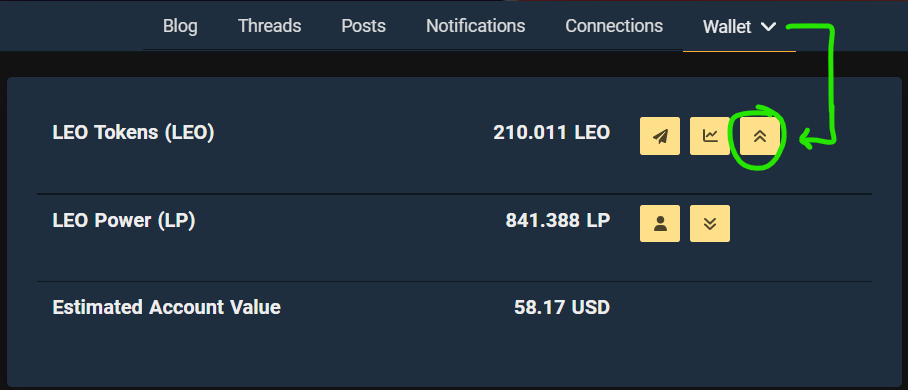 Ici, vous trouverez le bouton « POWER-UP » avec 2 flèches à l'envers, cliquez simplement sur ce bouton.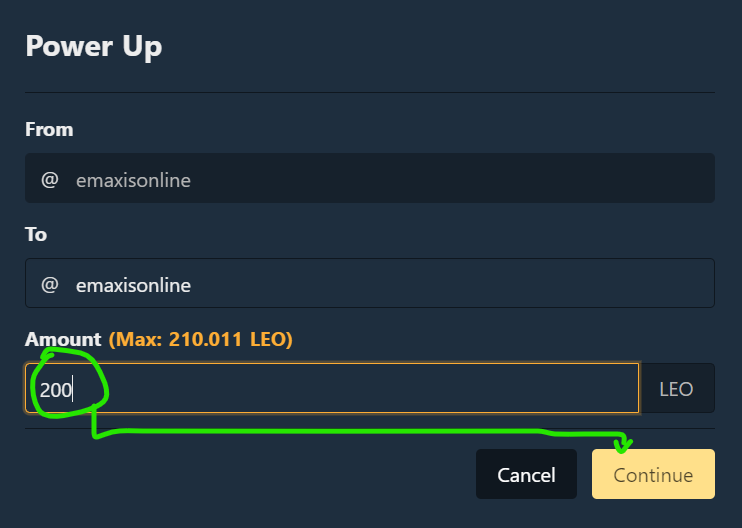 Une petite fenêtre pop-up apparaîtra, entrez le nombre de jetons LEO comme requis par les règles de l'événement, vous pouvez ajouter plus que le montant requis si vous le souhaitez. Maintenant, cliquez sur le bouton Continuer et vous verrez HIVE Keychain apparaître pour approuver la transaction.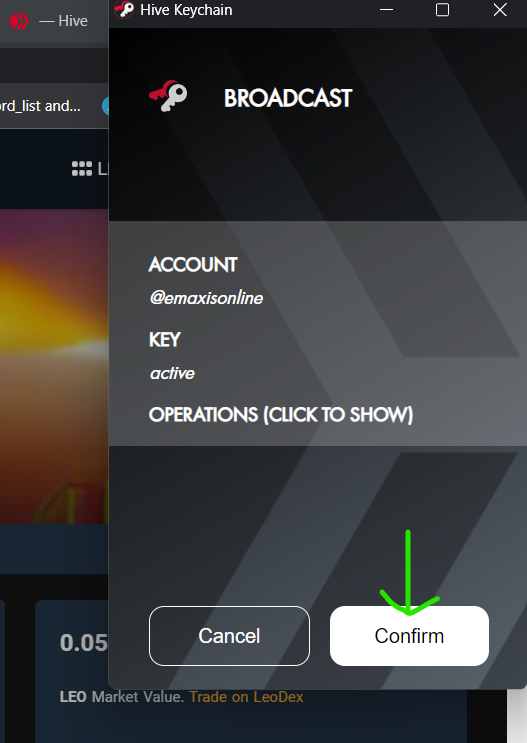 Après avoir confirmé la transaction pour empiler des jetons LEO, votre portefeuille affichera des LEO-POWER (LP) supplémentaires dans votre portefeuille HIVE Blockchain, comme indiqué dans l'image ci-dessous.

C'est aussi simple que cela comme je viens de le faire en 3 étapes simples, j'ai alimenté 200 jetons LEO et maintenant mon LP total est passé à 1 041.
RÉCOMPENSES DE L'ÉVÉNEMENT LPUD
Comme je vous l'ai dit plus tôt que cet événement était plus grand que jamais en raison du concours « Slay the Dragon », vous pouvez gagner beaucoup plus que prévu.
Prix Slay The Dragon
La fosse aux lions risque d'être attaquée par des dragons horribles, vous devez tuer un dragon pour protéger la fosse aux lions. Alimentez 2 000 à 4 999 et vous tuerez un dragon d'élite, mais si vous allumez plus de 5000 jetons LEO, vous tuerez un dragon plus âgé.
Pour défendre le Lion's Den avec 2 000-5 999 LP, vous recevrez une délégation de 4000 LP pendant 25 jours, mais si vous défendez le Den avec 5000 LP ou plus, vous recevrez un prix de 10 000 LP en tant que délégation pendant 25 jours.
Prix prolongés réguliers
Oui, cette fois, le nombre de prix bonus a également été étendu, certains passionnés de LeoFinance ont ajouté plus de prix de délégation LP, ce qui signifie que plus d'utilisateurs peuvent gagner cette fois.
Les prix montrés dans l'image ci-dessous sont selon le post publié par @leogrowth, [cliquez ici] (https://leofinance.io/@leogrowth/lpud-is-coming-slay-the-dragon) pour lire le post original.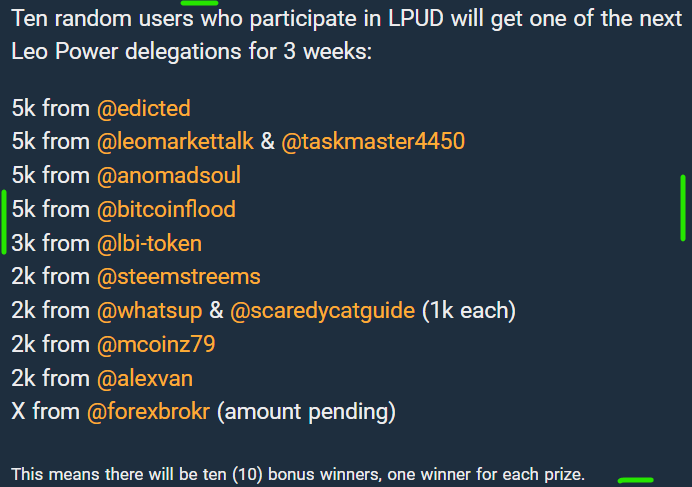 Il semble qu'il y ait de grandes récompenses de délégation pour 10 personnes incroyables qui gagneront des récompenses LPUD au hasard.
Bad Luck Prize
Les participants LPUD qui ont participé consécutivement en septembre, octobre et novembre et qui n'ont pu gagner aucun prix lors de ces événements seront éligibles pour un « prix de malchance » d'un énorme 60 000 LP parrainé par @onealfa.
RÈGLES DE BASE POUR LA PARTICIPATION À LPUD
Il y a quelques règles simples à suivre pour participer au LPUD de novembre. Les règles de base sont découpées à partir de la publication d'origine comme indiqué dans l'image ci-dessous.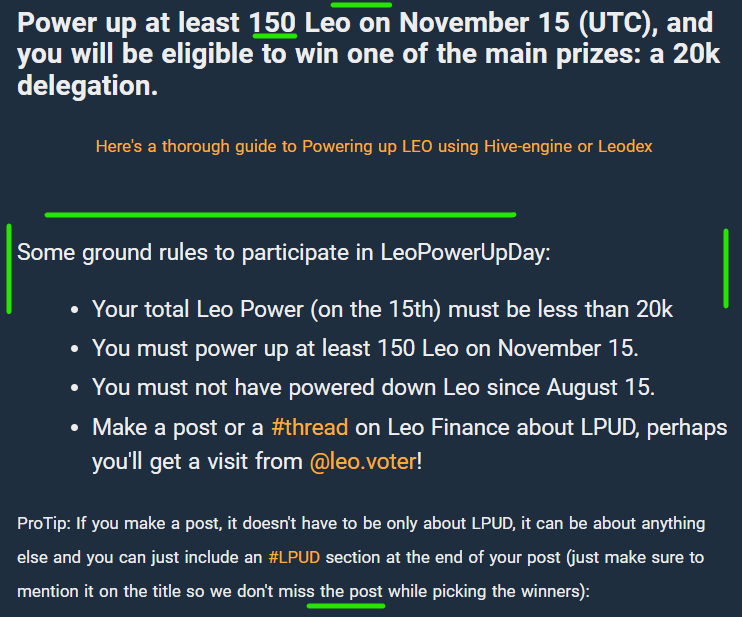 Il reste encore beaucoup de temps pour tamponner votre participation à ce LPUD et devenir un gagnant sélectionné au hasard pour de belles récompenses.
Bonne chance et tout le meilleur. Joyeux LPUD!
Author: emaxisonline
Image: Poster made with Canva.com and Logo taken from LeoFinance.io
Translated with Bing.
Posted Using LeoFinance Beta
---