PLANET Token Striving for a Cleaner Earth [Hive Layer-II Tokens Ep-5] (EN/FR)
---
Hello and welcome back to Hive Layer-II Tokens Series,
It's been quite a long time since my last post about Layer-II tokens, but we are here again and we'll discover more amazing Layer-II tokens created using the HIVE blockchain.
There are very few communities or people on Hive that run special projects dedicated to making our earth a clean and pollution-free place. One such project is Clean Planet project run by Yannick (@yann0975).
The project has its token known as 'PLANET'. We'll discuss the Tokenomics and utility of this token.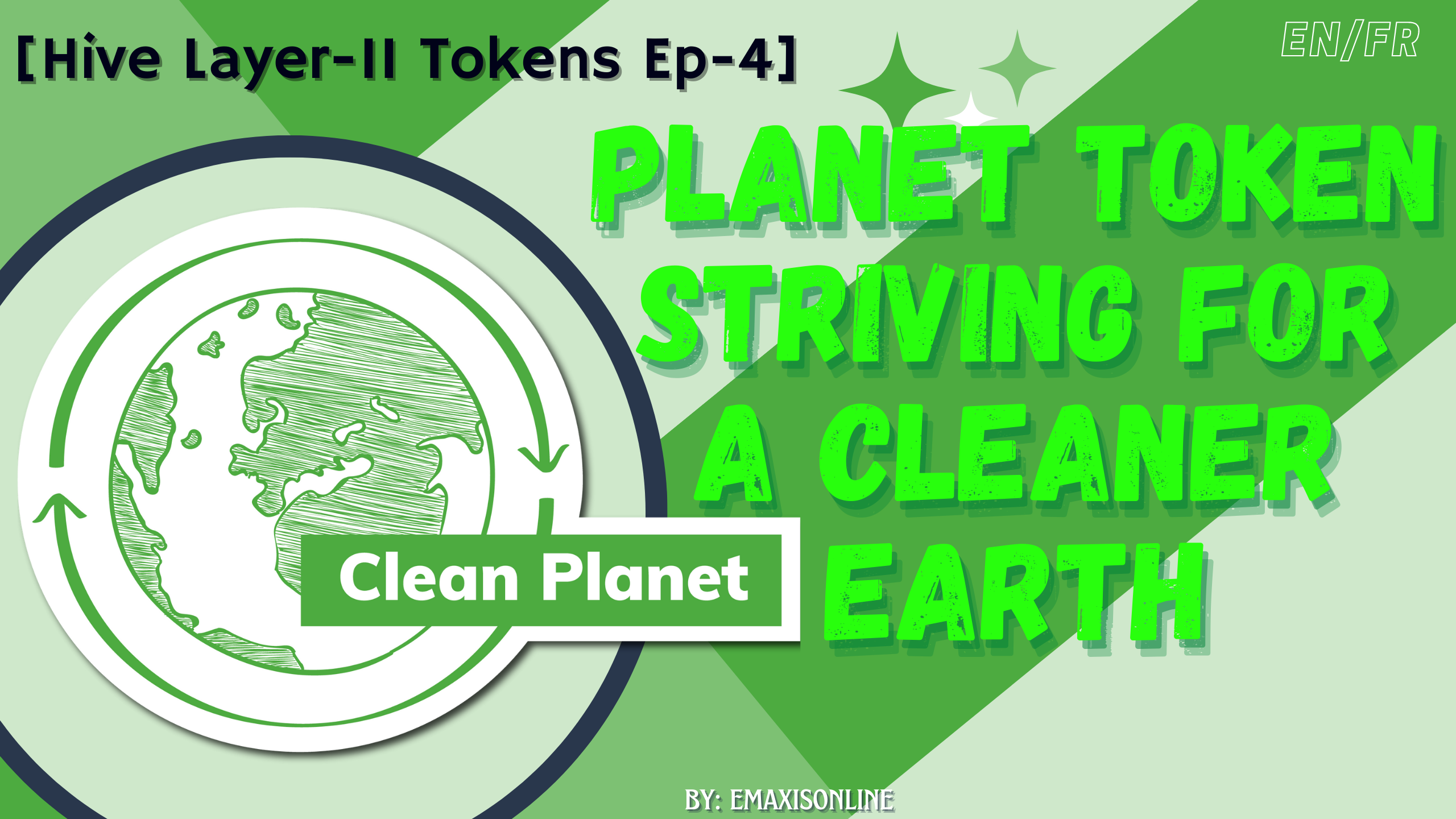 Clean Planet Project Description
Clean Planet is trying to give awareness regarding the importance of a clean and healthy environment in every part of the world. This movement was founded in mid of 2018 and is fully active in cleaning acts today.
Clean Planet raises awareness through various Web 2.0 and Web 3.0 social media platforms, but it focuses on spreading consciousness and incentives using blockchain-based social platforms. Currently, the project runs its activities on the HIVE blockchain using PeakD and DTube frontends.
How to Engage in Clean Planet Cause and Get Rewarded
Any good deed starts from our homes, you can look for any waste littering around your neighborhood and collect it, then you can dump it in a local garbage collection point, it can be a trash can, dumpster, or municipal bin.
Record this good deed using a cam in the form of a video or images, then post it as proof in a blog on HIVE Blockchain using any of its frontends using the hashtag #cleanplanet, don't forget to mention @cleanplanet in your comment to get reviewed. Your published proof of collection and dumping will be reviewed by the Clean Planet team and you'll receive an incentive in liquid PLANET tokens + curation rewards.
Here is a small video by Clean Planet YouTube Channel that'll show you an example of the Eco Citizen Act you may do in your part of the world and join this amazing movement.
Tokenomics of PLANET:
There is no whitepaper at the moment to explain the tokenomics of PLANET tokens, but we can extract some useful information from hive-engine.io.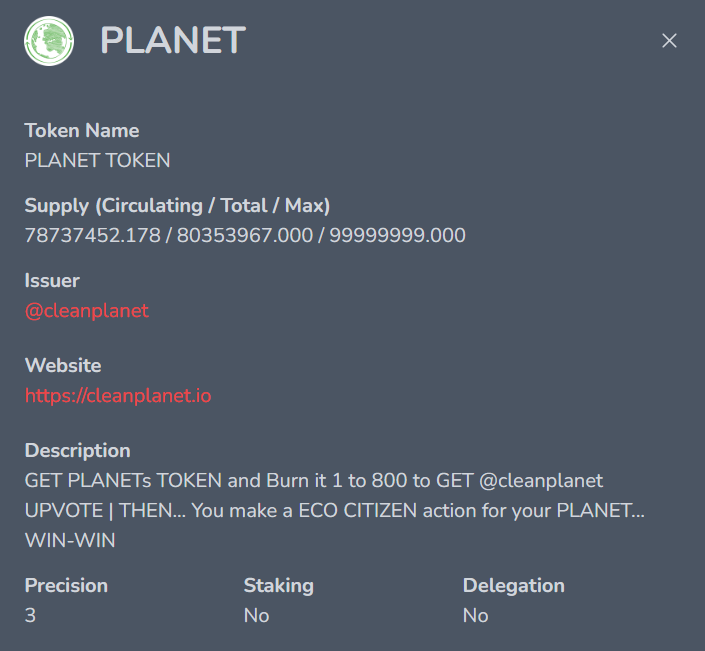 Data extraced from https://Hive-Engine.com
The token is issued by @cleanplanet with the precision of 3 decimal points having a max supply of 99,999,999.000 PLANET tokens, tokens supplied in the market to date 80,353,967.000, and there are 78,737,452.178 tokens in circulation.
Utility
PLANET token has an active burning mechanism as a utility, that is used to add more rewards to published posts. Users who show proof of Eco Citizen Act in their posts can use this token to get eligible for an upvote from the @cleanplanet account.
What you have to do is to send 1 to 800 PLANET tokens to @null using any Hive Engine DEX such as https://leodex.io or https://hive-engine.com and put the link of the post in MEMO as shown in the image below.
You can reach the official guide for burning PLANET tokens by clicking here.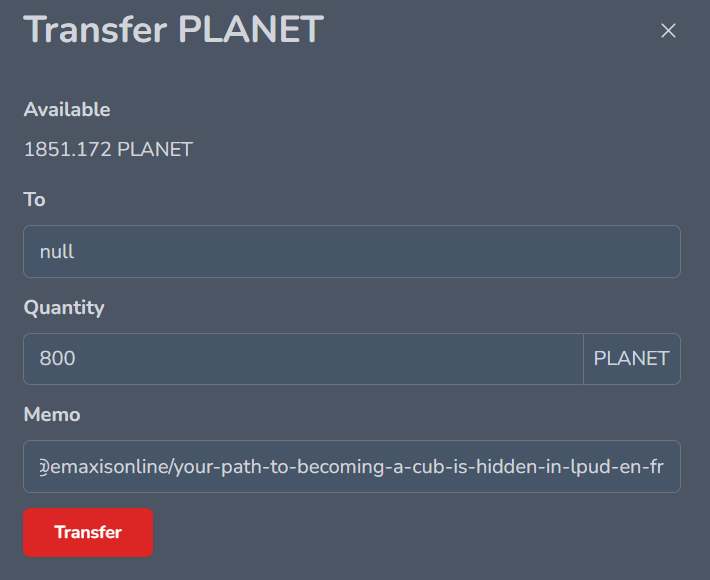 Transferring PLANET to null in https://Hive-Engine.com
The Clean Planet team will manually review the request for any discrepancies before curating your post.
How to Get PLANET Tokens:
Getting PLANET tokens is very simple, there are 3 ways to receive these tokens, and we'll discuss them one by one.
1) Trading: PLANET token is available in the open market, you may use any Hive-Engine based DEX to buy and sell these tokens, the current market bid price is around 0.00097250 HIVE.
2) Earn by Publishing Content Showing Eco Citizen Act: As we have discussed earlier that you can earn these coins by providing proof of cleaning and dumping collected waste by posting about your Eco Citizen Act using any Hive-Engine frontend.
3) Participate in Daily Raffles on Discord Server: Every day you may participate in a daily giveaway of PLANET tokens in the CLEAN PLANET Discord server. You can join the CLEAN PLANET server using this link https://discord.gg/HDaVZbgq, once you are in the server, click #Giveaway channel and look for the current giveaway message, to add your entry click the party hat icon or follow whatever instructions you find there.
Final Remarks:
It is indeed a great cause to care for our planet in any way that can create a small but substantial effect around us, it also helps educate people around us not to make litter in public places.
The awareness program uses blockchain technology, which is a very impressive way of making blockchain services a tool to spread the word of good deeds and make our public places tidy and clean.
The tokenomics is very simple and ways to earn PLANET tokens are also easy, anyone can grab the rewards by showing proof by posting a video or images.
It also adds value to the HIVE ecosystem by inviting new users to join the cause using HIVE Onboarding service. This means we can see many more new people in the Hive-Engine ecosystem through CLEAN PLANET initiative.
If you have any question or feedback, feel free to ask in the comment section.
---
NOTICE: This is an experimental review of mentioned tokens for study purposes only, and must not be considered as financial advice or an endorsement. Always do your research before doing any trading/investment. The post is for information and entertainment purposes only. Thanks for reading.
---

Version Français
Jeton PLANET en quête d'une Terre plus propre [Hive Layer-II Tokens Ep-5]
Bonjour et bienvenue à nouveau à Hive Layer-II Tokens Series,
Cela fait longtemps depuis mon dernier article sur les jetons Layer-II, mais nous sommes ici à nouveau et nous découvrirons d'autres jetons Layer-II incroyables créés à l'aide de la blockchain HIVE.
Il y a très peu de communautés ou de personnes sur Hive qui mènent des projets spéciaux dédiés à faire de notre terre un endroit propre et sans pollution. L'un de ces projets est le projet Clean Planet dirigé par Yannick (@yann0975).
Le projet a son jeton connu sous le nom de 'PLANET'. Nous discuterons de la tokenomique et de l'utilité de ce jeton.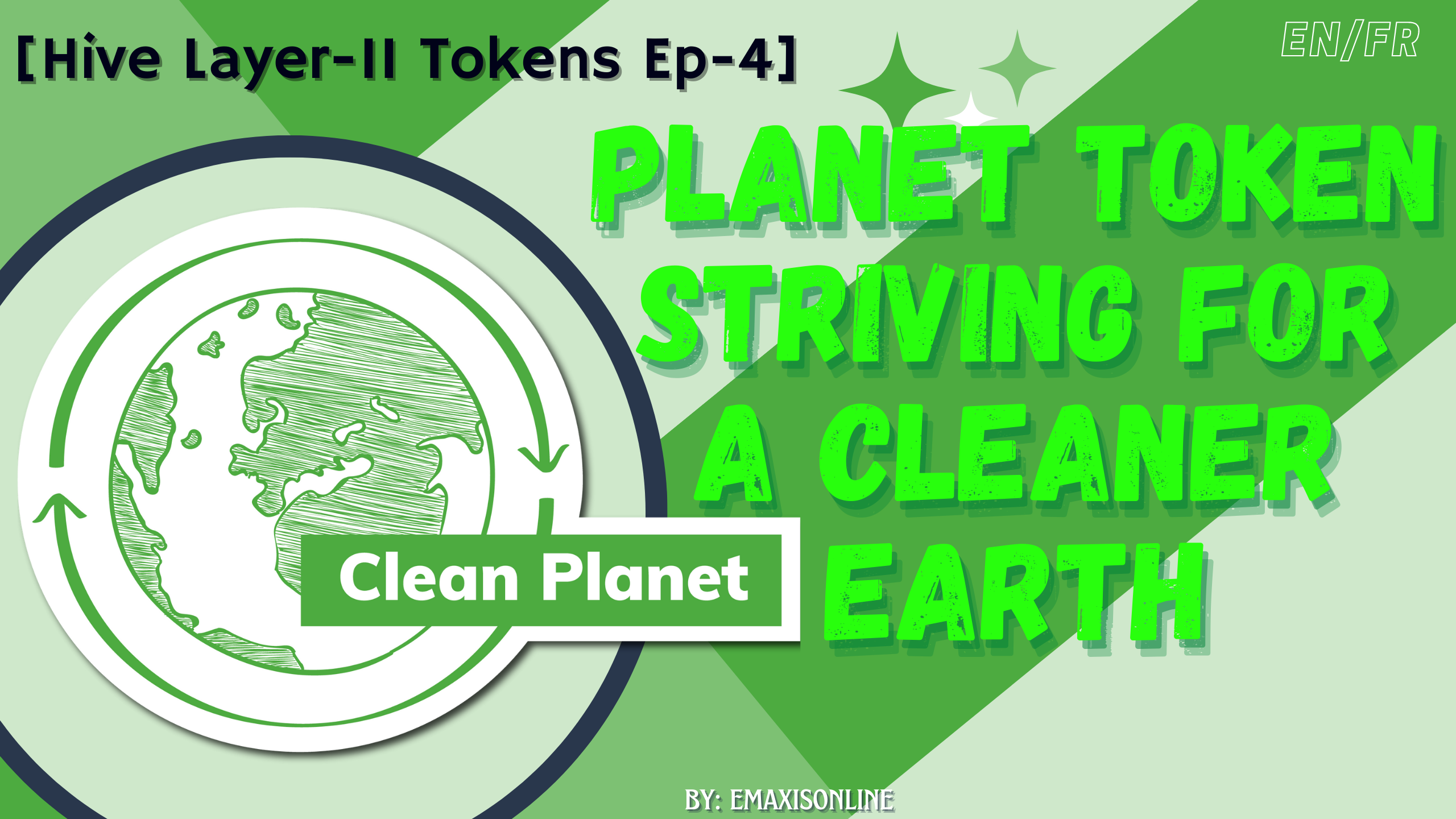 Description du projet Clean Planet
Clean Planet tente de sensibiliser à l'importance d'un environnement propre et sain dans toutes les régions du monde. Ce mouvement a été fondé à la mi-2018 et est aujourd'hui pleinement actif dans les actes de nettoyage.
Clean Planet sensibilise à travers diverses plateformes de médias sociaux Web 2.0 et Web 3.0, mais il se concentre sur la sensibilisation et les incitations à l'aide de plateformes sociales basées sur la blockchain. Actuellement, le projet exécute ses activités sur la blockchain HIVE en utilisant les interfaces PeakD et DTube.
Comment s'engager dans la cause de Clean Planet et être récompensé
Toute bonne action commence à partir de nos maisons, vous pouvez rechercher tous les déchets qui jonchent votre quartier et les collecter, puis vous pouvez les jeter dans un point de collecte des ordures local, il peut s'agir d'une poubelle, d'une benne à ordures ou d'une poubelle municipale.
Enregistrez cette bonne action à l'aide d'une caméra sous la forme d'une vidéo ou d'images, puis postez-la comme preuve dans un blog sur HIVE Blockchain en utilisant l'un de ses frontends en utilisant le hashtag #cleanplanet, n'oubliez pas de @cleanplanet le mentionner dans votre commentaire pour être examiné. Votre preuve publiée de collecte et de dumping sera examinée par l'équipe Clean Planet et vous recevrez un incitatif en jetons PLANET liquides + récompenses de curation.
Voici une petite vidéo de la chaîne YouTube Clean Planet qui vous montrera un exemple de la loi éco-citoyenne que vous pouvez faire dans votre partie du monde et rejoindre ce mouvement incroyable.
Tokenomique de PLANET:
Il n'y a pas de livre blanc pour le moment pour expliquer la tokenomique des jetons PLANET, mais nous pouvons extraire quelques informations utiles de hive-engine.io.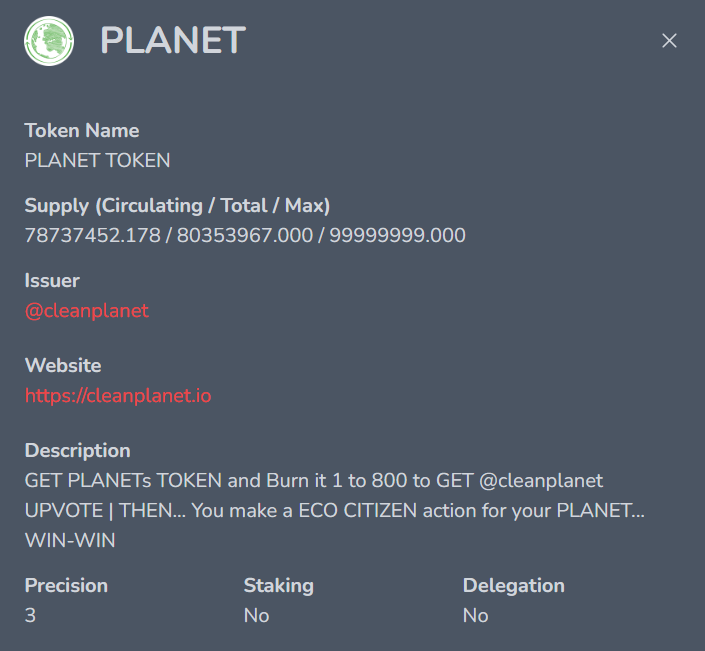 Données extracées de https://Hive-Engine.com.
Le jeton est émis par @cleanplanet avec la précision de 3 décimales ayant une offre maximale de 99,999,999.000 jetons PLANET, jetons fournis sur le marché à ce jour 80,353,967.000, et il y a 78,737,452.178 jetons en circulation.
Utilité
Le jeton PLANET a un mécanisme de gravure actif en tant qu'utilitaire, qui est utilisé pour ajouter plus de récompenses aux messages publiés. Les utilisateurs qui montrent la preuve de l'acte Eco Citizen dans leurs messages peuvent utiliser ce jeton pour être éligibles à un vote positif du compte @cleanplanet.
Ce que vous devez faire est d'envoyer 1 à 800 jetons PLANET à @null en utilisant n'importe quel moteur de ruche DEX tel que https://leodex.io ou https://hive-engine.com et de mettre le lien du message dans MEMO comme indiqué dans l'image ci-dessous.
Vous pouvez accéder au guide officiel pour graver des jetons PLANET en cliquant ici.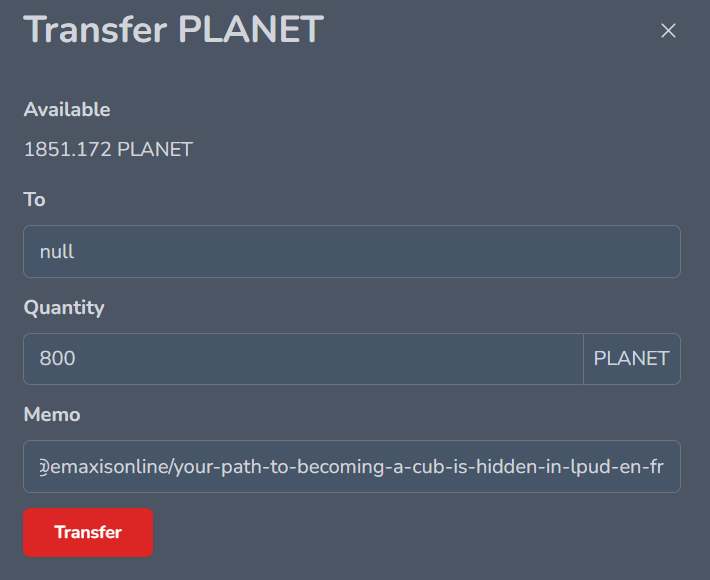 Transfert de PLANET vers null dans https://Hive-Engine.com.
L'équipe Clean Planet examinera manuellement la demande pour détecter toute divergence avant de créer votre message.
Comment obtenir des jetons PLANET:
Obtenir des jetons PLANET est très simple, il y a 3 façons de recevoir ces jetons, et nous en discuterons une par une.
** 1) Trading: ** Le jeton PLANET est disponible sur le marché libre, vous pouvez utiliser n'importe quel DEX basé sur Hive-Engine pour acheter et vendre ces jetons, le prix actuel de l'offre sur le marché est d'environ 0,00097250 HIVE.
** 2) Gagnez en publiant du contenu montrant Eco Citizen Act: ** Comme nous en avons discuté précédemment, vous pouvez gagner ces pièces en fournissant une preuve de nettoyage et de déversement des déchets collectés en publiant sur votre loi Eco Citizen en utilisant n'importe quelle interface Hive-Engine.
3) Participez à des tirages quotidiens sur Discord Server : Chaque jour, vous pouvez participer à un don quotidien de jetons PLANET sur le serveur Discord CLEAN PLANET. Vous pouvez rejoindre le serveur CLEAN PLANET en utilisant ce lien https://discord.gg/HDaVZbgq, une fois que vous êtes dans le serveur, cliquez sur #Giveaway canal et recherchez le message de concours actuel, pour ajouter votre entrée, cliquez sur l'icône du chapeau de fête ou suivez les instructions que vous y trouvez.
Remarques finales :
C'est en effet une grande cause de prendre soin de notre planète de quelque manière que ce soit qui peut créer un effet petit mais substantiel autour de nous, cela aide également à éduquer les gens autour de nous à ne pas faire de déchets dans les lieux publics.
Le programme de sensibilisation utilise la technologie blockchain, ce qui est un moyen très impressionnant de faire des services blockchain un outil pour répandre la parole de bonnes actions et rendre nos lieux publics propres et rangés.
La tokenomique est très simple et les moyens de gagner des jetons PLANET sont également faciles, n'importe qui peut saisir les récompenses en montrant la preuve en publiant une vidéo ou des images.
Il ajoute également de la valeur à l'écosystème HIVE en invitant de nouveaux utilisateurs à rejoindre la cause en utilisant HIVE Onboarding service. Cela signifie que nous pouvons voir beaucoup plus de nouvelles personnes dans l'écosystème Hive-Engine grâce à l'initiative CLEAN PLANET.
Si vous avez des questions ou des commentaires, n'hésitez pas à les poser dans la section des commentaires.
---
AVIS: Il s'agit d'un examen expérimental des jetons mentionnés à des fins d'étude uniquement, et ne doit pas être considéré comme un conseil financier ou une approbation. Faites toujours vos propres recherches avant de faire tout trading / investissement. La publication est à des fins d'information et de divertissement uniquement. Merci d'avoir lu.
---
Author/Auteur: EmaxisOnline
PLANET TOKEN Source & References:
CLEAN PLANET Hive Page and CLEAN PLANET Website
Translated with Bing
Flourish Line Page Divider Source
Image: Poster made with Canva.com and Token Logos taken from Hive-Engine

Posted Using LeoFinance Beta
---