Spatial Labs Bags $10M in Funding to Invest in Web3 Technologies [EN/FR]
---
Spatial Labs is a major technology firm that excels in developing innovative Web3 products and solutions. In a statement by Spatial Labs, it has accumulated $10M in seed funding with the help of Blockchain Capital. Marcy Venture Partners also added $4M bringing the fund to reach $14M at the end of the round.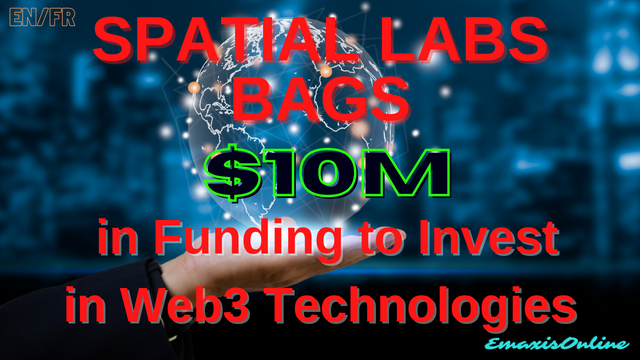 Spatial Labs was founded in 2020 by a young Ghanaian-born US citizen Iddris Sandu. He is a 25-year-old software developer who has achieved enormous success in his teenage years. President Barack Obama awarded him with a commendation certificate at the age of 15.
Spatial Labs will invest these funds in creating new Web3-enabled products and its LNQ chip. The new development work will focus on consumer goods and connecting the mainstream retail market with a blockchain-based tracking system.
In this regard, Spatial Labs has joined hands with Polygon to use its blockchain services for product verification and creating nodes for immutable data storage.
Although, Spatial Labs has a proven record of providing extraordinary infrastructure, based on its expertise it has solved many issues to bring Web3 technology solutions for e-commerce, brand authentication, and blockchain networking to the traditional online market.
The following statement by Iddris Sandu gives an idea of how Spatial Labs' development endeavors will shape the future of Web3 and strengthen blockchain adaptability to be accepted on larger scales by governments and financial institutes.
"Spatial Labs is designing next-gen technologies to connect brands to younger demographics that shop and interact with products in completely new ways. Through our technology solutions, we provide brands with rich consumer data and previously inaccessible revenue models,"
There is no doubt that such startups like Spatial Labs can do wonders in the blockchain industry and uplift its adoption to more masses. The technology used by Spatial Labs may also be extended to other industries where large data needs to remain secure and unchangeable, these sectors can be government organizations, media & production houses, surveillance & security, transport, and logistics, etc.
It seems that in coming years, people will have more confidence in adopting Web3 based services and their utilization in everyday life.
Version Français
Spatial Labs obtient un financement de 10 M$ pour investir dans Web3 Technologies
Spatial Labs est une importante entreprise technologique qui excelle dans le développement de produits et de solutions Web3 innovants. Dans une déclaration de Spatial Labs, il a accumulé 10 millions de dollars en financement de démarrage avec l'aide de Blockchain Capital. Marcy Venture Partners a également ajouté 4 millions de dollars, ce qui porte le fonds à 14 millions de dollars à la fin de la ronde.
Spatial Labs a été fondée en 2020 par un jeune citoyen américain né au Ghana, Iddris Sandu. C'est un développeur de logiciels de 25 ans qui a connu un énorme succès à l'adolescence. Le président Barack Obama lui a décerné un certificat de mention élogieuse à l'âge de 15 ans.
Spatial Labs investira ces fonds dans la création de nouveaux produits compatibles Web3 et de sa puce LNQ. Le nouveau travail de développement se concentrera sur les biens de consommation et la connexion du marché de détail grand public avec un système de suivi basé sur la blockchain.
À cet égard, Spatial Labs s'est associé à Polygon pour utiliser ses services blockchain pour la vérification des produits et la création de nœuds pour le stockage immuable des données.
Bien que Spatial Labs ait fait ses preuves en matière de fourniture d'infrastructures extraordinaires, sur la base de son expertise, il a résolu de nombreux problèmes pour apporter des solutions technologiques Web3 pour le commerce électronique, l'authentification de marque et le réseau blockchain sur le marché en ligne traditionnel.
La déclaration suivante d'Iddris Sandu donne une idée de la façon dont les efforts de développement de Spatial Labs façonneront l'avenir du Web3 et renforceront l'adaptabilité de la blockchain pour être acceptée à plus grande échelle par les gouvernements et les instituts financiers.
« Spatial Labs conçoit des technologies de nouvelle génération pour connecter les marques aux jeunes qui achètent et interagissent avec les produits de manière complètement nouvelle. Grâce à nos solutions technologiques, nous fournissons aux marques des données de consommation riches et des modèles de revenus auparavant inaccessibles »,
Il ne fait aucun doute que de telles startups comme Spatial Labs peuvent faire des merveilles dans l'industrie de la blockchain et élever son adoption à plus de masses. La technologie utilisée par Spatial Labs peut également être étendue à d'autres industries où les données volumineuses doivent rester sécurisées et immuables, ces secteurs peuvent être les organisations gouvernementales, les médias et les maisons de production, la surveillance et la sécurité, le transport et la logistique, etc.
Il semble que dans les années à venir, les gens auront plus confiance dans l'adoption des services basés sur Web3 et leur utilisation dans la vie quotidienne.
Author: emaxisonline
Image: Poster made with Canva.com, logo taken from LeoFinance.io
Translated with Bing.
Connect with the author on Twitter : https://twitter.com/EmaxisOnline
Posted Using LeoFinance Beta
---