Year-End FREE Delegation for Every LPUD Participant [EN/FR]
---
Leo Power Up Day (LPUD) is a community driven initiative organized by @leogrowth and promoted by http://LeoFinance.io. This event is celebrated on 15th date of each month.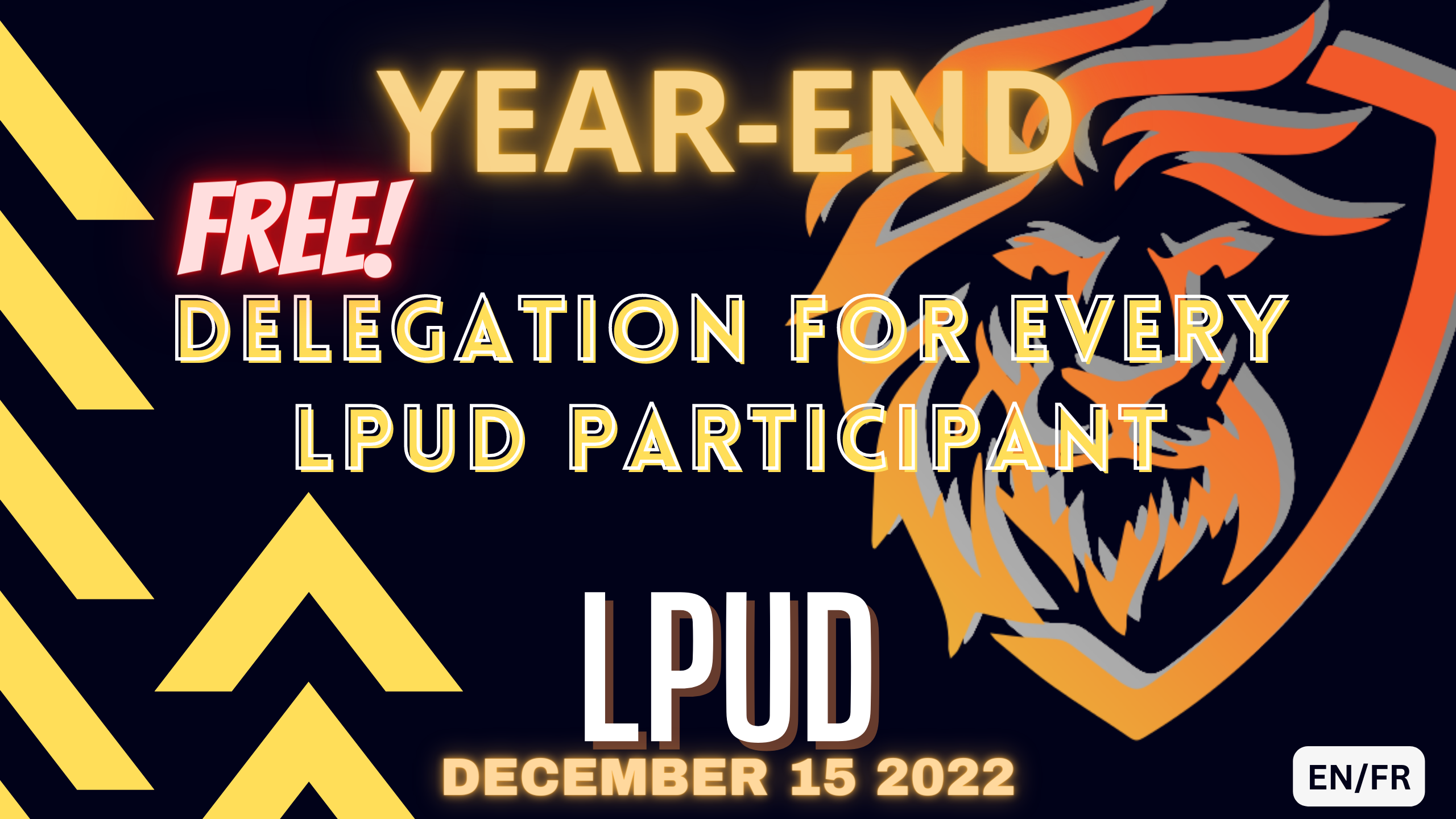 LPUD brings HIVE community closer in terms of engagement, it creates an atmosphere of dedication and brings growth to those who participate in this event. But, it also strengthens the community's curation power for LeoFinance.io users.
This event has now become a prominently celebrated event across all HIVE frontends. Some of the benefits that participants of LPUD may get are huge LP delegation rewards, juicy upvotes from whales and dolphins, special badges, and big honor.
Special Year-End Reward
The prestigious event of Leo Power Up Day is running wild this time, because it is year's end and LeoFinance team has planned to reward every LPUD participant with delegation rewards.
Power up 150 or more LEO tokens and @leogrowth team will send you the same amount of LP delegation to your account.

Suppose, you have stacked 200 LEO in your HIVE account, you'll receive 200 LeoPower (LP) as a year-end reward for a certain period.

And yes, no winning required, just power up 150 or more LEO tokens.
Now, why waiting, grab 150 or more LEO tokens and stack them into Leo Power.
How simple is that to amplify your Leo Power (LP) for additional curation rewards when you use your HIVE vote.
Regular Rewards Won By Draw
There are some regular rewards that can be won by following some ground rules. First we see what are those rewards and then we talk about rules to participate in LPUD.
Main Prize: 20K delegation reward is the biggest prize in regular category and can be won by 3 lucky participants.
Bonus Prizes: There are 10 bonus prizes for lucky winners of different delegation amounts, below is the original excerpt of those prizes announced by @leogrowth.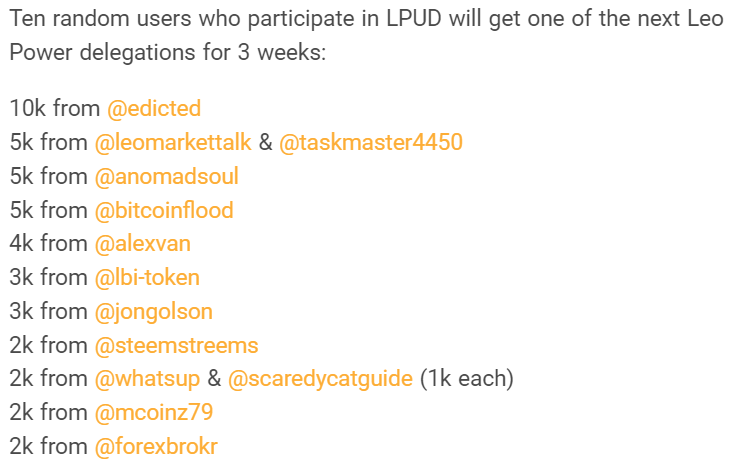 Taken from LeoGrowth's post
Ground Rules: There are always some simple rules to follow in order to seal your LPUD participation, original excerpt of the rules is given below.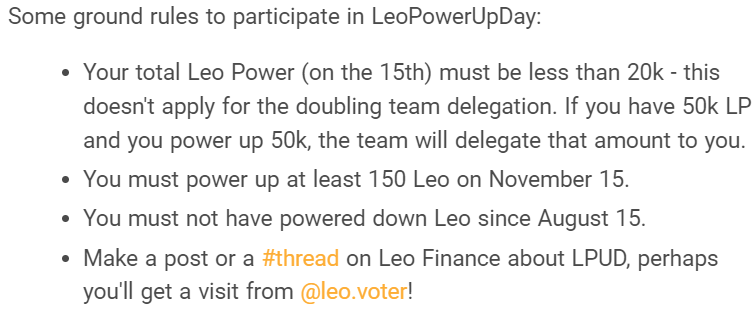 Taken from LeoGrowth's post
---
Now, do not delay any further rush to your LeoFinance.io wallet and use 'Power Up' button and add some LEO into stacking.
If you can't stack LEO from your wallet, then visit http://leodex.io/, https://tribaldex.com/, or https://hive-engine.com/ for stacking LEO into LEOPOWER.
I have powered up 200 LEO tokens using LeoDex exchange as shown in the images below.



Wish you having a great LPUD experience and good luck for winning awesome rewards.
Version Français
Délégation GRATUITE de fin d'année pour chaque participant LPUD
Le Leo Power Up Day (LPUD) est une initiative communautaire organisée par @leogrowth et promue par http://LeoFinance.io. Cet événement est célébré le 15 de chaque mois.
LPUD rapproche la communauté HIVE en termes d'engagement, crée une atmosphère de dévouement et apporte de la croissance à ceux qui participent à cet événement. Mais, cela renforce également le pouvoir de curation de la communauté pour LeoFinance.io utilisateurs.
Cet événement est maintenant devenu un événement célèbre dans toutes les interfaces HIVE. Certains des avantages que les participants de LPUD peuvent obtenir sont d'énormes récompenses de délégation LP, des votes juteux de baleines et de dauphins, des badges spéciaux et un grand honneur.
Récompense spéciale de fin d'année
Le prestigieux événement du Leo Power Up Day se déchaîne cette fois-ci, car c'est la fin de l'année et l'équipe LeoFinance a prévu de récompenser chaque participant LPUD avec des récompenses de délégation.
Mettez sous tension 150 jetons LEO ou plus et @leogrowth équipe vous enverra le même montant de délégation LP sur votre compte.

Supposons que vous ayez empilé 200 LEO dans votre compte HIVE, vous recevrez 200 LeoPower (LP) comme récompense de fin d'année pour une certaine période.

Et oui, aucun gain requis, il suffit de mettre sous tension 150 jetons LEO ou plus.
** Maintenant, pourquoi attendre, prenez 150 jetons LEO ou plus et empilez-les dans Leo Power. **
Comme c'est simple d'amplifier votre Leo Power (LP) pour des récompenses de curation supplémentaires lorsque vous utilisez votre vote HIVE.
Récompenses régulières gagnées par tirage
Il y a des récompenses régulières qui peuvent être gagnées en suivant certaines règles de base. Nous voyons d'abord quelles sont ces récompenses, puis nous parlons des règles pour participer au LPUD.
**Prix principal: ** La récompense de délégation de 20K est le plus gros prix de la catégorie régulière et peut être remporté par 3 participants chanceux.
Prix bonus: Il y a 10 prix bonus pour les heureux gagnants de différents montants de délégation, ci-dessous est l'extrait original de ces prix annoncés par @leogrowth.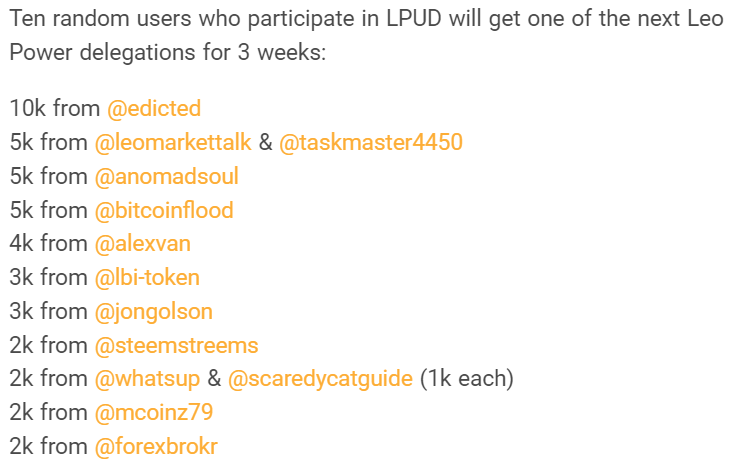 Extrait de l'article de LeoGrowth
** Règles de base: ** Il y a toujours quelques règles simples à suivre afin de sceller votre participation LPUD, l'extrait original des règles est donné ci-dessous.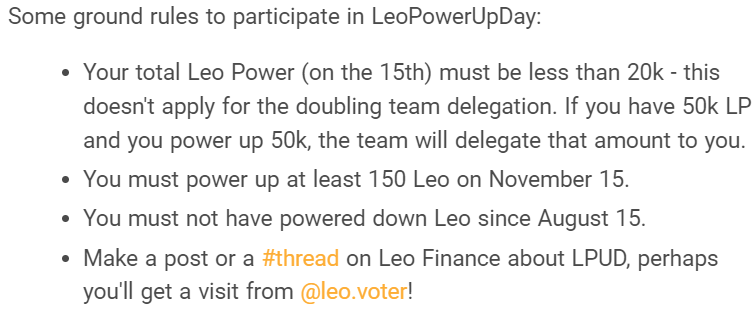 Votre puissance totale de Lion (le 15) doit être inférieure à 20k - cela ne s'applique pas à la délégation d'équipe double. Si vous avez 50k LP et que vous alimentez 50k, l'équipe vous déléguera ce montant.
Vous devez allumer au moins 150 Leo le 15 novembre.
Vous ne devez pas avoir éteint Leo depuis le 15 août.
Faites un post ou un #thread sur Leo Finance à propos de LPUD, peut-être aurez-vous la visite de @leo.voter!
Extrait de l'article de LeoGrowth
---
Maintenant, ne tardez pas à vous précipiter davantage sur votre portefeuille LeoFinance.io et utilisez le bouton « Power Up » et ajoutez un peu de LEO dans l'empilement.
Si vous ne pouvez pas empiler LEO à partir de votre portefeuille, visitez http://leodex.io/, https://tribaldex.com/ ou https://hive-engine.com/ pour empiler LEO dans LEOPOWER.
J'ai alimenté 200 jetons LEO en utilisant l'échange LeoDex comme indiqué dans les images ci-dessous.



Je vous souhaite une excellente expérience LPUD et bonne chance pour gagner des récompenses impressionnantes.
Author: emaxisonline
Image: Poster made with Canva.com and Logo taken from LeoFinance.io
Translated with Bing.
Posted Using LeoFinance Beta
---