Your Path to Becoming a CUB is Hidden in LPUD [EN/FR]
---
We all know that LEO token has been keeping its price between $0.10 to $0.04 ranges for more than a year, although it had a good price before that, since LEO is a deflationary token it tends to adjust its prices over time, and sometimes market conditions get hard on it.
Well, the price of LEO is not much of a concern because it also relates to price changes in HIVE tokens and you probably buy it in the same HIVE value in either market conditions i.e. bulls or bears. But, this is not the case that you see more often but relatively often. Worry not, focus on your LEO goals and keep writing and publishing in LeoFinance, you likely need not buy LEO from the market. The key point to mind. 😉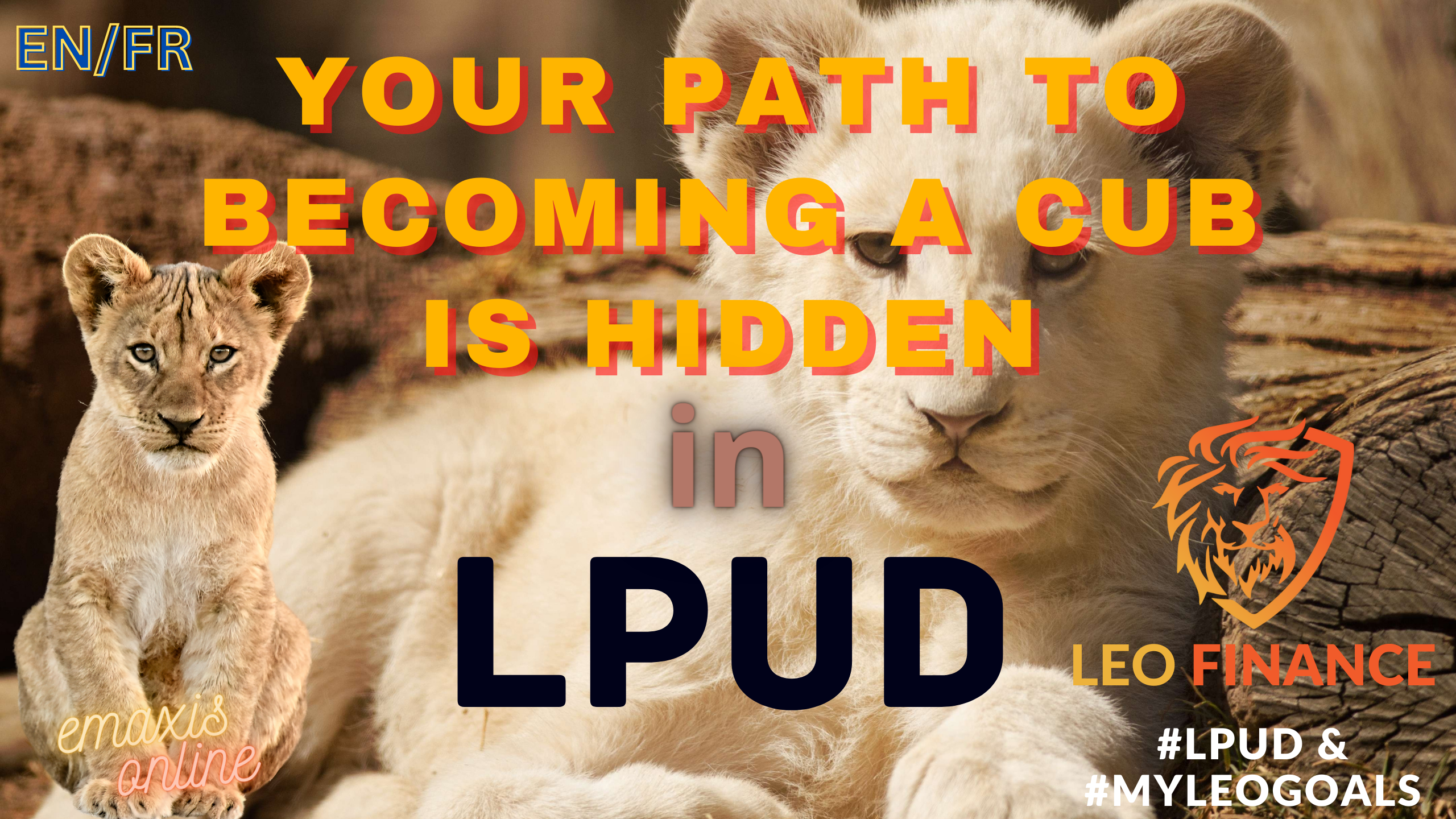 Becoming a Cub in LeoFinance
Most of you have read this post by @leogrowth and chalked down your goals for the year 2023. As a beginner in the LeoFinance saga, you must have set your goal to become a CUB like me. A Newborn CUB title requires you to have 2K or more LEO tokens in the stacked position which is also known as LeoPower or LP.
How to Become a CUB by Participating in LPUD
It's not a big challenge but requires a little bit of your dedication, time, and money, I mean crypto in rare cases only that you earn here. There are some steps to follow, but only if you like to, else everyone is happy in their part of the world.
1 - Set your rewards for blogs as 50% HBD and 50% HIVE
2 - Publish at least 2 quality posts each week at http://LeoFinance.io
3 - An average post receives 30 LEO rewards, you'll get 50% of it as liquid LEO tokens, and 50% of the rewards go to the curators. In 4 weeks, you'll have around 120 LEO in liquid form.
4 - Next step is engagement, firstly write comments in blogs and secondly do a lot of microblogging through LEO #threads. You'll be able to receive some nice responses and some cool fellas may also upvote your comments. You might get some extra LEO tokens by doing so, 10-20 LEO, maybe nothing.
5 - Now, you have around 130 LEO in your wallet, you need 20 more for LPUD. But, your goal requires 170 LEO to be stacked in each LPUD event to become s CUB.
6 - Here you'll need your crypto saving which is called HBD. You'll also get HBD tokens from your blogging rewards, as mentioned in Step 1. Buy some HIVE tokens with HBD and transfer that HIVE into SWAP.HIVE using any DEX such as https://leodex.io/. Exchange your SWAP.HIVE for 40 LEO tokens, that'll cover your deficit of the monthly goal of 170 LEO.
7 - Once you own 170 LEO tokens, all you have to do is to power it up into LP by stacking them in your LEO wallet.
Congratulation, your monthly target is achieved. Your road to becoming a CUB will be smoother and easier every time you participate in LPUD.
I hope now you know how simple is to achieve your LEO goals that you really want to become a CUB in 2023. This is what LPUD is all about your dedication and plenty of rewards will be yours if you grow yourself along with the whole LeoFinance community in steps.
---
LPUD Rewards
When you participate in Leo Power Up Day (LPUD) and follow ground rules, you may also get a chance to win some amazing LEO Delegation rewards. This time LeoFinance and the team have set a pool of 170K+ LEO delegation rewards, each prize will be available to winners for 3 weeks.
List of Prizes
Main Prize = 20K Delegated LP for 3 Winners
Bonus Prizes =
10k from @edicted
10k from @investing-dude
10k from @bitcoinflood & @anomadsoul
8k from @leomarkettalk, @taskmaster4450 & @lbi-token
8k from @alexvan & @leogrowth
5k from @jongolson & @mcoinz79
4k from @steemstreems & @forexbrokr
2k from @whatsup & @scaredycatguide (1k each)
60k Leo Power - BAD LUCK Prize from @onealfa (Detailed post coming soon)
* Excerpt from original post by @leogrowth
for 8 winners except the 60K delegated LP prize.
So, brace yourself with LEO tokens and enhance your LeoPower first LPUD of 2023 on the 15th of January.
Your success in LeoFinance is hidden in LPUD.
Note:
LEO and HIVE rewards are never guaranteed, it is up to the readers and curators to either vote or not.
Version Français
Votre chemin pour devenir un CUB est caché dans LPUD
Nous savons tous que le jeton LEO maintient son prix entre 0,10 $ et 0,04 $ depuis plus d'un an, bien qu'il ait eu un bon prix avant cela, puisque LEO est un jeton déflationniste, il a tendance à ajuster ses prix au fil du temps, et parfois les conditions du marché deviennent difficiles pour lui.
Eh bien, le prix de LEO n'est pas très préoccupant car il est également lié aux changements de prix des jetons HIVE et vous l'achetez probablement dans la même valeur HIVE dans les deux conditions du marché, c'est-à-dire les taureaux ou les baissiers. Mais, ce n'est pas le cas que vous voyez plus souvent mais relativement souvent. Ne vous inquiétez pas, concentrez-vous sur vos objectifs LEO et continuez à écrire et à publier dans LeoFinance, vous n'avez probablement pas besoin d'acheter LEO sur le marché. Le point clé à l'esprit. 😉
Devenir louveteau en LeoFinance
La plupart d'entre vous ont lu ce [post] (https://leofinance.io/@leogrowth/my-leo-goals-for-2023-or-join-in) par @leogrowth et ont défini vos objectifs pour l'année 2023. En tant que débutant dans la saga LeoFinance, vous devez vous être fixé comme objectif de devenir un CUB comme moi. Un titre CUB nouveau-né nécessite que vous ayez 2K ou plus de jetons LEO dans la position empilée, également connue sous le nom de LeoPower ou LP.
Comment devenir CUB en participant au LPUD
Ce n'est pas un grand défi, mais nécessite un peu de votre dévouement, de votre temps et ~~ argent ~~, je veux dire crypto dans de rares cas seulement que vous gagnez ici. Il y a quelques étapes à suivre, mais seulement si vous le souhaitez, sinon tout le monde est heureux dans sa partie du monde.
1 - Définissez vos récompenses pour les blogs sur 50% HBD et 50% HIVE
2 - Publier au moins 2 articles de qualité chaque semaine sur http://LeoFinance.io
3 - Un post moyen reçoit 30 récompenses LEO, vous en recevrez 50% sous forme de jetons LEO liquides, et 50% des récompenses iront aux curateurs. En 4 semaines, vous aurez environ 120 LEO sous forme liquide.
4 - La prochaine étape est l'engagement, d'abord écrire des commentaires dans les blogs et ensuite faire beaucoup de microblogging via LEO #threads. Vous serez en mesure de recevoir de belles réponses et certains gars cool peuvent également voter pour vos commentaires. Vous pourriez obtenir des jetons LEO supplémentaires en le faisant, 10-20 LEO, peut-être rien.
5 - Maintenant, vous avez environ 130 LEO dans votre portefeuille, vous en avez besoin de 20 de plus pour LPUD. Mais, votre objectif nécessite que 170 LEO soient empilés dans chaque événement LPUD pour devenir s CUB.
6 - Ici, vous aurez besoin de votre sauvegarde crypto appelée HBD. Vous obtiendrez également des jetons HBD de vos récompenses de blogging, comme mentionné à l'étape 1. Achetez des jetons HIVE avec HBD et transférez ces HIVE dans SWAP. HIVE utilisant n'importe quel DEX tel que https://leodex.io/. Échangez votre SWAP. HIVE pour 40 jetons LEO, cela couvrira votre déficit de l'objectif mensuel de 170 LEO.
7 - Une fois que vous possédez 170 jetons LEO, tout ce que vous avez à faire est de les alimenter en LP en les empilant dans votre portefeuille LEO.
Félicitations, votre objectif mensuel est atteint. Votre chemin pour devenir un CUB sera plus facile et plus facile chaque fois que vous participerez à LPUD.
J'espère maintenant que vous savez à quel point il est simple d'atteindre vos objectifs LEO que vous voulez vraiment devenir un CUB en 2023. C'est ce que LPUD est tout au sujet de votre dévouement et de nombreuses récompenses seront les vôtres si vous vous développez avec toute la communauté LeoFinance par étapes.
---
Récompenses LPUD
Lorsque vous participez au Leo Power Up Day (LPUD) et suivez les règles de base, vous pouvez également avoir une chance de gagner d'incroyables récompenses LEO Delegation. Cette fois, LeoFinance et l'équipe ont mis en place un pool de 170K + récompenses de délégation LEO, chaque prix sera disponible pour les gagnants pendant 3 semaines.
Liste des prix
Prix principal = 20K LP délégués pour 3 gagnants
Prix bonus =
10k à partir de @edicted
10k de @investing-mec
10k de @bitcoinflood & @anomadsoul
8k à partir de @leomarkettalk, @taskmaster4450 et @lbi-token
8k de @alexvan & @leogrowth
5k de @jongolson & @mcoinz79
4k de @steemstreems & @forexbrokr
2k de @whatsup & @scaredycatguide (1k chacun)
60k Leo Power - Prix BAD LUCK de @onealfa (Article détaillé à venir)
* Extrait de Article original par @leogrowth
pour 8 gagnants à l'exception du prix LP délégué 60K.
Alors, préparez-vous avec des jetons LEO et améliorez votre premier LPUD LeoPower de 2023 le 15 janvier.
Votre succès dans LeoFinance est caché dans LPUD.
Avertissement:
Les récompenses LEO et HIVE ne sont jamais garanties, c'est aux lecteurs et aux conservateurs de voter ou non.
Author: emaxisonline
Image: Poster made with Canva.com, logo taken from LeoFinance.io
Translated with Bing.
Posted Using LeoFinance Beta
---