I guess I'm not exaggerating when I say timing is everything in crypto. Those of you who are in crypto for some years have seen a lot already and know how timing your actions is crucial. Today I'm going to show you two examples of how important timing is.
I'm going to start with DOGE, the token I don't like but it doesn't matter what I like, the example is a good one.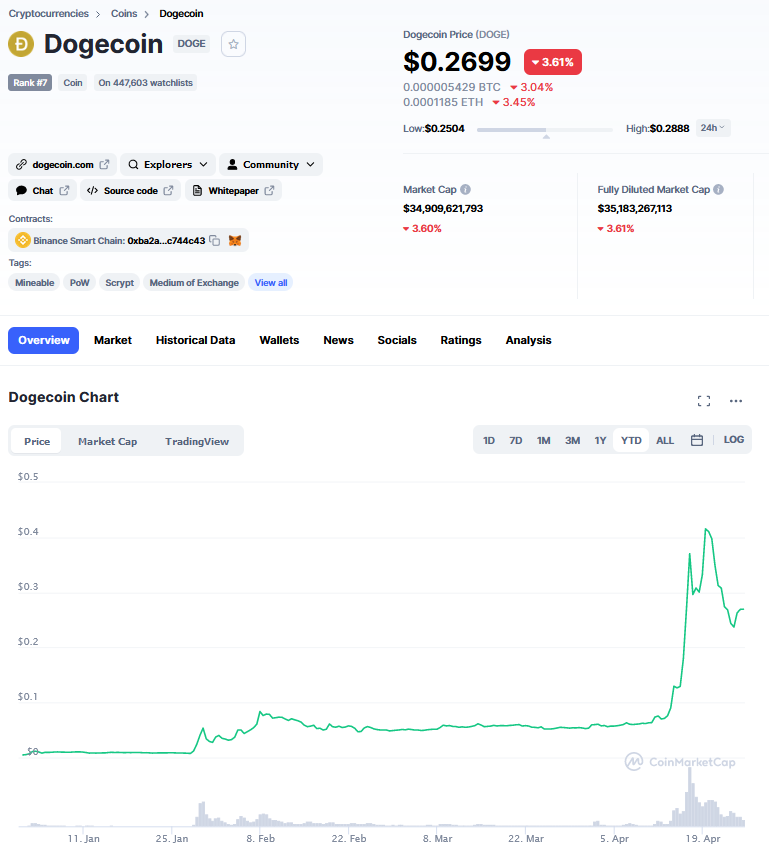 source
The DOGE Case
We all know what DOGE coin is, how and why it has been created and what made it pump or dump. There's no day without DOGE coin, I'd say it's mentioned as often as Bitcoin but for different reasons.
Today I came across an article about Glauber Contessoto, a 33-year-old musician who become DOGE coin millionaire. According to the media, he invested his savings, a total of $180,000 in DOGE on Feb. 5 when 1 DOGE was about $0.045. This means he must have bought 4,000,000 DOGE.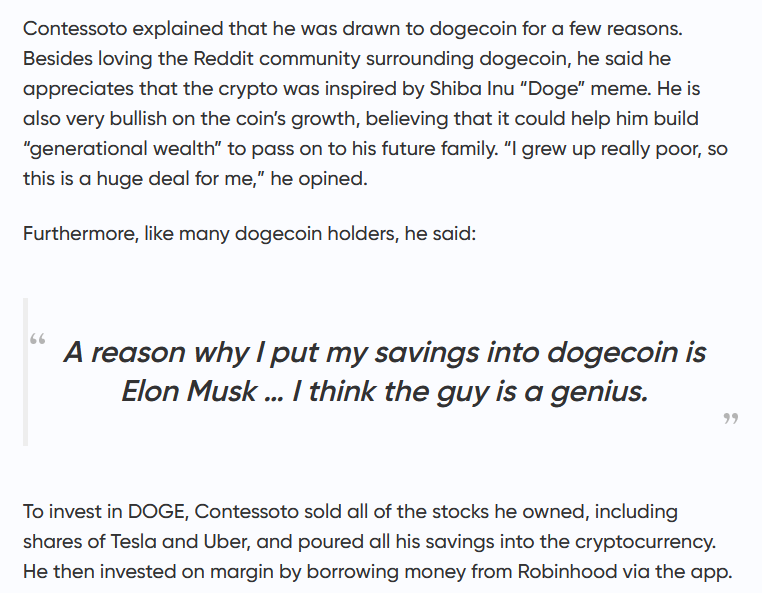 source
He sold all his stocks, including shares of Tesla and Uber.
Since then, on Apr 16, 2021 DOGE reached its ATH at $0.4377. This means Glauber Contessoto had $1,750,800 on paper. Then there was 420.
Dogecoin traders declared April 20 to be "Doge Day" as part of a collective move to raise the cryptocurrency's price. source
The whole internet was full of slogans like DOGE to the moon and quite many said DOGE could reach $1. Crypto analysts said DOGE is a gamble, it can go up but it might as well go down, so investing in DOGE would be equal to playing the money in a casino.
What happened was DOGE price went up to $0.41 and then fell to $0.24 and it's hovering around $0.27. The size of Glauber Contessoto's wealth is also on a roller coaster ride. After having $1,750,800 on paper, now he's at $1,080,000. He is still a millionaire but if you look at how things have evolved, he could have almost double by now.
He said he's thinking of taking 10% profit when the value of his portfolio gets to $10,000,000. Now that may happen on day or may not. No one knows what the future holds.
XPR, BTC, HIVE
The other example comes from ezrider, who's made a great analysis about what he did and what he could have done in order to see if he made the right decision.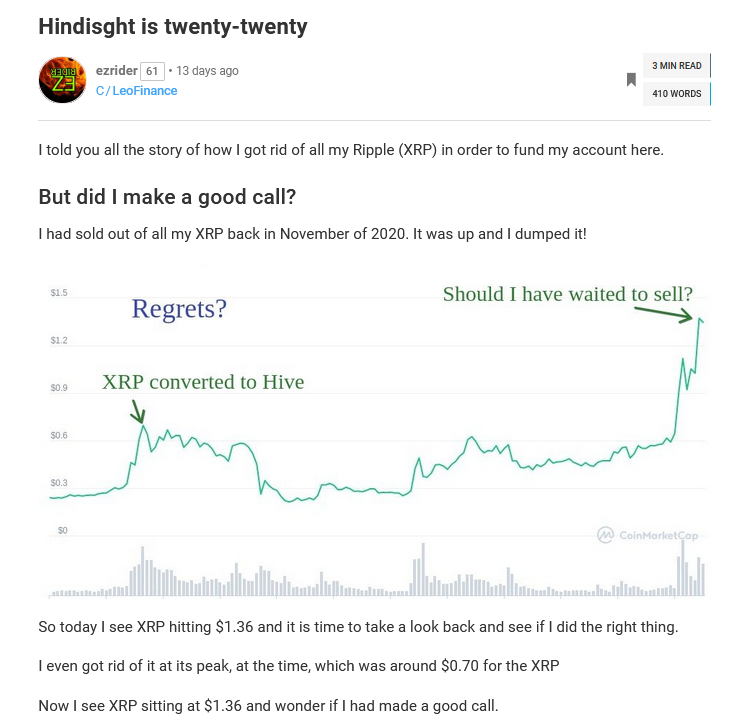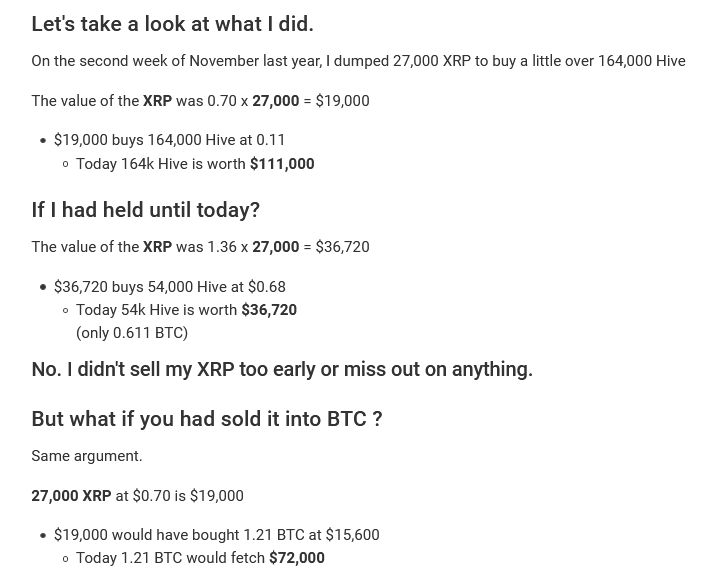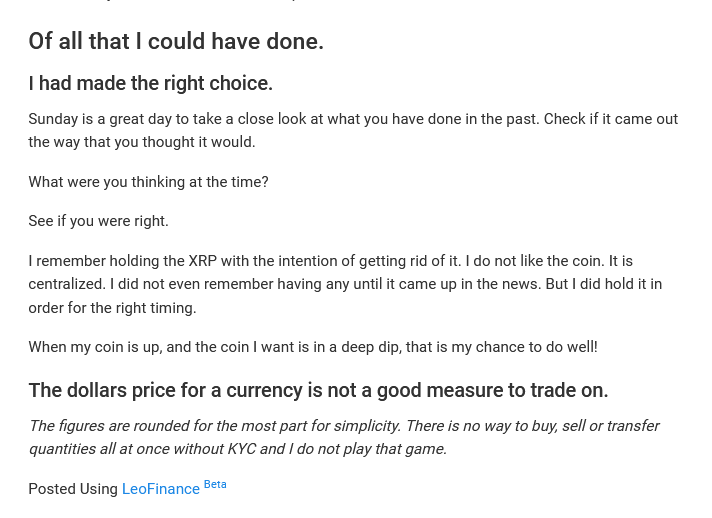 source
I can tell you from the start, I love his assessment and it's the only way you can see if you have made the right decision.
If you look at where HIVE is today, with all the craze that happened the past couple of weeks, 164,000 x $0.46 = $75,440. 1.2 BTC x 49,750 = $59,700. That's a difference of $15,740.
Binance came to my help this morning and posted what you can see below.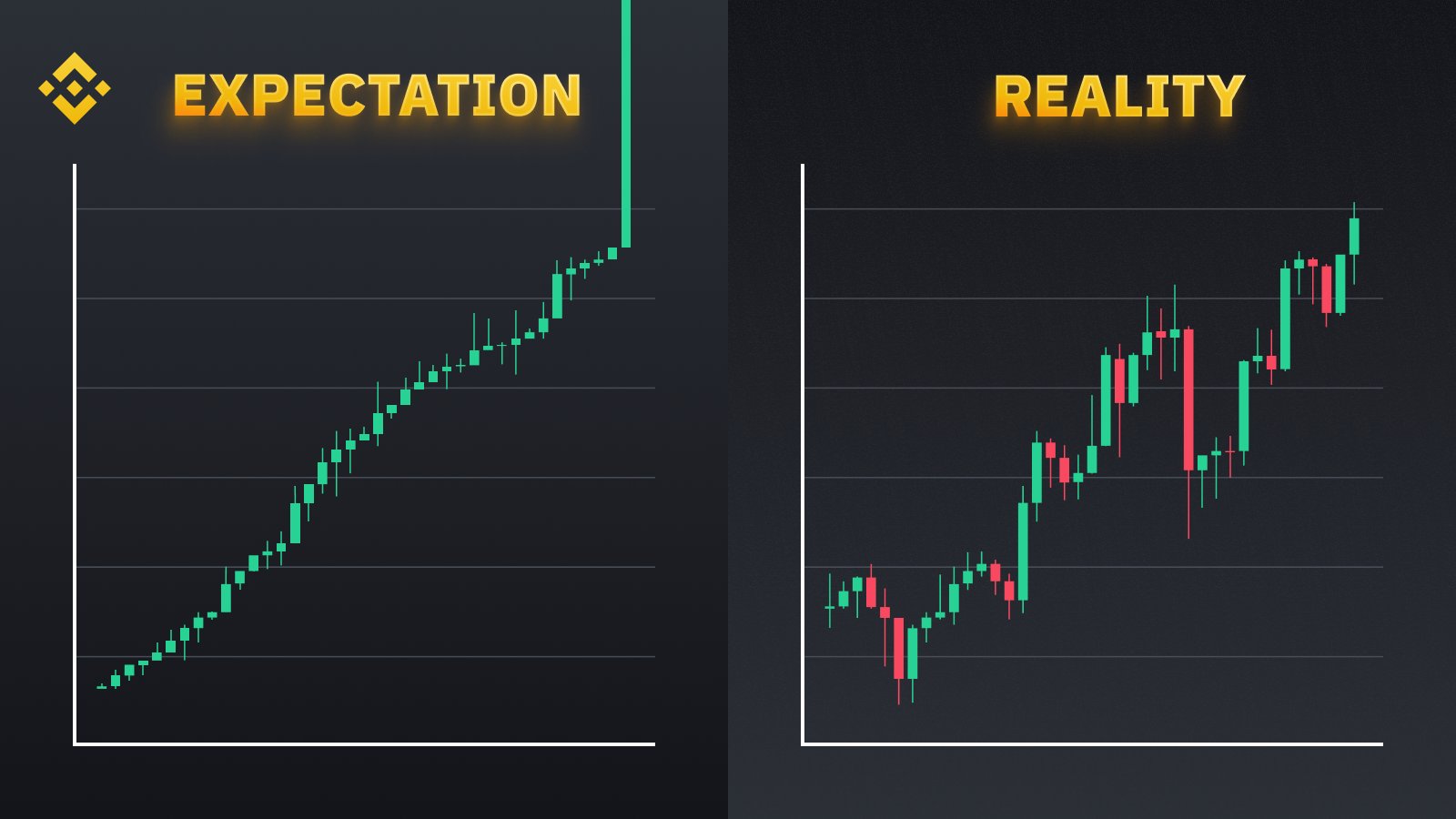 source
This is accurate, I can't argue with that, especially newer users think the market works like that. Obviously we all have different budgets, portfolios, priorities and plans and only you know what is best for you. However, crypto's volatility is a good thing if you know how to profit from it. Holding till you die is an option but in the meantime there are opportunities to double your money.
In case of Glauber Contessoto I don't have the details to see what his stocks would worth today but I'm skeptic about how his DOGE coin is going to perform in the future. I guess we'll have to wait and see.
In any case, it worth looking into options and not go all in and all out as it's not healthy.

Join me at Bybit and get $10 bonus in BTC! Plus, up to $600 worth of rewards await in your Bybit Rewards Hub.
Get started with my referral code: m3yjA
https://www.bybit.com/en-US/invite?ref=m3yjA

Posted Using LeoFinance Beta