Who's The Lucky One?
---
The other day I was browsing through Twitter to see what people are saying about the market. This is a routine we do every day, regardless if we listen to anyone or not. There's always a lot of news and a lot of reaction to the news as well, which is normal, nothing wrong with that.
There was one tweet that caught my eye and could not get it out of my head.
Something to consider is to start looking for #altcoins that generate an additional income through staking.
If, and I mean if, you're able to find coins that are down 80% since their ATH, but have a gorgeous APY staking, you'll be compounding your profits massively coming year.
source
Without any thinking, if you're reading my post, you know which coin I'm talking about. If not, that means you're one of those who want to get rich overnight and chasing coins and investments that you think are going to give you $10k profit in one day or max two.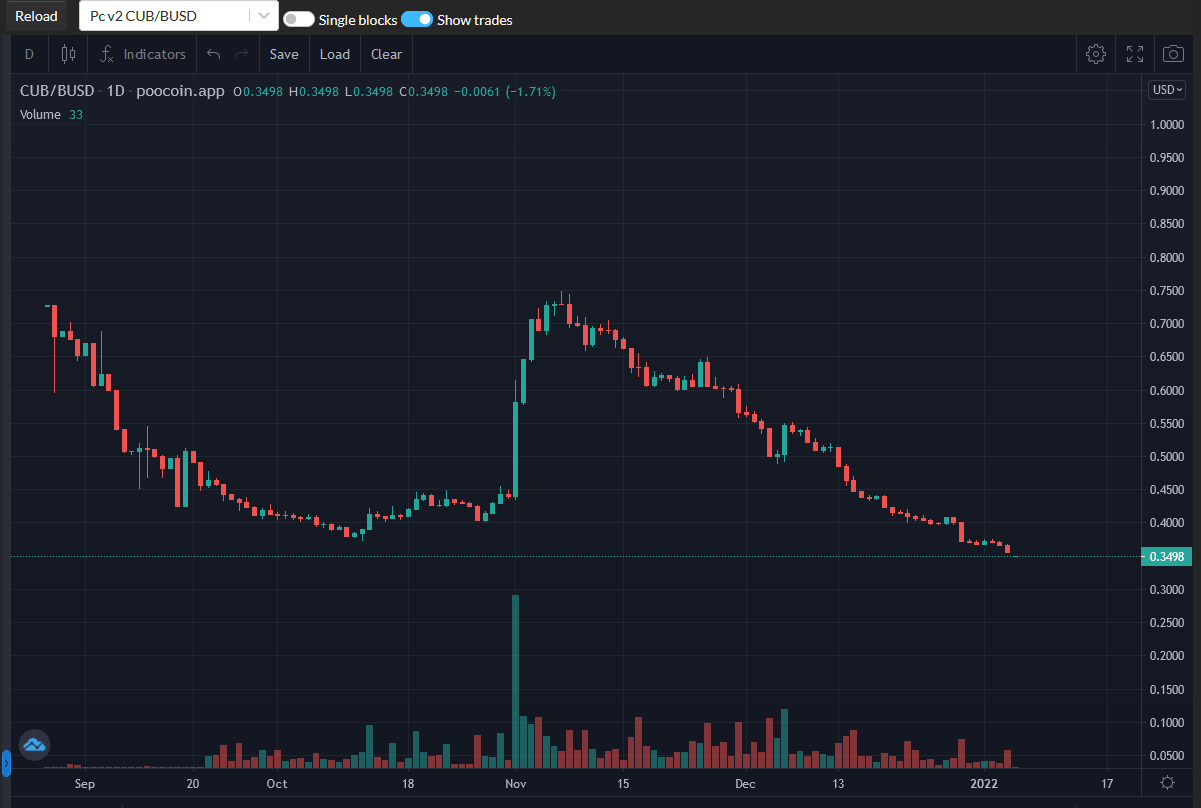 source
Yes, this is one of them, the one I want to talk about today. Unfortunately, the chart only goes back to September 2021, which is not the beginning of CUB. But we all know CUB ATH was around $14 or so, right after launching. So the first condition is met as from $14 to $0.35 is quite a lot, or more, this may be the ATL if you look at the chart. I believe it's safe to say there has never been a better time to invest in CUB.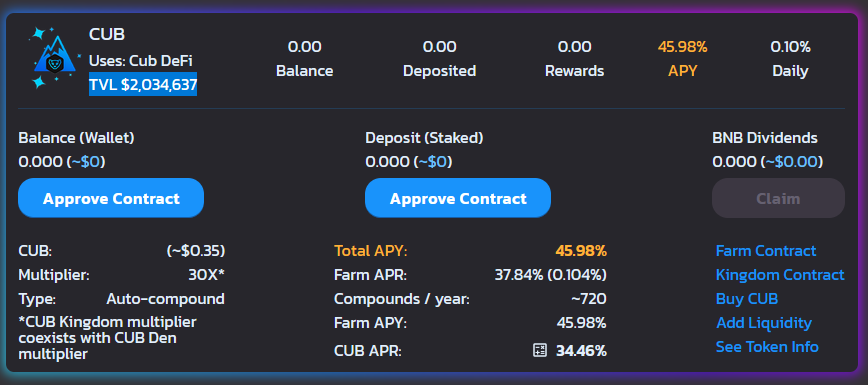 source
I've been in CUB since day one, when the claimdrop happened. At first I've only had my CUB in the den, then moved into farms and have been there ever since. There's no better thing than harvesting CUB every week and seeing your stake grow.
I may be wrong but I think CUB needs time to mature and bull cycle or not, we won't see CUB moon very soon. This is not a bad thing at all for those who understand what CUB is and where development is at right now. It gives us more time to accumulate and have our bags filled when the time comes.
I'm not sure how long CUB is going to range here or if it's going to go lower (I hope not). But there will be times when we'll be seeing posts saying they wish they could accumulate more, when CUB was at $0.35 but it will probably be too late by then.
What is interesting to note is that we have these opportunities under our nose, available 24/7 and there are still plenty not aware of what we are sitting on. A new shiny token that people are trying to sell as the next BTC is always more attractive than building the foundation of your future wealth slowly, by looking for projects that are at the beginning of their journey. Patience is not something many have and this is why scam artists are flourishing with a breakneck speed.
I've been focusing on finding projects that have strong fundamentals, their token is far away from the ATH and there's a staking possibility that allows me to farm more tokens. Diversifying is a must in investment and today we have plenty of projects to choose from. Don't waste your time chasing money-losing millionaire-making ventures. Look at long term, choose wisely and your patience will get rewarded. Put your money to work and let your bags grow.
Sometimes it's difficult to see your investment is not trending in the right directions, but there's no rush. Let things evolve and you'll get results.
Finfluencers are not all bad. Stay away from shitcoin shillers, filter what you see and hear and you'll be able to fid the ones that really want to help.

Posted Using LeoFinance Beta
---