What google did in 23 years, crypto has done in 12 and more to come.
---
Hello everyone...
After having breakfast and catching up with what was going on in leofinance, I realized something surprising. And that is that Google is already 23 years old since it was launched to the market and I was very surprised because I am also 23 years old and also because it took this company almost a quarter of a century to achieve everything it has achieved so far.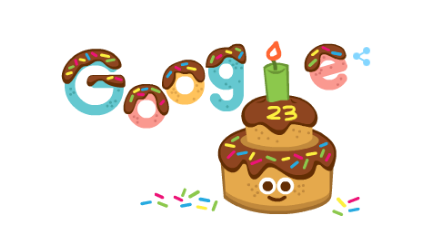 SOURCE
For example, if we look at the growth charts of the value of the company on NASDAQ we will notice that it currently has a market value of $1.9 trillion and that over the years has not stopped growing, since the year 2021 began an aggressive growth of this company that increased even more in the pandemic as it provides different services that are the most used today.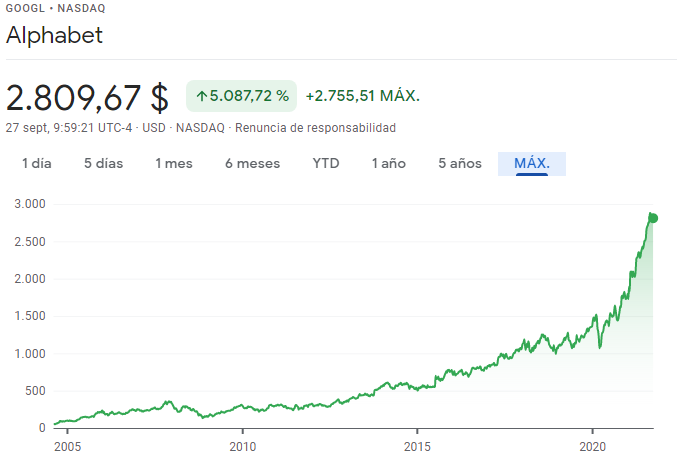 SOURCE
Google has had growth like this in such a short time, as they have the mentality to buy everything that makes them competitive and create a monopoly where they control everything, example today they own hundreds of companies, among the most popular are: Google search, Youtube, Google Play, Gmail, Google AdWords, AdSense, Picasa, Android, Chrome OS, Google Pixel, Google Analytics. If you think of a random app or company, it's probably Google bought it.
All this acquisition and creation of companies and developments, has led google to proclaim itself as one of the universal platforms of the internet, competing very closely with Facebook and Amazon, and apple. Of course, there is something to mention here and that is that even with all the monopoly of the internet that google may have or has had, it is still not even close to what is being achieved with blockchain technology and cryptocurrencies, since it took google 23 years to position itself as a 1.9 trillion company, but the entire cryptocurrency market only took 12 years to exceed 2 trillion in capitalization.
And although the crypto market has fallen on different occasions due to sanctions and prohibitions to own, sell or trade cryptocurrencies and also anyway to do business with cryptocurrencies, it is amazing how the market recovers at a fast pace.


SOURCE
At the current rate, how fast do you think the crypto market will grow?
Taskmaster has given us a very accurate project since it mentions that in 5 years the market capitalization of cryptocurrencies will grow X20 of what it is today, that means that in 5 years the crypto market will be worth $40 trillion, for conservatives and old traditional economists this number is ridiculous and unrealistic, because according to them the cryptocurrency market will fall or explode at any moment, but the truth is that they have been saying this for 5 years and cryptocurrencies have been growing more and more.
Let's evaluate the annual growth of the crypto market and we will see that the taskmaster numbers do not lie:
Monday, April 29, 2013, the market capitalization was $1,576,620,032.

Tuesday, April 29, 2014, the market capitalization was $6,118,139,904. A growth X4.

Wednesday, April 29, 2015, the market capitalization was $3,610,769,920. Market capitalization declined. Friday, April 29, 2015.

Friday, April 29, 2016, market capitalization was $8,344,030,208. market capitalization more than doubled.
Saturday, April 29, 2017, the market capitalization was $35,465,302,016. The capitalization had a large increase of more than X4. Saturday, April 29, 2017.

Sunday, April 29, 2018, the market capitalization was $430,090,584,064. The capitalization increased by X12.

Monday, April 29, 2019, the market capitalization was $160,507,218,519. Market capitalization decreased by more than half compared to the previous year.

Wednesday, April 29, 2020, market capitalization was $257,066,702,961. Market capitalization is increasing again.

Thursday, April 29, 2021, the market capitalization was $2,088,399,953,373. We can see an X10 increase in market capitalization.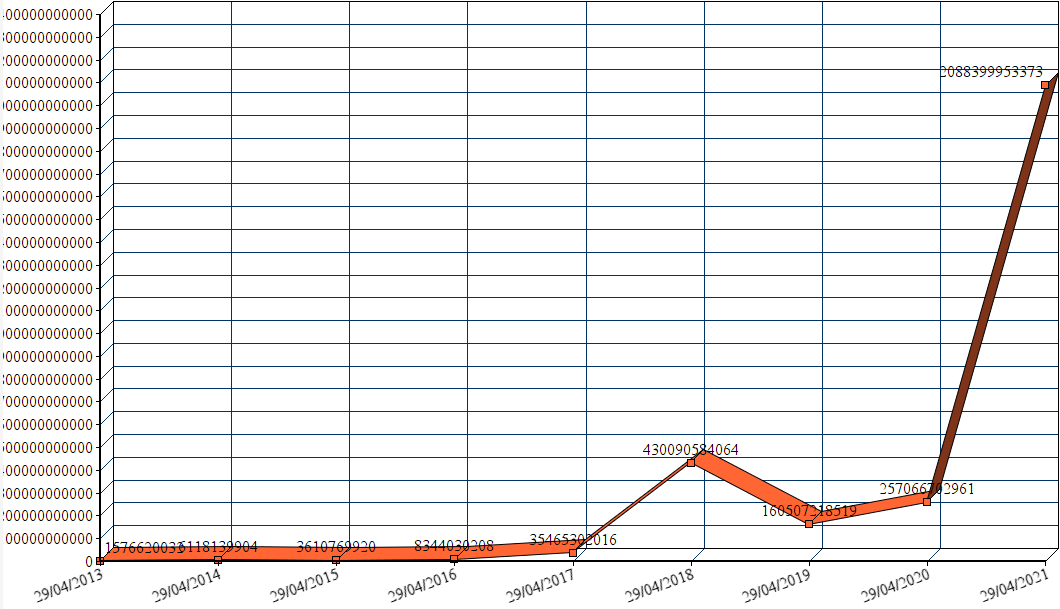 Evaluating the numbers and the growth of the capitalization year after year, we can think that if the market continues like this and continues with the increases and decreases, it is very sure that the market will reach the capitalization of $40 billion in 5 years since in 2 years there was an increase of more than X10, but in the previous years there was not so much interest in cryptocurrencies as there is now, no country had adopted them as official currency, and no one generated money through crypto games.
Now, cryptocurrencies and blockchain, as well as google, cover different sectors of daily life that are very useful to people, for example, money generation, entertainment, blogs and social networks, applications based on blockchain, investments, developing applications, among many other things. That's why even though Google achieved a market capitalization of $1.9 trillion in 23 years, I think it will take cryptocurrencies much less to reach $40 trillion. Because at the rate we are going, in a few years everything will be crypto, just wait and see.
Posted Using LeoFinance Beta
---