My Opinion Regarding Hard Skills and Soft Skills when I was an Undergraduate Student
---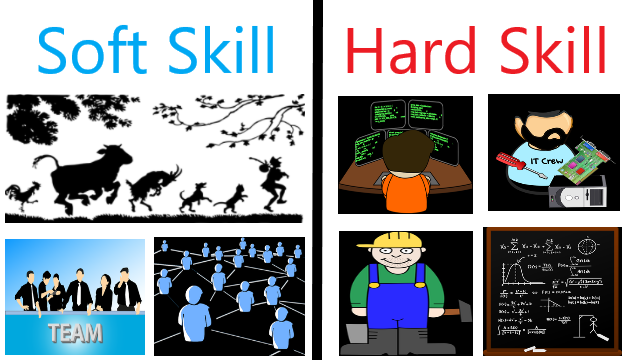 Regarding soft skills and hard skills for me, both are important. The most important thing for me is open minded, which means accepting something regardless of background and status, always being prejudiced, and accepting all differences. Roughly it means being able to accept other people's opinions, to be able to hang out with anyone, but still hold to our beliefs. If we are open minded, then softskill and hardskill will encourage each other.
According to my definition, soft skills are personalities with good social skills, cooperation, discipline, and so on. Hard skills are one's own ability to do something, for example being able to master course material, be able to assemble electronic devices, be able to do research, and other abilities.
To be honest, at first I went to college, majored in electrical engineering in 2010, I have little soft skills. Until now I was heavy on hard skills, more independent from others. One example during college, where friends prefer to discuss to complete assignments, I chose to work alone first. But that doesn't mean I shut myself off from others. Most of the time I can work it out myself, and well. My friends knew this, so I was asked to help them with their assignments. What I do is not give them my assignment but teach them how to complete the task. Teaching my friends as well as the discussion also increases my knowledge. That's how I can make friends in the campus environment. From the beginning I didn't have any friends, thanks to often helping them solve problems I ended up playing with them every time I went to campus. So hard skill helps to improve soft skills. The lesson I learned, if smart and open minded, there will be many people who will come. Now my abilities are known to have a pile of work coming up at my desk. Now almost every day I get a call to help set up a computer network at the Badung Central Government Office, I am appointed to take care of the web, Kelas Inspire Bali, and many other jobs that come. With a lot of work that came I ended up getting along with a lot of people. Thanks to hard skill, you can increase soft skill on the condition that it must be open minded.
If it is open minded then the opposite can happen. Soft skill can increase hard skill. In my experience with many people I was offered many jobs. For example at HME (Electrical Student Association) I was recruited to the Computer Division as head of the network section. Thanks to that I have access to the Computer Lab, and now I have access to the Communication System Lab. There I was free to develop either a computer or telecommunications network in the lab, and did many experiments. So thanks to soft skills I can increase hard skills.
My advice is to pay attention to the situation in the environment. Can serve by being involved in activities held by local people, participating in existing seminars, and participating in competitions that we like. If only active in the internal environment, it is called a frog in the well. Therefore, apart from being active inside we should be active outside. The world is big. In addition to committees and seminars, take part in trainings, courses, student exchanges at the national and international levels, competitions at the national and international levels and others. However, if you are a student, studying and completing your studies is still the top priority. As a college student, it should not be sacrificed. After I prioritize college, I can use the remaining time to participate in activities and get to know the outside world.
My experience when participating in achieving student activities in 2013 was that I couldn't get 1st place, I got 4th place at the University level because of the lack of participation in outside faculty activities while other oftens participate in international activities. I believe that in terms of hard skills I excel. My English test got the highest score at the local level TOEFL with a score of 560, my psycho test was quite superior, my research was scientitif and adoptive, discovering tools that is useful for society with low cost, my presentation was one of the most interesting but I lost at activities. Because each category of activities is limited to 5 points. For example 5 for Udayana University internal seminars and 5 for external activities, 5 for internal committee and 5 for external committe. At that time the table of the internal seminar activities and the internal committee was filled in completely. But the internal social service activities, internal writing competitions, other internal competitions, internal trainings, work experience, and everything external is almost empty. That's where I lost.
Therefore I suggest that engineering students be more active in activity participation outside the faculty, and at most I suggest not to close their eyes outside the University. Activities are not limited to seminars and committee, there are many other types of activities.
If one of your soft skills and hard skills is not balanced then what happen is that if you are strong in hard skills and do not have soft skills you will burder everything alone, even worse is isolated by others because they do not like you. If you are strong in soft skills and do not have hard skills, you will not be of any use to others. If you don't have the hard skill, you will have difficulty offering help to others. The saying that give and you shall receive is how can you give if you have nothing? Even if you have a strong soft skill and relies on others to help you, you are still are still susceptible to deceit and scams as you lack understanding in the task that you are doing.
Opini Saya Mengenai Keterampilan Keras dan Lunak saat Masih Mahasiswa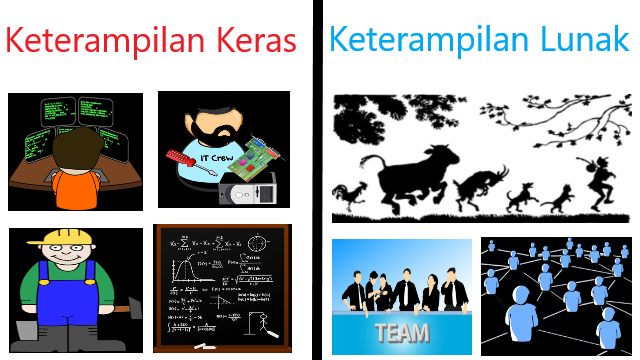 Mengenai softskill dan hardskill bagi saya keduanya penting. Yang paling penting bagi saya adalah openminded (terbuka), artinya menerima sesuatu tanpa memandang latar belakang dan status, selalu berprasangka baik, dan menerima segala perbedaan. Secara kasar artinya dapat menerima pendapat orang lain, dapat bergaul dengan siapa saja, tetapi tetap berpegang teguh terhadapap keyakinan kita. Jika openminded maka softskill dan hardskill akan saling mendorong satu dengan yang lainnya.
Menurut definisi saya softskill merupakan kepribadian baik kemampuan bergaul, berkerja sama, disiplin, dan lain-lain. Kalau hardskill merupakan kemampuan diri sendiri untuk melakukan sesuatu, contohnya dapat menguasai materi kuliah, dapat merangkai alat elektronik, dapat melakukan penelitian, dan kemampuan lainnya.
Jujur awalnya saya kuliah, masuk jurusan teknik elektro tahun 2010, saya mempunyai softskill yang kecil. Sampai sekarang saya berat di hardskill, lebih bersifat mandiri dan tidak tergantung orang lain. Salah satu contoh pada saat kuliah, dimana teman-teman lebih memilih berdiskusi untuk menyelesaikan tugas, saya memilih untuk bekerja sendiri terlebih dahulu. Namun tidak berarti saya menutup diri dari yang lainnya. Sering kali saya dapat menyelesaikannya sendiri, dan dengan baik. Hal itu diketahui oleh teman-teman saya sehingga saya diminta tolong untuk membantu tugas mereka. Yang saya lakukan bukan memberi tugas saya kepada mereka tetapi mengajari mereka bagaimana menyelesaikan tugas tersebut. Mengajari teman-teman saya sekaligus diskusi itu juga meningkatkan pengetahuan saya. Begitulah bagaimana saya dapat berteman dengan teman-teman saya dilingkungan kampus. Dari awalnya tidak punya teman, berkat sering membantu mereka menyelesaikan masalah saya akhir bermain dengan mereka tiap kali ke kampus. Jadi hardskill membantu untuk meningkatkan softskill. Pelajaran yang saya dapat, jika pintar dan openminded pasti banyak orang yang akan datang. Sekarang kemampuan saya diketahui ada setumpuk pekerjaan yang datang didepan meja saya. Sekarang hampir setiap hari saya ditelpon untuk membantu mengkonfigurasi jaringan komputer di Puspem Badung, saya ditunjuk untuk mengurusi web Kelasinspirasibali, dan banyak lagi pekerjaan yang datang. Dengan banyak pekerjaan yang datang tersebut akhirnya saya dapat bergaul dengan banyak orang. Berkat hardskill dapat meningkatkan softskill dengan syarat harus openminded (terbuka).
Jika openminded maka hal sebaliknya dapat terjadi. Softskill dapat meningkatkan hardskill. Pengalaman saya bergaul dengan banyak orang saya ditawari banyak pekerjaan. Contohnya di HME (Himpunan Mahasiswa Elektro) saya direkrut di Divisi Komputer sebagai kepala bagian jaringan. Berkat itu saya dapat akses ke Lab Komputer, dan sekarang dapat akses ke Lab DSK. Disana saya bebas untuk mengembangkan jaringan baik komputer atau telekomunikasi di lab tersebut, dan melakukan banyak eksperimen. Maka berkat softskill saya dapat meningkatkan hardskill.
Saran yang saya sampaikan adalah bersifat perhatian dengan keadaan di lingkungan sekitar. Dapat mengabdi dengan ikut terlibat kegiatan yang diadakan oleh sekitar, menjadi peserta seminar yang ada, dan mengikuti lomba-lomba yang kita sukai. Jika hanya aktif dilingkungan intern itu disebut jago dikandang. Oleh karena itu selain didalam juga aktif diluar. Dunia itu besar. Selain kepanitiaan dan seminar, ikutilah pelatihan, kursus, pertukaran pelajar tingkat nasional maupun internasional, lomba tingkat nasional maupun internasional dan lain-lain. Walaupun demikian jika sebagai mahasiswa tetap kuliah dan menyelesaikan studi merupakan prioritas utama. Sebagai mahasiswa kuliah tidak boleh dikorbankan. Waktu saya prioritaskan untuk kuliah, waktu sisa bisa saya pakai untuk mengikuti kegiatan dan mengenal dunia luar.
Pengalaman saya saat mengikuti kegiatan mahasiswa berprestasi 2013 bahwa saya tidak bisa dapat peringkat 1, dapatnya peringkat 4 tingkat Universitas karena kurangnya mengikuti kegiatan diluar. Saya percaya bahwa dari segi hardskill saya unggul. Tes bahasa inggris saya dapat nilai tertinggi di TOEFL tingkat lokal dengan angka 560, Psiko tes saya lumayan unggul, karya ilmiah saya sudah bersifat penelitian (penemuan alat dan bermanfaat untuk masyarakat dengan harga yang murah), presentasi saya salah satu yang paling menarik tetapi saya kalah di kegiatan. Karena masing-masing kategori dari kegiatan dibatasin 5. Contohnya 5 untuk seminar intern unud dan 5 untuk ekstern, 5 untuk kepanitian intern unud dan 5 untuk ekstern. Pada saat itu tabel kegiatan seminar intern dan kepanitiaan intern saya isi penuh. Tetapi kegiatan bakti sosial intern, lomba-lomba karya tulis intern, lomba-lomba lain intern, pelatihan-pelatihan intern, pengalaman kerja, dan semua yang ekstern terisi hampir kosong. Disitulah saya kalah.
Oleh karena itu saya sarankan untuk mahasiswa fakultas teknik untuk lebih giat mengikuti kegiatan diluar fakultas, dan paling saya sarankan untuk tidak menutup mata diluar Universitas. Kegiatan tidak terbatas pada seminar-seminar dan kepanitian, ikutilah kegiatan jenis lainnya.
Bila salah satu softskill dan hardskill tidak seimbang maka yang terjadi, bila kuat di hardskill dan tidak memiliki softskill anda akan berjuang untuk hidup sendiri, lebih parah lagi dihalangi oleh orang lain karena tidak disukai. Silahkan rasakan susahnya berjuang sendiri. Bila kuat di softskill dan tidak memiliki hardskill anda akan tidak akan berguna bagi orang lain. Jika tidak memiliki hardskill kemampuan untuk melakukan sesuatu bagaimana membantu lainnya? Kedua hal tersebut terjadi bila orang tersebut bersifat closeminded (tertutup). Seperti hal berikut, orang yang pintar tidak mau bergaul, sehingga ilmunya tidak banyak berguna, sering bergaul tetapi tidak pintar dan yang membuat buruk tidak mau berkembang. Jika tidak mau berkembang tidak ada gunanya bergaul dengan banyak orang karena tidak melakukan sesuatu untuk membantu.
Mirror
---