Quick Guide to Coingecko Mobile
---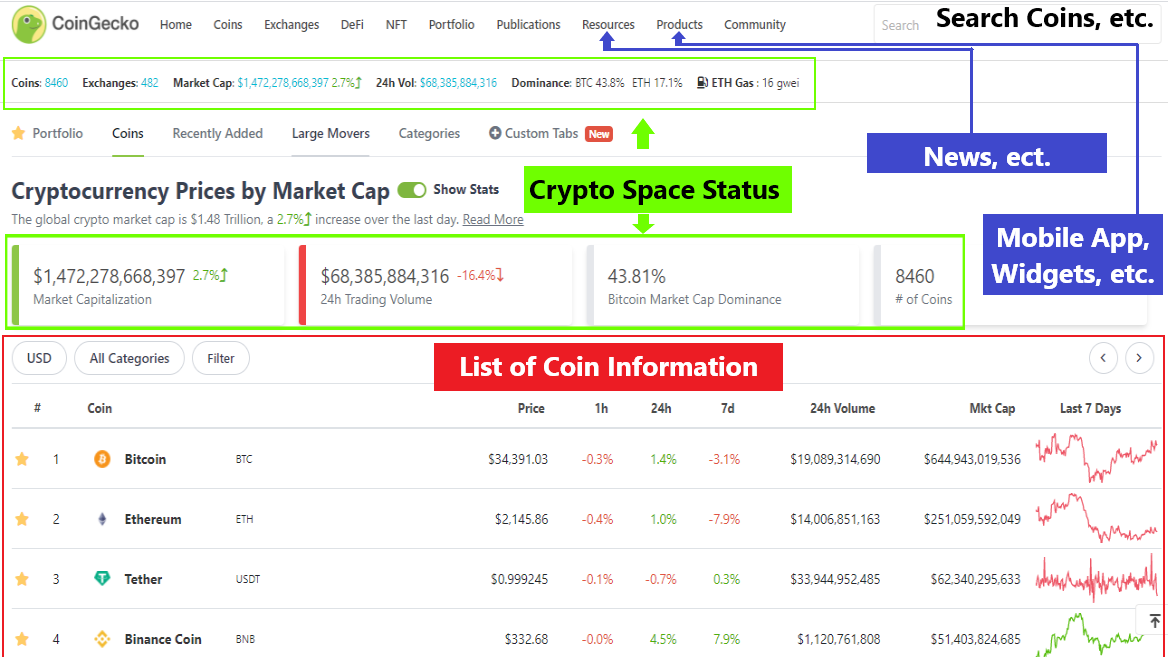 This is a quick guide to coingecko mobile, one of the sources of cryptocurrency information which is one of the necessities to begin in crypto. Originally, this article was intended to combine with the cryptocurrency quick guide but too many large images in one place can be overwhelming for many readers which is best to be separated here. For those already literate in information communication technology (ICT) probably does not need this guide so go ahead and read the quick guide cryptocurrency instead.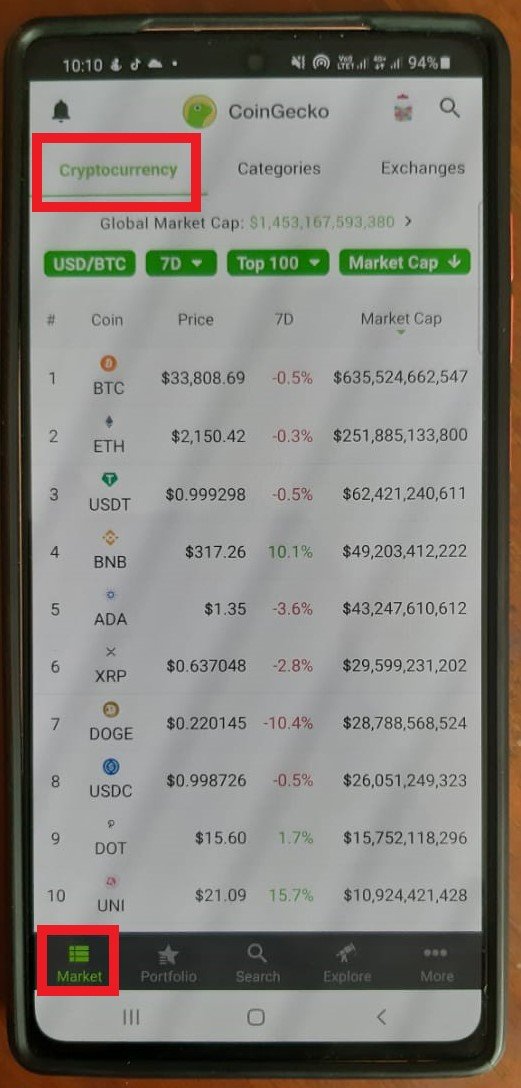 We start with the home menu which is the main function of Coingecko, to show a list of cryptocurrencies and their prices and sorts them out based on our preference whether it is by market capitalization, by prices, or by price changes. Click on any of the coins to see more information about them.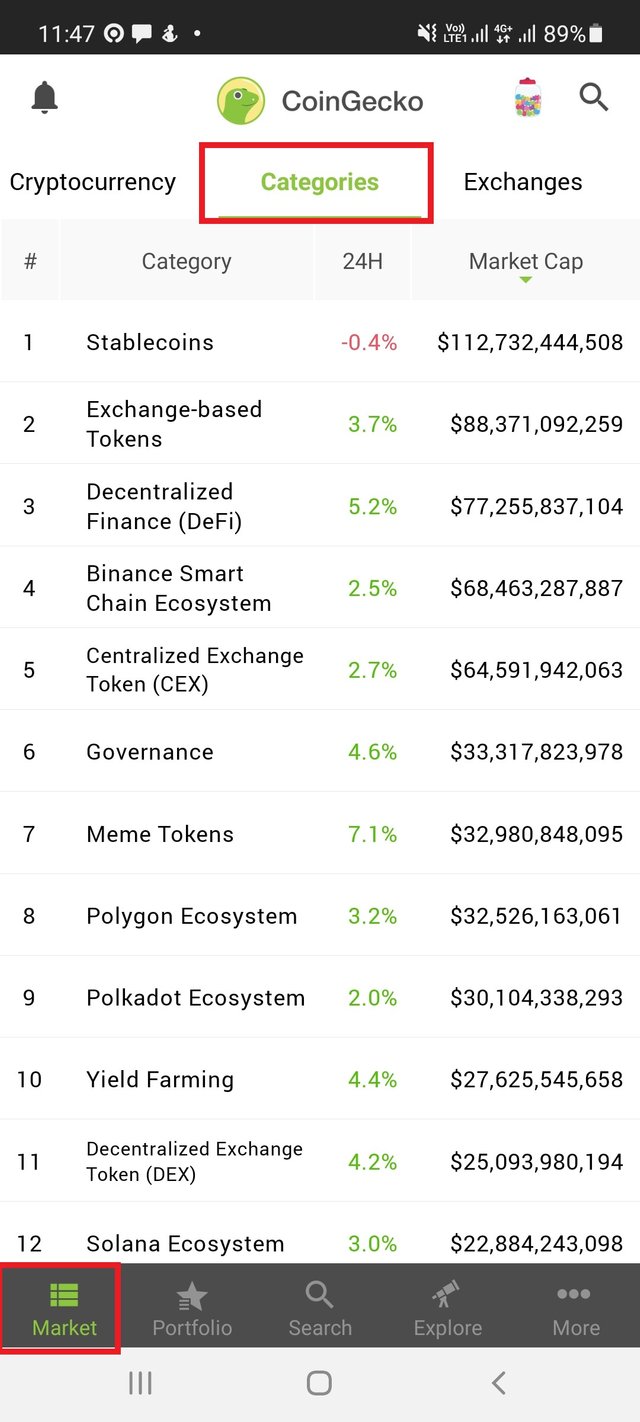 Sliding to the right of the top menu shows the categories which is a new feature at the time of writing this guide. There are many categories in cryptocurrencies such as decentralized finance (DeFi), stable coins, and meme coins, just like stocks where there are companies in health sector, energy sector, industry sector, finance sector, etc. In the past, we have to blindly check each and every coins and categorize them ourselves. Nowadays, Coingecko helped in categorizing them for us which really helps for those who are new in cryptocurrency.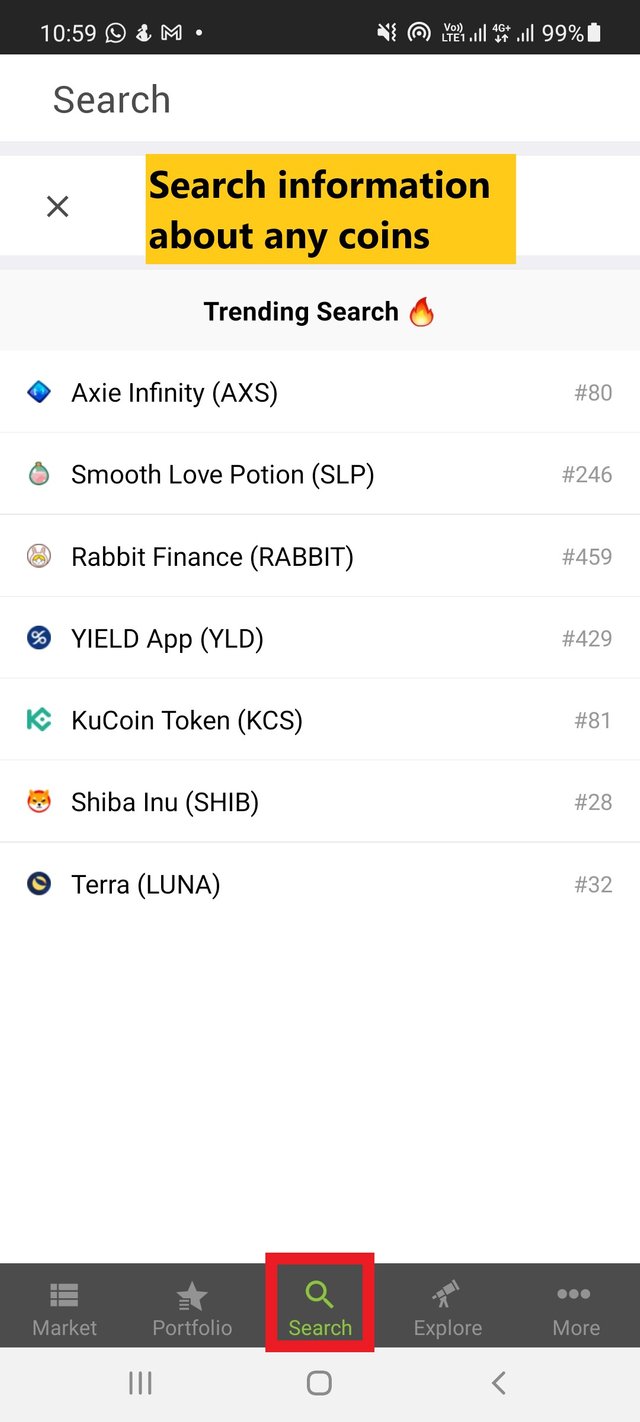 If browsing through the list of coins, then we use the search feature to search coins that we found in exchanges, in news, in social medias, or coins that are friends mentioned to find more information about the coins.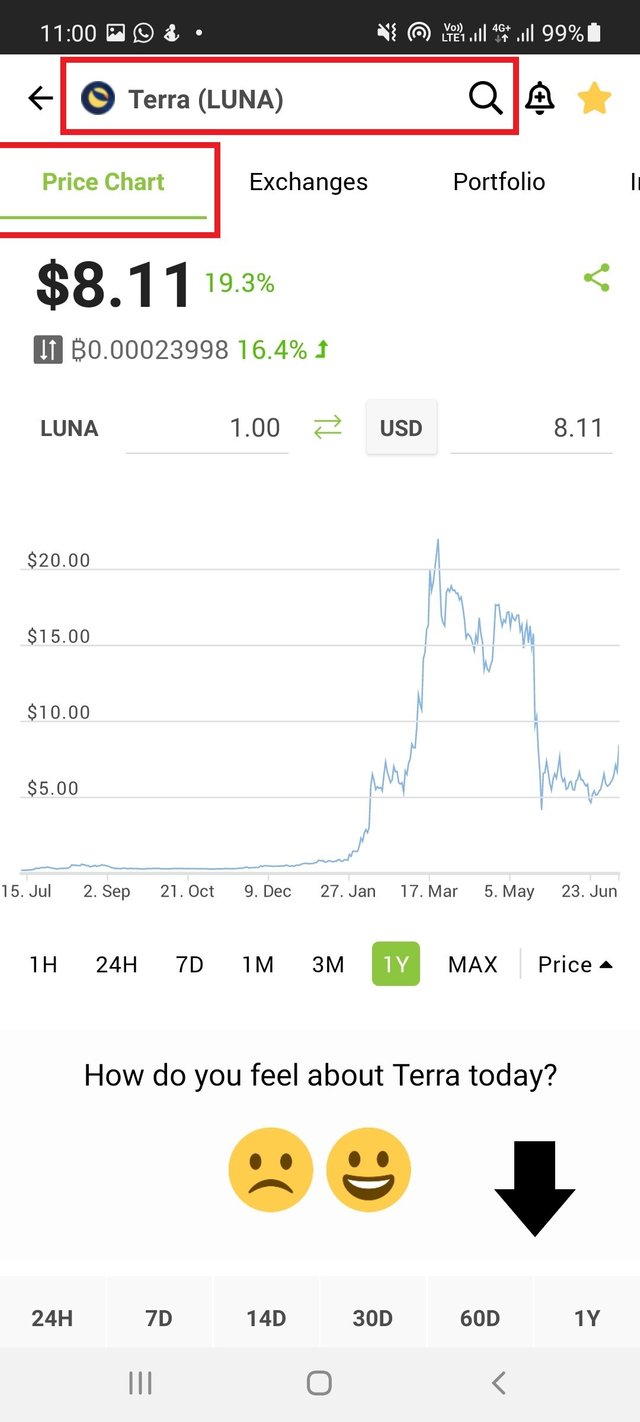 For example, I searched for Terra Luna where the first information the most people wanted to know is the price chart showing the current price and the price history to see the movement of the price.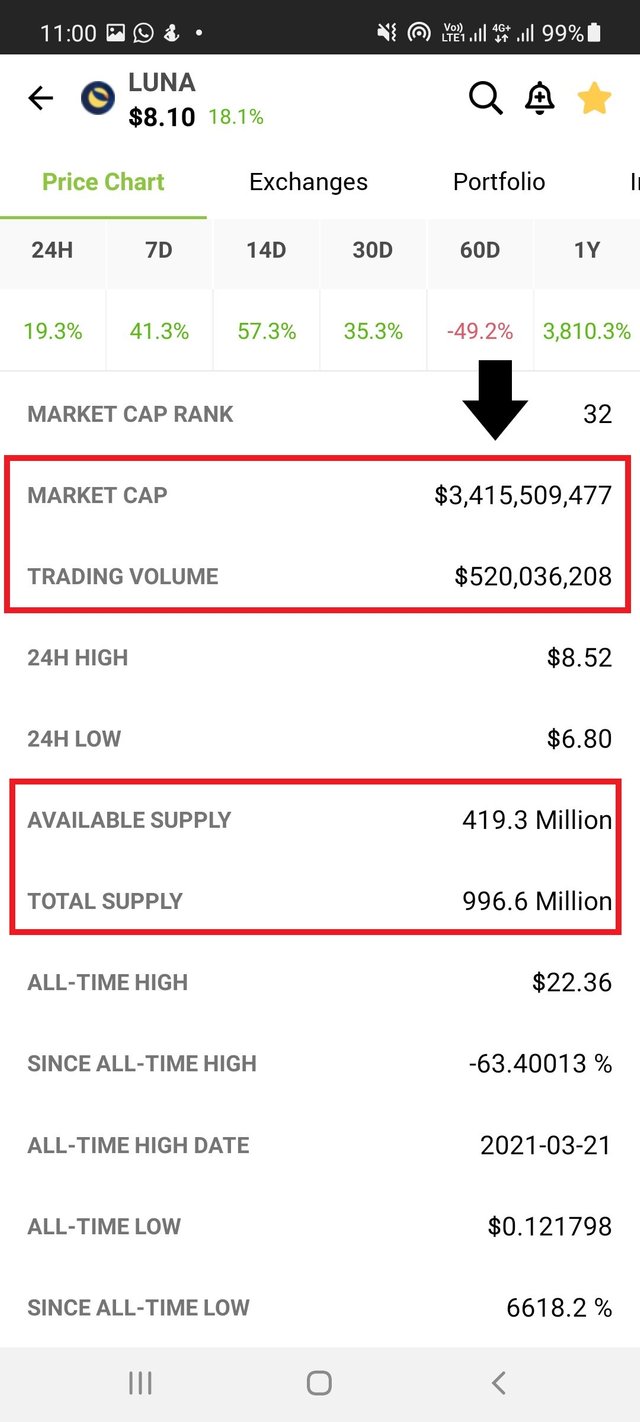 Scrolling to the bottom, we can more details about the market where for me, I looked at the market capitalization, trading volume, and the supply. The market capitalization and the trading volume shows the size of the market. The supply is one of the factors that is used to determine whether the cryptocurrency is cheap or not. The basics of all price is based on the supply and demand. More demand but less supply means that not everyone can get, meaning people will be willing to pay at a higher price. On the other hand, more supply but less demand means that there are more coins available than the amount of people willing to purchase which is why the coins will be cheaper to attract more buyers.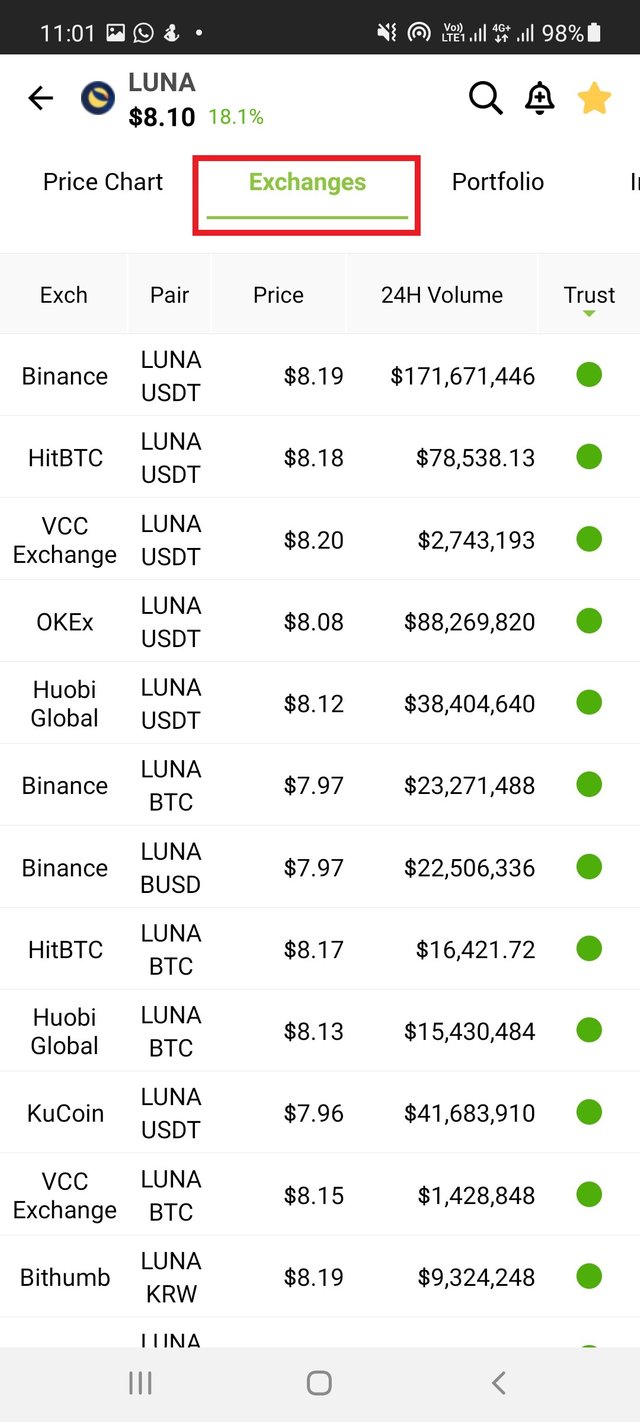 On the top menu, next to the price chart is the exchange menu. For people who only heard of the coin, this menu is used to see where they can buy, showing lists of exchanges where the coins are sold. This menu is also useful for arbitrage traders to find markets with cheap coins to buy and to sell them in markets with more expensive price.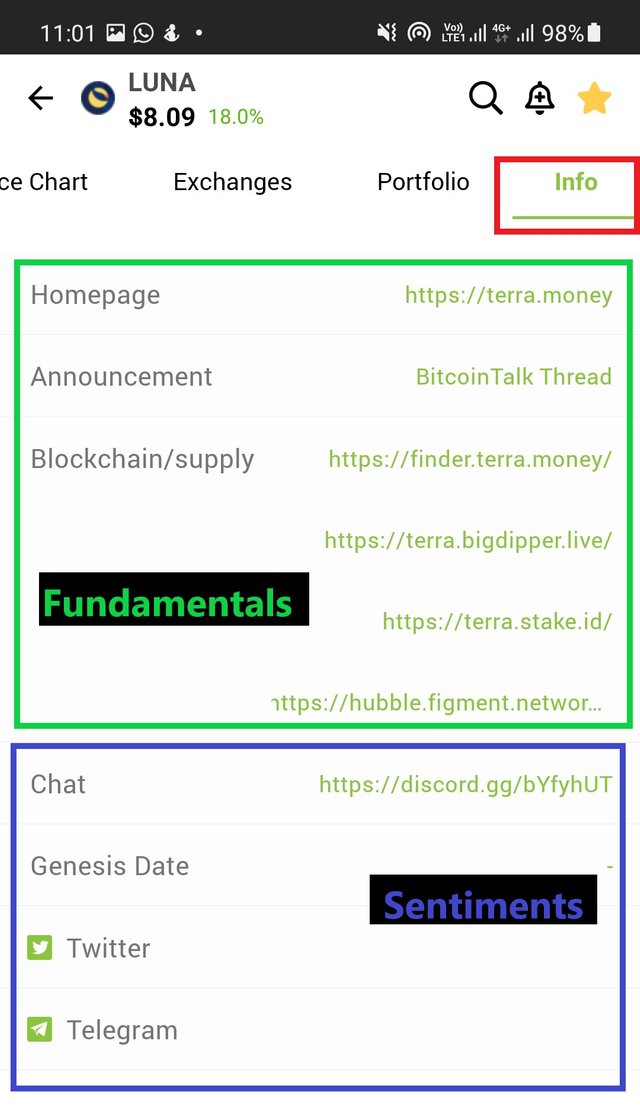 The final menu shows descriptions and discussion channels about the coin. The website of the coin should show the fundamental such as the narrative of the coin, the technicals, the road map, and the team behind it. The blockchain explorer is a more detailed information about the supply, plus the transactions, holders, and even the source code if anyone is interested. Their social media channels should show their news and announcement and additionally the comments of the public showing some of the sentiments.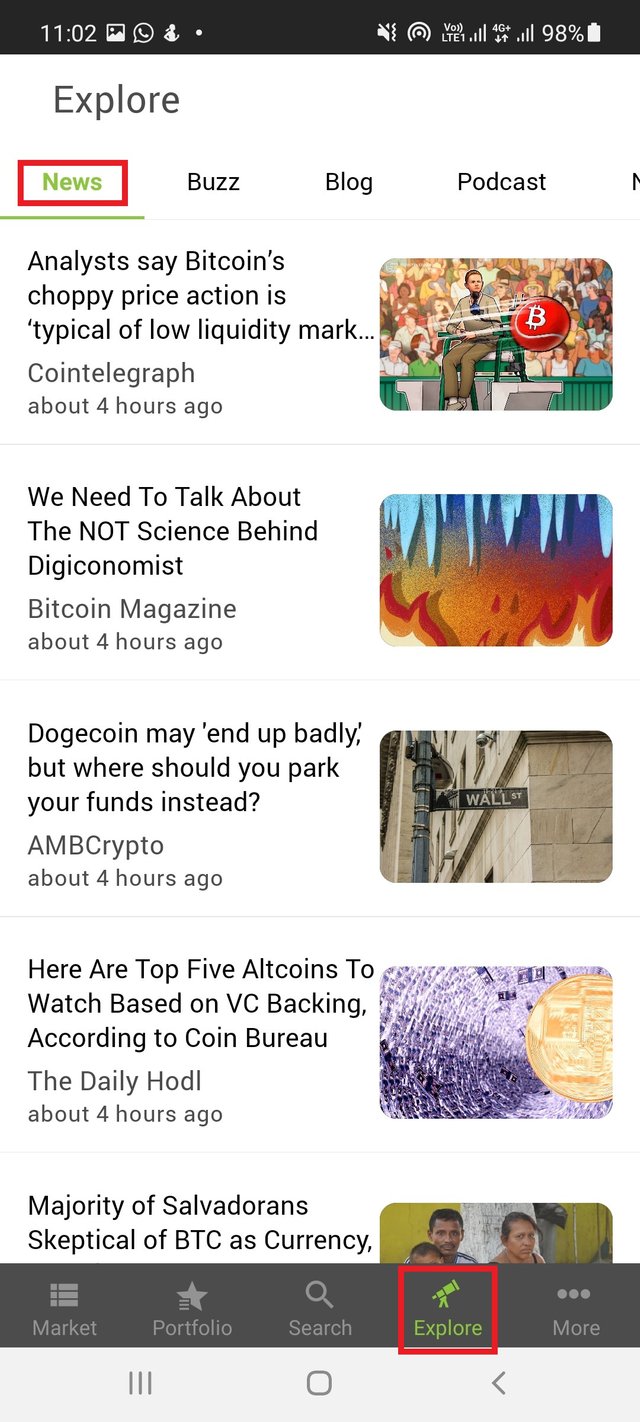 Going back to the main menus, the explore menu shows the news related to cryptocurrency market such who are trying to ban cryptocurrency, who supports them, who are using them, who profits from them, who got broke frome them and what innovations are taking place.
If you hold many coins like me, it is a good idea to note them using the portfolio feature to keep track of our investment, but you need to register to Coingecko first but do not worry because registration is free.
Panduan Singkat Coingecko Mobile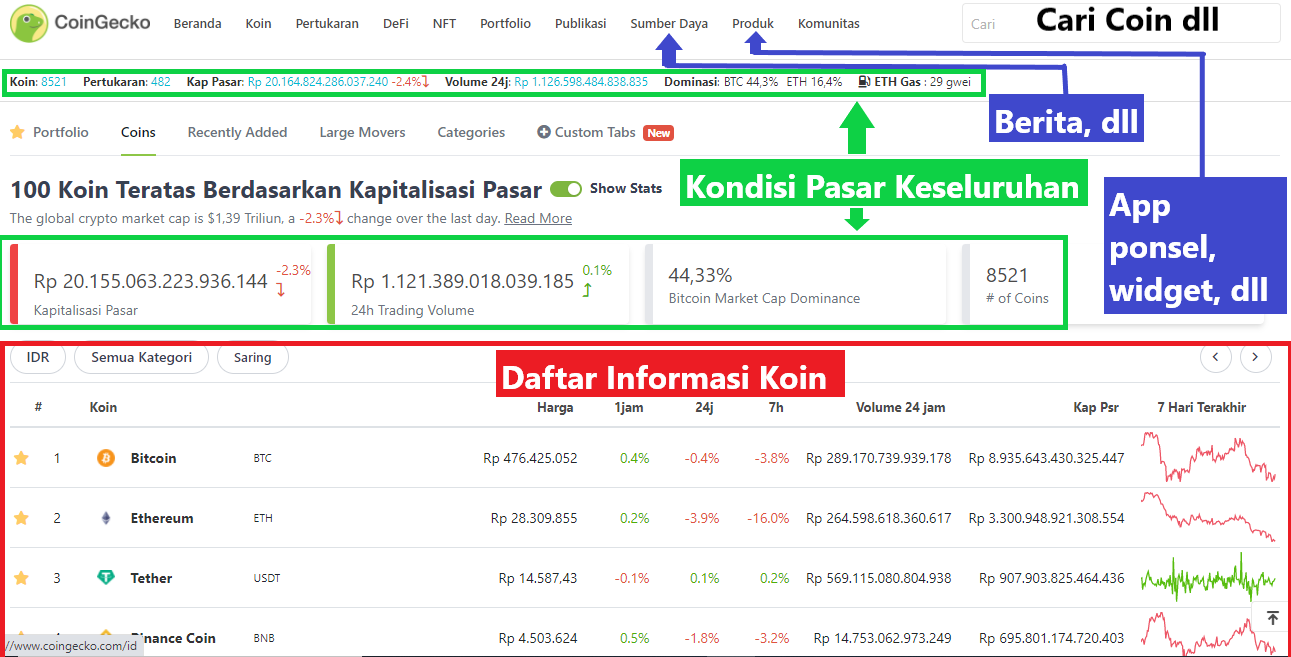 Tulisan ini merupakan panduan singkat untuk coingecko mobile, salah satu sumber informasi mata uang kripto yang merupakan salah satu kebutuhan untuk memulai dalam kripto. Awalnya, artikel ini dimaksudkan untuk digabungkan dengan panduan cepat mata uang kripto tetapi terlalu banyak gambar besar di satu tempat dapat membuat banyak pembaca kewalahan. Sebaiknya dipisahkan di sini. Bagi mereka yang sudah melek dalam teknologi komunikasi informasi (TIK) mungkin tidak memerlukan panduan ini, jadi langsung saja baca panduan cepat mata uang kripto.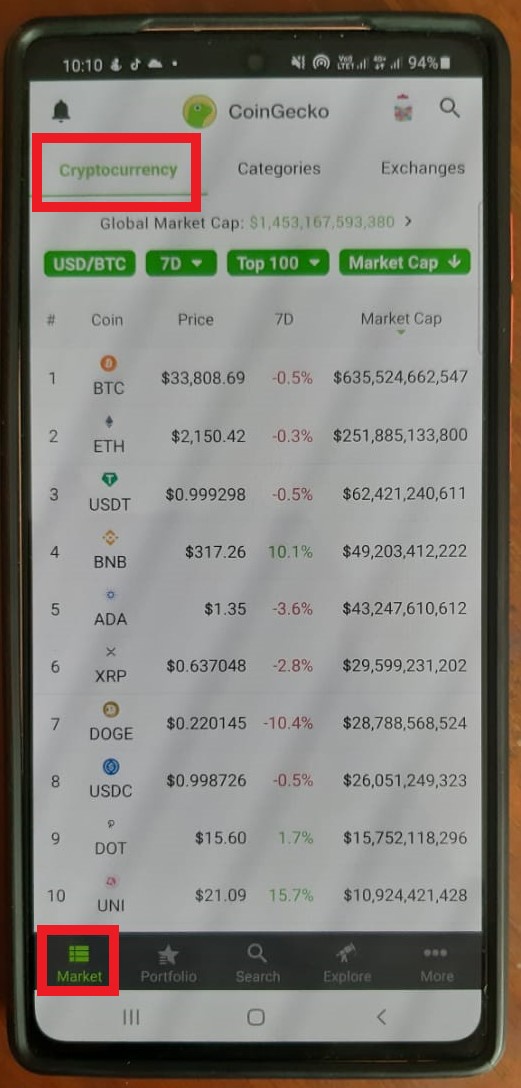 Dimulai dengan menu beranda yang merupakan fungsi utama Coingecko, untuk menampilkan daftar mata uang kripto dan harganya dan memilahnya berdasarkan preferensi seperti berdasarkan kapitalisasi pasar, berdasarkan harga, atau berdasarkan perubahan harga. Klik salah satu koin untuk melihat informasi lebih lanjut mengenainya.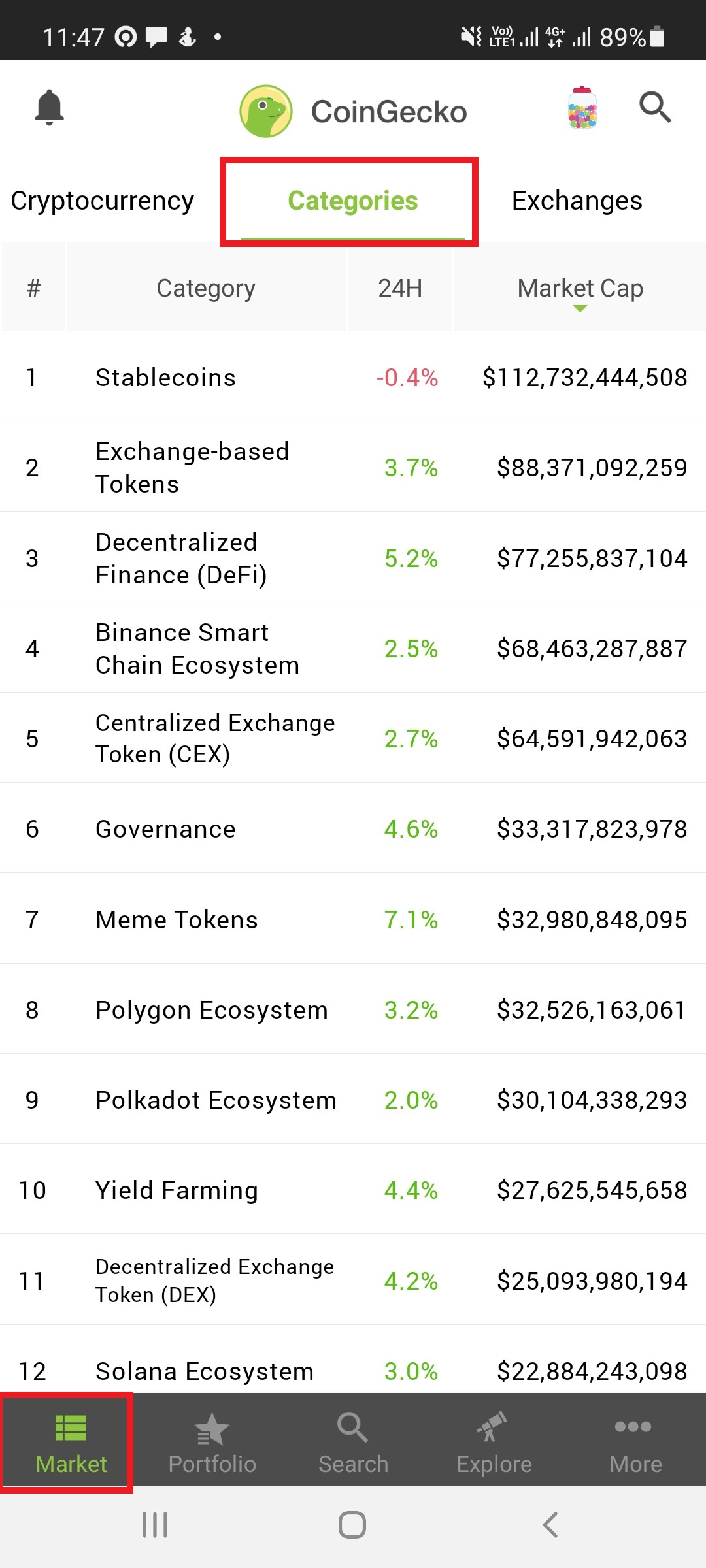 Geser ke kanan menu atas menunjukkan kategori yang merupakan fitur baru pada saat penulisan panduan ini. Ada banyak kategori dalam mata uang kripto seperti desentralisasi keuangan (decentralized finance atau DeFi), stablecoin, dan meme coin, seperti halnya saham dimana terdapat perusahaan di sektor kesehatan, sektor energi, sektor industri, sektor keuangan, dll. Di masa lalu, kita harus memeriksa secara acak setiap koin dan mengkategorikannya sendiri. Saat ini, Coingecko membantu mengkategorikan mereka yang sangat membantu bagi mereka yang baru dalam mata uang kripto.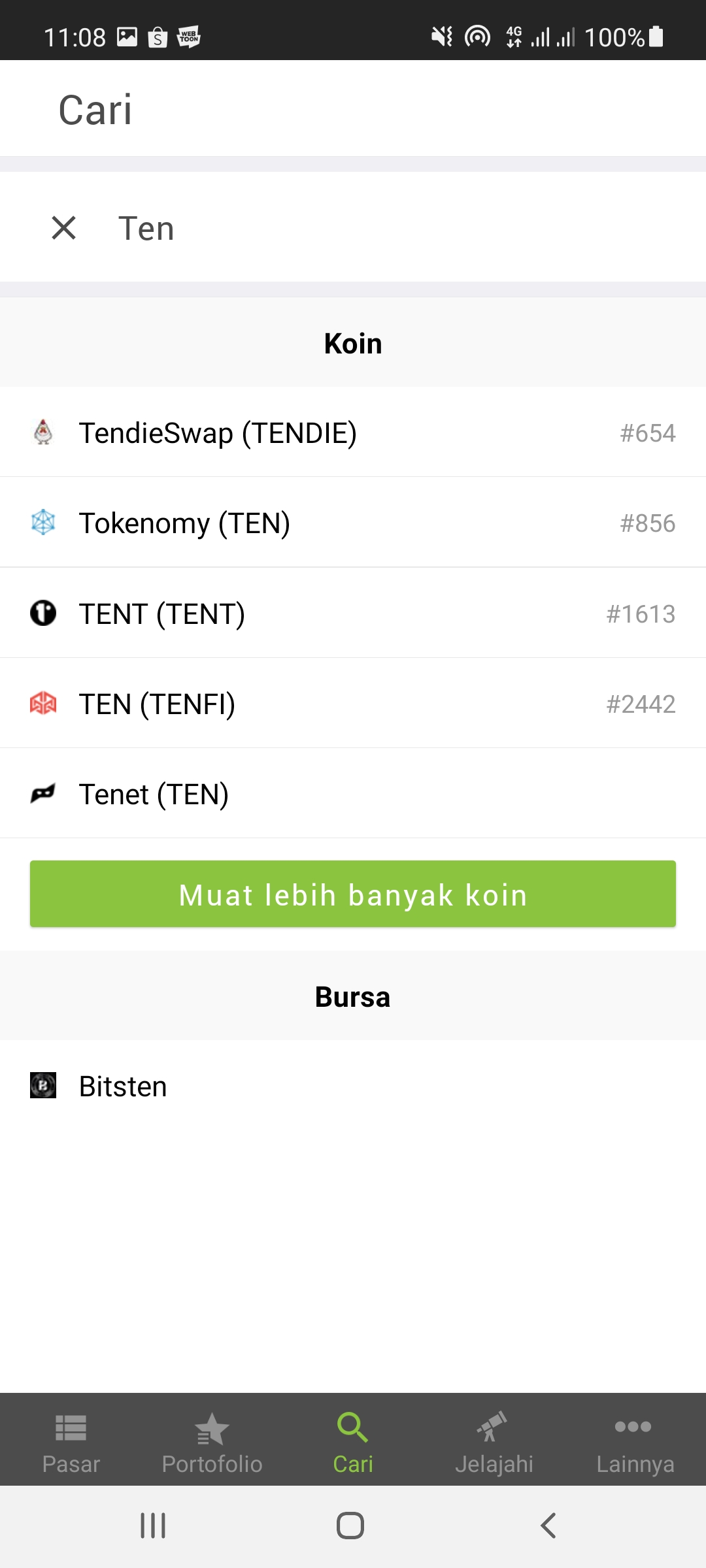 Jika menelusuri daftar koin, maka digunakan fitur pencarian untuk mencari informasi lebih lanjut tentang koin yang telah ditemukan di bursa, di berita, di media sosial, atau koin yang disebutkan rekan-rekan.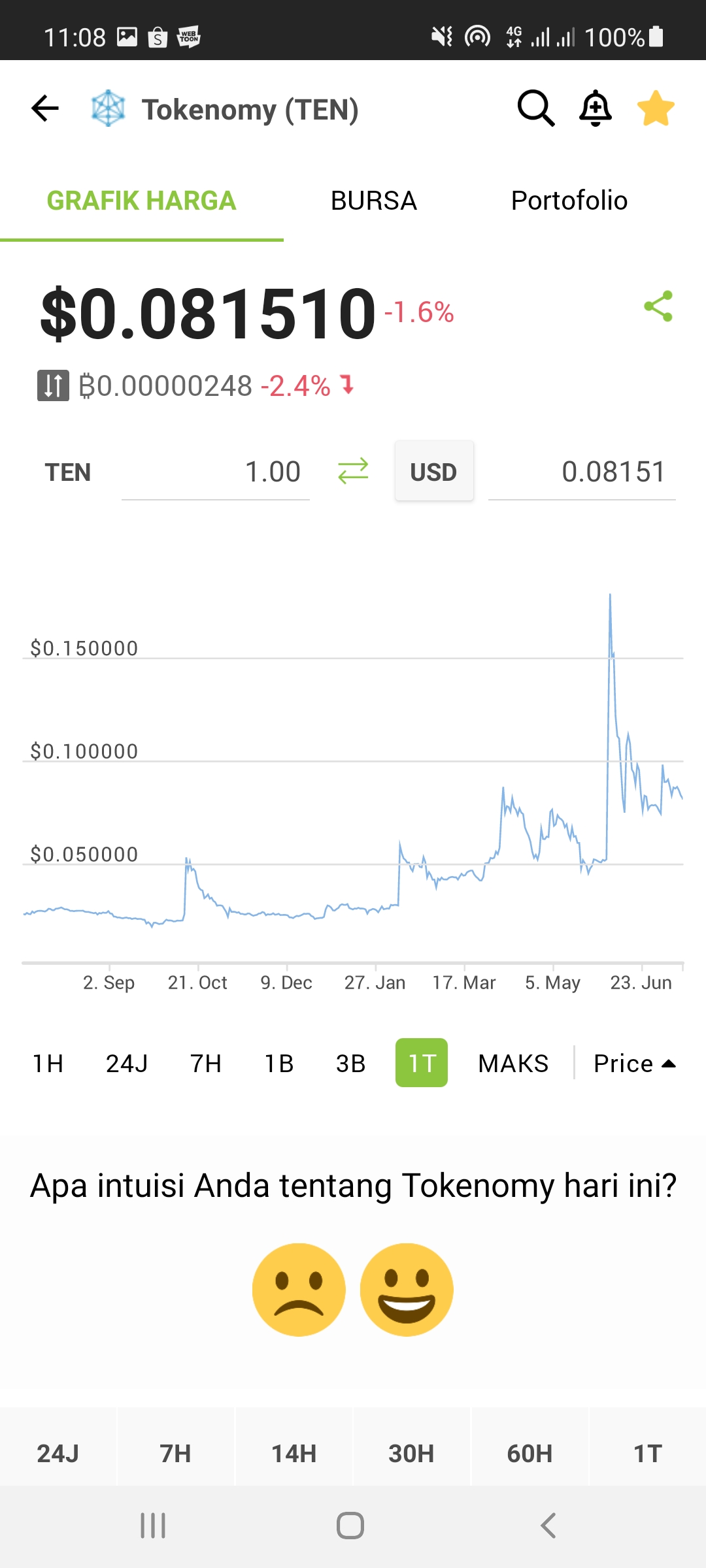 Sebagai contoh, saya mencari Terra Luna dimana informasi pertama yang paling ingin diketahui orang adalah grafik harga yang menunjukkan harga saat ini dan riwayat harga untuk melihat pergerakan harga.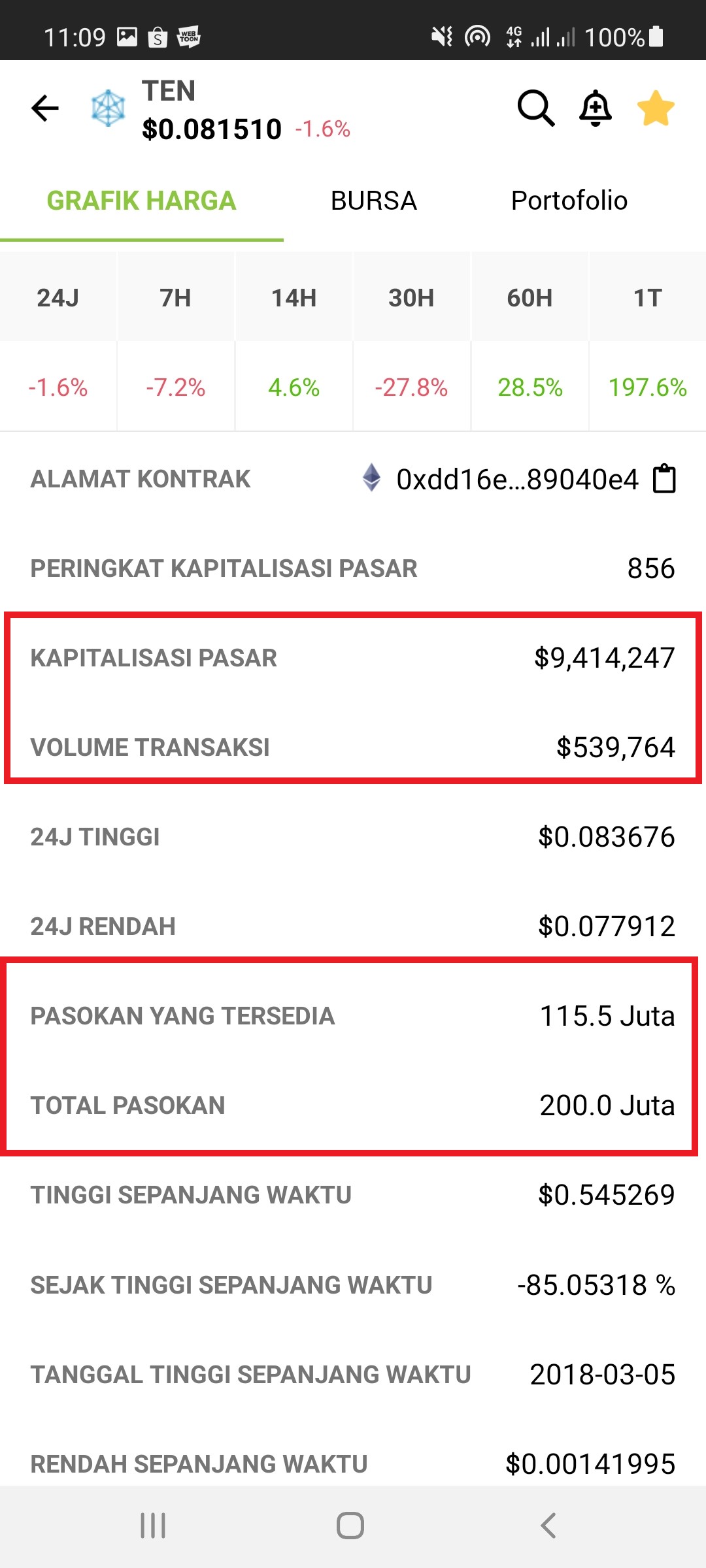 Menggulir ke bawah, kita dapat lebih detail tentang pasar di mana bagi saya, saya melihat kapitalisasi pasar, volume perdagangan, dan penawaran. Kapitalisasi pasar dan volume perdagangan menunjukkan ukuran pasar. Pasokan adalah salah satu faktor yang digunakan untuk menentukan apakah mata uang kripto murah atau tidak. Dasar dari semua harga adalah penawaran dan permintaan. Lebih banyak permintaan tetapi lebih sedikit pasokan berarti tidak semua orang bisa mendapatkannya, artinya orang akan bersedia membayar dengan harga yang lebih tinggi. Di sisi lain, lebih banyak pasokan tetapi lebih sedikit permintaan berarti ada lebih banyak koin yang tersedia daripada jumlah orang yang mau membeli, itulah sebabnya koin akan lebih murah untuk menarik lebih banyak pembeli.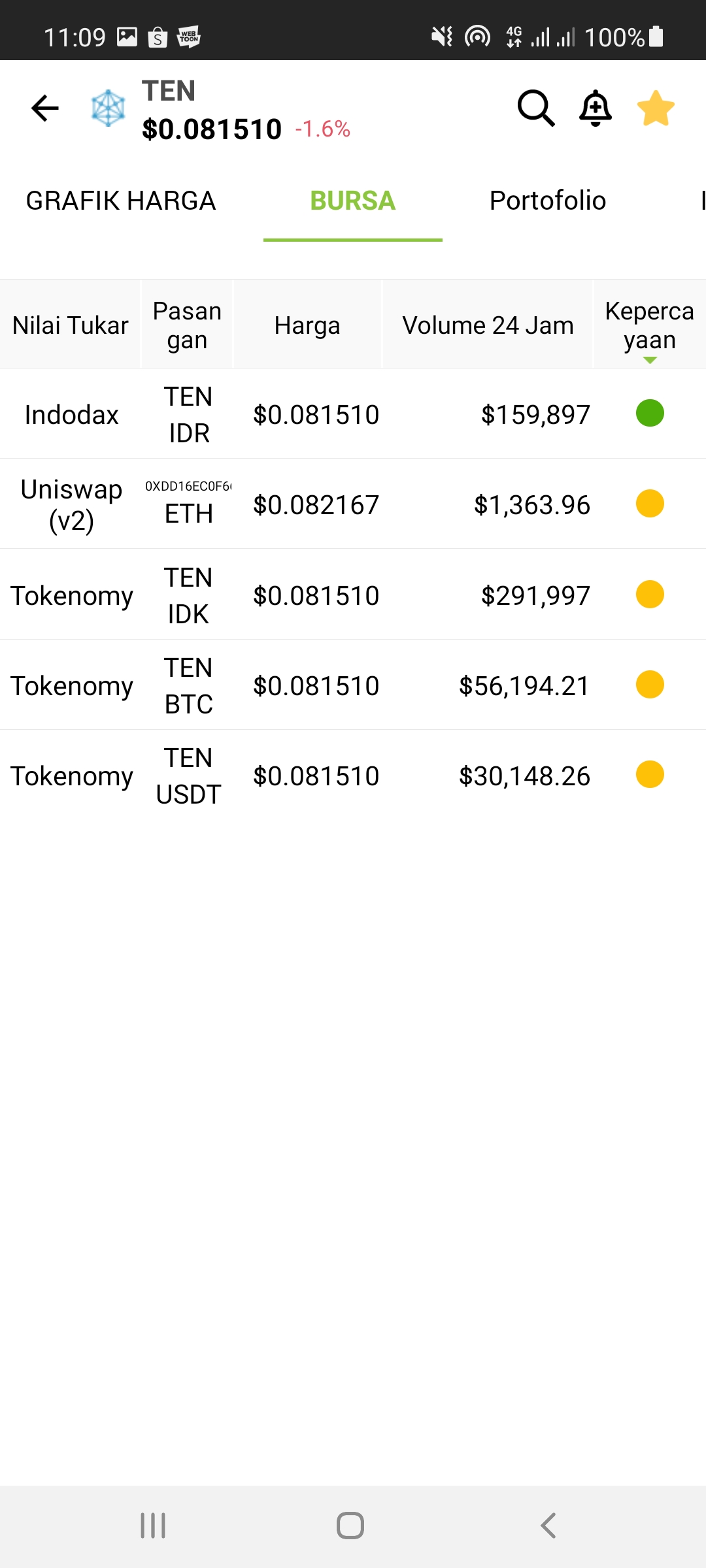 Di menu atas, di sebelah grafik harga adalah menu bursa. Bagi orang yang hanya mendengar tentang koin, menu ini digunakan untuk melihat di mana mereka dapat membeli, menampilkan daftar tempat bursa koin dimana dijual. Menu ini juga berguna bagi pedagang arbitrase untuk menemukan pasar dengan koin murah untuk dibeli dan dijual di pasar dengan harga lebih mahal.
Menu terakhir menunjukkan deskripsi dan saluran diskusi tentang koin. Situs web koin harus menunjukkan hal-hal mendasar seperti narasi koin, teknis, peta jalan, dan tim di belakangnya. Penjelajah blockchain adalah informasi yang lebih rinci tentang pasokan, ditambah dengan transaksi, pemegang, dan bahkan kode sumber jika ada yang tertarik. Saluran media sosial mereka harus menampilkan berita dan pengumuman mereka dan juga komentar publik yang menunjukkan beberapa sentimen.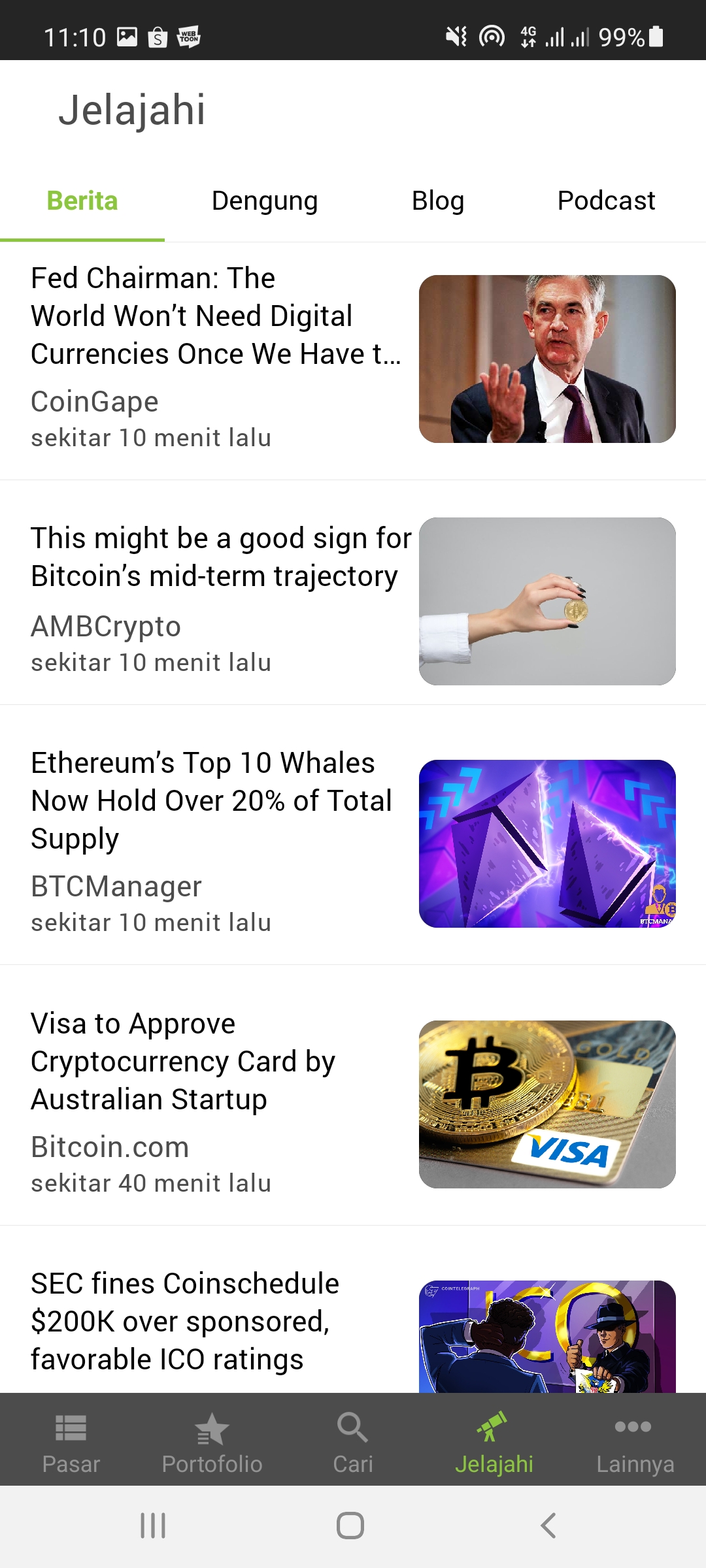 Kembali ke menu utama, menu explore menampilkan berita terkait pasar mata uang kripto seperti siapa yang mencoba melarang mata uang kripto, siapa yang mendukungnya, siapa yang menggunakannya, siapa yang diuntungkan, siapa yang bangkrut dan inovasi apa yang sedang dilakukan.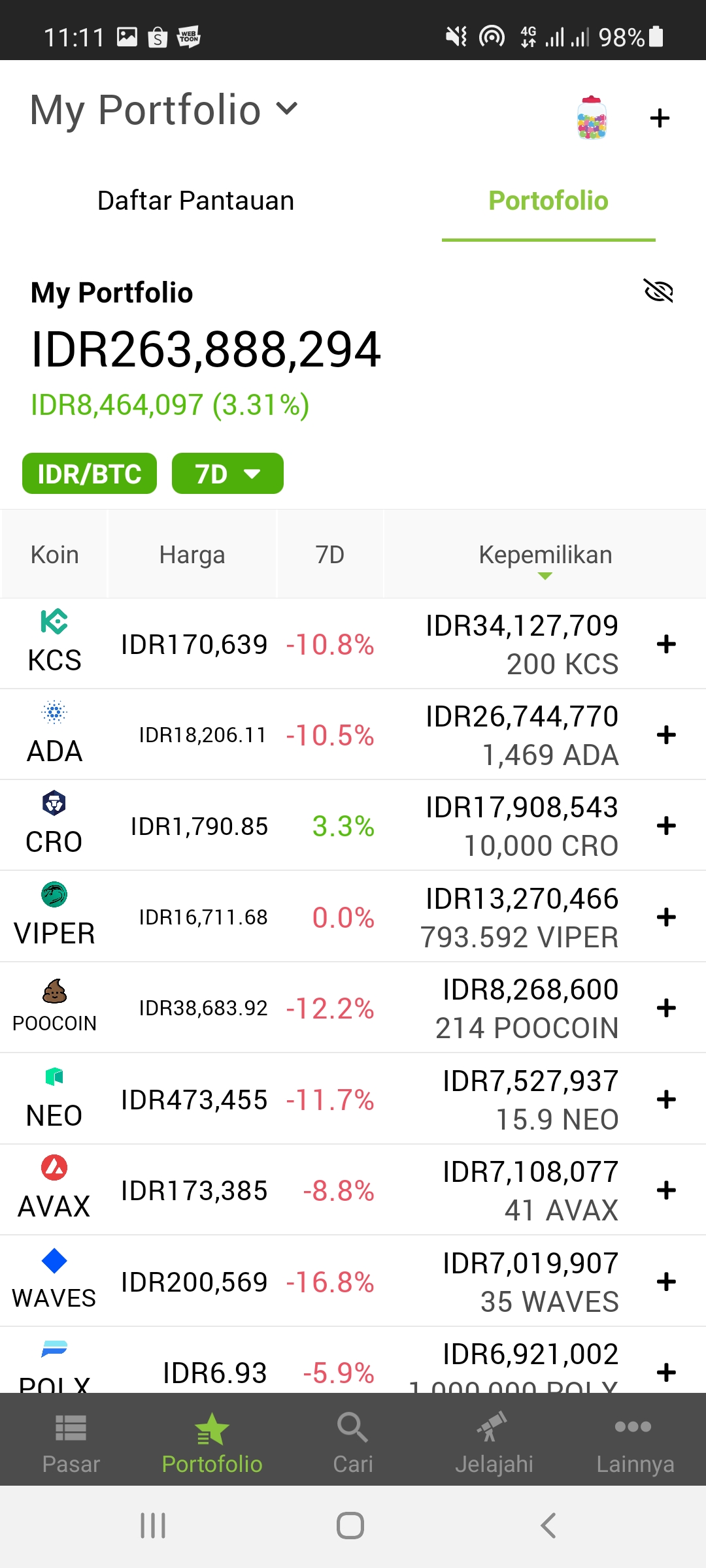 Jika Anda memegang banyak koin seperti saya, ada baiknya untuk mencatatnya menggunakan fitur portofolio untuk melacak investasi, tetapi Anda harus mendaftar ke Coinecko terlebih dahulu tetapi jangan khawatir karena pendaftarannya gratis.
Mirrors
---