Huge upgrade for my low budget Gold League strategy!
---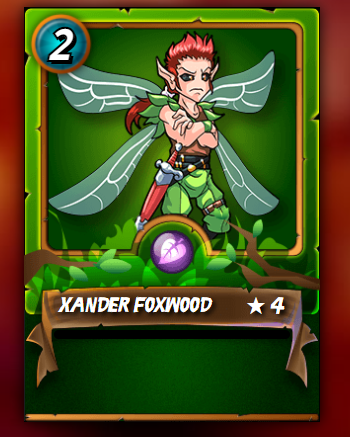 A Beta edition addition
My purchasing strategy in the Splinterlands Crypto Game so far has been successful: buy monsters, rent summoners. Renting Collection Power for Gold League isn't feasible if you don't already own strong Monsters. You'll need luck to even out rental costs. So I slowly purchase monsters instead, while renting a couple of summoners for 10 to 20 daily dec.
This was the case only until recently. I've acquired a level 4 epic summoner! No, I don't mean one of the newest epic summoners from Riftwatchers: I've added Xander Foxwood to my collection. It cost me $60, which I think was quite the bargain, considering it's a beta summoner that's very scarse at the moment.
Sure, I could've bought one of the newer Earth summoners instead, but I found out they were all more expensive than Xander Foxwood at the time of my purchase, each alternative costing more than $70. My intention in playing Wild League indefinitely further increased my interest in Xander Foxwood.
The fact that it was a level 4 epic for sale was icing on the cake: this card wasn't a single BCX higher or lower than I wanted according to my Gold League budget. Now, I just have to keep an eye out for a Xia Seachan or Bortus with considerably lower prices like this Xander turned out to be.
---
image source: https://splinterlands.com/
---