Picked up Legendary Summoners + discussing Possibilus
---

Make room for new challengers
Goodbye, Yodin Zaku and Scarred Llama Mage. You've both offered plenty of unfun battles between those who have it against those who don't. The impossible-to-defeat Last Stand combo with Kron was particularly unexciting, considering strategy hardly ever mattered since those were the two Monsters forever left standing.
Hello, Conqueror Jacek. Joker of all combat. No matter what rules end up dictating the battlefield, Conqueror Jacek is here to screw up whatever strategy an opponent might have come up with. Regardless of how precise or useless our Monsters' attack patterns become, it's certainly going to be crazy.
Now that Untamed says its last goodbye before forever leaving the Modern format in the Splinterlands trading card crypto game, we must seize the last chance to pick up whatever Legendary Summoner we can afford. Sooner rather than later, specially because of massive 'fear of missing out', prices spike from $2 to $10 in only a couple of days.
I've picked up three Summoners so far - Conqueror Jacek for $20, Grandmaster Rathe also for $20 and last, but not least, Possibilus the Wise for $15. Since my purchase earlier today, Conqueror Jacek has spiked to $22 and Grandmaster Rathe spiked to $24, although they've since gotten back to average prices.
Trying to trade through the spread is risky - at any point, neither might ever go back down to $20. They're bound to spike to $30 and higher in the next few weeks, so it takes a lot of guts to keep trading. That's not the case when we look at Possibilus the Wise, though.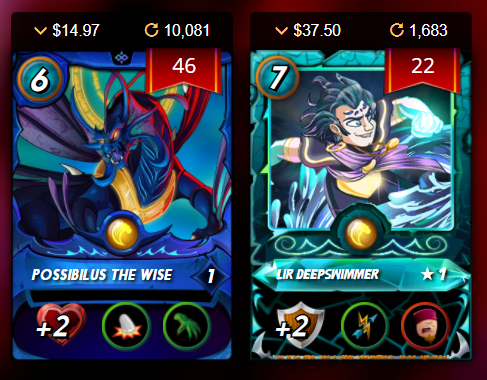 Possibilus the Wise is a freak between Chaos Legion's Legendary Summoners. It's complete garbage, unless under very specific melee-oriented battle rules. So why have I picked it up? It's because of how useful it's probably going to be in the next expansion.
Lir Deepswimmer surely didn't age as well as Yodin Zaku, but the most articulate players lay it down hard often enough. This means Possibilus the Wise is probably going to become useful in Modern soon enough. The Splinterlands development team always learns from their previous experience, which points to a brighter future for Possibilus the Wise than we have seen with past mediocre Legendary Summoners.
I'm very happy with my purchases and I wish you all many victories in 2023 across tournaments, ranked battles and the upcoming guild system improvements.
---
images source: https://splinterlands.com/
---