Don't Miss Sonny Onoo Airdrop!
---
---
This short blog is for those who participated in the WOO General sale on 31st October. If you purchased 100 packs, then you are eligible for one guaranteed Sonny Onoo NFT.
The airdrop is live and it can be accessed from the official website.
Who Is Sonny Onoo?
Sonny Onoo is a legendary Japanese-American professional wrestling manager. He was active in WCW (World Championship Wrestling) during the time period between 1995 & 1999 and managed several Japanese wrestlers. He has done an official collaboration with WOO and that's why this NFT is so important.
You can watch Sonny's interview with @bookerman, the CEO of WOO revealing the airdrop.
How To Claim?
After logging in with Keychain, just click on your profile picture and see the Sonny Airdrop page.

As you can see, I have 3 Sonny NFTs to claim. Click on the "Claim cards" button and sign the transaction via Keychain. It's that simple and straightforward! I don't know why three because I got 135 packs. Maybe I just got lucky with the raffle tickets. Wish I could get a gold belt NFT but I don't mind. :))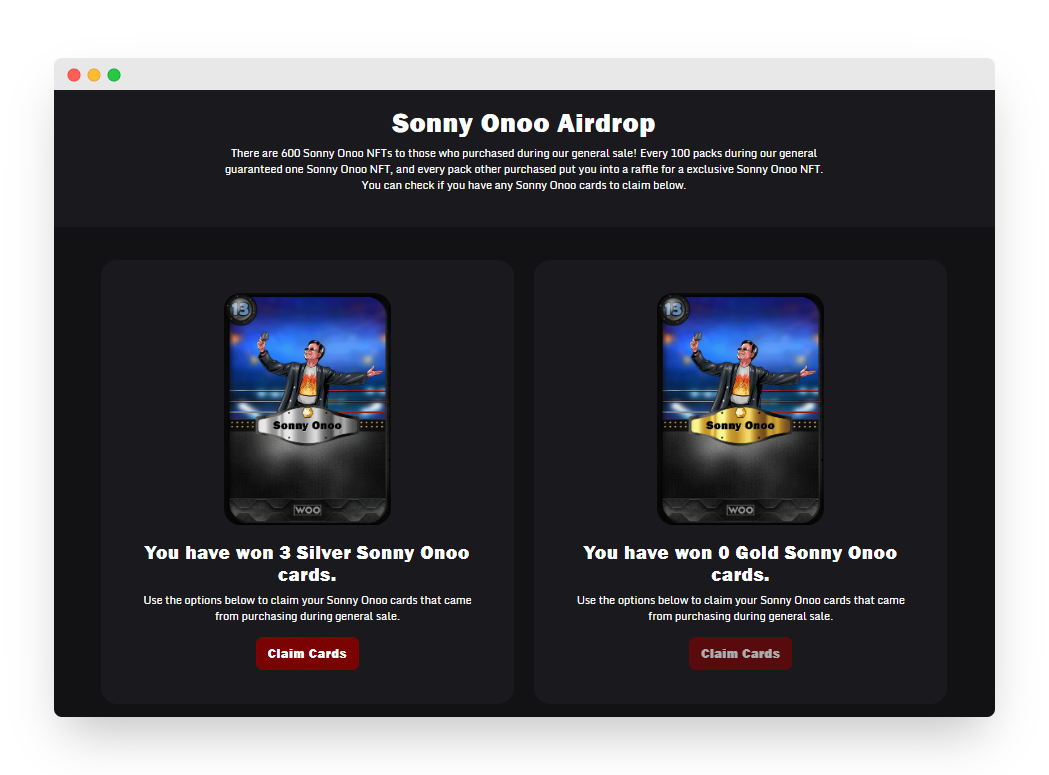 You can check in your cards section or go to the NFT mining page. I am adding them to the mining pool to mine more $WOO tokens. WOO NFT Mining allows you to "stake" your NFTs via delegation to be entered into the prize draw for the chance to win WOO every hour. Please note that there is a 2 day delegation cooldown period.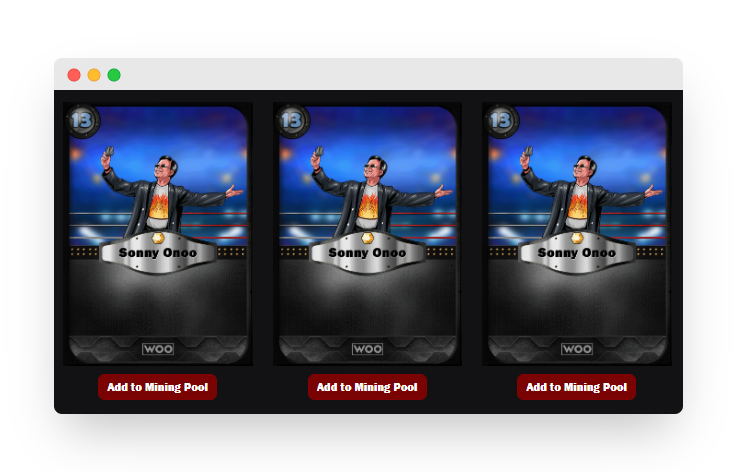 Later on, we might be able to rent out these cards or play with them, but right now, this is their best use case.
Wen Land Sale?
Planned for Q1, 2023. Be ready!
---
Follow: https://leofinance.io/@finguru
Twitter: https://twitter.com/finguru6
Discord: finguru#4062
---
Not financial advice. For infotainment purposes only.
Posted Using LeoFinance Beta
---