Leo Threads - Microblogging On Hive
---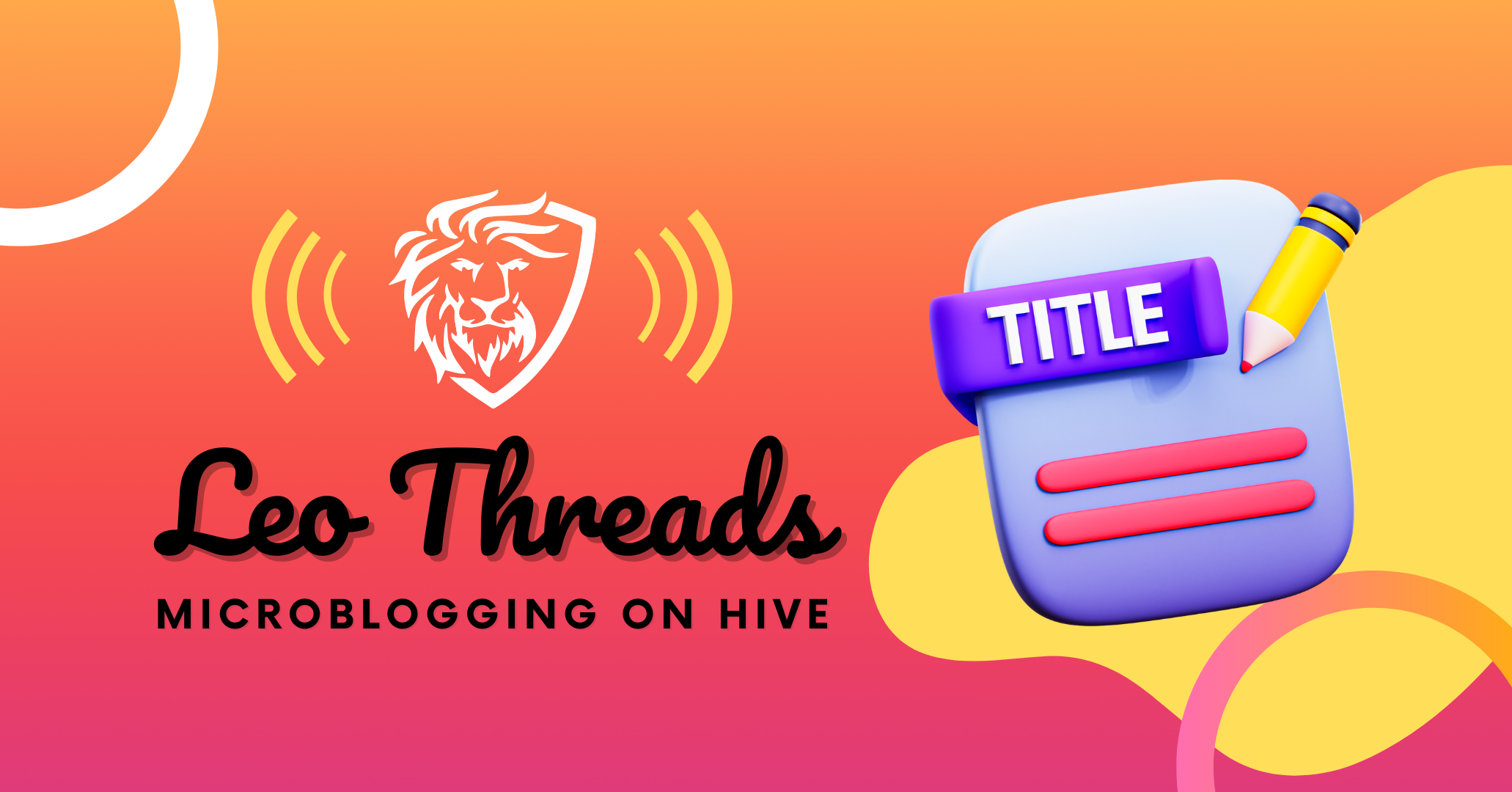 ---
Microblogging is a great way to share your thoughts and connect with like-minded people. It's also a great tool for learning about the things that interest you. For example, the most famous microblogging platform Twitter is designed to be easy to use and fast, making it simple for anyone to share what they're thinking about or experiencing in real-time. It can also help you build a community of people who have similar interests as you do— and that's what makes Twitter so much fun! Now I don't want to delve deep into the issues of the current web2 platforms. Users don't own their identity, data, and content. They don't make as much as the platform makes using their own property. That definitely calls for a decentralized alternative that solves all those problems and empowers users without the need for an intermediary.
Leo Threads
After 18 months of extensive development, the Leo Finance team is launching the first iteration of Project Blank today aka Leo Threads. It is a microblogging platform within LeoFinance.io. The success of threads will pave the path for a standalone microblogging application. This is going to be a massive addition to Hive's ecosystem. In a few hours, threads functionality will be launched which can be accessed by anyone with a Hive account.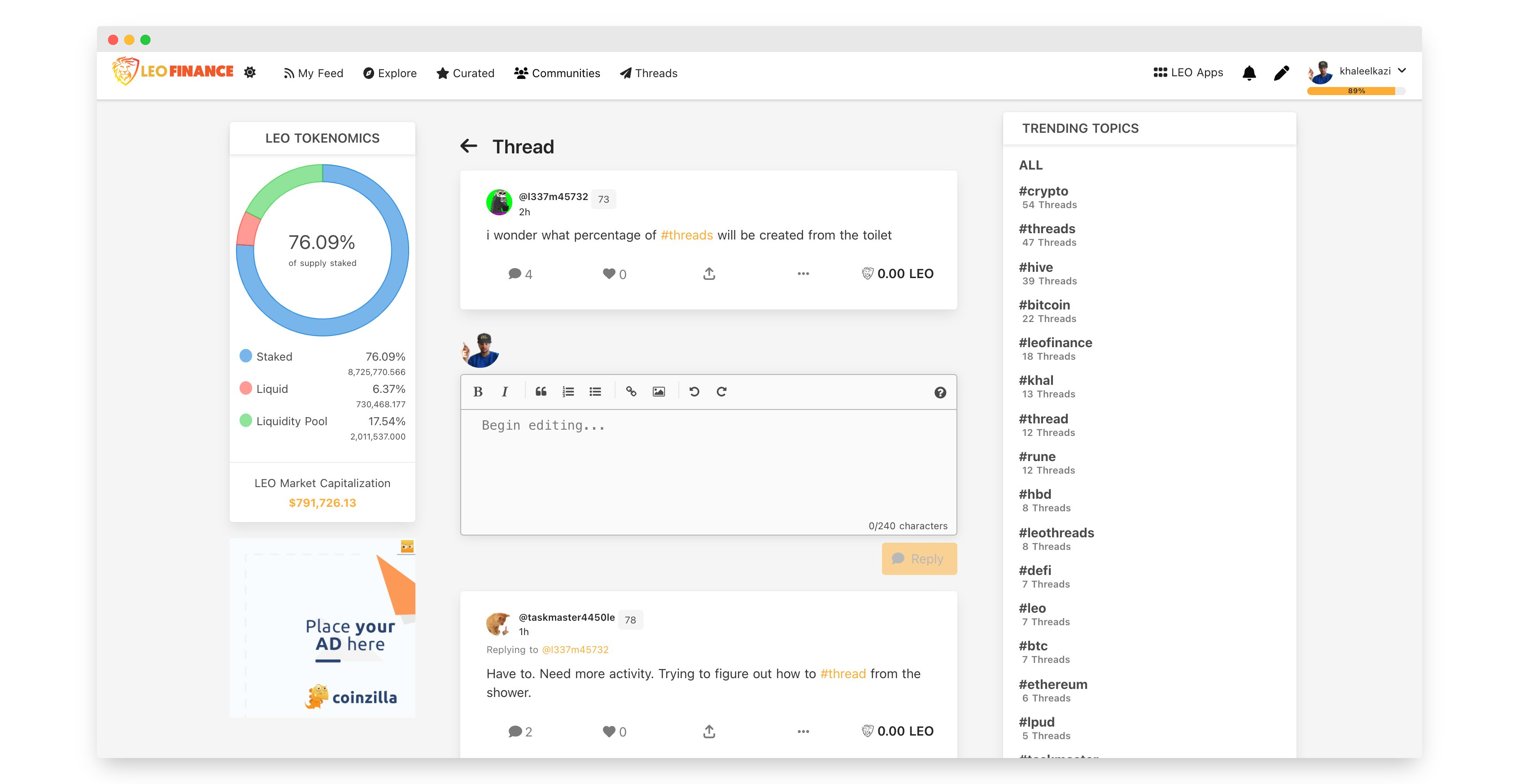 All You Need To Know
Since I am a Leo Ambassador, I was one of the few lucky ones who got access to information that others might not have. Threads will supercharge the engagement on Leo Finance by 10x. Here's the list of things you need to know before the launch:
Threads don't trigger auto votes.
There is no time limit between two threads
You can post images, markdown, and embed links on thread comments
General topics allowed in addition to Finance, Crypto & Blockchain
Leo's ad revenue boosted by Threads will be used to buy back Leo in future
Vote on threads will work the same way you vote on any other post on Hive
240 character limit just like Twitter
No post limit. But the more you post, the more you need RCs
Hive blockchain has successfully sustained a lot of transactions happening at once. The introduction of this new feature will put the blockchain to the test in terms of scalability. To handle the traffic and no of transactions on a Twitter-like app, a blockchain is required to be infinitely scalable. As more people start using threads, we might get an idea about how much we need to improve in this area.
Why LeoThreads Will Be Popular?
Here are a few basic reasons why you should Leo Threads will become very popular on Hive:
You don't have to write a lot
You can share more often
You can learn about new things quickly
You can build a community of people who share your interests
You can earn crypto from your bite-sized posts
Last but not least, creating microblogs is easy so anyone can do it
I am so excited about this development. Have been flexing my palm muscles to prepare for the launch. I just love Twitter and spend a good amount of my time there nowadays. Will Leo Threads change that? We will have to wait and see. If we crash the LeoFinance website on the launch day itself, it would be crazy imo. 😂 What do you think guys? Are you ready for one of the biggest launches of the Leo Finance Ecosystem? Comment below!!!
---
Follow: https://leofinance.io/@finguru
Twitter: https://twitter.com/finguru6
Discord: finguru#4062
---
Not financial advice. For infotainment purposes only.
Posted Using LeoFinance Beta
---