Why Splinterlands Continues To Be The #1 Blockchain Game?
---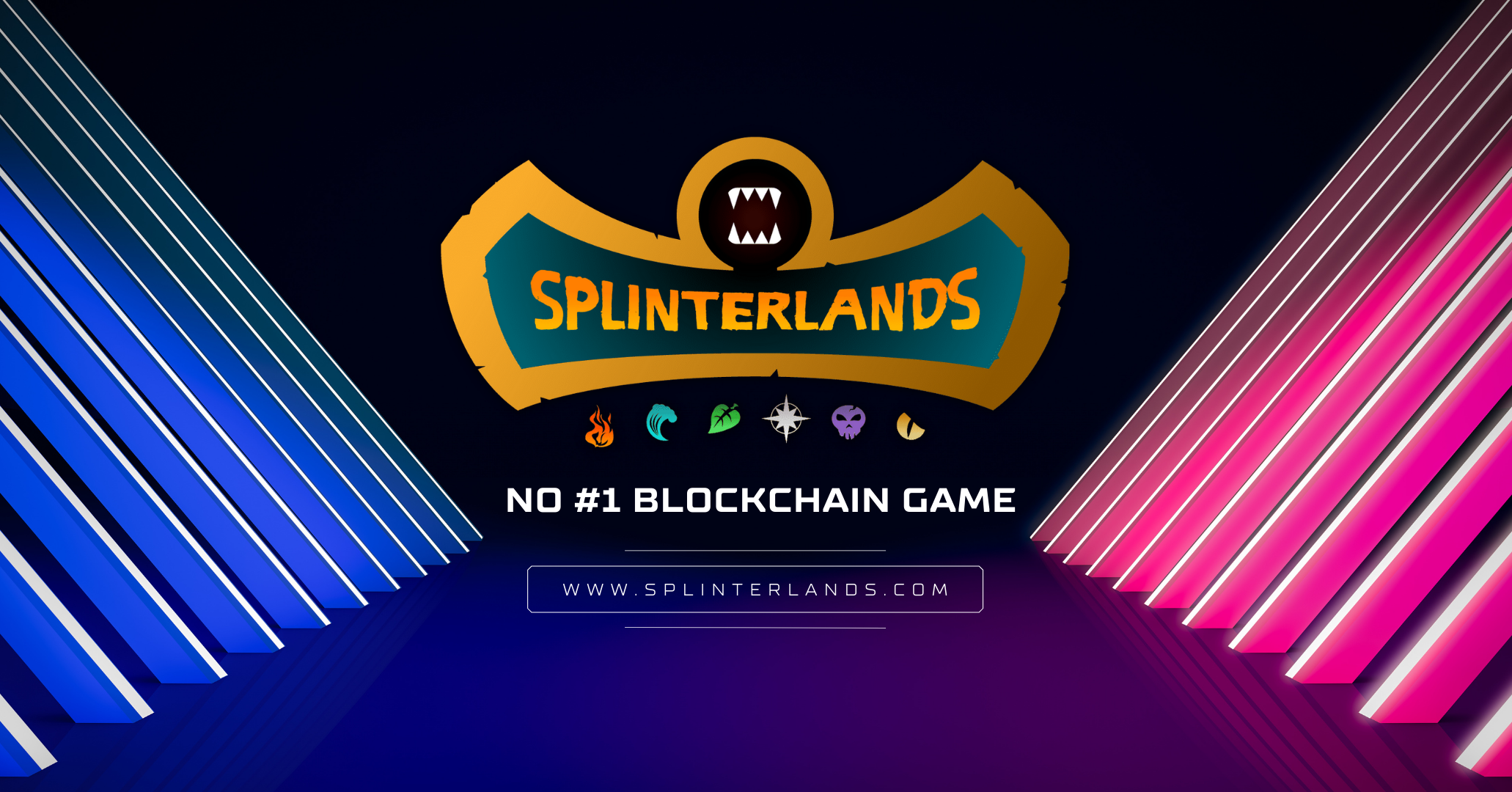 ---
Splinterlands On Top
DAPP Radar is one of the best DAPP data aggregator platforms and I use it almost daily to see the various stats across blockchain platforms. Splinterlands is consistently holding its ground as the number one blockchain DApp in the games category. Not just that, it's the no. 1 DApp in the whole world when it comes to the number of active users. Last week it also hit the milestone of 2 Billion Games in addition to selling millions of dollars worth of NFTs to date.
Source: https://dappradar.com/rankings/category/games
If you look at the above rankings, the gap in activity between Splinterlands and the 5th Game is so huge. There's a lot to be done by other games to catch up. Alien Worlds being built on WAX blockchain keeps gaining or losing the activity but Splinterlands is consistently hitting the right spot week after week. I don't see that stopping anytime soon. Since the barrier to entry is quite low ($10) & there are ZERO transaction fees, it becomes hard for other games to see a spike in activity.
Honestly, although these features provide an edge in this competitive market of Play 2 Earn games, these are not the only ones that contribute to its success. In this blog, I am going to discuss some of these reasons to understand why it continues to be the #1 Blockchain Game in the world.
Development
Splinterlands has a killer development team led by @aggroed and @yabapmatt. Their talents and continuous hustle to make the whole gaming & investing experience better for its users, have surprised me time and again. We have enough ways to earn from a single game and enjoy the ride. Recently they hired a new team member named "Doogie" as the VP of Project Management. There's a weekly town hall conducted by the team to regularly update everyone about the latest happenings related to game development, events & partnerships. Communication is the key and it boosts the confidence of all stakeholders. The roadmap is there, weekly progress is happening in right in front of everyone's eyes. In 2022, the most anticipated LAND gameplay will come that is going to be a monumental advancement in the game mechanics. It's a GameFi Metaverse in the making and I won't be surprised to see it surpassing Axie Infinity and other popular games out there.
Marketing
Splinterlands is a marketing case-study for all the Hive Dapps and other P2E games out there. They have a diverse digital footprint covering all the famous Crypto News Publishing houses. Social activity is an at an all time high. Recently they launched Splinterlands TV on Twitch where live streams related to the game will happen 24x7. I see popular tournaments and gaming events happening almost every week. The rising interest in the game is the living proof that their marketing is spot fucking on. Guess what happened this week? Something that would make all Splinterlands players and investors so wet. We now have a SPS : USDT pair available on one of the most premiere CEXs on the planet - Crypto.com. Thanks to @belemo for breaking this news to me otherwise I wouldn't have noticed and not buy more SPS. 😂 A few weeks ago, Splinterland also announced a partnership with Warner Music Group and launched a special NFT card in association with an American rap artist Waka Flocka Flame. The list just goes on and we have not even started yet. 2022 is going to be an extensive year full of such amazing collabs and partnerships.
Community
A great project is nothing without a great community of stakeholders backing it. Splinterlands is powered by Hive Blockchain which has one of the best crypto communities out there. Now that the game is famous, more and more people from outside of Hive are becoming a part of this huge family. In built social features on Hive Blockchain allows the community to socialize, network, interact and collaborate with each other on a common platform. On Splintertalk, anyone can create content related to the game that could help other players and interested members learn more about it. You can even earn tokens for that and support your friends with upvotes and rewards. This gives Splinterlands a massive edge over other Blockchain games where community can only interact on discord servers or on WEB 2 social media websites. Most of them go dead in activity over time and only a few people are heard, rest is just considered noise.
Stacking More SPS (Splintershards)
The above listed reasons are good enough for me to understand how much valuable SPS is going to be. For anyone new to Splinterlands, SPS is the governance token of Splinterlands. It's future looks bright and hence I am stacking as much as I can. If you don't know already, there's an Airdrop going on and you can earn SPS daily by staking it - 27% APR right now. Recently I have also crossed 3333 SPS tokens staked.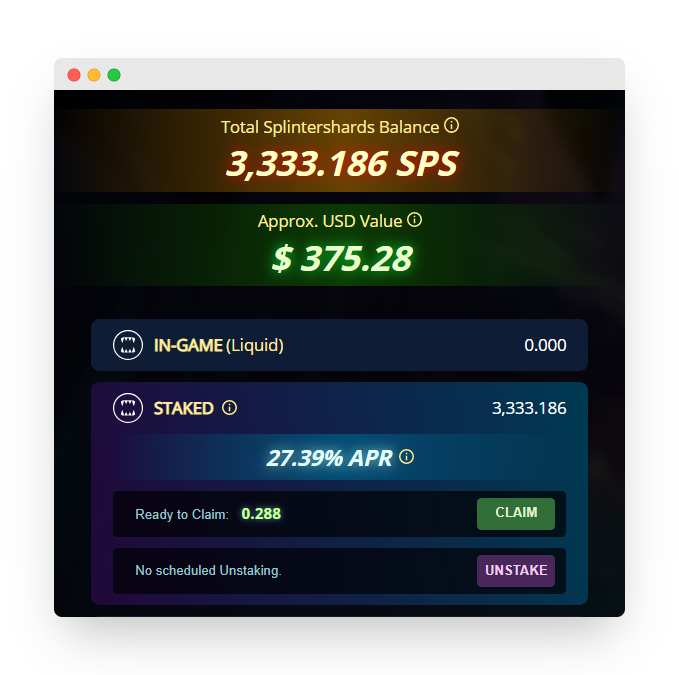 My aim is to reach at least 7K Tokens staked by the end of this year through airdrop and direct buys on the market. It is going to be a long term investment and I truly believe it's going to be worth it. What are your thoughts on the game? Please comment below!
---

https://leofinance.io/@finguru

https://twitter.com/finguru6

finguru#4062
---

Not financial advice. For infotainment purposes only.
Posted Using LeoFinance Beta
---