Are algorithmic stablecoins dead?
---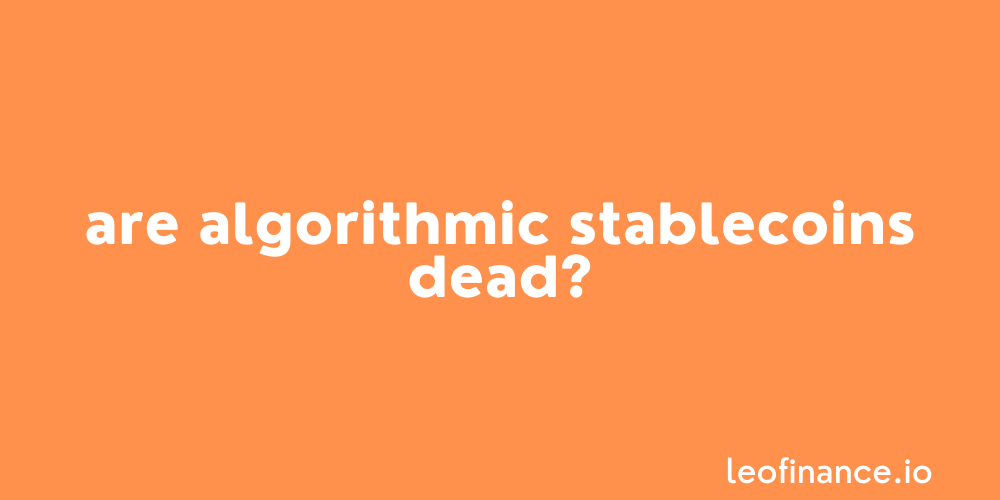 Direct from the desk of Dane Williams.
---
Contrary to the mainstream narrative, the answer is no. Algorithmic stablecoins are not dead.
No doubt you've read the endless stream of mainstream news articles telling you that algorithmic stablecoins are dead.
"Algorithmic stablecoins are dead and we NEED governments and regulators to come and save the poor, uneducated investors who are losing money."
Oh my.
I want to make it extremely clear that I have no problem with government regulations coming to crypto and stablecoins in general.
Turns out I'm not actually a crazy anarchist who sees elected governments providing key services to the citizens that they represent.
But as we've spoken about on the blog before when I introduced the concept of parallel running financial systems… it really won't matter in the long run.
Let's discuss.
The concept of parallel running financial systems
When I say parallel running financial systems, this is what I mean:
Centralised projects with a clear hierarchical structure, that fall under the jurisdiction of say the US government regulator.
Decentralised projects based on networks with the structure required for the regulator of any specific country to target.
Each running side by side and just like when it comes to Web3 dApps, these parallel running systems simply offering a choice.
Contrary to popular belief, not everyone in society needs someone looking over their shoulder to make sure they make an intelligent decision.
And with parallel running financial systems, people have the opportunity to decide whether they interact with the safe, closed and regulated system.
Or take full responsibility for themselves and their actions by choosing to interact with that housed on the decentralised web.
For me, this concept is one of the most exciting prospects not just in finance or tech, but for society as a whole.
Put simply, there is no need to debate freedom because the tech now offers you a clear choice.
The best living algorithmic stablecoin is HBD
Running the risk of sounding like a broken record, I'll say what's on my mind again.
Algorithmic stablecoins are the only way forward.
And the best algorithmic stablecoin that hasn't imploded due to unsustainable tokenomics or market forced, is Hive Backed Dollars (HBD).
But have you read a single story that even mentions the existence of HBD?
-crickets.
As we don't yet have the liquidity available to go truly mainstream, I'm somewhat okay with being able to continue building our community owned base, under the radar.
But while doing that, there is something that I feel like has left the front-page of LeoFinance too quickly.
This being the fact that despite the marketwide dip, HBD remains pegged, stable to USD $1 worth of HIVE and inside the parallel that runs out of reach of regulators.
I'd also like to bring back the fact that liquidity in the pHBD-USDC LP on PolyCub has broken $400K in liquidity.
https://twitter.com/FinanceLeo/status/1524801998993891329
Seeing liquidity grow in the midst of everything that has gone down surrounding UST and the wider crypto market is somewhat astounding.
Maybe it's not only the Hive community that is starting to understand the fact that HBD is completely different from UST, with safeguards already having been put in place to prevent the death spiralling event that we saw occur over there?
When it comes to propelling HBD to the next level, it's now all about ensuring that there is liquidity available for mainstream investors looking for yield on their algorithmic stablecoins, to be able to comfortably get in and out.
The LeoFinance team has set a goal of achieving $500K liquidity within the LP by May - A number that is firmly within their grasp despite the sentiment.
Don't sleep on HBD.
Final thoughts on the death of algorithmic stablecoins
So are algorithmic stablecoins dead?
Not on your life son!
It's true that Terra (LUNA)'s UST may be dead.
But in the form of Hive Backed Dollars (HBD), the holy grail of an algorithmic stablecoin running in the decentralised parallel financial system untouchable by regulators is still going strong.
With the liquidity being generated by the pHBD-USDC LP on PolyCub starting to allow large investors to comfortably and permissionlessly move their funds in and out, Hive can't be ignored forever.
Thanks to HBD and the Hive blockchain, the future of algorithmic stablecoins is now.
Best of probabilities to you.
Posted Using LeoFinance Beta
---