Direct from the desk of Dane Williams.

Hey team,
I said it before and I'll say it again.
In the most recent drop that the community seems to be somewhat losing their mind over, Bitcoin bears didn't even break one single daily support zone.
Nope, not even one!
With price having bounced yesterday, let's take a look at the price action on the daily.
Bring up a Bitcoin daily with our zones marked as below:
BTC/USD Daily: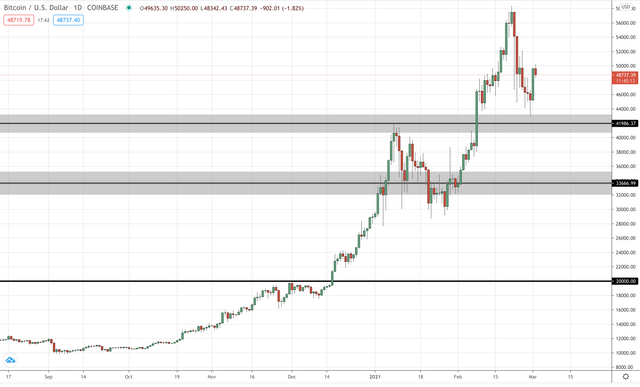 Can you see where price bounced?
A near perfect retest of previous resistance turned support.
No it's not exactly perfect, but nothing in financial markets is ever going to be perfect.
This is the exact reason that I draw support/resistance as zones and not as just single levels.
In my simple forex support and resistance strategy, I talk about drawing a horizontal line from the highest/lowest wick.
Then drawing a rectangle down the the candle body and just evening out the zone on the other side.
And as you can see in this case, Bitcoin bounced exactly from the the top of the last broken zone.
PERFECTLY clean, bullish price action if I don't say so myself.
I'm certainly looking forward to seeing how Bitcoin plays out this week.
Best of probabilities to you,
Dane.

FOREX BROKR | LeoFinance Blog
Daily market analysis.

Posted Using LeoFinance Beta