Bitcoin support levels that matter heading into August 2021
---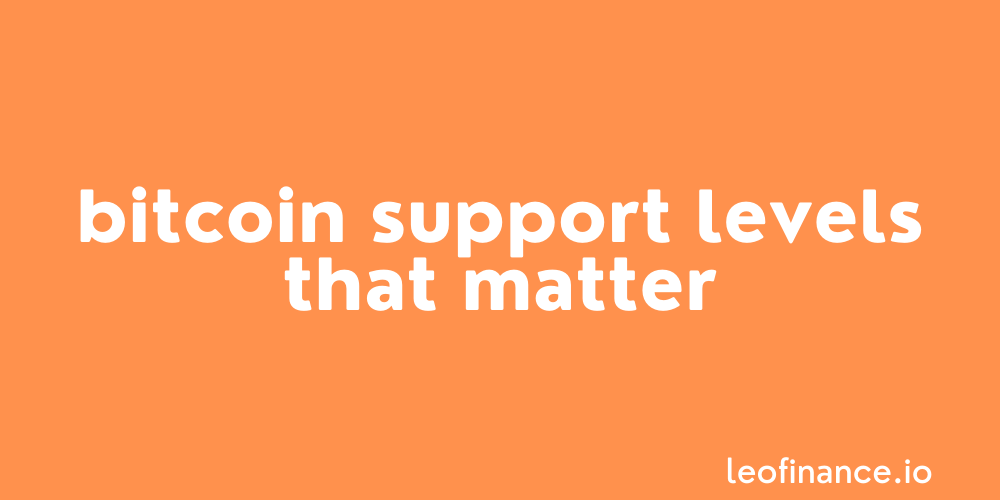 ---
The only Bitcoin support level that matters as we head into August 2021, is the 30K range bottom.
If you're tossing up whether to buy the Bitcoin dip heading into August, you obviously want to discover the support levels that matter.
When it comes to Bitcoin right now, there is only one level of support you need to watch.
The 30K range bottom.
Support/resistance trading in forex and Bitcoin
While I no longer share a lot of market analysis blogs here on LeoFinance, I'm certainly still a trader at heart.
I've shared my entire forex support and resistance trading strategy on my blog before and those same concepts can be easily transferred to Bitcoin.
The crux of my trading strategy is that I only trade around daily support/resistance zones where I know big players will also likely be getting their business done too.
I keep my charts naked, free from cluttering indicators and focus purely on price.
Thinking this way completely simplifies the markets and allows me to focus on what really matters.
Price action around support/resistance zones.
Buying Bitcoin at support
With that in mind, let's take a look at my current Bitcoin chart.
As you can see, I only have the two levels placed on my chart.
Support at 30K and resistance at 40K, making a clean range in between.
I know that headline writers need to get paid somehow, but seeing the words Bitcoin crashes at least once a week always makes me laugh.
No, Bitcoin didn't crash today.
Price is cleanly trading within a clear range, between strong support and resistance at 30 and 40K.
Both support and resistance continues to hold and the price action in between is largely irrelevant to big players.
Wait until Bitcoin trades into the 30K support level, then zoom in and find an intraday retest of short term resistance turned support to act as an entry signal.
The concept is explained in my trading strategy that I've linked to above, but basically this allows to to get a low risk, high reward entry while effectively managing your risk.
One last thought on the Bitcoin support level that matters
If you're looking for where to buy Bitcoin in August 2021, then ignore the noise and just watch how price trades around range support at 30K.
While you're here, go and check out our comprehensive Bitcoin guide that the LeoFinance community has put together and stop getting caught up in the noise.
Bitcoin is here to stay and there's only one thing left to do…
BTMFD!
Best of probabilities to you.
---
Direct from the desk of Dane Williams.
Why not leave a comment and share your thoughts on the Bitcoin support levels that matter heading into August 2021, within the comments section below? All comments that add something to the discussion will be upvoted.
This Bitcoin blog is exclusive to leofinance.io.
Posted Using LeoFinance Beta
---