Hive accounts make community NFTs redundant
---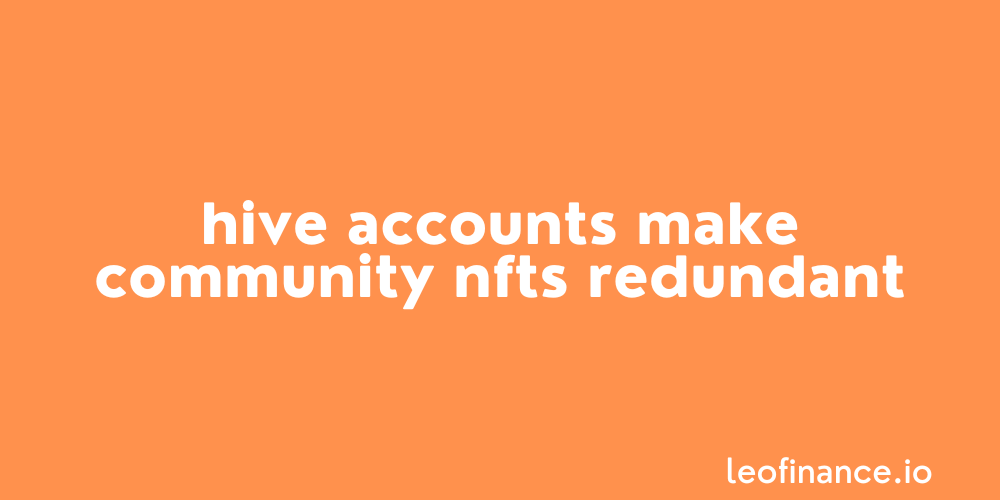 Direct from the desk of Dane Williams.
---
A look at why Hive accounts are essentially NFTs themselves, making the need for new community mints here redundant.
The more I think about it, the more I think that Hive accounts themselves make community NFTs completely redundant.
When I say community NFTs, I don't mean blockchain gaming projects like Splinterlands that implement NFTs for the ownership of in-game assets.
Instead, I'm talking about PFP projects where the NFTs primary use-case is to provide the owner with access to an external event or more specifically a community.
This is something that I've been thinking a lot about since the elite BAYC community were happy to accept members holding stolen NFTs, essentially making the elite aspect of their community inconsequential.
Let's dive in and take a look at community NFTs on Hive and what this could mean for our own Hive Punks and potential future LeoLegends project going forward.
Hive Blockchain accounts are not like other blockchain addresses
The fact is, Hive accounts are not like wallet addresses on other blockchains, making us unique when compared to everybody else in the entire space.
Here, your Hive account and your wallet are the exact same thing - Your username.
On Hive, there are no complicated strings of letters and numbers that you need to remember in order to use your account and wallet.
It's our system of immutable yet legible accounts that sets us apart and in my opinion is one of the most underrated aspects of our chain.
You see, the real power of a Hive account isn't in the name itself…
…because if it was, it would be just like any other blockchain's string addresses.
Instead, the power is in all of the intangibles that end up attaching themselves to your account based upon your social actions.
Members of the Hive community quickly get to know you as a person (anon or not, it doesn't matter) and your Hive account develops a standing within the community.
Think about it.
Not all Hive accounts are equal.
The community respects qualities such as:
Those with intelligent takes
Those who are powering up
Those who support others
Those who contribute value
All of these intangibles already make one account worth more than another and as you can see, the major value adds aren't even based on the crypto assets they hold.
Hive accounts are NFTs themselves
When you strip everything back, Hive accounts are actually NFTs themselves and make the need for community based NFTs sitting on top of them, redundant.
Yep, you don't need an NFT profile picture acting as a key to the community with whatever attributes or allowances attached, because you already have that with your Hive account itself.
I know it's cool to say look at my pretty piece of art.
Heck, I'm even rocking a Hive Punk as my profile photo here and on Twitter.
But considering the fact we already have immutable Hive accounts with inherent social attributes attached depending on your actions and standing within the community, what is the point?
I'm struggling to find one.
The biggest selling point of this genre of NFTs is that they offer access to a community, but with the social standing behind my Hive account itself, it is completely redundant…
It is nothing more than a piece of subjectively shitty art.
Final thoughts on Community NFTs on Hive
I have to admit that I do find the concept of LeoLegends intriguing for no other reason than because I'm a LEO geek who loves this community and the potential I believe that it holds.
But in saying that, you can see that there are certainly a number of things worth debating when it comes to minting community NFTs like this on our uniquely social Hive blockchain.
Do you agree that Hive accounts make community NFTs redundant?
Does the gamification process of powering up LEO and completing social tasks to 'level up' need to be attached to an NFT when it's all there on your immutable Hive account anyway?
I look forward to reading your take in the comments section below.
Best of probabilities to you.
Posted Using LeoFinance Beta
---