Introduction to Polygon (MATIC)
---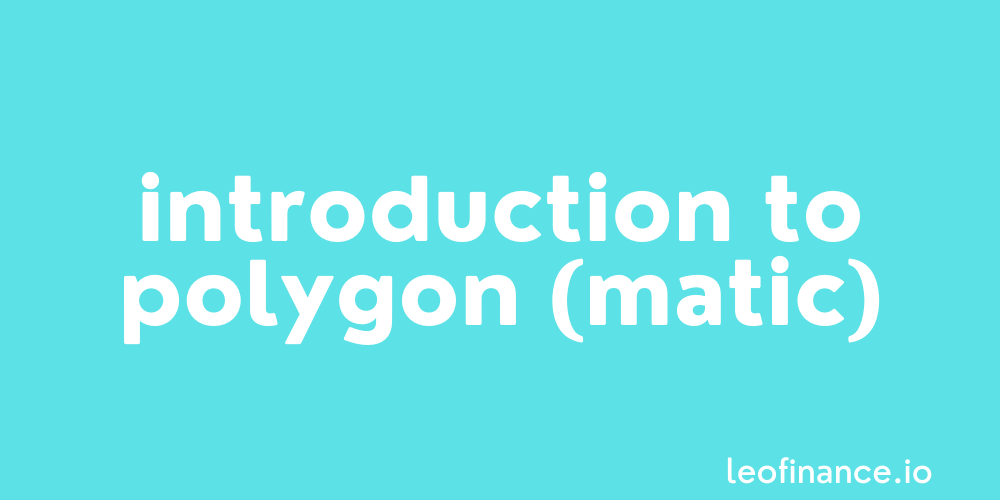 ---
We introduce the Polygon Network and its native currency, MATIC.
Polygon is a layer two (L2) scaling solution for Ethereum-compatible blockchain networks.
Using a sidechain on layer-2, Polygon is designed to enable cheaper, faster and equally secure off-chain Ethereum transactions.
Polygon's ultimate goal is to build a layer-2 sidechain ecosystem, that is fully interconnected.
Something that they see as the internet of Ethereum blockchains.

Originally launched in 2017 as the MATIC network, Polygon's native token still bears its original name.
Our guide to Polygon (MATIC) will walk you through the key features of the network and explain what all the fuss is about.
Introduction to Polygon (MATIC)
We introduce the Polygon network and its native MATIC token.
To kick off our guide to Polygon (MATIC), let's go over the basics of the Polygon network and its native MATIC token.
Let's get started with an introduction to each.
Polygon Network
Polygon is a protocol and a framework for building and connecting Ethereum-compatible blockchain networks.
Built as a layer-2 scaling solution for Ethereum, you can think of Polygon as Ethereum's internet of blockchains.
Polygon leverages the underlying security of the Ethereum network to make it easier for developers to build and users to trust dApps built on the blockchain.
This means that technically if users were scammed on a Polygon based application, it would be possible to reclaim those lost funds by returning to the base Ethereum layer.
MATIC Token
Powering the Polygon ecosystem of dApps, is the MATIC token.
The MATIC token performs multiple functions within this ecosystem, including:
Paying for transaction fees (gas).
Securing the network via staking.
Voting on governance issues.
MATIC token details:
MATIC Circulating Supply: 6,330,554,997 MATIC
MATIC Total Supply: 10,000,000,000 MATIC
MATIC Max Supply: 10,000,000,000 MATIC
---
The LeoFinance Crypto Guides project
The Crypto Guides projects is designed to drive organic traffic to the leofinance.io domain by creating quality, long-form content.
This project aims to eventually have a leofinance.io based crypto guide for every single coin or decentralised project in existence.
All written by community members like you!
If you'd like to get involved and earn some LEO in the process, simply find the latest template posted by @crypto-guides and create your own blog using any of the subheadings within.
Just include a link to the template somewhere within your blog and that's it.
All authr rewards are paid evenly to contributors and you might find a whale vote on your blog.
Best of probabilities to you.
---
Direct from the desk of Dane Williams.
Why not leave a comment and share your thoughts on Polygon (MATIC) within the comments section below? All comments that add something to the discussion will be upvoted.
This Polygon (MATIC) blog is exclusive to leofinance.io.
Posted Using LeoFinance Beta
---