Is it Altseason? The Altcoin Season Index says August 2021 is Bitcoin Season
---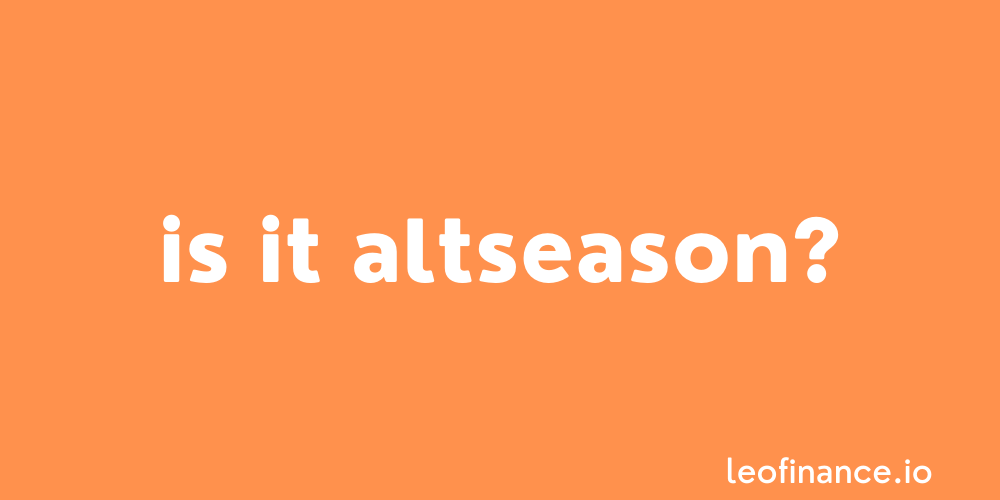 ---
Heading into August 2021, the Altcoin Season Index points firmly to Bitcoin Season.
Unfortunately for us bagholders, it doesn't look like the market is heading into altseason any time soon.
Just take a look at the following updated screengrab of the Altcoin Season Index: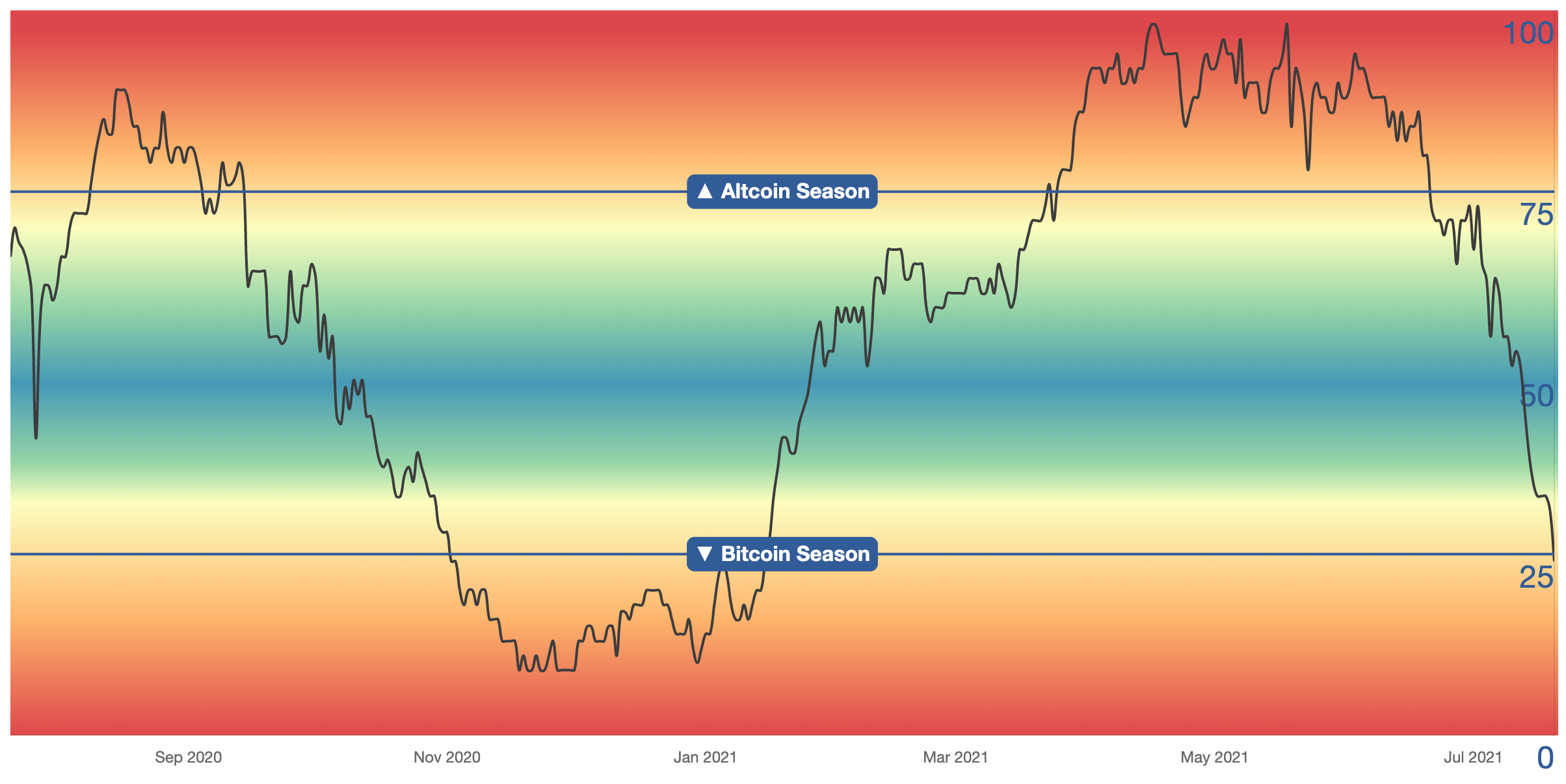 If you're a Bitcoin maximalist, you're obviously quite chuffed by what you see.
But altcoin HODLers like those of us here in the LeoFinance community, won't quite be feeling it.
What is the Altcoin Season Index?
The Altcoin Season Index tracks whether market sentiment points towards Bitcoin or altcoins.
If 75% of the Top 50 coins performed better than Bitcoin over the last season (90 days), then the index deems it to be altseason.

Altseason, shortened from 'Altcoin Season', is the term given when money flows into altcoins faster than it flows into Bitcoin.
Savvy crypto traders can use the Altcoin Season Index to make decisions on whether they should move their funds in or out of Bitcoin.
As you can see from the current altcoin season index reading, it's most definitely NOT altcoin season.
August 2021 is most definitely going to be Bitcoin season.
Which altcoins should I have bought?
Ah, isn't hindsight a beautiful thing?
Here are the top 50 performers over the last season (90 days):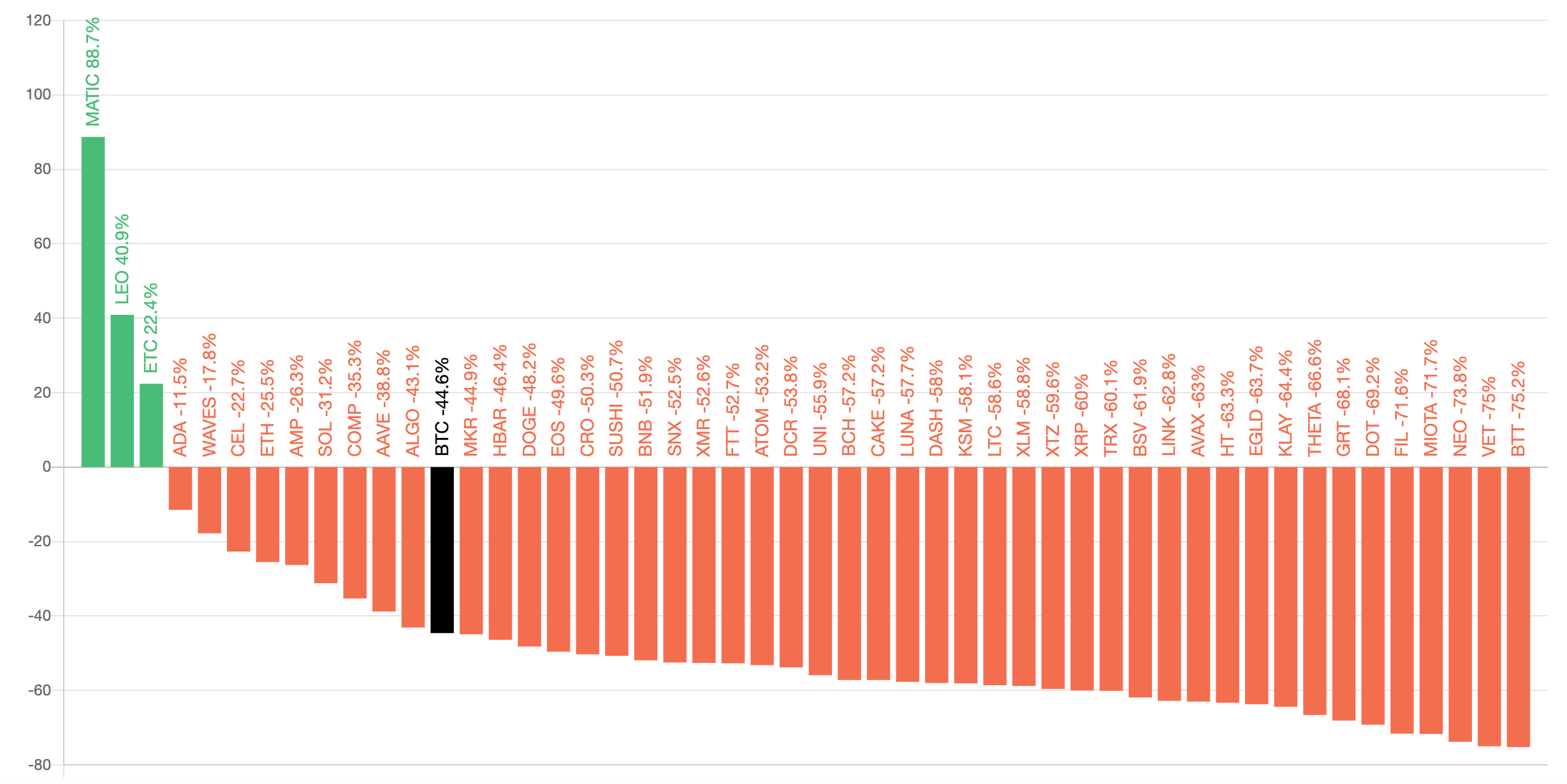 Remember, this period was firmly in the midst of Bitcoin season, thus your altcoin selections would have to have been spot on to outperform BTC.
Top of the list with a whopping 88.7% return, was MATIC.
For more info on why it's been a clear winner, check out our latest Polygon (MATIC) guide.
Unfortunately, the LEO token in second is not our very own Hive-Engine token, but instead Bitfinex's answer to BNB.
Damn.
If Ethereum Classic coming in at number 3 doesn't scream Bitcoin Season, then I don't know what does.
When is the next altseason?
Predicting when the next altseason will be, is a little harder.
The last time the Altcoin Season Index pointed to Altseason, it was March.
The time before that, it was all the way back in August 2020.
Whether it will be another 7 months until the next altseason, only time will tell.
But for those altcoin bagholders amongst us, the Altcoin Season Index doesn't indicate the market is heading into altseason any time soon.
Patience, your time will come.
Best of probabilities to you.
---
Direct from the desk of Dane Williams.
Why not leave a comment and share your thoughts on altseason and what the Altcoin Season Index is telling us, within the comments section below? All comments that add something to the discussion will be upvoted.
This Altcoin Season Index blog is exclusive to leofinance.io.
Posted Using LeoFinance Beta
---