Is Solana decentralised?
---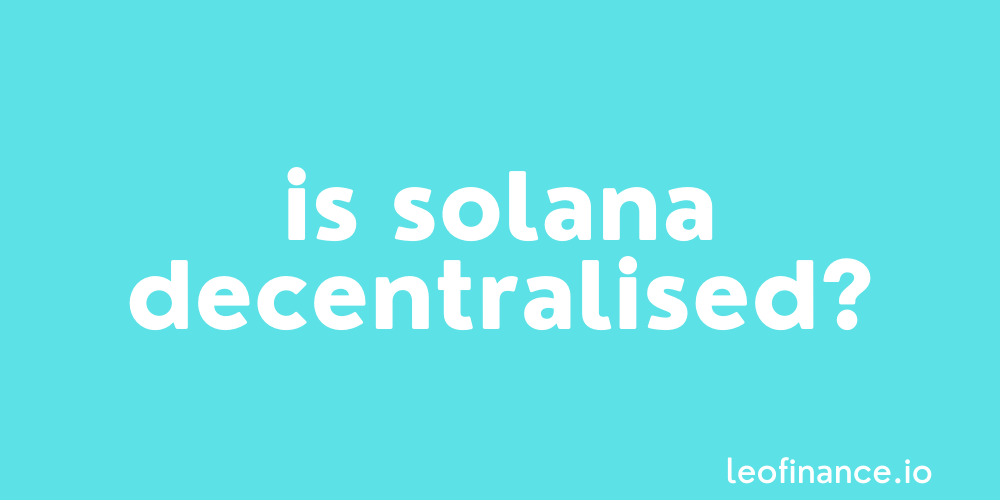 ---
With so many questions surrounding the decentralisation of the Solana network, we take a look at the token distribution numbers to make a call.
Each month, the Solana Foundation issues a transparency report.
These reports shows current and projected token distribution and network activity, while also updating investors on general happenings.
This section of our Solana guide takes a look at these token numbers at the end of 2020, to see just how decentralised Solana is.

Spoiler alert: Solana is not decentralised.
How decentralised in Solana?
Let's dive straight into the Solana transparency report for December 2020.
Simplifying things right now, we have a token distribution of:
Total unlocked tokens: 435,361,717
Simple agreement for future tokens: 176,949,616
Employees and service providers: 48,134,011
Founders: 31,250,000
This also doesn't include the fact that those 31,250,000 tokens earmarked for Solana's founders, is actually only half of their share.
The other half will still continue to unlock on a monthly basis.
This means that around 60% of SOL tokens are in the hands of founders, early contracted investors, employees and the like.
Making them all essentially insiders under the control of a central authority, or at least having an extremely vested interest in towing the line.
Judging by this token breakdown, the numbers show Solana is actually extremely centralised.
Running a Node on Solana is extremely expensive
Using the token distribution numbers above, we can determine that over half of the total supply is owned by insiders in some way shape or form.
With over two thirds of SOL tokens currently staked, this means that the network is being run entirely by the select elite.
That is not decentralisation.
Adding to Solana's centralisation woes, is the fact that it's extremely expensive to run a node on the network.
It literally costs thousands of dollars in hardware to setup, run and maintain a Solana node.
As a result, there are just not enough truly independent nodes running on the network to act as validators.
Nobody is doubting the fact that the Solana network is fast and secure.
But the initial team have not decentralised, and do not plan to decentralise the Solana network in any way shape or form.
With the SOL inflation rate set to keep serving those same insiders who already have such a huge stake in the network, the centralised status quo looks set to remain.
Final thoughts on whether Solana is decentralised
It's important to note in this final section of our guide to Solana that the issue of network decentralisation is never black and white.
Everyone is going to have a different level of comfort when it comes to the compromise between decentralisation and performance of a blockchain network.
When it comes to Solana, if you're all about performance at the expense of true decentralisation, then this is the network for you.
If you're not willing to compromise on the fact that nodes running Solana are controlled (or highly influenced) by a central entity however, then it won't be.
There's no right or wrong here and whether you choose to use Solana or invest in the SOL token on the back of what you've read here today, is entirely up to you.
Best of probabilities to you.
---
Direct from the desk of Dane Williams.
Why not leave a comment and share your thoughts on Solana crypto (SOL) within the comments section below? All comments that add something to the discussion will be upvoted.
This Solana crypto blog is exclusive to leofinance.io.
Posted Using LeoFinance Beta
---