My Plan to Grow in 2021
---

Direct from the desk of Dane Williams.

Hey team,
After taking some time away from the computer over the back half of December, it's good to return to a community as vibrant and driven as ever before.
It may not seem that way to the crypto community with bitcoin hitting all time highs over Christmas, but trading conditions on traditional currency markets are not ideal over the Christmas/New Year period.
While I wait for Monday to resume my market analysis and trading, I thought it'd be a good time to get involved in @theycallmedan's initiative of asking the community to share their plan to grow in 2021.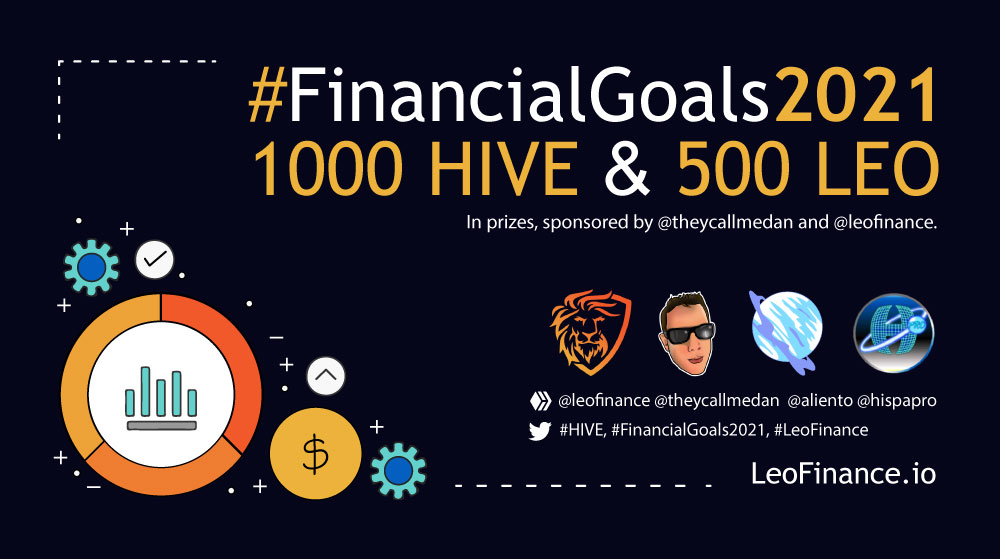 I'm excited and motivated to get back to daily blogging on LeoFinance, but as you'll see below, maybe with a slight pivot of direction.
---
Which is going to be your investment strategy for 2021?
It's very important to separate my forex day trading, from my long term crypto investments.
Forex day trading
Having previously shared my simple forex/crypto support and resistance trading strategy on my LeoFinance blog, most of my daily content has been analysis based around that.
I do understand however, that the way I trade can come across confusing and overwhelming to anyone new to the scene and my comments suggest that 99% of the community here doesn't really care about intraday moves.
We're a community of crypto buy and holders who want to see that the higher time frame charts are signalling that markets are going to keep rising.
I'll be keeping this in mind as I write my daily blog going forward.
Long term crypto investments
While I'll day trade almost any market, my long term investment portfolio, isn't quite as cosmopolitan.
I'm somewhat of a Bitcoin maximalist so the majority of my holdings are in BTC. You can see I'm also committed to HIVE and LEO (ETH proxy?) here, while also continuing to hold a slither of EOS from the ICO.
These markets will continue to be my focus on the blog, simply because they're what I follow.
---
Preferred Investment? Crypto, Real State, Commodities, Stocks?
I'm here on LeoFinance because I believe crypto is the asset class that has the most upside.
I live in Sydney, one of the most expensive cities in the world which makes real estate investment tough.
Stocks always go up, so I should be in there, but you know.
It is what it is ;)
---
Do you have any specific assets that you want to invest in?
As I said above, I'm definitely somewhat of a Bitcoin maximalist. This means I'm not really interested in sourcing speculative shitcoins anymore.
My crypto investments I'll look to build:
Clean and simple.
---
Do you have a plan or a set of goals on how to use and grow your stake?
If we're talking about my LEO and HIVE stake here, then I'm all about using it to spread the love, while earning both curation and author rewards.
With a lot of the larger LEO stakeholders taking the wLEO route, I'm just not confident enough in my tech knowledge of ETH and Uniswap to make it work.
As I can earn similar rewards purely from curation, I'd rather use my stake to help try and attract quality authors across to the platform.
In the end, it's the content that's found here on LeoFinance that's going to be make or break for us so I'd rather contribute.
As for growing my stake through author rewards, I'll be getting back into daily blogging starting today.
---
Also share your prediction for the price of Hive and LEO in 2021.
Price predictions are silly.
So in that case, HIVE $10 and LEO $20 which would make me a millionaire.
---
Just to wrap up, I'm not sure which direction I want to take my blog yet.
I am planning on scaling up my freelance copywriting business in 2021 and as a specialist forex copywriter, I have considered using my blog as a place to publish business insights to attract prospective clients.
But we'll see. It's only day 1!
Best of probabilities to you,
Dane.

FOREX BROKR | LeoFinance Blog
Daily market news.

Posted Using LeoFinance Beta
---