Putting yourself in a position to achieve life changing money
---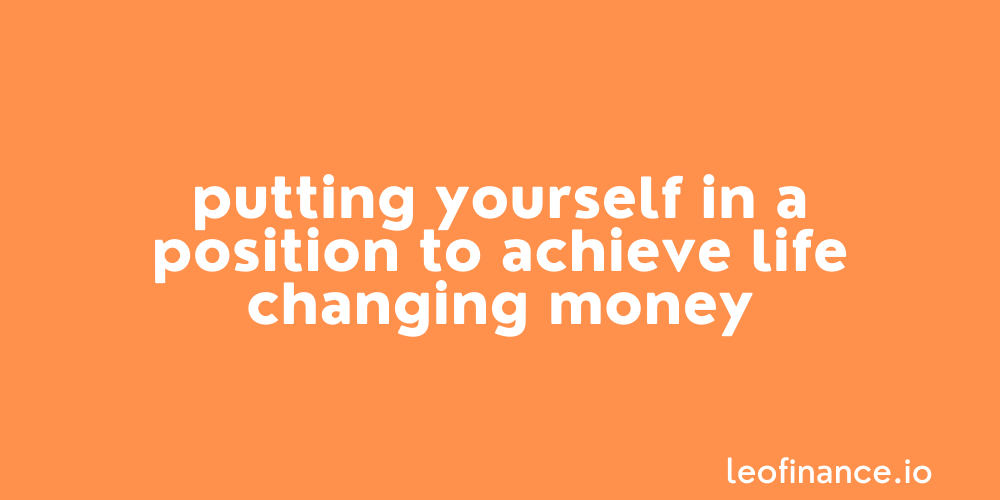 Direct from the desk of Dane Williams.
---
Hustle culture is bullshit - All that matters is putting yourself in a position to achieve life changing money.
I just want to get something off my chest.
Hustle culture is bullshit.
Yeah, there you go I said it.
You know the culture of endlessly grinding that has crept its way into the entrepreneurial, digital nomad space?
We just seem to have completely lost track of the end goal of why we choose this lifestyle.
That is of course to have the time to actually enjoy the life you were working to fund.
Instead, there is this incepit culture of instead turning your life into your job and forgetting what it is like to actually switch off and just live.
Hustle culture is bullshit
At this point, it's just… annoying.
Those preaching hyper-productivity are mostly kids from gen Z who have grown up consuming money Twitter since they were 15, but quite frankly don't have the finer aspects of their life to enjoy.
I'm not having a go here, they're just too young to be able to understand.
If your feelings are hurt reading this, just give it another decade before you chirp back.
Trust me, you'll get it.
But not only is the hustle culture behind narratives like "the harder I work, the lucker I get" bullshit, it's just plain wrong.
It's rubbish.
It's proven time and time again that hard work is largely uncorrelated to life-changing outcomes.
Don't want to work harder, work smarter.
The key is to put yourself in a position to achieve life changing results.
That is all.
Something you won't do by simply grinding away doing menial, non-income generating tasks that burn you out.
Oh, but you're hustling.
"On the hustle!"
Yeah, naa.
The truth can be a hard pill to swallow, especially when it's challenging concepts that have been hard-wired into your brain.
But the fact of that matter is that as human beings, we give ourselves way too much credit.
Both for failures and achievements.
We just don't play as big a role on the stage of our own lives, as we like to think.
Putting yourself in a position to achieve life changing money is the smarter play than grinding away on the endless hustle.
Putting yourself in a position to achieve life changing money
So what does all this mean?
It all comes down to making some shrewd decisions with your investment capital.
For me, I'm still extremely bullish on not only Hive, but all of crypto.
And the upside for us here on this particular blockchain is quite simply astronomical.
They key?
Instead of hustling 24/7, instead allocate your precious time and resources toward income generating digital assets.
With the introduction of DeFi yield farming platforms, the game has completely been flipped on its head.
While there's a place in everyone's conservate, long-term portfolio for the secure, offline storage of Bitcoin, your money NEEDS to be working smarter.
Especially if you're in wealth building mode, not wealth protection mode.
For many of us here, starting with the goal of a passive $50,000 USD per year salary and figuring out how high your crypto stack of income generating digital assets needs to be in order to reach that number, is key.
There are literally a plethora of choices available, all accessible instantly and without permission.
The particular assets that you choose are entirely up to you
All I implore you to do is to switch your mindset from the culture of hustling to one where you source opportunity.
With just a small amount of research, you'll soon discover that the biggest opportunities available take a fraction of the work you'd expect.
Best of probabilities to you.
PS. The line above in bold is your key to the city!
Posted Using LeoFinance Beta
---