The 2021 BTC yearly candle is playing out as expected
---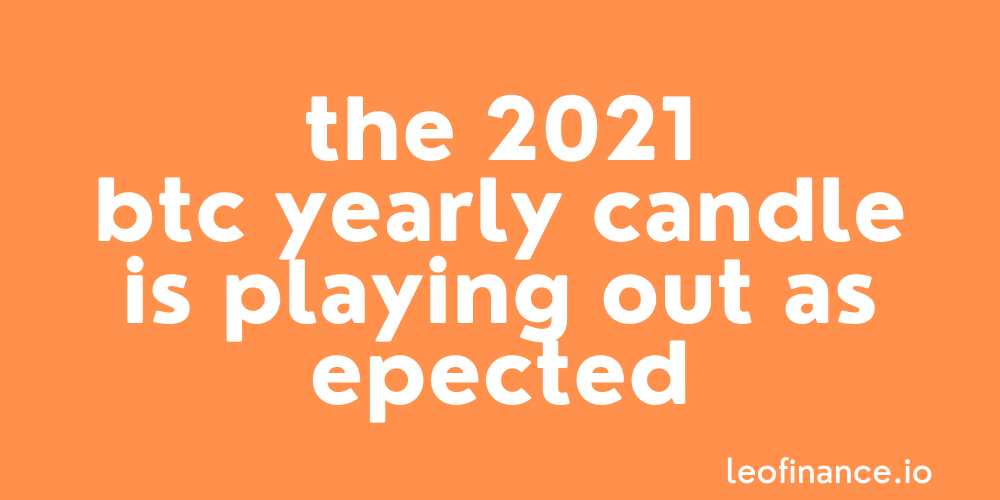 ---
An updated look at the 2021 BTC yearly candle in relation to the market's 4-year halving cycle.
Bitcoin moves in 4-year cycles, driven by an event know as the halving.
Even though the precise moment of the halving occurs at different times each cycle, the subsequent reaction always plays out the same.
A huge Bitcoin rally.
With this in mind, the LeoFinance community has been watching the BTC yearly candle pointing to a rally in 2021.
As we're now 6 months into 2021, let's take a look at how the BTC yearly candle is playing out and whether history looks set to repeat.
What is the Bitcoin halving?
The Bitcoin halving is when the mining rewards on the network is cut in half.
This also cuts Bitcoin's inflation rate in half, including the rate at which new BTC are minted and enter circulation.
Every 4 years commentators say that the halving event is already priced in because demand is meant to increase for the asset over time.
But each time, the BTC yearly chart proves them wrong as Bitcoin subsequently rips the faces off shorts as it rallies higher.
Just take a look at the chart.
What do the BTC yearly candles show?
Let's bring up the original chart from Twitter that we have been watching since 2020.
What you can see on this chart is a clear price pattern that has formed surrounding each Bitcoin halving.
After each halving event, the following BTC yearly candle has always been bullish.
But is this trend going to repeat?
The 2021 BTC yearly candle
Granted we're only 6 months into the 2021 yearly candle, but there are clues we can take.
When we see Bitcoin holding 30K support rather than crashing for example, we can lean toward a bottom of this yearly candle having already been printed.
As plebs like me aren't able to view yearly charts on TradingView without a pro subscription, we have to instead borrow veryevilone's Bitcoin yearly chart to check-in on the updated price action.
I've already hit play on the screenshot below and brought us up to date.
As you can see, Bitcoin has already made a new post-halving high in 2021.
However, price has pulled back and currently continues to sit against the 30K support zone mentioned above.
With 6 months of price action remaining and support holding nicely, it looks like the 2021 BTC yearly candle is playing out exactly as expected.
Best of probabilities to you.
---
Direct from the desk of Dane Williams.
Why not leave a comment and share your thoughts on how the 2021 BTC yearly candle is playing out within the comments section below? All comments that add something to the discussion will be upvoted.
This Bitcoin blog is exclusive to leofinance.io.
Posted Using LeoFinance Beta
---