VeChain (VET) pros and cons
---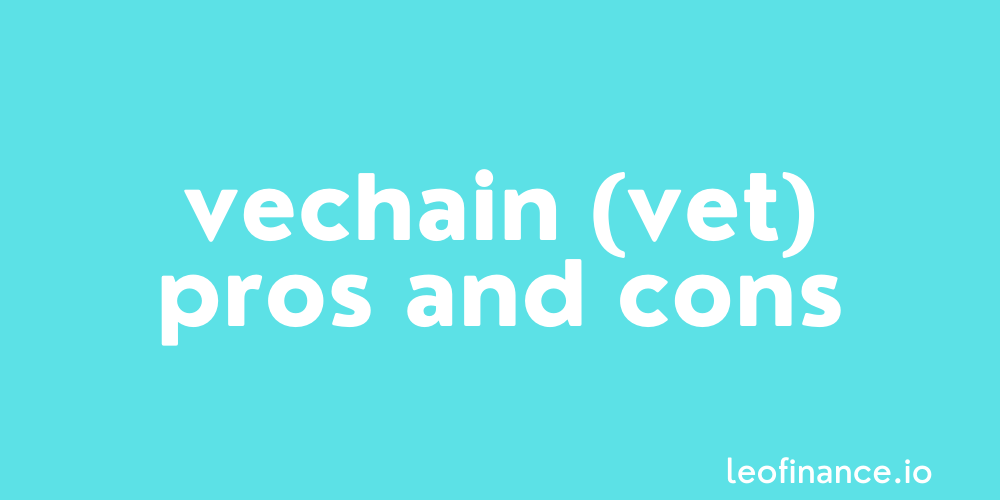 ---
A side by side look at the VeChain (VET) pros and cons before offering our final verdict.
This section of our guide to VeChain will discuss both the pros and cons of the blockchain and the VET token itself as an investment.
From there, you'll be able to make a much better informed decision on whether VeChain (VET) is the right project for you.
VeChain (VET) pros
The 3 biggest reasons that VeChain will succeed.
Has a legitimate use-case: Unlike some of the more broad cryptocurrency projects on the market, VeChain has a clear and extremely legitimate use-case of solving business supply chain tracking issues.

VeChain's current partnerships: VeChain has built an absolutely stunning list of partnerships which can be viewed on VeChain Insider. Some notable partnerships on the list include PriceWaterhouseCoopers, H&M, BMW and even Walmart.

Features an experienced team: As an older cryptocurrency project launched back in 2015, VeChain has ridden through a number of market cycles. Led by founder Sunny Lu, the team is one of the more experienced in the industry.
VeChain (VET) cons
An alternate 3 reasons that VeChain may fail.
Primarily business focussed: While this really only effects retail investors who want to use their VET tokens for their intended purpose, their focus is primarily on the blockchain. Not quite as sexy as say staking your tokens on an animal themed DeFi platform.

No DeFi options for retail investors: We've included the fact that VeChain doesn't currently have DeFi options because the readers of our LeoFinance Crypto Guides are primarily retail investors. In saying that however, this could just as easily be seen as a pro as VeChain knows who they are and aren't just going after the latest crypto fad.

Links to the Chinese Government: The CCP doesn't partner with projects, they control projects. If not, their founders end up dead. Be exptremely wary of anything the Chinese Government has ties to.
Do the VeChain (VET) pros outweigh the cons?
As for whether VeChain's pros outweigh the cons, this is all a matter of interpretation.
If you're looking at VeChain from the point of view as a business with a specific supply chain problem that is bleeding money and reputation thanks to counterfeit goods, then the answer is yes.
On the other hand however, if you're looking at VeChain from the perspective of a humble retail investor who simply wants to lock their VET into high yielding DeFi platforms and walk away, then the answer is probably no.
My own final verdict is that VeChain's targeted, supply chain focus is nothing but a positive.
Not only are they talking the talk, but the list of partnerships we've linked to in the pros section above shows that they're also walking the walk.
As our VeChain (VET) guide has continued to emphasise, the key to buying VET at the right price will be down to watching potential new partnership rumours and success stories.
That is where you'll find your edge.
Best of probabilities to you.
---
Direct from the desk of Dane Williams.
Why not share a chart or leave a comment with your opinion on VeChain (VET)'s pros and cons. All comments that add something to the discussion will be upvoted.
This VeChain (VET) blog is exclusive to leofinance.io.
Posted Using LeoFinance Beta
---