Why is Shiba Inu coin dropping?
---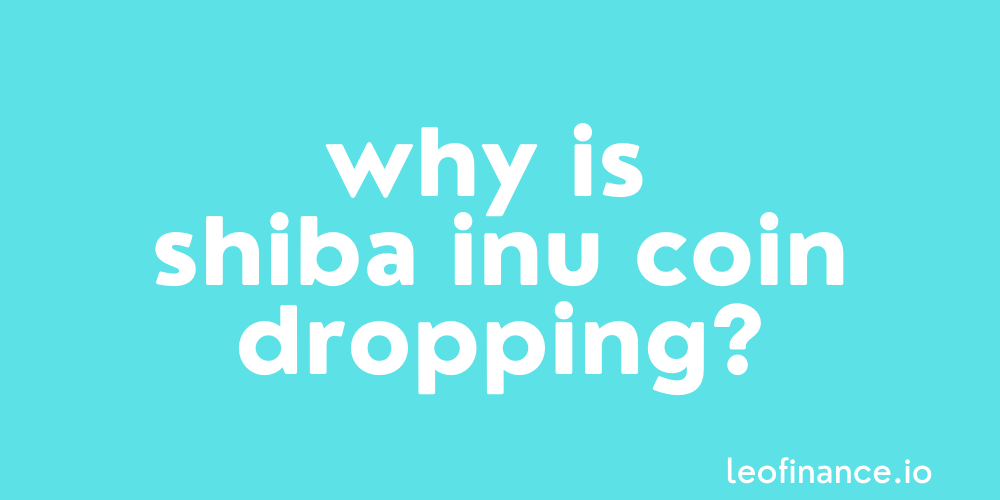 ---
Learn why Shiba Inu coin is dropping with a look at price and the top 3 reasons why this is happening.
While searching for the next Dogecoin, did you buy Shiba Inu coin (SHIB)?
Do you open your phone to check your position daily, only to find Shiba Inu dropping in what seems like a never-ending downward spiral?
If this sounds familiar, then take a deep breath and some solace in the fact that you're not alone.
In this section of our Shiba Inu guide we take a look at the Shiba Inu coin drop and explore the top 3 reasons why the Shiba Inu coin is dropping.
The Shiba Inu coin price drop
A shout out to our friends at CoinGecko for this chart, clearly showing the Shiba Inu coin's drop in price.
Shiba Inu coin price chart: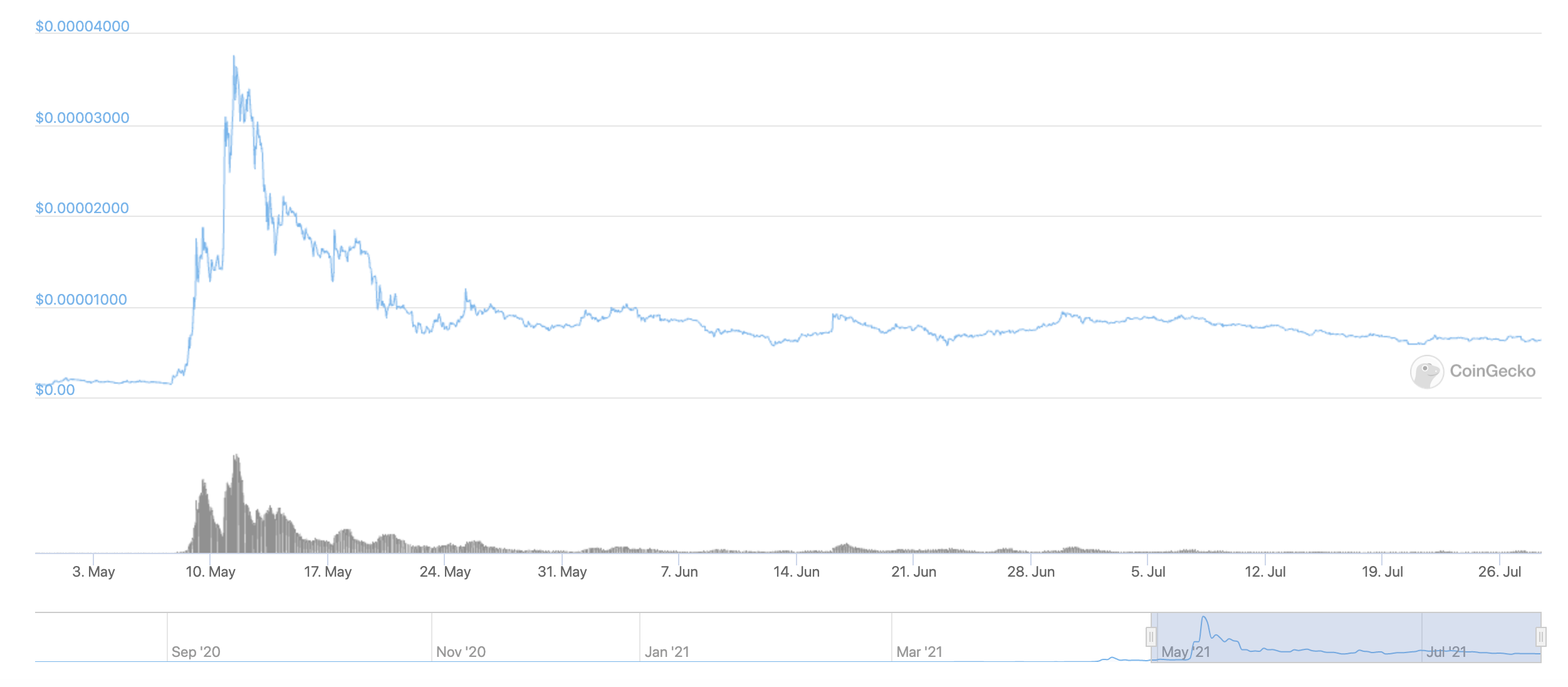 Looking at that chart, there's no denying that Shiba Inu has been nothing but a disaster for early investors.
Actually, as price sits close to all-time lows, it has pretty much been nothing but a disaster no matter what price you got in at.
Nobody is in profit right now.
So what is going on with Shiba Inu coin?
Top 3 reasons why the Shiba Inu coin is dropping
While all cryptocurrency markets are speculative assets open to volatility, the characteristics of Shiba Inu make it especially vulnerable to price swings.
In today's market climate, that volatility has seen price swing south and drop the price hard.
1. Vitalik dumped his Shiba Inu coins
The first reason why Shiba Inu is dropping has to do with the founder gifting Vitalik Buterin roughly half of the entire token supply.
Ryoshi (obviously a pseudonym), sent them as a marketing stuny, expecting Vitalik to sit on the coins.
While there's no doubting the marketing stunt worked for attention, Vitalik also dumped 660 billion Shiba Inu coins and donated the profits to charity, before burning the rest.
"I've decided to burn 90% of the remaining shiba tokens in my wallet."

"The remaining 10% will be sent to a (not yet decided) charity with similar values to cryptorelief (preventing large-scale loss of life) but with a more long-term orientation."
Something that wasn't quite as positive for the price of Shiba Inu coin.
In terms of the token burn, Vitalik simply sent the tokens to a dead ETH address which you can see on Etherscan.
But ultimately, Vitalik dumped on the unsuspecting community who provided him with the liquidity required to sell such a large amount at once.
You can place equal blame on Vitalik and the Shiba Inu team for this moral travesty.
While money went to charities, many regular mums and dads who read about this scammy token in the paper no doubt lost out big.
"Charity" though, right?
The remaining half of SHIB's supply is locked for liquidity on Uniswap and is the next reason why Shiba Inu coin is dropping.
2. ShibaSwap is not safe
If you're looking for another reason why Shiba Inu coin is dropping, then the fact that it's primed for a rug pull is a good place to start.
You should be avoiding ShibaSwap like the plague and by association, any of the Shiba Inu related tokens such as SHIB or BONE.
While ShibaSwap's CertiK audit score has been upgraded, there are a ton of red flag that remain.
The biggest being that even though the team updated the contract to a mult-signature account that requires multiple owners to agree on a transaction before it can be executed, there's no way to say that those accounts aren't still under the control of a single team member.
Most of those controlling accounts are brand new, with zero transactions completed, making them simply sockpuppets.
Yep, Justin Sun's Steemit style.
The fact that the team can essentially rug pull at any time, obviously isn't good for demand and the token price is dropping as a result.
3. Meme coins have lost their fun
In the end, meme coins such as Shiba Inu and Dogecoin, have simply lost their fun.
There's only so much excitement that a funny coin that doesn't actually do anything, can inspire within the crowd.
Shiba Inu coin is just another example of a meme coin that was literally designed to be a joke.
A joke that was a joke of another joke, that being Dogecoin.
While earlier in the year the hype around how high Dogecoin could go was real, it's certainly come back to earth now.
So as the price of Shiba Inu is based primarily on speculation rather than utility, the swings are always going to be more pronounced.
When you take into account Vitalik's dump and the scammy stench coming out of the ShibaSwap platform, you can no doubt see why Shiba Inu coin is dropping.
Best of probabilities to you.
---
Direct from the desk of Dane Williams.
Why not leave a comment and share your thoughts on why Shiba Inu coin is dropping within the comments section below? All comments that add something to the discussion will be upvoted.
This Shiba Uni coin blog is exclusive to leofinance.io.
Posted Using LeoFinance Beta
---