Another one bites the dust! Today's odds: 5.73
---
Still firmly in the losers circle. No idea how to get out of it, just will have to stick to the plan and hope on better days I guess.
Yesterday I did play only one ticket.
This does make the record again a little bit worse. So far this year only 1 winner out of 21 tickets. A hit rate of only 4.76%. That is a lot below what I do need. It is not that I do loose faith in myself. But it isn't a fun state to be in. sometimes it feels that maybe it is better to throw a dice and let the dice create the tickets. But I won't do that.
Yesterday, the combo was lost after the first game. Again a stupid mistake in the defense deep in the second half. A defender making an unnecessary foul, resulting in a penalty and a draw for OHL. Regardless of this the last game of the ticket was also a loosing one, so it wouldn't have made any difference.
Will this be a winner?
I will play only 1 ticket today. I am trying to make sure that I don't chase the losses because that would make things only worse.
I do play 2 games from the Belgian Jupiler Pro League and one from the Premier League.
I do hope that United is really launched after winning the derby against City, A loss today would wipe out their last win more or less. If they do win away at Crystal Palace, they will climb to the second place. Can't remember the days that United was second in the Premier League.
Antwerp does need the 3 points otherwise the gap with leader Genk will become pretty big. And they should have no problem winning away at Oostende. I also doubted about Union, but decided not to add them to the ticket. While I do like the play of Union, Cercle Brugge isn't playing bad at all.
The last game on the ticket is a relegation battle between KV Kortrijk and Seraing. If Kortrijk wins they will give themselves some air in the relegation battle. With 4 points out of the last 2 games, Seraing did close the gap to the other teams in the relegation battle. While still last in the table, their situation doesn't look hopeless. But Kortrijk is a complete different team since Storck took over. They are playing more balanced, they only need to stop making defensive errors. Still I do see Kortrijk winning this game.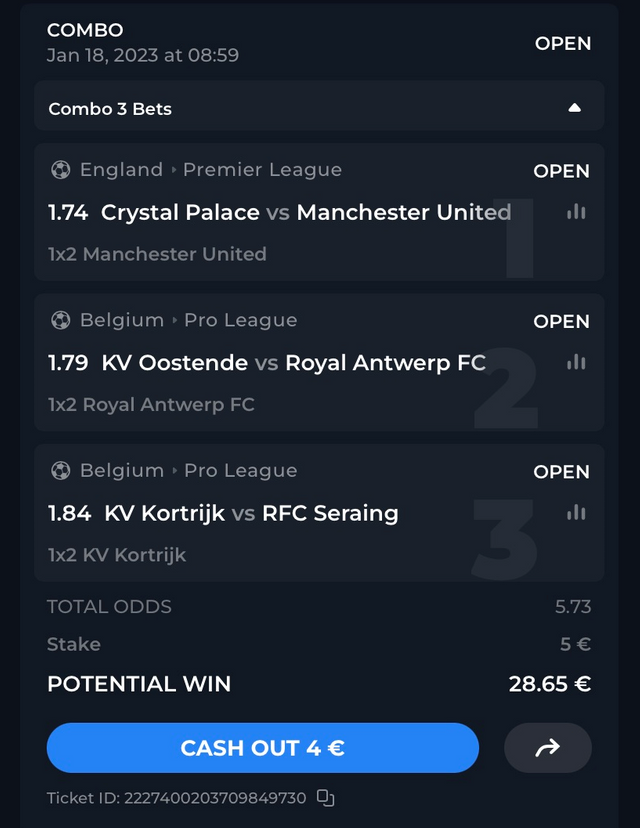 All bets are placed using this bookie!

Disclaimer
It is always a good idea to do your own research and to carefully consider the risks and potential returns before placing any bets. I am not a professional punter, for me it is just a hobby. I do place most of my bets in advance and do keep records of all my bets, but it is not encouraged to follow my bets blindly!
---