Boxing day: combo bets: odds: 7.938 & 5.687
---
Boxing day football, a real British tradition. They are trying to do the same in Belgium but with moderate success. It does take ages to build a tradition and in Belgium the tradition for boxing day is more cyclo cross.
But two competitions to pick games from. And for once not a complete Belgian ticket due to the low odds.
I decided to build 2 3 fold accas. One with home dogs and one with stealers (only away wins).
The tickets
Home dogs: odds 5,687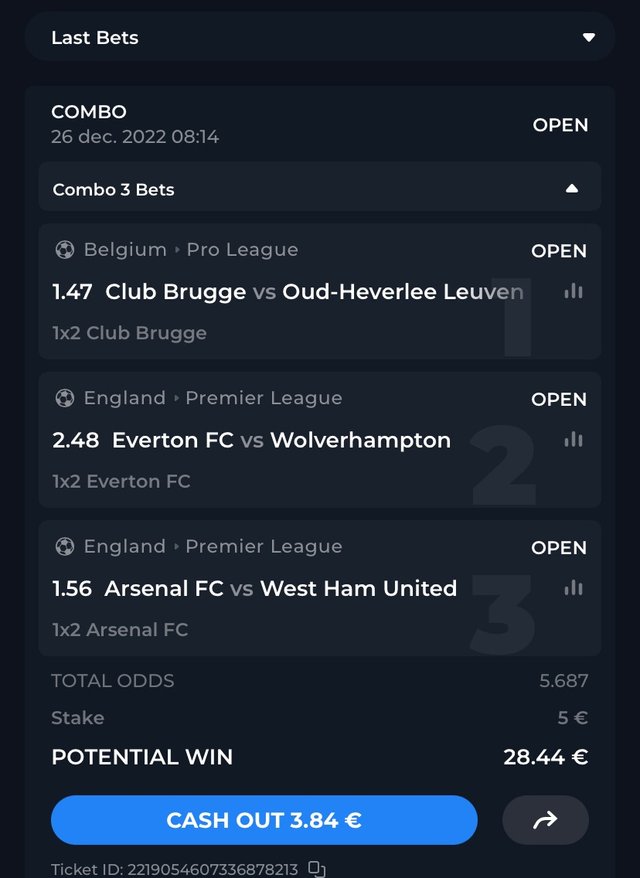 Let's start with Club Brugge who did get eliminated from the cup last week. This did cause a lot of turmoil with a board meeting to sack the coach. Rumors are that the coach is being kept a board thanks to the players. So a home win is a must!
Arsenal should have no problems with West Ham at home.
The toughest game and maybe the most bold prediction is the home win of Everton against The Wolves, who are fighting against relegation. Those games aren't easy, but I do hope that Everton can keep the 3 points at home!
The stealers: odds 7.938
This one is more challenging! The easiest one should be the victory of Liverpool away at Aston Villa!
More challenging is Tottenham away at Brentford. The form of both teams wasn't exactly great before the World cup break. Brentford doesn't have a great home reputation but Tottenham on the other side just isn't a team which easily wins away games! Still they should have the quality to win this game.
Last one and maybe the strangest prediction is the potential away win from Anderlecht at Charleroi. I did see Anderlecht's first game under their new coach. Funny enough their new coach was the assistant of Brentford. But they was amazingly sharp in their cup game against Genk in a game which could have gone both ways. Their new coach does like a lot of forward pressure! Both teams standing side by side in the league, with only a 1 point bonus for Anderlecht. With the fresh wind and aggressive pressure Anderlecht should be able to win this game!
All bets are placed using this bookie!

Disclaimer
It is always a good idea to do your own research and to carefully consider the risks and potential returns before placing any bets. I am not a professional punter, for me it is just a hobby. I do place most of my bets in advance and do keep records of all my bets, but it is not encouraged to follow my bets blindly!
Good luck,
Peter
---