Combo bet of the day: Odds 6.522
---
My last bet on the Belgian cup games was a loosing one. While I did underestimate the unavailability of Bilal for Genk, combined with the new playing style of Anderlecht and for sure didn't see the loss of Club Brugge coming! But without a doubt, I would have placed these bets again, maybe a little bit more conservative on the Genk game.
Today the Jupiler Pro League kick off again after the World Cup break. 3 matches are played for this evening, while the 6 others after the weekend.
This feels like the start of the season again, where it will hard to see what will be going on in the games. Let's see what games there are and if I do see any value. Today I will only play one threefold acca.
The games
Seraing - Eupen
A battle between 2 teams at the bottom of the table. With 3 team relegating, a win is crucial for both teams. Often in these games, the teams are playing not to loose in stead of trying to win the game. Both teams may surprise me, but ...
According to the bookies there isn't a real favorite but they do see an over game. This could be the case for Eupen, who 4 overs out of the last 5 games, while Seraing had 3. Seraing did have a cup game this week, while Eupen could fully prepare this crucial game. Eupen didn't play a friendly game during the World Cup break. Looking at the home and away record doesn't make a smarter at all.
But in my head, Eupen is the favorite, not by a lot, but enough to add the X2 bet to the ticket!
Gent - Standard
Both teams did play a cup game this week. So no teams does have an advantage. Gent did need extra time to qualify for the next round, while Standard did get an as whooping at Antwerp. The bookmakers do see Gent as a clear favorite, just like me. But one of the biggest problems for Gent is consistency. The could loose big one week and counter that with a brilliant win the other week. Standard, does play great against the better teams, while throwing it all away against teams in the relegation zone. So another game, hard to predict.
The over 2.5, which is very well possible, stand at 1.71, while the both teams to score has odds of 1.72. While I do lean towards the BTTS, the asian market indicates a decline in the odds for the over and an increase in the odds for BTTS. Which does make it hard for me to choose. I will follow the market and pick the over one for this game. Gent almost always scores at home and Standard does have the tendency to let it all hang out when getting behind!
KV Mechelen - Cercle Brugge
Cercle had an amazing run before the World Cup break with 4 wins and 1 draw in their last 5 games. The break did come at a bad time for them. KV Mechelen had a tough start of the season, but do show lots of improvement after appointing Defour as new head coach. After Dufour took over, they had back to back wins before loosing a good game at leader Genk. Both teams also did play in the cup, Kv Mechelen did win against Seraing, while Cercle was eliminated in extra time against Gent.
This could be a very open game, which could end up in a goal galore. The pressure at KV Mechelen decrease a lot, since moving away from the relegation zone and they do have a great supporting crowd!
I don't see KV Mechelen loosing at home and a goal festival isn't guaranteed, so maybe the best bet is the 1X with odds of just above 1.5. But I do want to spice up the odds for the ticket, so I will boldly take the win for KV Mechelen, which does offer at 2.6.
The ticket
Thanks to the win bet for KV Mechelen, we do have some decent odds of 6.522. The bet is placed no it is up to the teams to prove me that I was right.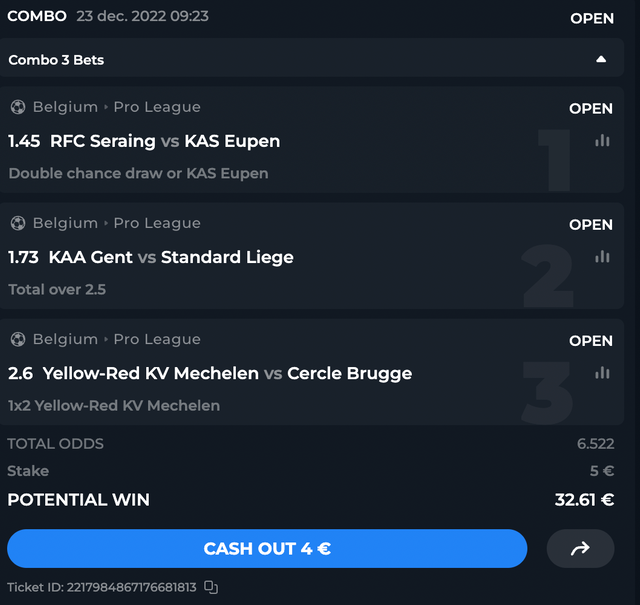 All bets are placed using this bookie!

Disclaimer
It is always a good idea to do your own research and to carefully consider the risks and potential returns before placing any bets. I am not a professional punter, for me it is just a hobby. I do place most of my bets in advance and do keep records of all my bets, but it is not encouraged to follow my bets blindly!
Good luck,
Peter
---