From faucet towards 1 BTC: 1.17% completed
---
For the ones who don't know what a bitcoin faucet is:
A bitcoin faucet is a website or app that allows users to earn small amounts of bitcoin for completing tasks or interacting with the site. These tasks might include visiting websites, playing games, answering surveys, or viewing advertisements. The amount of bitcoin that users can earn from a faucet is usually very small, and the payments are typically made in satoshis, which are the smallest unit of bitcoin. Some faucets require users to enter their bitcoin wallet address in order to receive their earnings, while others use micropayment systems that pay users directly to their wallet or exchange account.
Bitcoin faucets are often used as a way to introduce new users to bitcoin and to promote the use of bitcoin as a payment system. However, they are not a reliable source of income, as the amounts earned are usually very small and the tasks required to earn them can be time-consuming. Some faucets have also been found to be scams, so it is important to do research and be cautious when using them.
So, we do have that cleared out, so time to write about my journey!
My previous post was 10 days ago about this journey. At that moment I did complete 0.68%, so it is great to see some improvement.
While I could be using more faucets, I am only using one. One which seems trustworthy and does pay out.
Freebitco.in


Freebitco.in is a bitcoin faucet and online bitcoin wallet service that allows users to earn small amounts of bitcoin by completing tasks or interacting with the site. The tasks available on the site include playing games, completing tasks, sports betting and viewing advertisements.
In addition to its faucet service, Freebitco.in also offers a range of other services, including a bitcoin wallet that allows users to store, send, and receive bitcoin, and a bitcoin dice game that allows users to gamble with their bitcoin. The site also has a loyalty program that rewards users with bonuses for using the site regularly.
Freebitco.in has been in operation since 2013 and has gained a reputation for being a reliable and trustworthy source for earning small amounts of bitcoin. However, as with any bitcoin faucet or online service, it is important to do your own research and be cautious when using it. It is always a good idea to be aware of the risks associated with using online services and to take steps to protect your personal information and your bitcoin.
My progress
I stated above, I have completed 1% of the challenge. Currently I do have 0.01178688 BTC in my wallet at freebitco.on. That almost a massive increase of 100%. And it could have been more, but did lost some with the Hi/Lo game, but also did withdraw some and did buy some more Fun tokens. More about that later.
While playing their Hi/Lo game, can be risky there are also some great advantages to this. The more you play, the higher the hourly faucet pay-out is.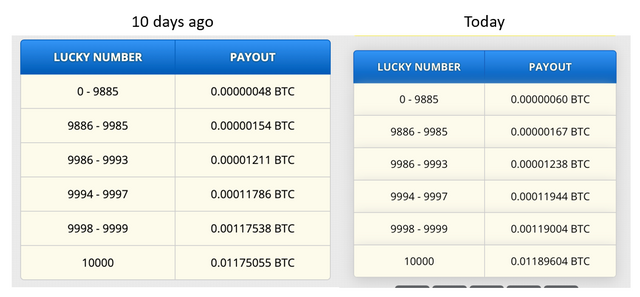 As you can see, I do earn now 12 Satoshi more per hour, than 10 days ago. Let's say that I do claim the faucet 10 times per day, that is 120 sats extra per day. While not a lot, every satoshi does help.

In the past 10 days I did earn 7286 sats. Not too bad I think.
What of course also is helping is the interest you do get on holding BTC in the wallet at freebitco.in. They do offer an interest rate of 4.08%, but you can boost this with being a premium member. Currently I do get 4.49% annual interest.
I am now getting more than 100 sats a day, which does help.
The Hi/Lo game
But my main source of income is their H/Lo game. While there are risks attached to playing this, so be carefully if you do choose to follow this path. But it can be rewarding.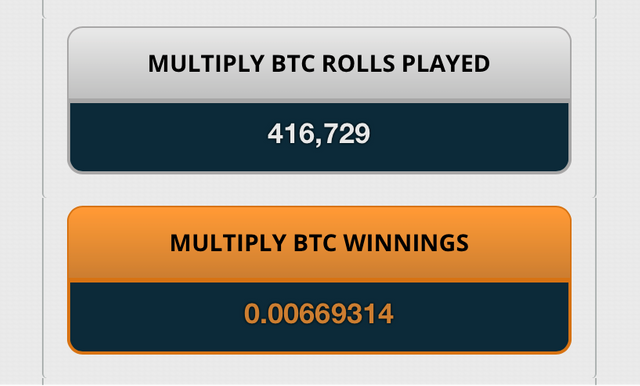 I did win around 0.003 BTC in the past 10 days. Which definitely does gave me a boost in my challenge towards 1 BTC.
Lotteries
So, far still no luck at their weekly lottery where the winner does win around 0.1 BTC. Last week the winner did had 114K lottery tickets, but the week before the winner only had 5 tickets.
I am also earning a decent amount of Lambo tickets. 50 at the moment.
Withdrawals
Like, I wrote above, I also did withdraw some satoshi. Just to eliminate to risk of getting burned. And both withdrawals did arrive nicely on my account.
Only 70K satoshi was withdrawn, but I am planning to do this on a regular basis. I do play their Hi/Lo game, which is a risk of course. And this way I am at least assured that I did make some profit.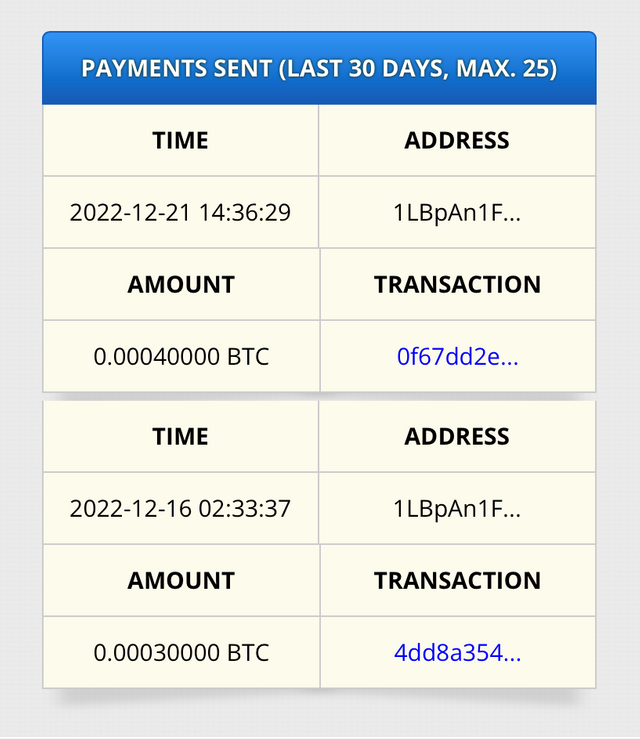 Premium member
When you are interested in freebitco.in. I can advice to join their premium member club, which does offer cashback, more daily spins at their wheel of fortune and a higher interest rate. All bits do help. I am trying to buy a few hunderds of fun per day with my winnings. Again as backup plan.
The best way to do this is to buy Fun tokens on their page directly but you can also purchase them on Binance for instance and move them over, but due to the fact that Fun is ETH based, it will have a rather high fee for withdrawals from an exchange.
In the last post, I did write that my goal was to reach 0.01 BTC before the year was over and that everything above was a bonus. If from now I can increase my BTC holdings on freebitco.in, I will have that mighty BTC before we do have 2024 on the calendar. Now idea if this is achievable or not. But like I write and I will write it again, I only will lose some pride and time, if I do loose it all.
Feel free to use my ref link if you want:
https://freebitco.in/?r=41852558
I do give back a share of my referral income with my referrals.
Cheers,
Peter
Peter
---