Is it possible to create a complete decentralized gambling dapp? Odds of the bet today: 4.7
---
I did place my bet some time ago, but was to busy with work to post them. Also since my post yesterday, I had a lot of thoughts about decentralized vs decentralized gambling dapps. And also how hard it is to get noticed as a gambling dapp.
After a gambling dapp finished their business plan, dapp and funding, the real hard work start. Regardless how good the first three steps were, this is the work which will make or break the business case. It is getting the word out, trying to become noticed within this fierce competition. And when that is successfully done, you aren't there yet. Getting the customers is one thing, keeping the customers is another game.
Gamblers are creatures of habit. Once they like it some place, they will stay there or come back often. Combine this with crypto betting and you will understand how this game has to be played.
Most crypto fans are loyal to their token and it is still hard to create a wallet for another chain and understand all the mechanism. So, if your gambling dapp isn't integrated with a popular blockchain, you are most likely already doomed and headed towards failure.
Crypto fans are maybe more passionate that football fans. It is their beloved chain or team and every negative aspect is quickly forgotten or categorized as FUD.
Then we do come to the part of decentralized vs decentralized. What does this mean for a gambling dapp. Is for instance Betfury decentralized or centralized? In my opinion regardless of using blockchain technology, it is still a centralized gambling dapp. I do come to this conclusion based on the fact that I do need to deposit funds to play. A real decentralized dapp will allow you to play from your wallet.
But this isn't easy. For this to happen the blockchains do need to be fast as lighting (for instance when playing a dice game in automode) and the transaction need to be almost costless. This could work for a bookmaker, but not for a gambling dapp with slots, dice games and so on. This is the reason why 99% of those dapps do require you do deposit funds in their wallets and play from there.
So you do sent it to an address which is created for you by the dapp and underwater it is send immediately to the main account of the gambling dapp. When gambling no blockchain itself is used, but rather a small piece of the blockchain technology.
So no, in my opinion a real gambling dapp isn't to be expected within the year.
The bet
I know, sorry, I was drifting away. Only will play one 3-fold acca. 2 home dogs and one game in which I do want to see lots of goals. These days 3 goals is a lot.
The odds of 4.7 is good enough for me. Let's hope this one will be a winner. Still searching for my first win of the year.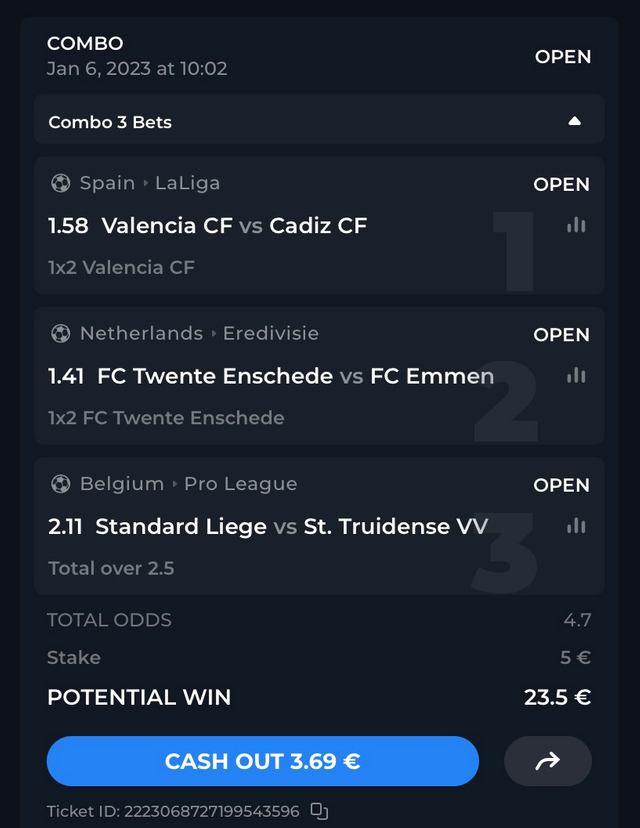 All bets are placed using this bookie!

Disclaimer
It is always a good idea to do your own research and to carefully consider the risks and potential returns before placing any bets. I am not a professional punter, for me it is just a hobby. I do place most of my bets in advance and do keep records of all my bets, but it is not encouraged to follow my bets blindly!
Cheers,
Peter
---