Sportbet.one: How a Decentralized Sportsbook is Changing the Game of Sports Betting
---

Let me introduce you to Sportbet.one a real hybrid gambling dapp. With hybrid I do mean that you can choose for the regular centralized way of betting (traditional betting) or experience the decentralized way of betting . It does run on the EOS blockchain, which is fast and cheap to use. Regardless of which option you take, there is NO KYC requirement! So, you can gamble anonymously. It does operate within the complete world, so no VPN is needed. Even not in the United States. Besides this, of course, blockchain gambling is their main selling point and their biggest pro!
While their main focus is on sports betting, they also do have a casino part on their site. No own developed games but games from well-known and trusted providers like: BGaming, Evolution, Ezugi, Mascot Gaming, OneTouch, Platipus, SmartSoft, Tomhorn, and Triple Cherry.
Signing Up
Creating an account is pretty simple. But the first thing you need to decide is what road you will take. Do want the regular centralized version, where you do deposit funds in your account and play from there, or do you take the decentralized road, where no deposit is needed and you just can place your bets via a EOS wallet. Regardless of the road you take, no KYC is needed. No hassle with document, copies of passports or whatever.
When you take the decentralized option, you will miss out on a deposit bonus, but there is no need to deposit any funds. Which is of course a much safer way.
When you take the centralized option, they do offer a 125% deposit bonus up to $1000!!!! They will create an EOS account for you, but of course you don't have the keys to this.
So regardless of the option you do choose, you can bet with EOS, mBTC, ETH, USDT, Litecoin or Sbet.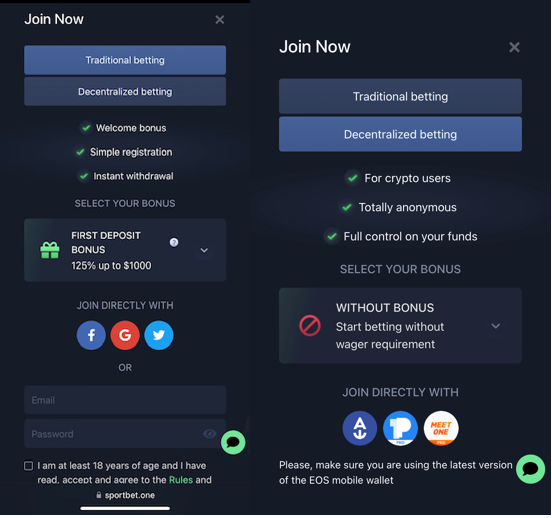 You can just link your facebook, google or twitter account and off you go. Or you can create an account with the combination of email address and password. This is of course much more anonymous than via a social media account.
Sports and markets!
Like I wrote above their main focus is sports betting. And in this case, it is important to see which sports and betting markets they do offer!
Compared to most online bookmakers, sportbet.one has less betting markets and sports available, but this isn't a bad case. On the other hand they do have the ever lasting growing e-sports markets.
The following sports are available to bet on at the moment:
Football (Soccer)
Basketball
Tennis
Baseball
American Football
Hockey
E-sports
Boxing
Volleyball
Ping Pong
Rugby
Cricket
Australian Football
Lesser sports, but also lesser markets per sport. Enough to satisfy 95% of the punters out there.
There are bookmakers, where I can't even find the market I am willing to bet on due to the immense offering of markets. That's no problem here. This is a great example how a disadvantage could be a huge advantage for most interest punters.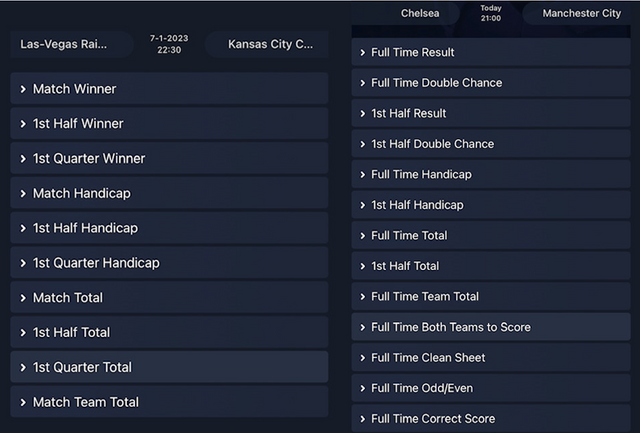 For me personal, Golf is maybe the only sport I am missing on the list but the most important thing is that a player can play every day of the year.
What I also like, is that they don't offer to many betting types for the sports. But the betting types most players do use. They do have a lot of adjustable Asian handicap options.
The betting limits will be high enough for 95% of all betters. I don't know a lot of people who would risk $2500 one a game or 0,099074 BTC on one bet!
The website is very simplistic and slick, which is not necessarily bad. It is well organized and easy to find your way around. Within a few clicks, you will probably have the game you do want to bet on. I do prefer this above a fancy website where it is hard to find your way around, takes a dozen of click before you do find the game your are interested in and takes ages to load, due to the big amount of bets. No, here it is simple, straightforward as fast as lighting.
Leaderboard
We all like competition and for sure sports bettors do. So they listened to the community and do have a weekly leaderboard involving, of course and what else, sports betting.
Top 10 of the leaderboard are paid. Don't get your hopes up, because it will be only for the few of us. And for sure not for me.
Last week number 10 did wager around $8K.
The leaderboard is one of the more permanent bonuses, acting as a loyalty program for dedicated punters. Essentially, every bet placed on the platform will contribute 0.5% to the leaderboard, which has a guaranteed prize pool. At the end of each week, the most successful players will be rewarded with a special prize. The position of individual punters is updated in real-time, with the volume of the leaderboard displayed in EOS.
Dividends!!!!
Yes the big word is out. Sportbet.one does offer dividends to their shareholders. Paid out once a week. Each Monday before 10 am UTC.
The platform's token is SBET. 3% of every settled bet goes to the dividend pool, and staked SBET tokens take part in the dividend distribution. To get dividends, you need to buy and stake SBET tokens. You don't need to bet or gamble.
SBET is tradable on Coinstore.com There is a hug liquidity, so buying or selling a lot, could have a huge impact on the value. The development team recently released 100M SBET, which is used as liquidity on their exchange.
Currently there aren't a lot of punter using Sportbet.one. But it looks like their user base is growing, which is good for the dividends of course. The more users, the higher the divs will be. There are now in operation for over 4 years and there is still a lot of potential. Their real anonymous and transparent betting is a real winner and more punter should and will find their way to sportbet.one. No doubt about it.
But investing is always a risk. Regardless how big or small a gambling dapp is. On the positive side, the value SBET did really well during the bear market, but will also not raise to the sky during a next bull market. The only way the value can increase by having more customers.
You can find the top 500 SBET holder here: https://www.bloks.io/tokens/SBET-eos-sportbetsbet
As you can see the majority of the share are still in hands of the development team. So if they are willing they can cash some out and put this into development.
I am trying out their dividends and did purchase a little bit more than 200K sbet. Will let you know how this evolves! The plan is in first instance to keep on buying up to 500K and see from there.
Aren't there any cons?
Of course there are.
The biggest one probably is that they don't own a gambling license. But the transparency via the EOS blockchain does cover this for a little bit. Also the fact that they are worldwide available. You could even see it a little bit as sports betting via the dark web :).
Secondly the user base could be considered way to small. This is always the lifeline of a sportbook. Since recently they are trying to promote it and had a no deposit bonus just before Christmas. I do expect more of these promotions in the near future.
Conclusion
With the max bets, their simple layout, decentralized solution and their NO KYC policy they could have a bright future! For amateur punter to average in stakes, this could be a great addition to the sportsbooks a punter does use!
Also for beginning punters their website design and limited betting types could be a gift. They won't drown into unwanted and difficult to understand bets!
But like always do you own research before joining and gamble responsible!
When joining feel free to use my referral link:
https://sbetp.com/d64bae6d9
Cheers,
Peter
---