Sportbetting recap 2022 (ROI 32.31%) and first bet of the year (odds 3.508)!
---
2022 is already a few days behind us, so it is time to look back at my betting records and how I did. I re-started sports betting on the 18th of October. Just like in the old days I only played parlays/accas or combos. What's in a name. I did re-start because I did miss it and also did miss writing posts about it.
Since then I did placed 65 bets. And while I did regret playing some of them, I would place most of them again. Which is a good sign! But you all do like to see some stats, so here we go.
I only did win 19 of those 65 bets, which is a hit rate of only 29.23%. If I would have been a single punter, this would be an awful record, but for a combo bettor this isn't bad at all. The evidence is that I did make a profit of €61.23, representing a ROI of 32.31%. Not bad at all. As we all know that every ROI which is above 0 is just great.
The average odds were 6.04! Explaining my profit.

A little bit surprised of the fact that I didn't add more than 4 games to my tickets. By the looks of it, the tickets with 3 games on it are a pitfall for me. Really should do better on these. For sure, if you see that the most tickets I do play are with 3 games on it. Maybe the odds on those tickets are too high. They are pretty close to the average of the tickets with 4 games on it and almost the double of the ones with only 2 games on it.
The most profit was made with the tickets with 4 games on it.
Out of the 3 months playing, I only had one red month. December. Can mostly blame this on myself with 4 loosing bets on the 26th of December. Lesson learned, I hope.
Odds
It is all about the odds baby! Playing odds too low, it will turn out into a nightmare, regardless of your hit rate, if you play odds to high it is also can turn out into a disaster. Not a lot of amateur punter do have a good insight into the odds and their hit rate or ROI. Well I have. Not that I learn from it, but I do have it!

With a overall hit rate of 29%, the odds range which is important to be, or at least should be is between 4 and 4.5. And surprisingly I am in the red there. Just like the odds between 4.5 and 5. The biggest ROI was made with the tickets with odds above 10. What about that. 6 played, only 2 winners but a ROI of 357%. That's probably which made my year!
Weekdays!
What? Yes days of the week are also important. Normally during midweeks only European games are played, which are often harder to predict. Without looking at the table, I do expect that Saturday and probably Sunday will be in the green. All other weekdays will be in the red. With a big chance that Monday will be the worst day of the week!

The stats do prove my feelings were right about Monday. Not a single winner! Average odds are on the high side. Something to think about. Saturday and Sunday both in the green as expected. Nice to see that Tuesday and Thursday are also performing more than okay!
2023
What to expect in 2023 is like trying to predict the future. The benchmark has been set and I do have something to compare with. If I do end 2023 with a positive ROI, that would be a blast.
In 2022 I only played on Betfury, but in 2023 this will change. I am trying out a new bookies and will write a review about this later on in the week. The great thing is that is a real decentralized bookie if you want, where you can just play out of your wallet and no KYC is required.
First bet of the year!
With 4 games in the Premier League, I will start with a double. In both games it would be great to see plenty of goals.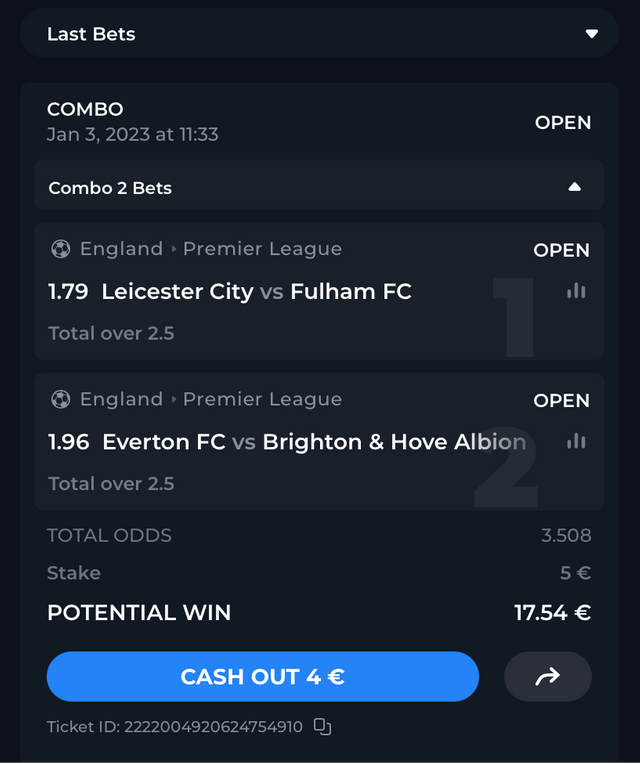 All bets are placed using this bookie!

Disclaimer
It is always a good idea to do your own research and to carefully consider the risks and potential returns before placing any bets. I am not a professional punter, for me it is just a hobby. I do place most of my bets in advance and do keep records of all my bets, but it is not encouraged to follow my bets blindly!
---