The Serie A also kicks off: odds for January 4th 2023: 5.465, 5.441 & 6.449
---
Not the start of 2023 I was hoping on, but still plenty of games left this year to get great results. Brighton did deliver enough goal but Leicester and Fulham failed to net enough goals for me.
Today the Serie A does kick off again, after a long World cup break. Currently Napoli is having a decent lead, but are chased by the usual suspects. Combine this with 4 Premier League games and there should be enough games to create 2 parlays!
After running through the list of games, I decided to create 3 parlays. In each combo 3 games. Divided into a home dogs acca, a stealers combo and an overs parlay.
The bets
The home dogs (odds: 5.465)
I did had more home dogs than I was willing to put on one ticket. So I had to pick the right one. Time will tell if I did guess right.
The most challenging in this ticket is probably Aston Villa beating the Wolves at home. The Wolves do start feeling relegation pressure, already so early in the season, which will make their games unpredictable. Still with their away record in mind, Villa should be able to keep the 3 points at home.
Roma and Torino on the other hand, do have more than decent chances to win at home.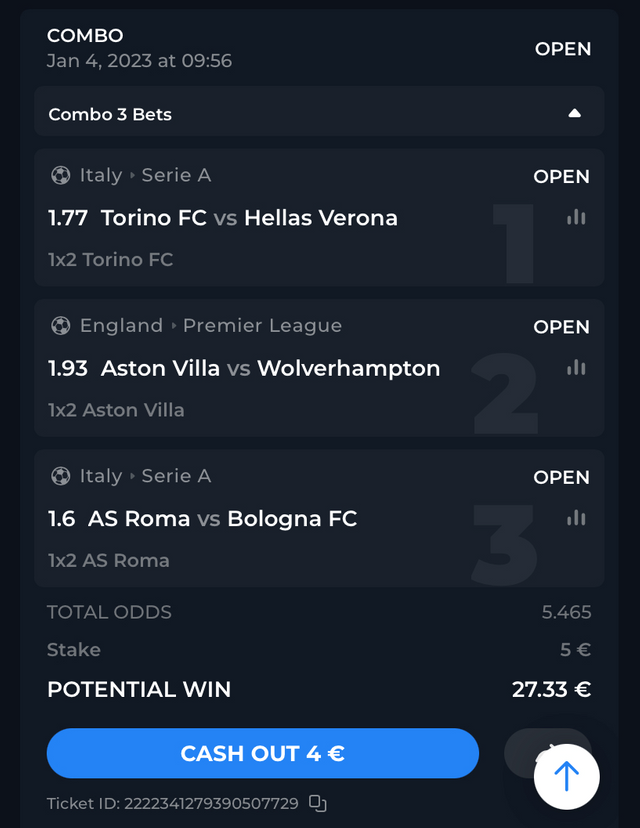 The stealers (odds: 5.441)
Normally when playing 3 away teams, the odds should be pretty decent. At least higher than the home dogs tickets. But in this case it is even lower with 5.441. Still decent odds. Ac Milan and Juventus really need to win. Otherwise Napoli has more or less a free game this evening against Inter. Both do play against teams for the bottom half of the table.
Probably the make or break the ticket is the prediction that Lazio will steal the 3 points at Lecce.
Always hard to tell how the teams did cope with the break.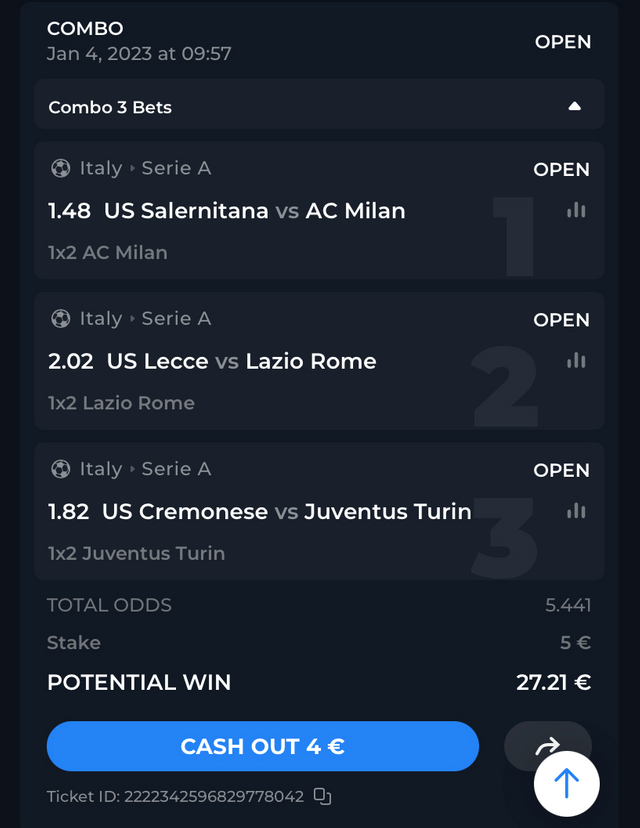 The overs (odds: 6.449)
Goals, goals, we do need plenty of goals for this ticket to win. It is simple, one ticket, 3 games, and hopefully in all games more than 2.5 goals!
I did want to pick Tottenham as a stealer. But their form didn't allow me to do this, but I do see some goal opportunities in this game. Atalanta and Fiorentina probably will both have a game where there is a decent chance that both teams will score, but for some reason I don't like the BTTS bets. So I decided to go for the over in both ones.
This resulted into the ticket with the highest odds of the day with 6.449.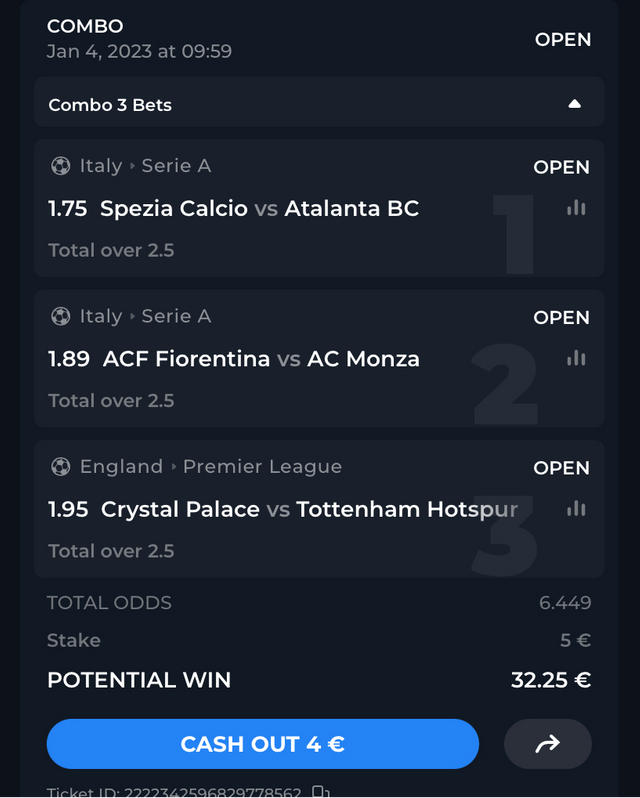 It would be great if I could win 2, but as always I am already happy with one winning acca!
All bets are placed using this bookie!

Disclaimer
It is always a good idea to do your own research and to carefully consider the risks and potential returns before placing any bets. I am not a professional punter, for me it is just a hobby. I do place most of my bets in advance and do keep records of all my bets, but it is not encouraged to follow my bets blindly!
---