Winner winner chicken dinner!! Today's odds: 3.885
---
Yes, it always feels great to start with a winning bet! It sets up a positive and confident mindset for making future bets and it's a great feeling to have when you win. Plus, it's always nice to have a bit of extra cash in your pocket!
It would have been better if I did win the home dogs tickets, but Gent did fail to score in regular time and did need extra time to qualify for the next round.
But also I did had some luck. The over ticket, wasn't in great shape at mid time. The Union game was a 1-1 draw, which was okay, but the main concern was the game between Leuven and Kortrijk, a scoreless draw at the tea break. At the 80th minute, a 0-1 was on the scoreboard. But somehow the end result was 1-3, more than enough to win the bet.
This small profit, is still a ROI of 17.8%. Which is more than good enough. Imagine having that ROI on a daily basis :)
Today's games!
3 games today. In 2 games there is a real favorite and the other is a really interesting game.
Deinze - Waregem
Waregem should be the clear favorite. But there are having lot's of injured players. This also is reflected in the odds with around 2.4. In the league Waregem is fighting to avoid relegation so one can question how important this cup game is for them. Going to the next round, would mean an extra game in an already fully crowded calendar. I do have to give credits to the board of Waregem for keep supporting their coach. It doesn't happen a lot that the coach isn't sacked when the team is at the bottom of the league since the start.
Still I don't see them loosing this game. So a X2, with odds of around 1.48, could be a good addition to the ticket.
Club Brugge - STVV
From all teams in Belgium, Club Brugge had the most player on the World Cup. The problem is that if a player is at the world cup and doesn't play games, his match rhythm and fitness does decrease. Also he did miss some rest/holidays compared to the non selected players. Combine that with missing 2 training weeks with the club and you will understand that it is hard to predict what the impact of this will be on the team.
While Club Brugge had a superb Champions League campaign, it wasn't so great in the Jupiler Pro League. Still they should be capable of winning this game easily. With easily I don't mean with a big margin but without having to invest a lot of effort into it. The odds of 1.6 is good enough to be added to the ticket!
KRC Genk - Anderlecht
The main course of this evening. The current leader of the Jupiler Pro League against the team with the highest number of championships. The season for Anderlecht so far isn't a dream. A few games before the World Cup they did sack their coach, promoted an assistant to head coach and did demote him back to the youth squad. Now they have appointed a coach which isn't familiar with the competition and has his first experience as head coach. Anderlecht really is a team in decay. Still it can be a tough team to beat from time to time.
KRC Genk on the other hand is having a great season. The problem they do have this evening is that the Bilal will only arrive today from Morocco, after celebrating their third place. He isn't even expected to sit on the bench. Bilal, only 18, is the one which leads the attack. Findings spaces. While not visible is his stats (no goals and 1 assist), he really is the one who does drive them forward. If they would keep track of the pre-assist he would be leading this ranking.
For this is hard to bet on, because I am a Genk fan. But the odds on the market for a home win are dropping which is always a good indication.
Normally I would switch to the over, but with odds of 1.75 they are too low for this game. So, let's back up my team with a win.
The ticket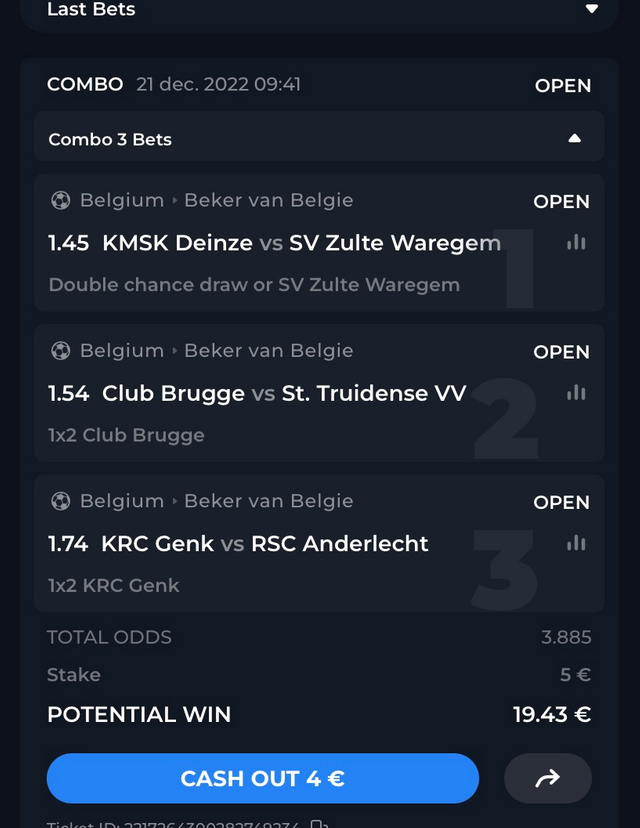 All bets are placed using this bookie!

Good luck!
---