Sometimes pulling yourself away from something you do day in and day out is very necessary. I took a few days mostly off the internet and went with my family to a nice location.
We arrived back yesterday evening, but I was too tired to dive into anything significant online, so I mostly postponed stuff for today. Yesterday (on Mondays), I usually reviewed the performance of my Cub portfolio for the past week, and any significant late news.
But what a perfect timing to be back! Not that I had planed for it, obviously, because I didn't know wen things will start unfolding.
I'm pretty sure you know by now of this Twitter announcement from LeoFinance, less than 24 hours ago: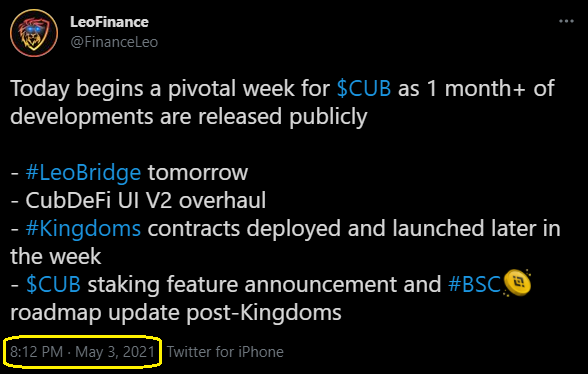 As Khal said, this will likely be a pivotal week for $CUB, which slid slowly towards the 2.5 price during the past week, where it seems to have found a steady support and level of accumulation, awaiting the "very soon" launches.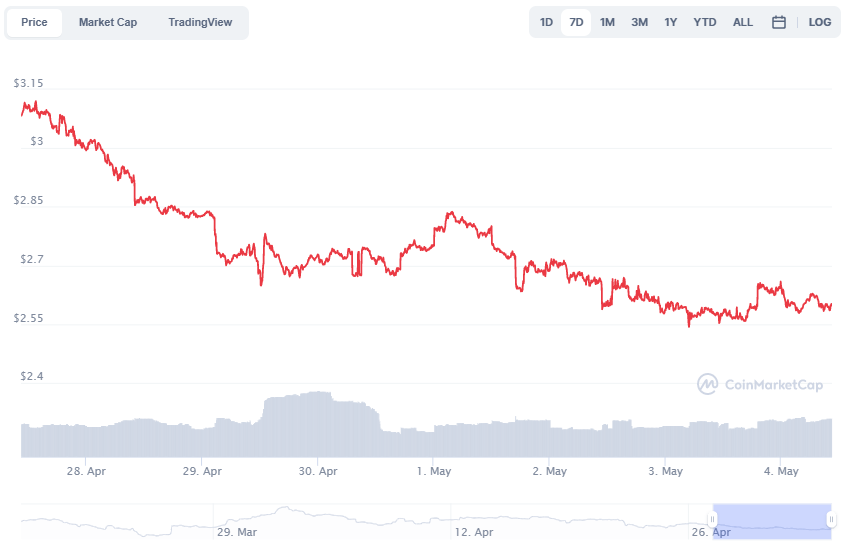 And here we are, "very soon" became "now", as in today! No more waiting. #LeoBridge will come first, so will the 2nd version of the user interface for Cub Finance. Today!
The contracts for #kigdoms will also be deployed today, but that doesn't mean much for the regular user before the launchtime, which will also be during this week, according to the tweet.
Also looking forward to see what the team has in store for us post-Kingdoms. Looks like they're ready to reveal that as well.
Personally, I haven't been much in touch with anything going on in the cryptosphere from around the middle of the week till today.
Although I could have stayed connected, I preferred to stay away almost completely, to recharge my batteries and reconnect with the flesh and bones world for a change.
Plus, it's a good exercise every once in a while, to watch the power of passive income and compounding over time in action. It's even more impressive when you see it after a few days of complete non-intervention.
For example, when I turned on my laptop yesterday evening, I performed a few minor tasks. One of them was to harvest my few-days-worth of CUB rewards. Impressive! A couple of hundred dollars at a distance of a few clicks. Sure, that wouldn't have happened without initial investments and believing in the team and the project.
Overall the week was calm, it seems, for CubFinance. The calm before the fireworks, apparently. With over 83% ROI already in less than two months, I'm expecting this week to be huge.
I believe CUB might have floored at 2.5 and we have an immediate great upside potential from here. Which would make it awesome because I started to pile up quite a few CUB in the den.
Looks like Khal is ready to push some marketing into the project as well, after the initial swap cap for LeoBridge will be raised enough: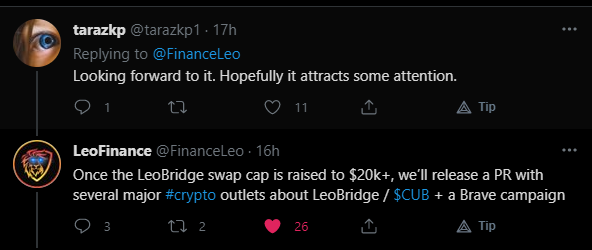 These are all bullish signs for CUB in my opinion. Of course, it depends how soon the swap cap will be raised. It's a balance here: too soon and the thin LPs lose its protection, too late and impact diminishes considerably.
Posted Using LeoFinance Beta