HBD Interest Payouts For May 2021
---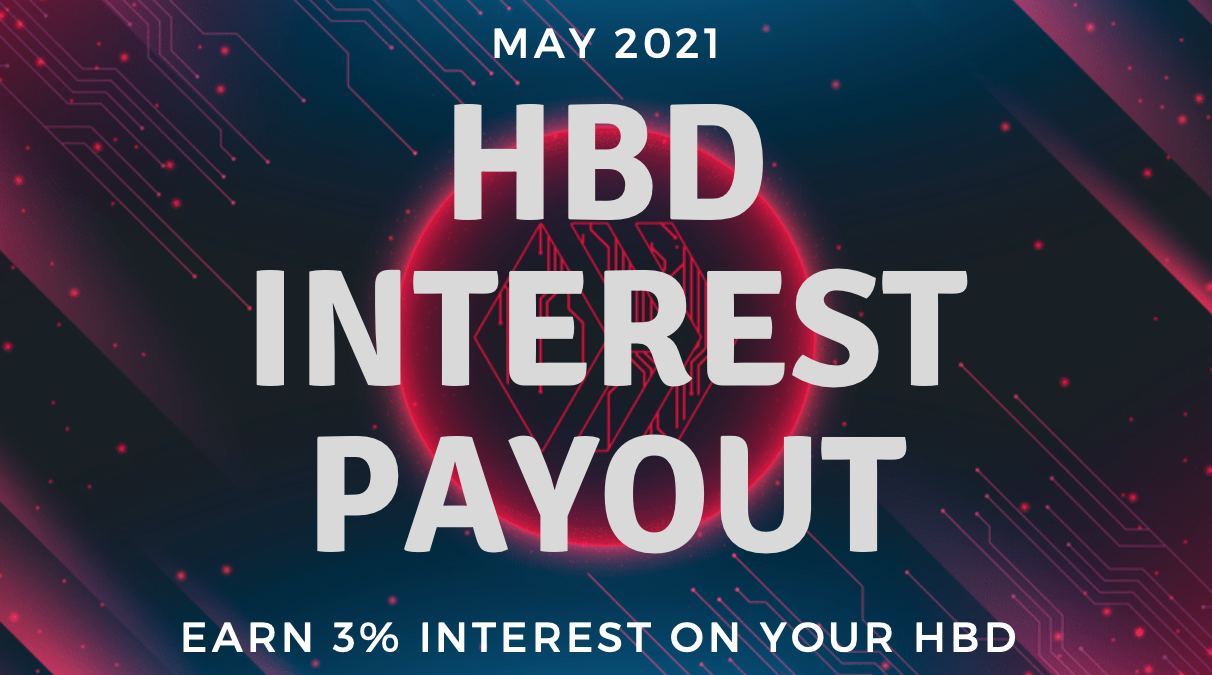 Another month has passed and Hive keeps paying 3% interest on HBD held in the wallets, both in liquid and savings. This may change after upcoming Harfork-25. It was proposed to change interest payments to only HBD held in savings wallet. You can read more details about this changes in this post by Blocktrades. Last I have read, the code for this change was done and ready to be implemented in HF-25.
Right now it seems like HF-25 is being planned for the last week of June. This means Hive will continue paying interest on liquid HBD. Hardforks usually are not easy task to accomplish. They require testing, fixing, and a lot of coordination among devs and witnesses. For this reason, they don't always happen as planned or scheduled. If everything goes smooth HF-25 should happen by the end of June. If testing shows that more time is needed, this HF may be postponed till August, because some of the Hive devs will be going on vacations. If that happens interest payouts on liquid HBD will continue for two more months.
In May total of 16574.473 HBD was paid out to 7250 accounts. This payout amount is a decent increase from the payouts in the previous two months. In March the total payout was 10429.131 HBD, and in April it was 12208.585 HBD.
What hasn't changed much is that biggest payout recipients are still the exchanges like Upbit and Bittrex, and hive.fund (DHF). At this time, it seems like not many are interested in holding HBD for 3% APR. It is also possible after HF-25, the APR will be raised for Saving HBD.
To see the payout lists for the previous months, feel free to visit my previous posts:
TOP 100 HBD Interest Payouts for May 2021
| # | Name | Amount | Date |
| --- | --- | --- | --- |
| 1 | hive.fund | 7099.2760 | 2021-05-12 19:31:48 |
| 2 | upbitsteem | 6515.0240 | 2021-05-07 14:33:06 |
| 3 | bittrex | 1052.0730 | 2021-05-11 22:14:21 |
| 4 | hot.dunamu | 690.7430 | 2021-05-15 06:26:09 |
| 5 | user.dunamu | 149.4640 | 2021-05-17 06:31:03 |
| 6 | deepcrypto8 | 54.0040 | 2021-05-05 16:50:30 |
| 7 | gopax-deposit | 38.7960 | 2021-05-15 12:10:27 |
| 8 | teamsmooth-mm | 31.7080 | 2021-05-25 18:30:24 |
| 9 | morkrock | 23.9910 | 2021-05-05 10:52:54 |
| 10 | carolinmatthie | 19.7050 | 2021-05-28 04:04:57 |
| 11 | rtonline | 15.6840 | 2021-05-23 12:05:06 |
| 12 | distantsignal | 15.5660 | 2021-05-13 20:57:03 |
| 13 | birdie | 15.2780 | 2021-05-01 05:30:03 |
| 14 | spectacles | 13.1310 | 2021-05-11 08:14:45 |
| 15 | benslayton | 12.3930 | 2021-05-08 05:31:54 |
| 16 | cryptomancer | 11.2270 | 2021-05-28 11:47:39 |
| 17 | lordbutterfly | 10.9570 | 2021-05-09 09:33:03 |
| 18 | basleijenhorst0 | 10.5570 | 2021-05-11 08:24:39 |
| 19 | eonwarped | 9.7840 | 2021-05-30 09:20:15 |
| 20 | jungyoonyi | 9.3010 | 2021-05-07 07:55:18 |
| 21 | jamanfahmi | 8.2160 | 2021-05-20 11:24:15 |
| 22 | keychain | 7.6220 | 2021-05-26 18:30:06 |
| 23 | inertia | 7.4140 | 2021-05-15 01:30:03 |
| 24 | graphene-swap | 7.2370 | 2021-05-16 15:57:39 |
| 25 | alpha | 7.0780 | 2021-05-22 20:00:18 |
| 26 | himal | 6.1520 | 2021-05-14 12:12:12 |
| 27 | ricpicks | 6.0940 | 2021-05-09 15:57:18 |
| 28 | nesni996 | 5.9760 | 2021-05-19 13:29:12 |
| 29 | theomgbrand | 5.3690 | 2021-05-21 17:47:21 |
| 30 | orukpeyendis | 5.2630 | 2021-05-17 10:44:39 |
| 31 | embracemadness | 5.1370 | 2021-05-25 21:49:57 |
| 32 | dantinur | 5.0500 | 2021-05-08 07:10:39 |
| 33 | itinerantartist | 5.0120 | 2021-05-16 02:07:45 |
| 34 | wiseturtle | 4.7860 | 2021-05-26 14:53:00 |
| 35 | decomoescribir | 4.6270 | 2021-05-19 16:32:45 |
| 36 | sharehows | 4.6180 | 2021-05-18 08:00:36 |
| 37 | tombstone | 4.4180 | 2021-05-21 05:00:39 |
| 38 | oflyhigh | 4.3320 | 2021-05-05 22:00:03 |
| 39 | minjunpark | 4.2850 | 2021-05-29 09:11:33 |
| 40 | mamamyanmar | 4.2770 | 2021-05-19 05:33:00 |
| 41 | naysayer | 3.8800 | 2021-05-06 00:18:15 |
| 42 | coininstant | 3.8130 | 2021-05-04 18:14:57 |
| 43 | kylealex | 3.5460 | 2021-05-15 19:42:57 |
| 44 | relationtrip | 3.4430 | 2021-05-04 10:20:00 |
| 45 | june0620 | 3.2910 | 2021-05-13 06:01:39 |
| 46 | platinum-blue | 3.2070 | 2021-05-20 11:14:42 |
| 47 | simplyworthit | 3.1620 | 2021-05-26 15:02:03 |
| 48 | gabbygolden | 3.1580 | 2021-05-17 01:55:42 |
| 49 | h0bby1 | 3.1510 | 2021-05-14 20:43:15 |
| 50 | winstonalden | 3.0740 | 2021-05-17 12:52:30 |
| 51 | annvely | 3.0630 | 2021-05-10 13:37:06 |
| 52 | cabelindsay | 3.0370 | 2021-05-29 13:22:36 |
| 53 | blocktrades | 2.9730 | 2021-05-11 00:30:45 |
| 54 | vivia | 2.9340 | 2021-05-11 08:44:21 |
| 55 | tlthornes | 2.9010 | 2021-05-01 20:15:27 |
| 56 | detlev | 2.8830 | 2021-05-27 12:27:27 |
| 57 | humansofsteemit | 2.8400 | 2021-05-20 10:28:57 |
| 58 | bxt | 2.8320 | 2021-05-28 09:34:09 |
| 59 | miingjazz | 2.7930 | 2021-05-27 15:38:24 |
| 60 | ipromote | 2.7870 | 2021-05-31 12:52:18 |
| 61 | sterlinluxan | 2.7830 | 2021-05-11 02:20:45 |
| 62 | min | 2.6790 | 2021-05-19 07:57:15 |
| 63 | pradeepdee6 | 2.6610 | 2021-05-29 07:06:48 |
| 64 | milutin2016 | 2.6350 | 2021-05-19 13:13:03 |
| 65 | peak.proposals | 2.6140 | 2021-05-03 20:30:00 |
| 66 | speak.delegation | 2.5110 | 2021-05-16 20:17:00 |
| 67 | campingkinteaw | 2.4970 | 2021-05-25 07:51:42 |
| 68 | lighteye | 2.4650 | 2021-05-07 21:42:00 |
| 69 | aniralf2000 | 2.3790 | 2021-05-25 08:33:15 |
| 70 | steemmonsters | 2.3280 | 2021-05-07 21:18:42 |
| 71 | grampo | 2.3040 | 2021-05-28 03:47:15 |
| 72 | promote.helper | 2.2760 | 2021-05-06 18:59:54 |
| 73 | aldentan | 2.2740 | 2021-05-03 08:40:39 |
| 74 | leaderinsights | 2.2520 | 2021-05-02 14:53:18 |
| 75 | vegetarianbaker | 2.1720 | 2021-05-15 12:40:36 |
| 76 | hijosdelhombre | 2.1620 | 2021-05-21 20:59:39 |
| 77 | howsmate | 2.1570 | 2021-05-18 08:35:03 |
| 78 | muktaridha | 2.1110 | 2021-05-24 08:48:57 |
| 79 | zyrus | 2.0960 | 2021-05-19 02:53:18 |
| 80 | jychbetter | 2.0880 | 2021-05-29 12:37:48 |
| 81 | ace108 | 2.0610 | 2021-05-24 15:53:15 |
| 82 | vaultec | 2.0400 | 2021-05-22 20:24:24 |
| 83 | xiaohui | 2.0000 | 2021-05-05 22:00:03 |
| 84 | nxtblg | 1.9900 | 2021-05-17 21:16:27 |
| 85 | treebuilder | 1.9500 | 2021-05-04 14:02:00 |
| 86 | uyapapua | 1.8740 | 2021-05-30 15:55:15 |
| 87 | whoisjohn | 1.8320 | 2021-05-04 06:09:09 |
| 88 | viking-ventures | 1.7950 | 2021-05-26 13:55:24 |
| 89 | krishool | 1.7840 | 2021-05-21 08:37:45 |
| 90 | kristal24 | 1.7760 | 2021-05-12 04:08:09 |
| 91 | taqincz | 1.7490 | 2021-05-02 17:25:36 |
| 92 | neoxian | 1.7150 | 2021-05-12 12:34:39 |
| 93 | livinguktaiwan | 1.6570 | 2021-05-30 01:00:33 |
| 94 | peakcredit | 1.6270 | 2021-05-26 23:06:54 |
| 95 | skycorridors | 1.6030 | 2021-05-04 23:36:48 |
| 96 | erh.germany | 1.5920 | 2021-05-01 08:46:57 |
| 97 | jznsamuel | 1.5820 | 2021-05-10 20:49:00 |
| 98 | ryo-6414 | 1.5660 | 2021-05-04 12:58:24 |
| 99 | threespeak | 1.5430 | 2021-05-05 00:30:03 |
| 100 | porters | 1.5140 | 2021-05-24 06:39:24 |
Posted Using LeoFinance Beta
---