1000 Page Views Per Week On Splinterlands Content From The Philippines!
---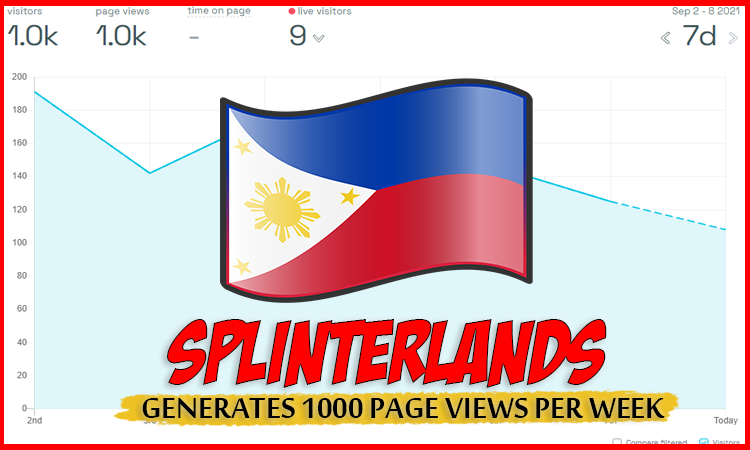 ---
Splinterlands drives in tons of traffic lately and has become extremely popular. Content creators on LeoFinance takes advantage of the hype and continues to create optimized content for more organic traffic over time. I have recently published a post containing roughly 3500 keywords and content ideas for people who're interested in creating more Splinterlands & Axie Infinity content and that was a follow-up post to the previous Keywords, Top Pages & Content Ideas For LeoFinance post I published.
In case you've missed them and are looking to dip your toes into the whole Splinterlands/Axie-content creation, I definitely recommend taking a look at them.
We can see from my weekly The Keywords That Brings Most Organic Traffic To LeoFinance.io (Week #11) reports that Splinterlands & Axie-related content brings in the most organic traffic to LeoFinance and there is room for a lot more..
However, we've seen 6876 page views in total during the last 7 days and the Philippines stands for more than 1000 out of those page views. That equates to 19% of the total amount of page views. 883 page views comes from USA during the same time frame and 373 page views comes from Brazil. That is 16% and 7% respectively, out of all the page views.
As I usually share a list of the top 10 posts in terms of page views, I figured I would do the same thing this time, for the three top countries. Let's see the difference, shall we?
---
Philippines:
---
The United States:
---
Brazil:
---
There you have it. It's looking decent, to say the least. I was surprised to see that much activity from the Philippines though. I personally thought that Splinterlands-related content would draw the most traffic from the united states.
Regardless of where the traffic comes from, I recommend everyone in the lists above to edit and keep your content up to date, if and when possible. Especially as these posts already brings organic traffic. Also note that this is traffic that comes to LeoFinance.
Posted Using LeoFinance Beta
---